The best interrail routes for 3 weeks through Europe!
Is it already time to make plans for summer? What do you think about Interrailing through Europe? It's a wonderful option for almost everyone, I'll tell you more about it shortly. And in this post, you'll find the best interrail routes for 3 weeks in Europe!
Disclosure: This post may contain affiliate links, which means that if you purchase through one of the product links, we'll receive a small commission at no cost to you. We only promote products and services we 100% believe in. Thank you so much for supporting us! Read more about it in our disclosure policy.
Best Interrail routes 3 weeks
What is Interrail?
Let me just get one thing out of the way. There is no difference between Eurail and Interrail. It's called Eurail for non-Europeans, and Interrail for Europeans. There's a difference in the name, not the concept.
Now, the big question. What is Interrail?
Interrail is a company that sells train passes for traveling through Europe. This company encourages (especially) young adults to go out and see Europe in a green and inexpensive way.
There are many reasons why you should go interrailing, like:
In Europe, there's a huge train network. So why not use it, right?
It's much more eco-friendly than planes or cars.
You will see a lot of beautiful scenery from the train.
You get to visit up to 33 European countries (depending on the pass you buy).
It's a wonderful option for budget travel.
Interrailing is great for developing yourself.
You could make many new friends.
The Interrail pass is easy to use.
It's a real adventure!
There are many benefits, which I hope encourage you to go interrailing. I've been interrailing once and it was quite the adventure!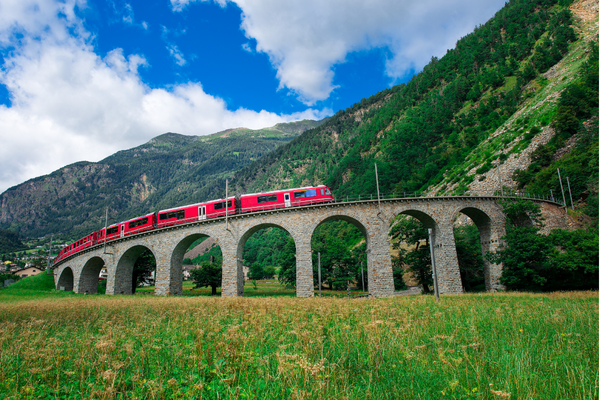 Interrail passes
When buying an interrail pass, there are many different passes to choose from. This is so you can get the best price for your situation/plans.
You can choose to buy a pass with travel days, a continuous pass, or a one-country pass. All these passes are different in both what you can do with them and their prices.
All these passes range from 100 to 700 euros. This means you can buy a pass that fits your budget.
Read more about interrail passes and which one's best for you.
Transportation
Of course, to get from place to place you will use your Interrail pass. But how to get to the first place and how to get home? This depends on your starting point.
If the starting point is less than a 10-hour train ride, you should use your Interrail pass. This will be the cheapest. But if you live a long way from your starting point, flying there may be your best option.
In the itineraries I made, the starting point won't be the same as the finish, so look carefully at which option is best for you, depending on the itinerary you choose.
And of course, during your trip, you'll need transportation other than trains, for day trips and such. Most countries have a good bus network and you can (and should) book some day trips that include transport.
Getting around in a city should be easy, you can walk to most places and take buses, trams, or metros to further away places.
Related posts:
Best Interrail routes for 3 weeks in Europe
Because everyone's different and likes to see other things, I've made 2 itineraries through different regions of Europe. Someone who'd love to see Paris may have no business in Belgrade and someone who'd love to visit Oslo may not be looking for a beach vacation in Malaga.
So I've put together 2 different itineraries:
Interrail route 1: Interrailing on a budget
Prague – Krakow – Bratislava – Budapest – Belgrade – Mostar – Zadar – Ljublana
Interrail route 2: Admire the big cities itinerary
London – Paris – Barcelona – Nice – Milan – Venice – Munich – Antwerp – Amsterdam
Best Interrail routes for 3 weeks in Europe
Route 1: Interrailing on a budget
Prague – Krakow – Bratislava – Budapest – Belgrade – Mostar – Zadar – Ljublana
Interrail is a super popular option for people traveling Europe on a budget. As a ticket is relatively cheap for everything you can do with it, people often go for this option.
My favorite part of Europe is also the cheapest part to travel to. We're talking about eastern Europe. With a huge history, gothic-like structures, breathtaking nature, and the best cultures, eastern Europe is a place you simply must visit!
So I've made this itinerary (my number one) for those wanting to visit the most beautiful places on a small budget and dodge the crowded and more expensive cities.
Budget: For this itinerary, your budget should be around €30 a day per person.
Note: If you want to take some day trips, I highly recommend booking them through Tripadvisor. This trustworthy company will bring you experiences never to forget!
Days 1 – 4: Prague, Czech Republic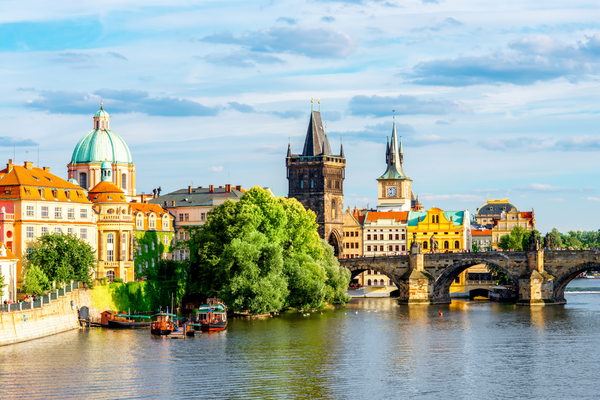 In the first few days, you'll explore the mysterious Prague! This spectacular city is filled with the most stunning sites, thrilling activities, and more!
What to do in Prague:
Visit the UNESCO world heritage site Castle of Prague
Walk over the Charles bridge
Admire the astronomical clock by the old town square
Visit The Church of Our Lady
Purchase a Prague City Card, for free entrance to more than 60 attractions including Prague Castle
Visit one of the many museums, like: museum of Alchemists and magicians of old Prague or the Strahov library
Day trips from Prague:
Visit the city of beer: Pilsen
Explore the mysteries of Kutná Hora
Hike through Bohemian Switzerland National Park
Spending 3 to 4 days in Prague is enough to see the city and take 1 or 2 day trips.
Days 4 – 6: Kraków, Poland
Another wonderful city to visit is Kraków in Poland! Especially if you love history, this city is a must on your itinerary. Kraków is the second-largest city in Poland and one of the cheapest cities in Europe! This city will blow your mind with its medieval structures and rich culture!
What to do in Kraków:
Admire the beautiful Wawel castle and Wawel cathedral
Take a look at st. Mary's Basilica
Visit the market at Cloth hall
Explore the Polish Aviation Museum
Visit the National Museum in Kraków
Take a stroll through Bielańsko-Tyniecki Landscape Park
Day trips from Kraków:
Visit the Auschwitz concentration camp. If you want to learn more about Poland's tragic history, I'd definitely recommend visiting Auschwitz. Auschwitz is free to visit unless you book a guided tour.
Visit the Wieliczka salt mine. (standard ticket price is around 25 USD – 23 EUR).
Hike the spectacular Ojcowski National Park
Days 7 – 9: Bratislava, Slovakia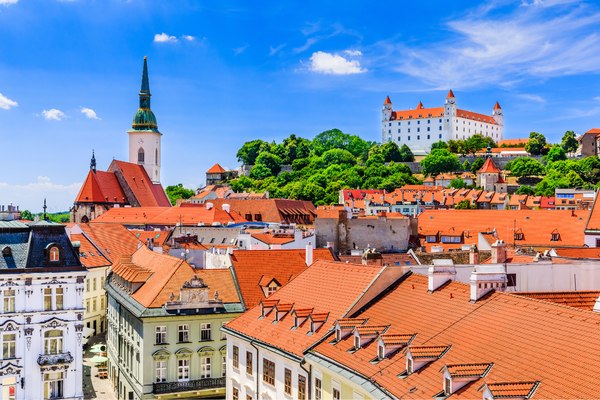 Slovakia's capital city Bratislava is both modern and historical. For a rather interesting experience, Bratislava is the place to be. When visiting this city, you'll find it's very different from the cities you've visited so far. So let's start exploring Bratislava!
Things to do in Bratislava:
Admire the blue church
Learn about the Slavín War Memorial
Visit Bratislava castle
Take a look at St. Martin's Cathedral
Walk through Michael's Gate
Day trips from Bratislava:
Pay a visit to Devin castle
Visit Vienna for a day
Explore the mysteries of the Former anti-aircraft missile base Devínska Kobyla
Days 10 – 12: Budapest, Hungary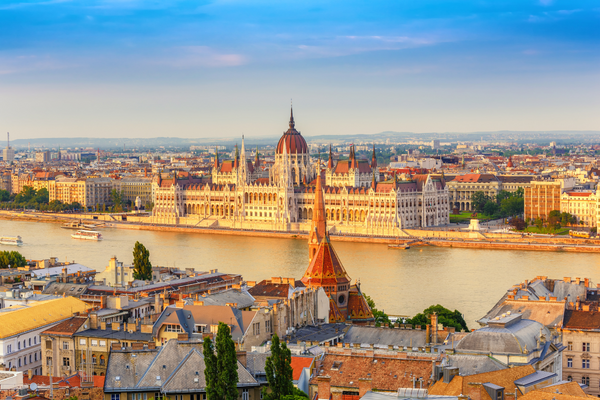 Budapest is yet another must-visit city on your interrailing trip through Eastern Europe. This capital city is filled with exciting things to do and see.
Things to do in Budapest:
Take some pictures of the majestic Hungarian Parliament Building
Visit one of the thermal baths, like: Széchenyi Thermal Bath (€€€), Gellért Thermal Bath (€€€), or Rudas Baths (€)
Explore Fisherman's Bastion
Take a stroll through the Castle Garden Bazaar
Visit the breathtaking Vajdahunyad Castle
Explore Buda Castle & Castle Hill
Get your groceries at Central Market Hall
Day trips from Budapest:
Visit the small village of Szentendre
Explore Szigliget Fortress and Balaton Uplands National Park
Pro tip: Read this complete Budapest guide, so you don't miss out on anything!
Days 13 – 15: Belgrade, Serbia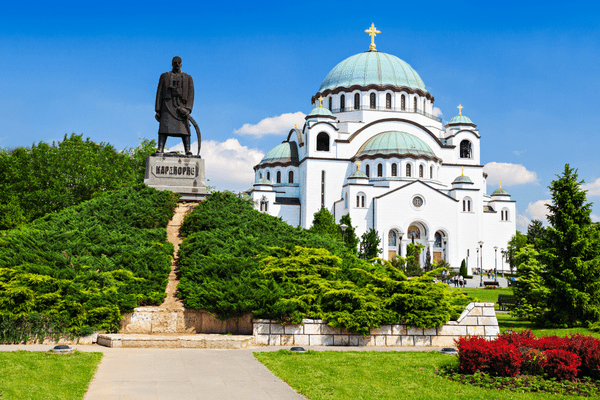 Another rather interesting city you must visit is Belgrade in Serbia. Another city with the most unique sites and places you won't find anywhere else in this world!
Things to do in Belgrade:
Explore the mysteries of Belgrade Fortress
Visit Belgrade City Museum and the military museum
Admire the Republic Square
Visit the unique Saint Sava Temple
Take some photos of Ružica Church and Saint Petka Church
Day trips from Belgrade:
Visit the second-largest city of Serbia: Novi Sad
Explore the small village of Sremski Karlovci
Hike through Đerdap National Park
Day 16: Mostar, Bosnia and Herzegovina
The most fairytale-like town on this itinerary must be Mostar! This relatively small city in Bosnia and Herzegovina is one you will remember for the rest of your life. Mostar has stolen many hearts before and isn't quite done doing that.
Things to do in Mostar:
Cross the unique Stari Most Bridge and the smaller versions of this bridge: Lučki most and Kriva ćuprija.
Learn more about the Stari Most Bridge in the Stari Most Museum
Photograph the Mostar Peace Bell Tower
Admire the Koski Mehmed Pasha Mosque
Take a stroll through the Old Bazaar
One day in Mostar is enough. But if you want, you could stay one more day in this place and visit the Kravica Waterfall.
Day 17: Zadar, Croatia
The city I fell for. I just couldn't skip Zadar. This wonderful city will take your breath away. With Roman and Venetian ruins in the old town and a unique sea organ, you'll love Zadar. But you should only stay here for a few hours to explore the old town. And then move on to the next place, where you'll need a lot more time…
Days 18 – 21: Ljubljana, Slovenia
As I've said, You'll need your time in Ljubljana. Not only because this city has a lot to offer, but also because you will need to take some day trips. But let's start in Ljubljana because this is a city you don't want to miss.
Things to do in Ljubljana:
Cross the unique Tromostovje (triple bridge)
Admire the Dragon Bridge
Visit the Ljubljana Cathedral
Explore Ljubljana Castle
Visit one of the many museums, like The House of Experiments, the National Museum, or the fun House of Illusions
Stroll through Tivoli Park
Day trips from Ljubljana:
Visit Lake Bled or (less crowded) Lake Bohinj
Explore the Great Soča Gorge
Take some beautiful photos of the Soča River
Take a walk through Triglav National Park
Chase the Adriatic Sea in Piran or Koper
Related:
Route 1 conclusion
In this first itinerary, you will visit a lot of wonderful places for only a small amount of money. In 3 weeks you'll have visited 8 cities, and whichever day trips you'll take. Of course, you can change this itinerary however you like and skip or add some places.
Related posts:
Now, let's move on to the second route.
Best Interrail routes 3 weeks
Route 2: Admire the big cities itinerary
London – Paris – Barcelona – Nice – Milan – Venice – Munich – Antwerp – Amsterdam
In this second itinerary, you will visit the bigger cities around Western Europe. You should definitely follow this itinerary if you want to visit many popular iconic places in Europe.
Take your picture in front of the Eiffel Tower, have a ride in the London Eye, admire the romantic city of Venice, and drink some beer in Munich. It's the dream!
In the budget itinerary, I've written about day trips as well, but the cities in this itinerary are so big, you'll be spending all your time exploring the cities.
Budget: For this itinerary, you'll need a higher budget, something around €60 a day should do you well.
Days 1 – 3: London, United Kingdom
London is a wonderful place you should visit at least once in your life! With many unique structures, great shopping opportunities, and magnificent museums, London has a great deal to offer.
Things to do in London:
Visit the British Museum and the Natural History Museum
Admire the Tower Bridge
Take some cool photos of the Big Ben
Stroll through the Regents park
Admire the Palace of Westminster and Westminster Abbey
Explore St. Paul's Cathedral
Take a ride in the London eye
There are many more things to do in London, you can easily fill a whole month. But you don't have a month, make sure to see everything you want to see in London in 3 days.
Did you know Spring in London can be a magical experience? Check out this guide to visiting London in spring!
Days 4 – 6: Paris, France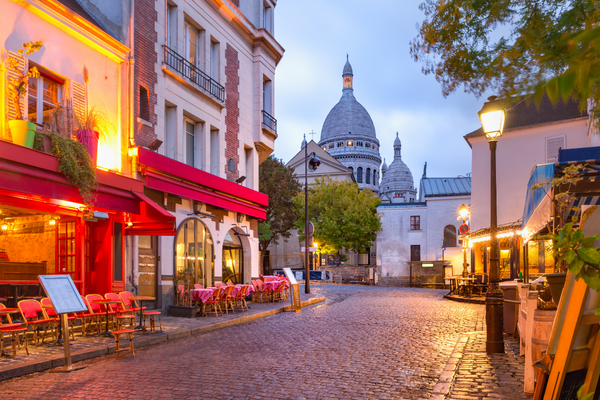 Now it's time to visit magnificent Paris! The city of romance, croissants, chocolate, and more! Paris is a city you must visit!
Things to do in Paris:
Climb the Eiffel tower
Visit the Louvre Museum
Explore the Notre-Dame Cathedral
Drive around Arc de Triomphe
Visit Palais Garnier
Cross the Pont Alexandre 3rd and explore Grand Palais
Spend a day at Disneyland
This is only a fraction of all the things you can do in Paris. Make sure to spend your time well in this majestic city!
Days 7 – 9: Barcelona, Spain
The historical city of Barcelona in Spain is another one you have to visit. This city offers wonderful experiences, exciting activities, and the best beaches!
Things to do in Barcelona:
Admire the unique ''unfinished church'': La Sagrada Familia
Explore Montjuïc Castle
Take a look at Arco de Triunfo de Barcelona
Admire Gaudi's work at: Park Güell, Casa Batlló, Güell Palace, and Casa Vicens
Visit the Cathedral of Barcelona
Explore Museu Nacional d'Art de Catalunya
Walk by the Gothic Quarter
Admire the wonderful Temple of the Sacred Heart of Jesus
Again, there are so many more things you can do in Barcelona, you'll easily fill your 2 days here!
In Barcelona, you may need to use public transportation to get around more easily. Here's everything you should know about public transportation in Barcelona!
Day 10: Nice, France
Nice, the capital of the Alpes-Maritimes department on the French Riviera, is a wonderful place to spend a day! With the cutest streets, wonderful architecture, and cozy pebble beaches, Nice is a wonderful stop on your way to Milan!
Things to do in Nice:
Admire Cathédrale Saint-Nicolas de Nice
Take a look at Nice Cathedral
Stroll through Parc du Mont Boron
Have a little break at the scenic Massena Dream
Explore the Basilique Notre-Dame de l'Assomption
One day in Nice is enough to explore the iconic sites and see some wonderful views.
Days 11 – 13: Milan, Italy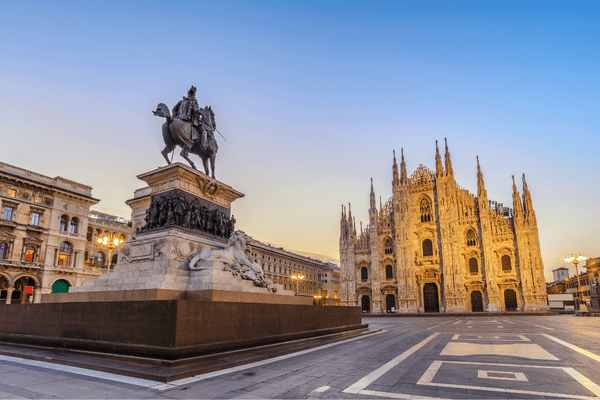 The capital of fashion and design is located in northern Italy. Milan is not only known for fashion, but also for the Gothic Duomo di Milano cathedral and the Santa Maria Delle Grazie convent, and Leonardo da Vinci's mural "The Last Supper''.
Things to do in Milan:
Admire the massive cathedral of Milan
Explore Sforzesco Castle
Go shopping at Galleria Vittorio Emanuele II
Have a little break at Sempione Park
Explore the spectacular Basilica di Sant'Ambrogio
Take some photos of Arco Della Pace
Day 14: Venice, Italy
Another day trip to take is to the city without roads: Venice! This wondrous city is well-known for its many canals and no roads. The only ways of transportation in Venice are walking or taking a boat.
You should just stroll along the city and take in its beauty. But beware, if you're going in the high season, you may as well skip this. It'll be too crowded to see this city in all its glory.
But if you do go, just explore the city by yourself and you'll find the most breathtaking sights.
Days 15 – 17: Munich, Germany
If I say three things: Beer, bratwurst, and Oktoberfest, Munich has to be the first thing that comes to mind. This tremendous city is well-known for celebrating Oktoberfest every single year. But that shouldn't be the only reason to visit Munich, as it has a lot more to offer!
Things to do in Munich:
Go on a stroll through the English Garden
Take in the beauty of Marienplatz
Visit the Olympiapark München
If you're a car fanatic, you should visit the BMW Museum
Admire the Frauenkirche
Climb the tower of St. Peter's Church
Explore the New Town Hall
Visit Odeonsplatz
Learn more about Bavaria at the Bavarian National Museum
Take a day trip to the fairytale-like Neuschwanstein Castle
And don't forget to drink beer and eat some bratwurst!
Days 18 – 19: Antwerp, Belgium
Next up is my favorite city in Belgium, Antwerp! This city has a lovely old town, the best chocolate shops, the diamond district, and more! You can easily fill 2 days with activities in Antwerp!
Things to do in Antwerp:
Visit the Antwerp Zoo
Admire the Cathedral Of Our Lady
Go inside one of the most beautiful train stations of the world: Antwerpen-Centraal
Take some photos of the Grote Markt
Explore Het Steen Castle
Go on a tour at Chocolate Nation
Visit the Diamond District
Go shopping at the Meir
Check out this more detailed guide to Antwerp!
Days 20 – 21: Amsterdam, The Netherlands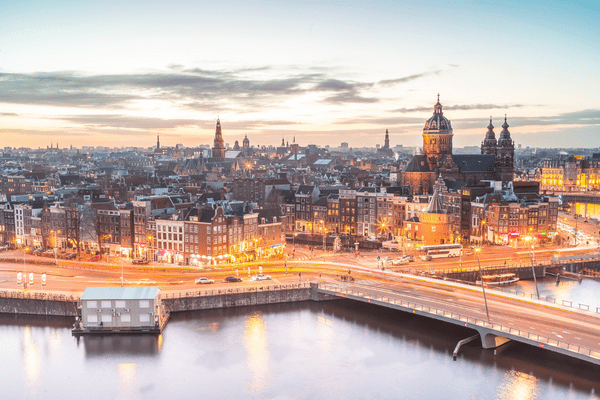 And finally, you'll reach the capital city of my home country: The Netherlands. In Amsterdam, you'll find the weirdest and most unique things on earth!
I know, Amsterdam is known for weed, but that's not everything Amsterdam should be associated with. There are so many great things you probably haven't even heard of.
Things to do in Amsterdam:
Visit Het Rijksmuseum
Explore the Anne Frank Huis for some WW2 history
Visit the Van Gogh Museum
Check out the Artis Zoo
Admire the Royal Palace Amsterdam
Go on a tour at Heineke experience
Admire the Dam Square
Check out the Red Light District
And you should take a bike ride through the city, to get the real Dutch experience!
Final thoughts on the best Interrail routes for 3 weeks
I sincerely hope that one of these itineraries will be perfect for you. At the moment I'm working on 2 more Interrail itineraries: the chasing the sunshine itinerary and the adventurer's dream itinerary. I will add them and edit this post later, so if you're curious, stay tuned!
Happy travels!
Best Interrail routes 3 weeks
Related posts
The Absolute Best Interrail Routes for 3 Weeks: Awesome Itineraries for You!
Best Interrail routes 3 weeks