Visit Antwerp with this 2-day itinerary and explore these places and unusual activities.
Antwerp is the second-largest city in Belgium and in my opinion one of the most beautiful cities in Europe. With stunning architecture, rich culture, the best Belgian beers, and the tastiest chocolates, this city is all you need for a fun trip! Here's a complete 2-day itinerary for visiting Antwerp. Enjoy!
A little while ago I visited Antwerp with my friends and it was awesome. The city was much more than I expected from it. We did the most amazing activities and just had a lot of fun throughout the entire weekend. One and a half days was a bit too short to explore the whole city. But everything I didn't see, I'll see on my next trip to this gorgeous city.
I am still a bit shocked that I didn't visit Antwerp earlier because it's only a 2-hour drive from my house in the Netherlands. But I'm really glad that I finally did visit and I definitely will visit again sometime.
Spoiler alert: I've kept the most fun activity for last 😉
Disclosure: This post may contain affiliate links, which means that if you purchase through one of the product links, we'll receive a small commission at no cost to you. We only promote products and services we 100% believe in. Thank you so much for supporting us! Read more about it in our disclosure policy.
Antwerp 2-day itinerary
Where to stay in Antwerp?
In Antwerp, accommodations aren't crazy cheap, but they're not expensive either.
If you're on a budget, hostels are a wise choice for you. Find the perfect hostel for you below!
If you're not on a low budget, you should simply go for a hotel. Most hotels are in or near the city center, so it'll save you a lot of walking!
Antwerp 2-day itinerary starting from the central station
Admire the central station
One of the first places we visited was the central station. If you're an architecture lover, you'll fall in love with this stunning structure; the central station.
The central station was built between 1895 and 1905 and it got renovated after the huge destruction of world war 2. In 2009 it was chosen as the world's fourth-greatest train station. And in my opinion, the station is a wonderfully beautiful masterpiece. Definitely visit the central station and take a look inside!
The Antwerp zoo
Now I am personally not one for zoos, but if you like going to the zoo, you should visit the one next to the central station in Antwerp. It is said to be a really beautiful zoo.
Visit Chocolate nation
Just skip the whole glammy and expensive diamond district; visit chocolate nation instead! This is the greatest Belgian chocolate museum in the world! It's a little expensive to get in; 18,90 euros per adult, but definitely worth it! You learn a lot about chocolate, and the history of Belgian "pralines", and you can taste some chocolates…
De Keyserlei
On our way to the Meir, we sat down in a cute little beer café on the Keyserlei. Very expensive, but really refreshing. When you are in Antwerp, you must sit down for a tasty Belgian beer. It wasn't bad at all with a view over the entire Keyserlei and the Central station.
Okay, I must be honest with you for a second. Please don't hate me, but I didn't drink any beer during my weekend in Antwerp. All my friends did, but I just don't like beer. But the beer cafes were really cute and the friendly staff laughed at me when I ordered a red wine… I had it coming.
Take a stroll down the Meir
The Meir is the most well-known shopping street in Antwerp. If you're in for a bit of shopping, make sure not to skip the Meir!
Hendrik Conscienceplein
With the Carolus Borromeus church, the Hendrik Conscienceplein is a beautiful sight. It's a shame that we only found this church on a Sunday and there was service, so we couldn't go in. So you should visit this church on a Saturday if you want to take a look inside.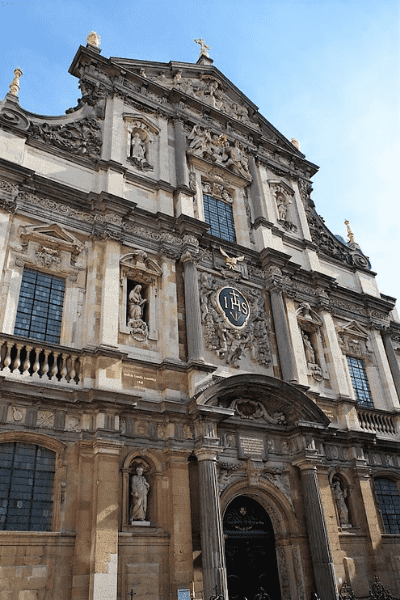 Cathedral of Our lady
The biggest church in Antwerp is the Cathedral of our lady. The construction of this massive structure started in 1352 and was finished in 1521. With a tower of 123 meters, this cathedral is quite impressive.
There's a 12 euros entrance fee for this cathedral.
Sint-Annatunnel
This may be a bit of an unusual thing to visit, but it's definitely something you should experience. To get from the historic center to the other side of the Schelde (river), there's a unique tunnel that is being used daily by the citizens of Antwerp.
The Sint-Annatunnel is 572 meters long and it was built between 1931 and 1933. The cool thing about this tunnel (in my opinion) is the wooden escalators. These authentic escalators are probably some of the oldest in the world!
You don't have to walk across the entire tunnel, but just make sure to get down using the wooden escalators.
Grote Markt
On your stroll through the historic center, you will – no doubt – find the Grote Markt. This iconic square is surrounded by the most breathtaking buildings with golden statues on them, and a stunning statue in the middle of the square; Brabo's monument.
And around Christmas, you will find the cutest Christmas market on this square.
We spent new year's eve in Antwerp, and had the best experience! With many winter activities, this day is unforgettable!
Vlaeykensgang
This is a medieval alley dating back to 1591. It may be a little hard to find, but just take a look when you do. There's nothing to do here, but it's a beautiful place to take some pictures and have a beer in t Hofke.
House of Waffles
Another thing you just can't skip is eating a real Belgian waffle. We sat down at the house of waffles (the best waffles in town) on a little square, overlooking the huge Cathedral. The staff was really friendly and helpful and the waffles are like heaven. A bit expensive, but worth every single bite. The coffee's really delicious too.
Het Steen Castle
This is Antwerp's oldest structure, dating back to 1225 as a gateway to a larger castle of the Dukes of Brabant which was demolished in the 19th century.
Take in every bit of beauty of the medieval building and make sure to take some photos.
Here's a little list of other things to see in the old town of Antwerp:
The Heritage Library Hendrik Conscience
Plantin Moretus Museum
On Stoelstraat 11, you'll find the oldest house in Antwerp
St. Paul's Church
The Museum Aan de Stroom; for a beautiful view over the city
Begijnhof
Rubens House
These are all things I didn't get to see because we didn't have enough time.
Find the best deals on accommodation in Antwerp with Booking.com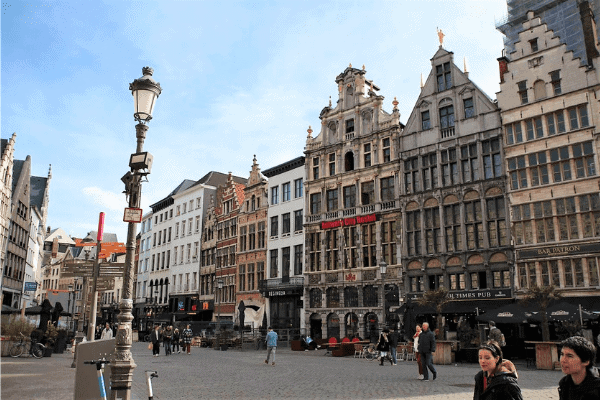 Now last but not least…
Visit ghost town Doel
Doel is a ghost town just outside the city of Antwerp. It's half an hour's drive from the city. We visited Doel on the way to Antwerp and it was really fascinating. Okay, that's maybe not the best way to describe a ghost town, but it really was fascinating.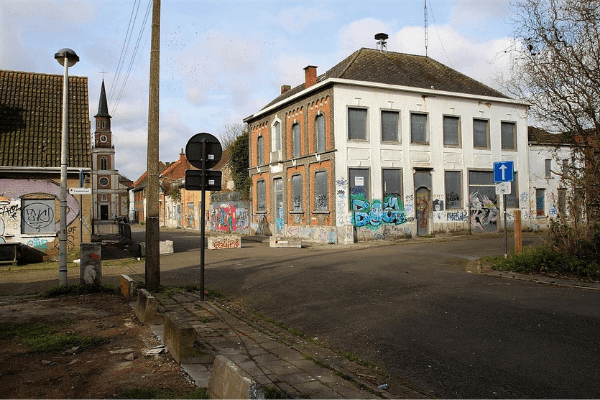 Doel was once a little village with about 1300 inhabitants. There are only less than 30 left, who are fighting to keep their homes and village alive. But how did Doel become such an abandoned ghost town?
The port of Antwerp needed more space, so the government almost forced the residents out of their homes by giving them compensation to leave. In 1999 it became clear that the town could not be saved and was scheduled for complete demolition.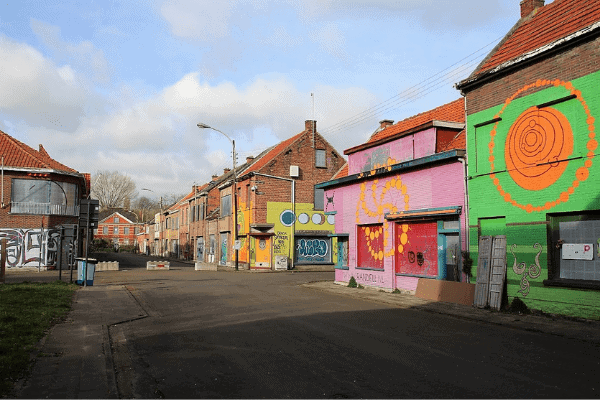 Since 2007 this town has become a true piece of art made by many street artists. People are still fighting for the town to live on, but soon this town will only live on in pictures and videos. There is no exact date for the demolition yet, so I'd recommend visiting while you still can.
Because of this whole story, this town has become a tourist attraction. Many people are visiting Doel before it's too late. It's illegal and hardly possible to enter the empty houses and shops, but just wandering through the streets was more than enough.
You cannot enter Doel with a foreign car, although we managed to do it. We went around 9 am and the little pole wasn't in the way so we just went on and drove into the town. It wasn't crowded on this beautiful Saturday, so I'd recommend going early in the morning because it can get crowded throughout the day, especially on the weekends.
Practical tips for visiting Doel
Our weekend started early in the morning on Saturday. We drove to Doel, stayed there for an hour or 2, and then drove to Antwerp. Around lunchtime, we got to the city and the next day around 4 pm we had to go home already. In my opinion, this wasn't enough time to explore the city. I'd have liked a few more hours of exploring.
So if you are going to Antwerp, I'd say go for 2 to 3 days to do most of the activities I wrote above. We hired a little apartment close to the city and this was wonderful because we could go there for breaks. Antwerp is a big city so you'll be walking a lot. It's nice to get out of your shoes and rest a few times a day.
Final thoughts on Antwerp 2-day itinerary
Although my weekend in Antwerp was a little short (and expensive), I really enjoyed it. The city is one of the most beautiful in Europe. With the sunny weather, it felt like a little vacation, like we were there longer than we actually were.
If you still have doubts about visiting Antwerp, let me take them away. It's definitely worth it. Doesn't matter what you're looking for in a city, you'll find everything in Antwerp.
Related posts
Visiting Antwerp: 2-day Itinerary Filled with Surprising Activities (Including a Ghost Town)