5-day itinerary for visiting Ireland and everything you should know.
Ireland is a beautiful island in the Atlantic Ocean. While not as big as its neighbor, the U.K., Ireland has so much to offer. A road trip through Ireland is one of the best ways to explore the breathtaking country. Here's my complete Ireland 5-day itinerary.
From stunning nature to friendly residents with the nicest English accents in the world, great hiking trails, ancient castles, and pretty towns.
This Ireland itinerary will help you plan an action-packed 5-day trip, though you could easily spend much more time in Ireland and not get bored!
Disclosure: This post may contain affiliate links, which means that if you purchase through one of the product links, we'll receive a small commission at no cost to you. We only promote products and services we 100% believe in. Thank you so much for supporting us! Read more about it in our disclosure policy.
The perfect Ireland 5-day itinerary
This post was written by Lotte from the travel blog Phenomenal Globe. She's a lovely person who writes great content. Through a great collaboration, I now edited and published this post. Check out her awesome travel blog.
Campervan Ireland 5-day itinerary
Day 1: Dublin
Day 2: the West Coast (County Clare)
Day 3: the Ring of Kerry part I
Day 4: the Ring of Kerry part II and the Rock of Cashel
Day 5: the Wicklow Mountains
Important things to know when planning a 5-day Ireland itinerary road trip
What is the best time to visit Ireland?
While the weather generally is the best during the summer months, these are also the busiest months to visit (especially July and August).

Both the Irish themselves as well as international tourists flock to the seaside spots and accommodation can be scarce (and expensive!).

A better choice is to visit Ireland in April-May or in September-October. We visited Ireland at the end of October and prepared ourselves for wind, rain, and cold. However, we were very lucky and had sunny weather almost every day of our trip.

When it comes to the Irish weather, there are never any guarantees. It can be cold in summer and warm on a day in March.

Therefore, it's important to pack layers (and a good rain poncho). More about what to pack for your Ireland trip can be found further down in this post.
Ireland is a country filled with unique fun activities, make sure you're staying long enough to do them all!
Which currency is used in Ireland?
In the Republic of Ireland, the official currency is the euro. You can pay almost everywhere with your card, and there are many ATMs, especially in the cities.
Do I need a visa for Ireland?
Possibly but it depends on your nationality. While residents from countries in the European Union as well as those living in the USA don't need a visa, it's best to check the official Ireland visa website which rules apply to you.
Bonus: Use these helpful Ireland travel tips for first-time visitors!
Ireland 5-day itinerary
Before arriving in Ireland, I had prepared an ambitious list of places I wanted to see. If only we had had two weeks in Ireland, that would have been great.
Unfortunately, we only had five days and we didn't want to rush. So I threw out the list and we decided to go wherever the weather forecast was best.
The sun led us to the West Coast where we drove part of the Wild Atlantic Way, The Dingle Peninsula, and the famous Ring of Kerry.
We made a road trip around Ireland by campervan and loved it! Having our own house on wheels allowed us to travel wherever we wanted to without planning our Ireland trip beforehand.
During our 5 days in Ireland, we drove 1400 kilometers in total, which comes down to an average of 280 km a day. I admit our itinerary was a little fast-paced, especially for those less fond of driving.
You could easily turn this into a 7-day driving tour of Ireland and spend a bit more time exploring the lovely villages mentioned in this post.
Make sure to read through to the end of this post for essential information and a full packing list!
Day 1: Dublin and driving to the West Coast
Itinerary: Trinity College – St. Stephan's Green – West Coast (near Galway)
Trinity College and the Old Library
The campus of Trinity College is absolutely gorgeous, with old mansions, a park with huge trees, and impressive college halls.
Of course, the main attractions are the Long Room in the Old Library and the beautifully illustrated Book of Kells. Over 200.000 other very old books are carefully arranged, row after row after row…
It's a shame nothing has been invented yet to capture the scent, I would have loved to share with you the wonderful aroma of old books and wood.
St. Stephan's Green
Autumn was in full swing and the beautiful colors made the park even prettier! It's a lovely place for a stroll or a picnic if the weather allows it.
To the West
A little before noon we took the bus to the office of Bunk Campers to pick up our camper van. We headed west to see the famous Cliffs of Moher and to drive part of the Wild Atlantic Way.
Where to park for the night
We spent the first night in our van at the parking lot of Galway Bay Golf Resort. The food at The Clubhouse Bar of Galway Golf Resort was great as was the takeaway coffee we got the following day.
Combined with the genuine welcome, I thoroughly recommend spending the night.
Unfortunately, we didn't have time to visit Galway, but it's definitely worth a trip!
Where to stay in Dublin on a budget: Hotel St. George
If you decide to spend more time in Dublin and spend the night, I recommend Hotel St. George (see Agoda and Booking).
We stayed here for a night and paid €55, not including breakfast. The room wasn't big but everything was clean and tidy.
The hotel is a stone's throw from the busy Upper O'Connell Street and you can easily walk to the main sites in Dublin.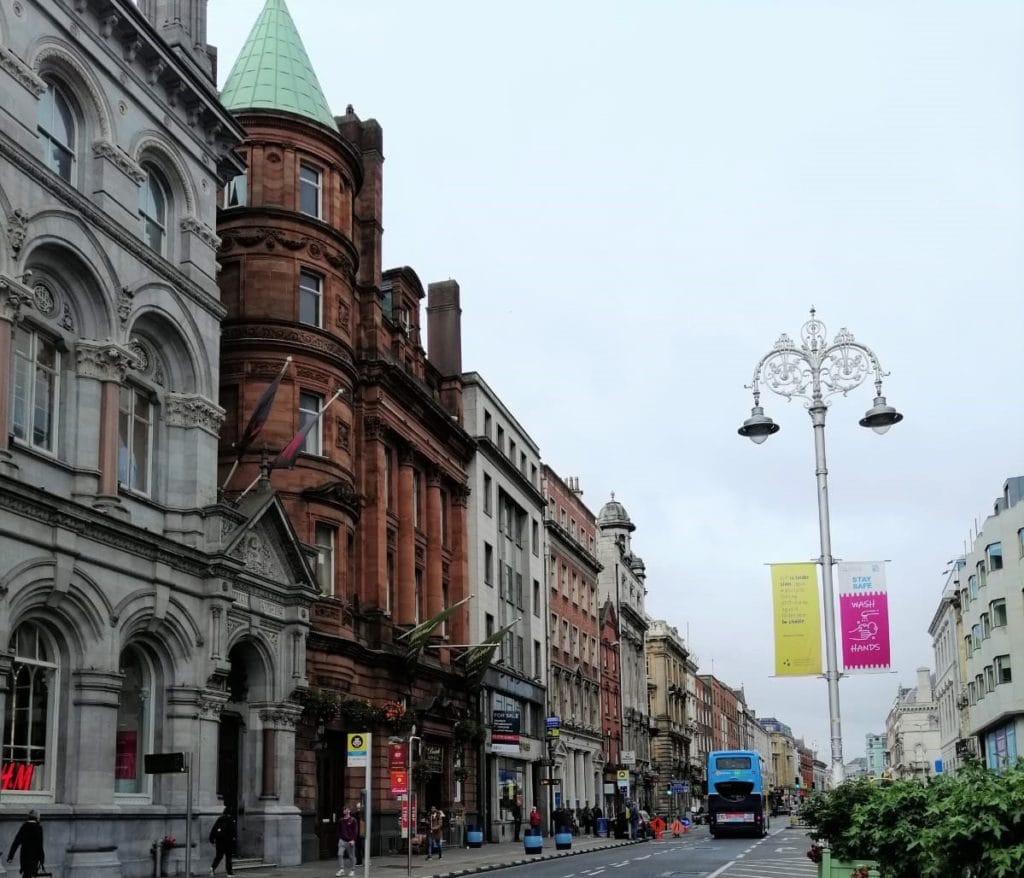 Where to eat in Dublin:
We ate at Fujiyama, a Japanese restaurant in the city center. Having spent a month in Japan we developed a severe addiction to Japanese food.
When we spotted this Japanese restaurant in O'Connell Street Upper we didn't think twice about it and quickly found ourselves a table.
The volcanic ramen and udon hotpot were delicious and almost as good as in Japan.
For more activities in Dublin, check out this awesome beginner's guide to Dublin!
Or book one of these super affordable tours, to get a truly unique experience!
Day 2: The West Coast (County Clare)
Itinerary: Dunguaire Castle – The Burren – Cliffs of Moher – Hike to Hag's Head – Inch Beach
Dunguaire Castle
The first stop on the itinerary is Dunguaire Castle, built in the 16th century and beautifully located on a small hill.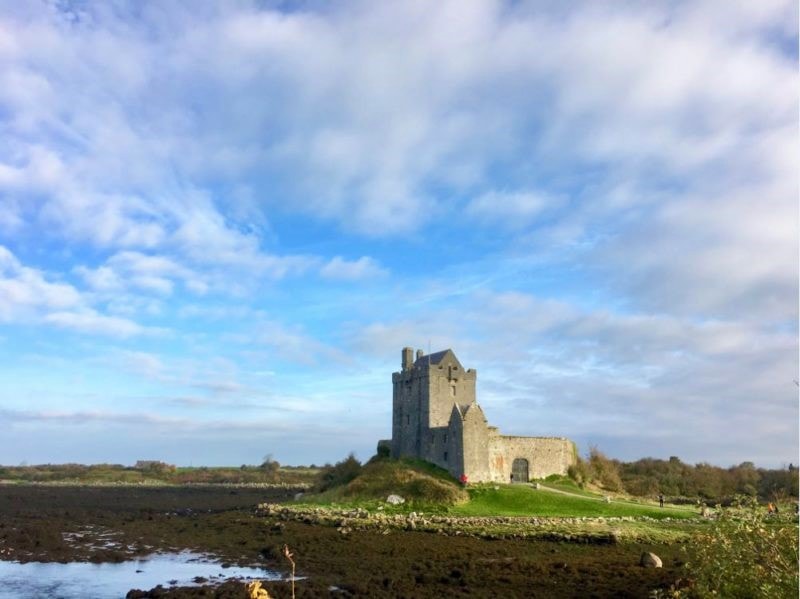 Keep in mind the Castle is generally open to visitors between April and September, so if you are traveling in the shoulder season (like we were), you can't enter the caste but only admire the view from afar.
The Burren
We drove through the Burren on our way to the Cliffs of Moher. The Burren is a desolate landscape with impressive rocks and gorgeous views.
I would have loved to go for a hike in this area, unfortunately, we didn't have time but it's definitely an area I want to revisit.
The Cliffs of Moher
The Cliffs of Moher are Ireland's most visited natural attraction and I completely understand why. These amazing cliffs make a sheer 214-meter drop straight into the pounding Atlantic Ocean…
Visiting the Cliffs of Moher had been on my bucket list for years and not only did I get to visit the Cliffs, but I also visited the Cliffs of Moher in sunny weather, lucky me!
Hike to Hag's Head
During our walk to Hag's Head (and back), there was plenty of time to admire the astonishing sight of the soaring Cliffs. In the picture below you can see Moher Tower, a former watchtower found at Hag's Head.
Drive to Inch Beach
Due to the limited time we had available in Ireland, we chose to drive to Inch Beach so we could explore the Dingle Peninsula the next morning.
However, please note it's quite a long drive to Inch Beach from the Cliffs of Moher (200km, ~3 hours of driving).
Where to stay
We spent the night at Inch Beach on the Dingle Peninsula, we parked in front of Sammy's Restaurant (after asking checking with the restaurant manager if we were allowed to stay overnight).
PS. You have to check out these unique places to stay in Ireland!
Where not to eat
We had a not-so-good dinner at the Golf Club in Adare so I don't recommend eating there. The food at Sammy's Restaurant smelled and looked good when I walked in to ask if we could overnight with our van, though I don't know how it tasted…
Day 3: The West Coast (County Kerry)
Itinerary: Dingle – Ring of Kerry Part I: Killorglin, Bentee Loop Walk at Caherciveen and Waterville.
Waking up at Inch Beach
When we opened the curtains of our cozy house on wheels the sky was blue once again! Inch Beach was a great place to wake up, especially on the day of our seven-year wedding anniversary.
Dingle
The road to the little village of Dingle was spectacular and reminded us of the beautiful roads we've driven in New Zealand.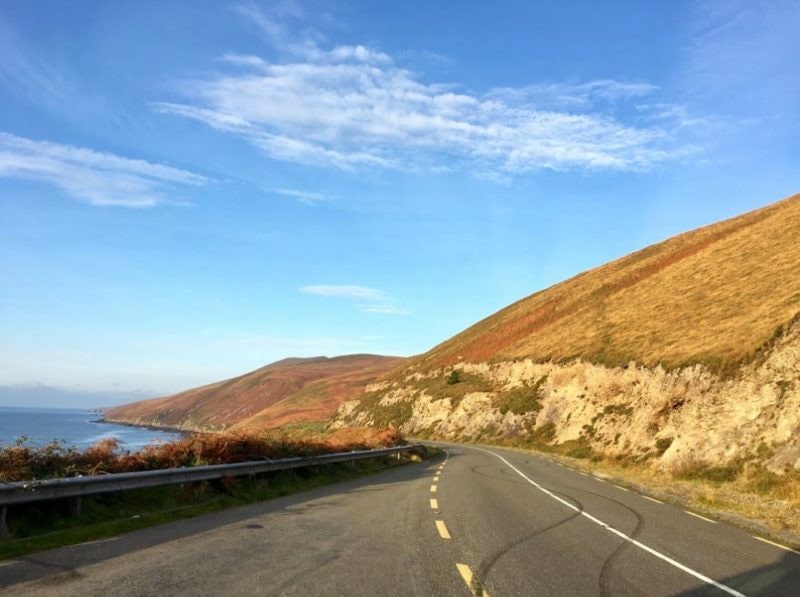 Dingle is a very colorful town and great for an early morning stroll. The fishing port has several cute shops, a couple of pubs, and restaurants to get a drink or a snack.
Killorglin
Killorglin was our first stop on the famous Ring of Kerry. It's a pretty town with a beautiful old stone bridge and colorful houses. While exploring the village, we picked up a tasty sandwich from Jack's Bakery.
If you've got a bit more time, you should definitely visit Killarney! Here are the 9 best things to do in Killarney.
Bentee Loop Walk at Caherciveen
Bentee Loop is a 10-kilometer hike that requires a good level of fitness. The trail is clearly signposted and leads to the top of a 376-meter high hill.
Along the way and especially from the top you can enjoy stunning views of the surrounding area.
Where to eat
We celebrated our anniversary with a fancy dinner at the Smugglers Inn, which was delicious and a great way to end our day (and celebrate our happy years together).
Where to stay
We didn't have to wander far after dinner as we are allowed to overnight at the parking lot of the Smugglers Inn.
Day 4: The West Coast (County Kerry) and the Rock of Cashel
Itinerary: Ring of Kerry Part II: Loher Stone Fort, Sneem, and Kenmare – Rock of Cashel – Johnstown
Ring of Kerry Part II
What an amazing drive is the Ring of Kerry, it's definitely one of the most beautiful roads I have driven in my life (and I have driven some beautiful roads).
Loher Stone Fort
We took a brief detour from the Ring of Kerry to visit the Stone Fort of Loher, which has recently been reconstructed and is an interesting place to visit.
Sneem
In the village of Sneem, we stopped for a coffee and to take a picture with a scary Halloween figure. A unique opportunity, as we barely celebrate Halloween in the Netherlands.
Kenmare
And of course, there were more pretty buildings in Kenmare, the last village on the Ring of Kerry we visited.
Unfortunately, we didn't have time to visit Killarney National Park, but it's definitely on the list for the next trip.
Rock of Cashel
Another Ireland highlight I was very excited about visiting was the Rock of Cashel, an impressive castle/cathedral. The very Irish-looking and knowledgeable tour guide told us a lot of interesting facts about this amazing building.
For example, did you know that the Rock of Cashel is considered a very unlucky cathedral because the longest part of the cross-shaped building is facing West instead of East?
Or that the bishop didn't have enough money to fill the huge windows with stained glass and made them smaller to better suit his budget?
We learned these interesting facts from our knowledgeable guide and I definitely followed one of the free guided tours.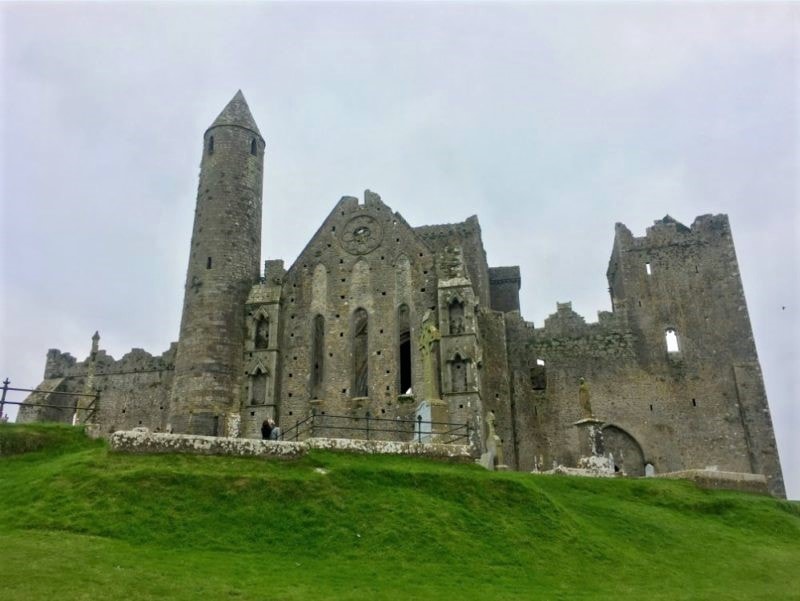 Where to stay
We overnighted behind the Londis Supermarket in Johnstown after checking with the manager if that was okay. It was right next to the M7 so not the quietest place to spend the night.
Though I admit we had gotten a bit spoiled after sleeping three nights next to the beach with the rushing of the ocean as the only sound (instead of the rushing traffic;-).
Where to eat
We ate a yummy hamburger, the perfect example of pub food at The Johnstown Inn.
Day 5: the Wicklow Mountains and back to Dublin
Itinerary: Wicklow Mountains – Lough Tay (Guinness Lake) – Great Sugar Loaf – Dublin
The Wicklow Mountains and Lough Tay
The Ring of Kerry is truly spectacular, but perhaps the road from Kilteel to Lough Tay is even more beautiful. I guess it's a tie because I really can't choose.
This was another fine example of why Ireland is a great country for road tripping and what was even more amazing, we didn't come across a single soul during this drive.
The road snakes through the colorful steppe and the landscapes and views are breathtaking. Below you can see Lough Tay, also called The Guinness Lake, is one of the most photographed locations in the Wicklow Mountains. I can imagine that when the sun is shining it makes for an even more beautiful sight.
Great Sugar Loaf
To wave a proper goodbye to Ireland we wanted to do a last short hike before getting on the plane back home. And thus we scaled Sugar Loaf 'Mountain', a 200-meter high hill.
It was a fun 1-hour hike with good views from the top. After completing the hike we drove back to Dublin where we reluctantly handed in our camper van. I would have loved to stay longer as there were many more spots I wanted to see.
Rent a campervan in Ireland for your 5-day itinerary
Where to rent your van
We rented our van from Bunk Campers and had a great experience with them.
Great customer service
Their customer service is kick-ass, I always received a reply to my email within an hour.
Modern fleet in outstanding condition
The camper vans from Bunk are modern and in excellent condition. Our van featured a USB port and rear-view camera, very helpful when reversing your van on yet another narrow country road…
Our Vista camper van was very comfortable to drive. It was my first camper van with cruise control, great for long stretches on the highway.
The built-in GPS system came in quite handy too, though I always make sure to have a map as well.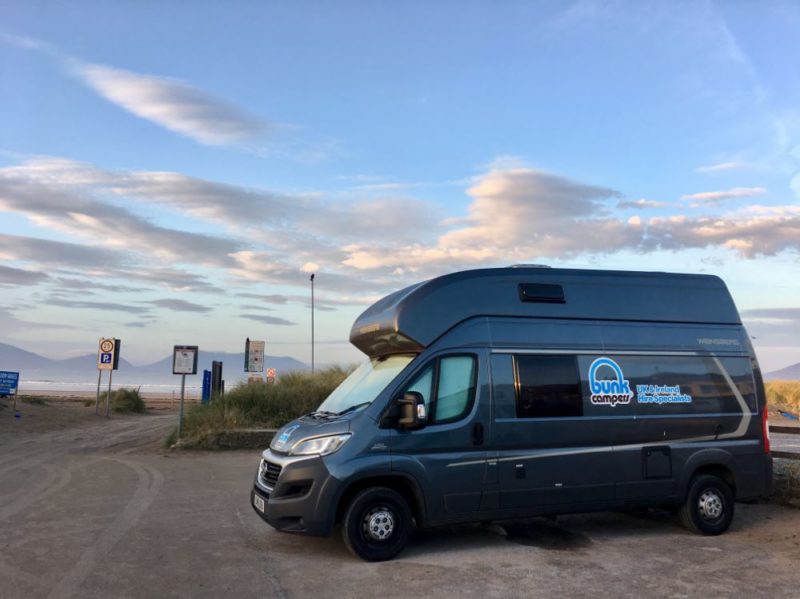 Convenient pickup location
Bunk's Dublin office is really close to the airport (5 minutes by bus) and the bus stop is a 200-meter walk from the office.
Competitive rental prices
Finally, Bunk offers very competitive prices on their vans, you can rent the smallest one (the Roadie) for only €40 a night!
How much does it cost to rent a campervan in Ireland?
I've made an infographic (including the rental fee) to show you the total costs of renting a campervan in Ireland for 5 days.
As you can see in the infographic, expenses are split into 5 categories:
Rental fee ⇒ a Vista campervan costs ~ €73 per day, for 5 days the total amount is €365.
Additional insurance ⇒ optional, but I had a parking accident in New Zealand and was so happy this was covered by our collision waiver damage. Having extra insurance just gives me peace of mind.
Petrol ⇒ between €1,17 and €1,22 per liter. We drove 1400 kilometers in total and paid €138 in total for diesel.
Toll ⇒ on the M roads (highways) of Ireland you have to pay a toll. It costs €1,90 for a car (also for the Vista van) every time you pass a toll booth. For our 5-day road trip around Ireland, the total costs were €15,50.
Parking ⇒ a minor expense, we paid a couple of euros for parking in Dingle town and at the Rock of Cashel.
The total cost of renting a campervan for 5 days is €719, which comes down to €144 per day. Considering this is the combined costs for accommodation and transport which I think is very reasonable for a country in West-Europe.
Read more about the total costs of our Ireland trip and see the infographic about the costs of renting a campervan below.
What to pack for your Ireland trip
One of the advantages of traveling by campervan is you don't have to continuously lug around your luggage which is great. However, that didn't mean I took a lot of stuff with me on my road trip to Ireland.
The perfect Ireland packing list for autumn
I carried both my Deuter backpack and my beloved Nomad daypack. Here's what I packed for our Ireland trip.
Clothes and shoes
Top
• Down jacket (Ireland can be cold, windy, and rainy, though on our trip it certainly wasn't)
• 1 zipper hoodie
• 1 thermal long sleeve (I slept in my thermal outfit)
• 2 fleece sweaters
• 1 short-sleeved t-shirt
• 2 Merino hiking shirts
• 1 strap top
•1 Rain Poncho (I expected to use this full-time in rainy Ireland but we were extremely lucky with the weather. So I didn't even take my poncho out of the pack. Nevertheless, I would still take this with me on my next trip to Ireland…)
Bottom
• 1 pair of hiking pants
• 1 pair of skinny jeans
• 1 pair of thermal leggings (I slept in my thermal outfit)
• 5 pairs of merino hiking socks
• Enough underwear
Shoes
• Proper hiking boots such as the Lowa Renegade GTW Women or Lowa Renegade GTW Men
Toiletries
• Hairbrush and hair ties
• Deodorant (I'm loving this Wild Deo)
• Contacts and glasses
• Mascara
• Make-up remover
• Toothbrush and toothpaste
• Lush solid shampoo bar
• Band-Aids
Essentials
• Passport
• Debit card
• Credit card
• A bit of cash, though we could pretty much pay with our Maestro card everywhere.
Electronics
• Travel adapter
• Charging cable
• Kobo E-reader
Miscellaneous
• Earplugs and eye mask (not necessary, it was quiet and dark in our campervan)
• Scarf
• Sunglasses
• Lonely Planet Ireland
Camping gear
• Dishtowel
• Travel towel (not necessary, this was provided by Bunk Campers)
• Sleeping bag (not necessary, this was provided by Bunk Campers)
• Travel pillow (not necessary, this was provided by Bunk Campers)
Find the best travel packing hacks here.
Things to know about driving in Ireland
Drive on the left
First and foremost: drive on the left! I've gotten pretty used to driving on the left side of the road, having explored Australia, New Zealand and Japan by car as well, however, this was my first time driving a manual car on the left side…
Luckily practice makes perfect and after driving the camper van for a couple of hours it almost felt natural.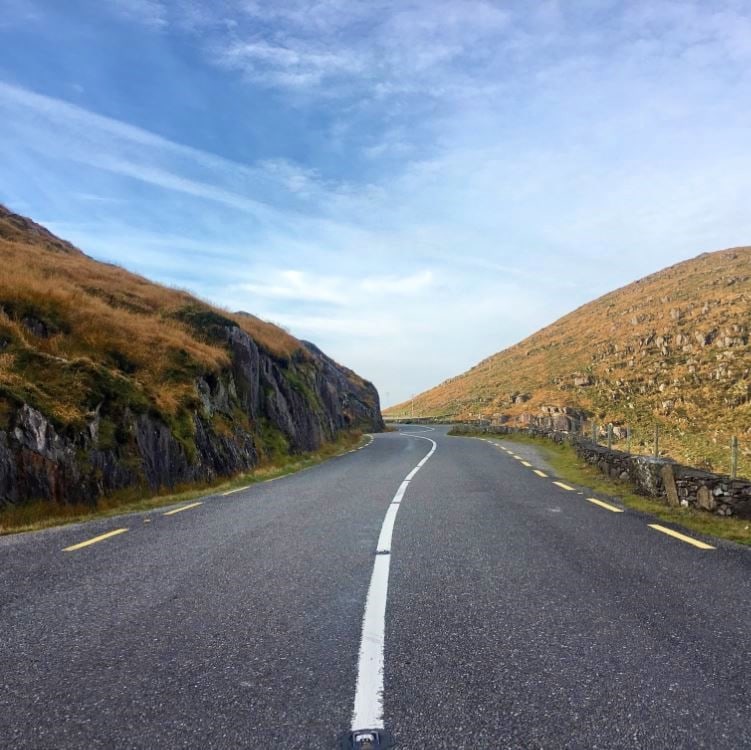 Drive slowly
In Japan, I was frequently frustrated by the excruciatingly slow speed limits on the perfect and empty roads that begged me to drive faster.
In Ireland on the other hand, the speed limit was 100 km an hour on most roads. However, I think our van would have toppled over had we driven at this speed.
There are just too many curves, bends, and twists on the roads. And don't get me started on those little stone walls or high hedges that line them… So be careful, drive slowly and enjoy the ride!
Give way
I wasn't comfortable driving at the maximum speed simply, because I didn't feel it would have been safe to do so. Consequently, we often created a bit of a traffic jam behind our van.
It was very much appreciated by our fellow road users if we pulled over, when safely possible, to let them pass.
Asking nicely goes a long way
The Irish people we met were so kind and welcoming! We spent the first night in our campervan at the parking lot of Galway Bay Golf Resort.
Resort managers Barry and Peter went out of their way to make us feel welcome. We were shown around the premises and invited to use the bathroom facilities of the golf club if we wanted to, so very kind!
During our trip, we were never refused when we asked if we could overnight at the parking lot of a golf resort/restaurant/supermarket, and all these nights were free of charge.
Now, I obviously can't guarantee this will happen every time and everywhere in Ireland, but I do think asking nicely goes a long way.
Final thoughts on this Ireland 5-day itinerary
I hope you've enjoyed this day-to-day road trip of Ireland! Where do you want to go in Ireland? Let me know in the comments below! I'd love to hear from you.
Happy travels!
Related posts
A Mind-Blowing 5-day Itinerary for an Exciting Road Trip through Ireland
Ireland 5 day itinerary