Everything you need to know about a Ghent City Card and if it's worth it.
Are you visiting Ghent soon? You should consider buying a Ghent City Card. This card will give you free access to attractions and many other benefits. It might even save you money!
I will tell you more about what you can do with a Ghent City Card in a minute.
Disclosure: This post may contain affiliate links, which means that if you purchase through one of the product links, we'll receive a small commission at no cost to you. We only promote products and services we 100% believe in. Thank you so much for supporting us! Read more about it in our disclosure policy.
About Ghent
Ghent is the third largest city of Belgium and the capital city of east Flanders. Ghent has a long history, dating back to even the stone age. But from the 11th century, Ghent became a city; by the 13th century, it was one of the biggest European cities north of the Alps!
Much of Ghent's medieval architecture is still intact and remarkably well-preserved. Ghent is simply a must-see for every history and/or architecture lover.
And with some fine museums, Belgian delicacies, and many activities, Ghent is a fun city for everyone!
Is Ghent worth visiting?
YES! A thousand times yes! As I've told you above, Ghent is a very well-preserved old city. You won't be able to find anything like it elsewhere.
Most people visiting Ghent are blown away by its beauty. People often refer to Ghent as ''Hogwarts-like'' or a ''fairytale town''.
So yes, I'd pretty much say that Ghent is worth visiting. I visited myself in the beginning of 2023 and I love every bit of it!
Best time to visit Ghent
Ghent is a perfect city to visit all year round. In spring everything will be in bloom, in summer you'll simply have the best weather, in autumn this city will have amazing "gothic vibes" and in winter it won't be crowded.
I'm dying to visit Ghent sometime in the fall because I think it's the best time to visit this particular city.
The last time I visited was in January and I loved the fact that it wasn't crowded at all; not many people go here in winter.
Getting to Ghent
Public transport to Ghent
It's incredibly easy to visit Ghent with public transport. By train, Ghent is only:
30 minutes from Brussels
1 hour from Antwerp
25 minutes from Bruges
You can already buy your train ticket in advance from Trainline. A ticket will cost you between €9 – €20 euros.
You can also visit Ghent from these cities by bus. Taking a Flixbus may cost you even less and it can take you as much time as taking a train.
A Flixbus ticket will cost you between €4 – €15 euros.
The price depends on the place you're traveling from and the timetables.
Trainline will show you the cheapest tickets and it'll show you Flixbus tickets and times.
By car
Ghent is also easily reachable by car. The driving times won't be longer than the train times unless you run into a traffic jam.
Ghent is filled with parking lots, so finding a place to park your car won't be hard. Parking lots and garages in the city will cost you some euros, but it's quite reasonably priced.
You can also park your car for free at a P+R and take the bus or walk to the city center.
We parked our van at P+R Muide and only had to walk half an hour to the city center.
What is the Ghent City Card?
With the Ghent city card, you can get discounts, free access, free transport, and more! This card could save you some money on your trip to Ghent.
Related posts:
How much € is the Ghent City Card?
There are 2 different options.
Ghent City Card 48 hours – €38 euros
Ghent City Card 72 hours – €44 euros
Where can you buy a City Card?
You can buy the city card in several places in the city, like:
Tourist Information Center Ghent at Sint-Veerleplein 5
Hotels in Ghent
Lijnwinkel Gent Korenmarkt
All participating museums and sights in Ghent
When you purchase the card, you must fill in the starting date on the back of the card, because only then you can use public transport with this card.
Make sure that you activate the card on the same day by visiting your first attraction. That's when the card activates and when the countdown starts.
This card does have conditions, read about them here.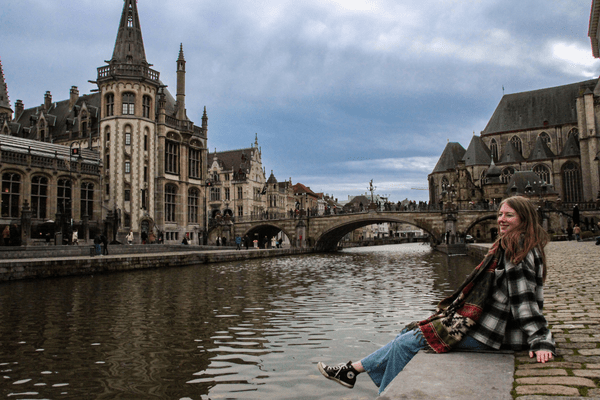 This is included in the Ghent City Card
The Ghent City Card gives you access to numerous attractions. Some are for free and at others, you get a massive discount. The Ghent city card comes with a fold-out map of the city.
Attractions that grand you free access with the Ghent City Card (and the actual prices)
Gravensteen Castle – €12,-
House of Alijn – €8,-
Museum of Fine Arts Ghent – MSK – €12,-
Ghent Belfry – €10,-
S.M.A.K. – Ghent's Contemporary Art Museum – €12,-
STAM – Ghent City Museum – €10,-
St. Peter's Abbey – €12,-
Museum of Industry – €8,-
Dr Guislain Museum – €10,-
GUM – Ghent University Museum – €8,-
The World of Kina: the House
The World of Kina: the Garden
Hotel d'Hane Steenhuyse – €12,-
Arnold Vander Haeghen House – €12,-
Huge discount on the Ghent Altarpiece
With the city card, you can also visit the Ghent Altarpiece: The Adoration of the Mystic Lamb, located in St. Bavo's Cathedral. You can get access to this altarpiece with a discount of €10,-. A normal ticket is €12,50 or €16,- depending on if you want a tour.
So visiting the Ghent Altarpiece won't cost you more than €6,- with the Ghent City Card.
Note: You need to make a reservation to visit the altarpiece in advance. This is the only thing you need to book in advance with a city card, every other attraction doesn't need a reservation or booking.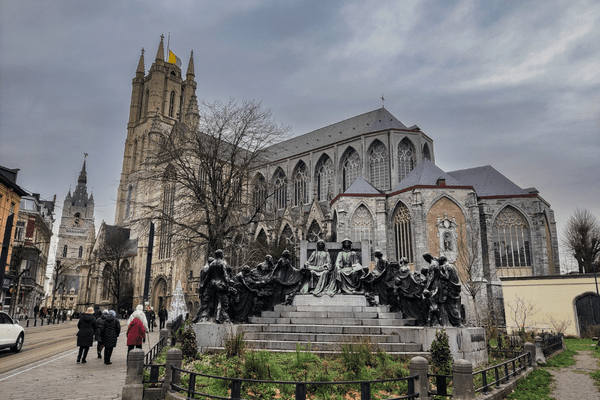 Temporary exhibitions
Visit all temporary exhibitions in Ghent's museums at no extra charge with a Ghent City Card. There are all different kinds of exhibitions in Ghent, check them out here!
Free transport in Ghent
The Ghent City Card is ideal for getting around in the city. You can:
Get on and off all the trams and buses in the historic city center of Ghent
Explore like the locals do: on a bike! You can rent a bike for one day with a city card. All you need is a €40,- deposit, that will be returned to you after returning the bike
Go on one guided boat tour
Get on and off the Ghent hop-on/hop-off water tram for one day
This is all included! What more could you want, right?
How much money can you save with a City Card?
A Ghent City Card is worth well over €100,- euros. If you really are visiting most attractions, at least.
So if you plan on sightseeing, visiting museums, going on a bike ride, a canal tour, and whatever you can do with this card, it'll save you tons of money.
The only thing you shouldn't do is buy a city card if you're only in Ghent for 1 day. You probably won't have enough time to get worth for your money.
For instance, if you're going to visit:
Gravensteen Castle
Ghent Belfry
Ghent City Museum
Museum of Industry
Rent a bike on day one
Go on a boat tour on day two
You'll be down about €60,- euros, so in this case a Ghent City Card for both 48 and 72 hours will already save you money. And that's only a fraction of the attractions you can visit.
So in my opinion, getting a Ghent City Card is well worth it and will save you tons of money!
Final thoughts
So the ultimate answer is yes. The Ghent City Card is worth it. With this card, you'll be able to do so many things and explore the entire city. It's easy to use and cheap. So go get your city card for your trip to Ghent!
When are you visiting Ghent? Let me know in the comments below!
Related posts
Will a Ghent City Card Actually Save You Money?