A complete Norway 10-day Itinerary for a fantastic trip.
Get ready to embark on a thrilling 10-day journey through the heart of Norway, from the charming coastal city of Stavanger to the enchanting harbor of Bergen. This 10-day itinerary for Norway isn't just about ticking off destinations; it's a symphony of fjords, mountains, and authentic Nordic experiences that will leave you breathless.
With this Norway 10-day itinerary, you'll see some of the greatest highlights AND hidden gems of Norway!
Make sure to read through to the end of this post, to get all the essential information you need!
Disclosure: This post may contain affiliate links, which means that if you purchase through one of the product links, we'll receive a small commission at no cost to you. We only promote products and services we 100% believe in. Thank you so much for supporting us! Read more about it in our disclosure policy.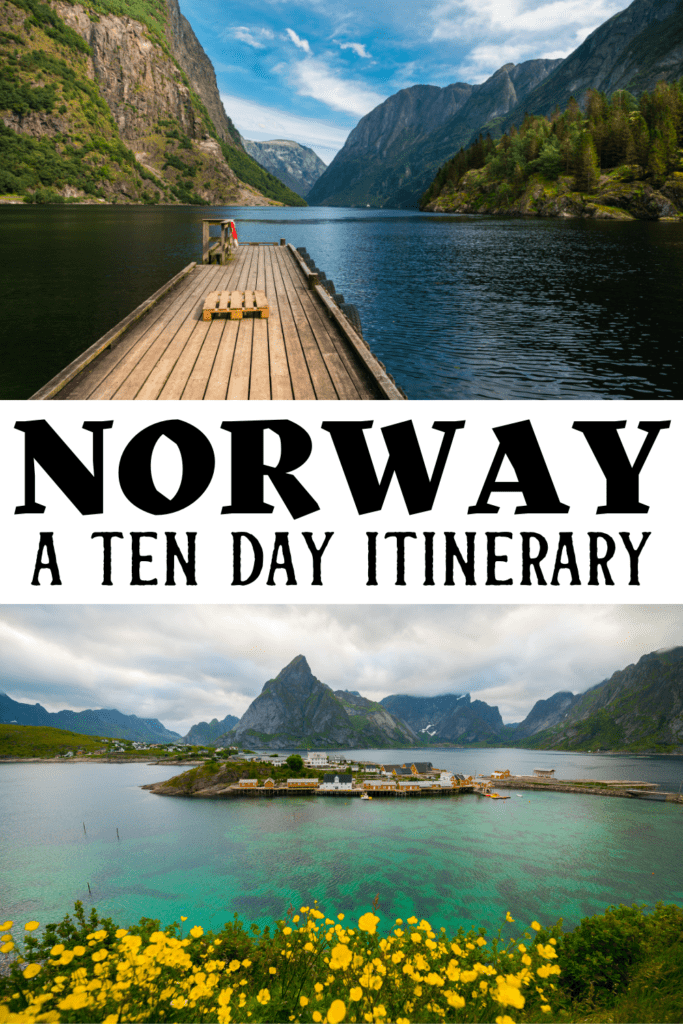 About Norway
The kingdom of Norway is a Nordic country in Europe. It's actually the northernmost country. The spoken language in Norway is Norwegian, and most people speak English very well… Seriously… It's almost creepy how good their English is…
The used currency in Norway is the Norwegian Krone, NOK.
$1 USD = 10,58 NOK (approx.)
1 Euro = 10,44 NOK (approx.)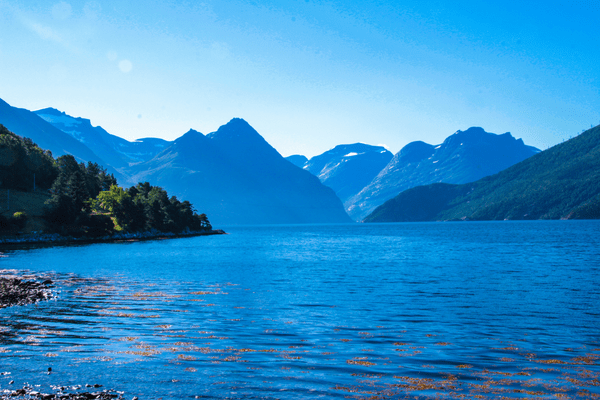 Fun facts about Norway:
Norway has a population of just over 5 million and nearly half of the Norwegian lives in the far south, around Oslo.
Norway counts about 50000 tiny islands, carved by deep glacial fjords.
Norway has repeatedly been ranked as the best country to live in.
The longest tunnel in the world is located in Norway.
Norway introduced salmon sushi to the Japanese in the eighties.
Norway knighted a king penguin in 2008. His name's Nils Olav.
Planning your Norway road trip: Things to keep in mind
When planning a road trip through Norway, I made a big mistake. I stuffed it. I put too many activities in the planning and didn't consider driving times and other things.
So some things to keep in mind are:
Driving times and distances
The weather's not always good
Take time for grocery shopping and cooking
There are gonna be some bumps in your trip. Make sure you're prepared to deal with them
Now, without further ado… Here's our 10-day itinerary for Norway!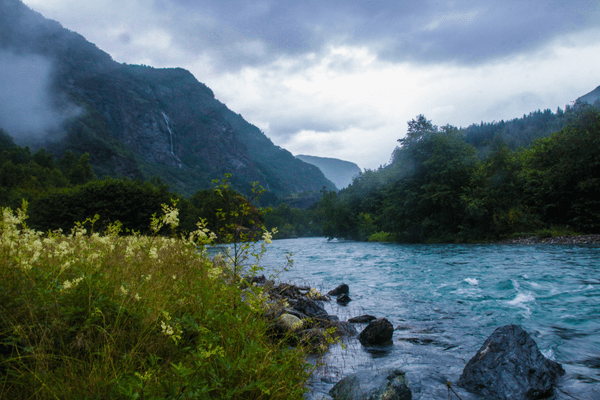 Norway 10-day itinerary
This itinerary starts in Stavanger and ends in Bergen. Ideally, you will drive through the country of Norway yourself, for the most freedom on your trip.
Yes, in this itinerary we skip Oslo (unlike this 14-day itinerary), not because it's not worth it, but because it's an 8-hour drive from Stavanger, and away from the more important activities and places.
This is a quite busy 10-day itinerary, seeing that 10 days in Norway is not long. You'll want to see as much as there is to see in these 10 days, without driving too much.
Day 1: Arrival – Stavanger
As I said earlier, you'll start your trip in the coastal town of Stavanger. This city is a place you have to see when you're in Norway! Stavanger is such a cozy town filled with colors and history. Things you don't want to miss in Stavanger:
Gamle Stavanger (old town). This historic area in Stavanger you definitely can't miss! With picturesque little houses and cobbled streets, this place will fill your heart with joy!
Øvre Holmegate: a colorful street filled with cafes, boutiques, and galleries.
Stavanger's Domkirke. One of the best-kept churches in Norway and the only one that has been continuously used since 1300!
The Wharf houses of Stavanger
Breiavatnet: a little lake with a wonderful fountain.
The Canning Museum.
As you see, there's plenty to do within the city of Stavanger to fill a day or two. You should book a hostel or budget hotel in Stavanger.
Day 2: Stavanger – Trollpikken
In the morning you should enjoy a cup of coffee in the city center of Stavanger, but make sure to hit the road before lunch. Because in a little more than an hour's drive south, you'll reach a point you simply can't miss.
This untouristy place is one you have to visit. It's called the Trollpikken, which translates to the troll's dick. As you may know, the Trolltunga (trolls tongue), is a popular touristy place in Norway. A place everyone wants to see. But when we visited Norway we weren't looking into the touristy places, but into the alternatives.
And that's how we found out about the Trollpikken.
From the Trollpikken parking, it's about a 45-minute hike to reach this landmark in all its glory!
Sadly, in 2017 the Trollpikken was completely broken by vandalism. Luckily, the Norwegians managed to glue it back to the original state and it's like nothing happened to it!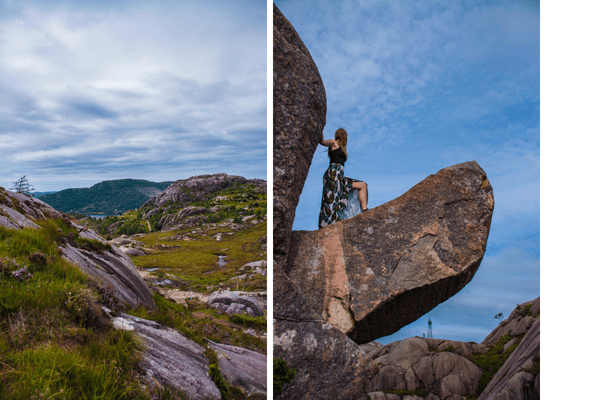 This 45-minute hike isn't hard. Visiting the Trollpikken is definitely a fun activity for everyone, families, couples, solo travelers, everyone!
In the evening you should look for a place to go wild camping. But if you're not one for wild camping, there are probably some hotels nearby Egersund.
Day 3: Trollpikken – Lysebotn
After waking up and having some (Norwegian) breakfast, it's time to hit the road! In a drive of less than 3 hours you'll arrive in Lysebotn; the town at the end of the Lysefjord.
The Lyesfjord is pretty well known for popular places like Preikestolen (pulpit rock) and Kjeragbolten. But other than these places, there are many other things to do here. You can:
Climb the Florli Trappene: 4444 steps to the top!
Go kayaking in the fjord.
Book a regular tour through the fjord.
Hike the Preikestolen.
Go stand on the Kjeragbolten.
Explore Lysebotn.
Take one of the many other hikes.
The Lysefjord is filled with fun activities for everyone! Make sure to do your own research on things you want to do at the Lysefjord.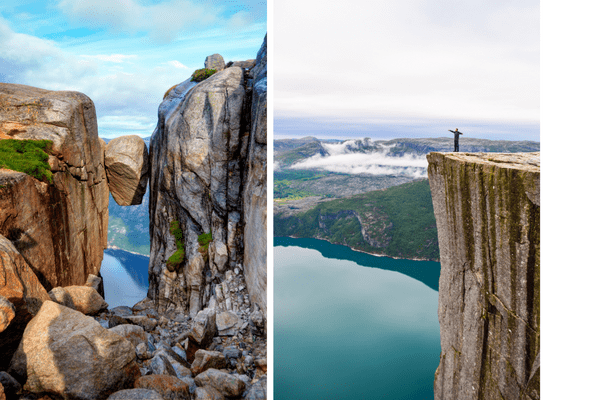 Day 4: Lysebotn
Seeing there are so many activities to do here, you can spend day 4 at Lysebotn as well. But tomorrow there'll be a 7-hour drive planned, so you could choose to stay only half a day in Lysebotn today, and already drive the biggest part to Bondhusvatnet.
If you're wild camping, you should be able to find several sleeping spots on the road. Otherwise, you should book accommodation in advance.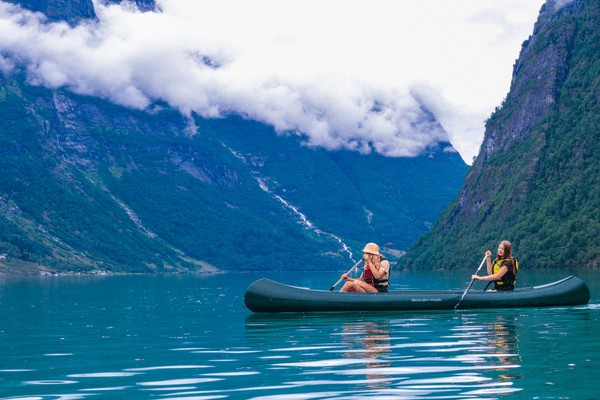 Day 5: Lysebotn – Bondhusvatnet
Yep, here it is. The much dreaded 7-hour drive. Okay, it's not that bad. But I recommend driving this in 2 parts, as I've said, yesterday the first part and today the second. This way you'll also have more time to explore Bondhusvatnet!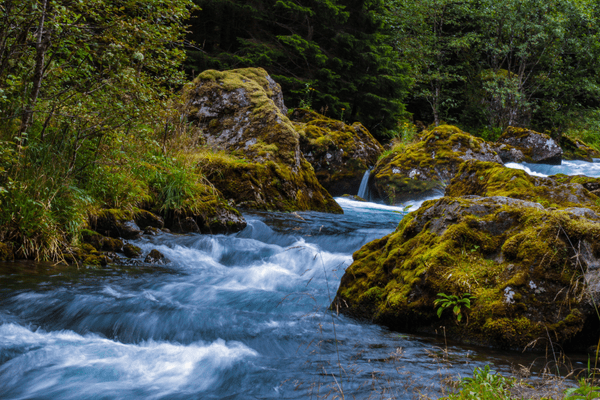 Bonhusvatnet is a breathtaking blue glacial lake. It's a 1-hour hike to the lake from the parking, and on this hike, you'll already be blown away by all the beauty, because the hike to the lake leads past the most dreamy river I've ever seen. I love this river (and lake) so much, this website is filled with pictures of it.
On the way to the lake, you can pick some wild raspberries and blackberries, which are delicious. Then when you reach the lake, you'll be out of words. There is simply no way to describe the beauty of this lake.
Bondhusvatnet is a true hidden gem, not many people know of it, so you won't be walking there in crowds, which is a huge plus.
Day 6: Bondhusvatnet – Flam
From Bondhusvatnet it's time for a 3-hour drive up to the Naeroyfjorden.
You'll get the best view of this fjord from the town of Flam. In this town, there are many activities to do. There are many souvenir shops and options to go out on the water.
Although Flam could be crowded, it kinda gave me a cozy feeling. It almost felt like I was at a German Christmas market (even though it was in August).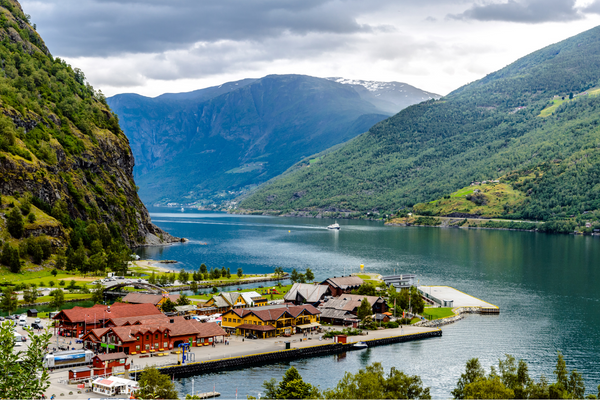 Things to do in Flam:
Book a tour to see the fjord from the water.
Go kayaking.
Visit the railway museum.
Buy a winter jacket at one of the outdoor stores.
Get your souvenirs in one of the souvenir shops.
Things to do near Flam:
Drive the longest tunnel in the world; the Laerdalstunnelen.
Visit Borgund stave church.
Take a ride with the Flamsbana.
Admire the view at Stegastein's viewpoint.
Visit Viking Valley.
There is plenty to do in and outside Flam, make sure to do some of these activities. Don't worry, you won't stay here for just one day.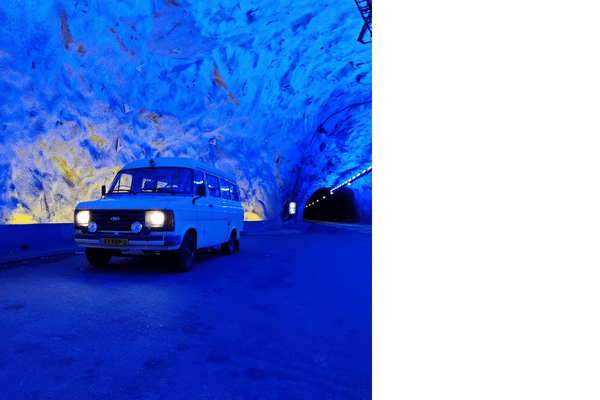 Day 7: Mount Prest
Nearby Flam, you'll find one of the most tremendous hikes: Mount Prest. On this hike, you will reach a point where you can admire a stunning panorama view. In around 2,5 hours (including breaks), you'll reach this point and it will be worth all the effort!
And this place, again, isn't crowded! You should plan to stay here for around 6 hours. Then just go back to flam and get some rest.
If you're not one for hiking, you should do one of the activities I told you about before, in or near Flam.
Day 8: Flam – Vøringfossen
Enjoy your cup of coffee in Flam in the morning, and then hit the road. Today you'll be driving and visiting a wondrous waterfall: Voringfossen!
From Flam, it's a bit more than 2 hours to reach this waterfall.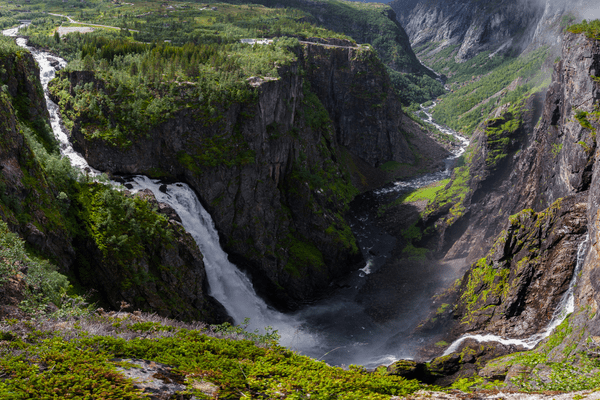 You should see the Voringfossen from below and it's possible to go up and get a lovely view of the huge canyon. Take your time, you'll probably spend an hour or 2 in this place. Make sure to put on your hiking shoes.
Then you should drive to your accommodation or wild camping spot, ideally near Steindalsfossen, which is only another 2 hours away.
Driving this piece today will leave you more time to explore Bergen tomorrow!
Day 9: Steindalsfossen – Bergen
In the morning it's time to visit the Steindalsfossen! This is a lovely waterfall right next to the road. You won't have to walk for more than 5 minutes, and you can even get behind the waterfall!
Steindalsfossen is a great place to make some amazing Instagrammable photos. You'll probably be here for half an hour before driving the last hour to Bergen.
This second-largest city in Norway is one of those places where you simply don't want to have only a couple of hours. That's why you need at least day 9 and maybe day 10 (depending on the time of your flight), to see all there is to see in Bergen, like:
Bryggen
Floibanen and Floyen
Bergen's fish market
Fantoft stave church
Ulriken viewpoint
And simply the rest of the city is just fun to see. There are also shopping opportunities.
Golden tip: If you're staying in town for a bit longer, you should go on one the these best day trips from Bergen!
All in all, Bergen is a city you just can't skip. It may even be more important to visit than Oslo (I'm sorry to those who disagree). There's just too much to do and see, for everyone.
Day 10: Bergen – Departure
If on day 10 you don't know where to go in Bergen and which places to see, just walk. Walk around, explore the little streets no one knows about, find some hidden boutiques, and just enjoy!
It's hard to explain what to see in Bergen, you should just see and explore for yourself.
Travel through Norway
There are a few ways of traveling through Norway. You could travel Norway by train, cruise, car, or motorhome. Traveling through Norway by train or cruise, are some great options to choose from. However, they limit your options of things to see and do, as they only go so far.
Norway is one of the most popular countries for motorhome travel. As wild camping is allowed, you can easily park somewhere and just go to sleep. So when you're visiting Norway, be prepared for all the campers you'll come across.
And as the Norwegian roads sometimes go (literally) up the mountains, you can visit so many more places than when you're taking a train. So traveling by car or motorhome is my favorite way of traveling through Norway.
And because of that, this is a self-drive itinerary through Norway.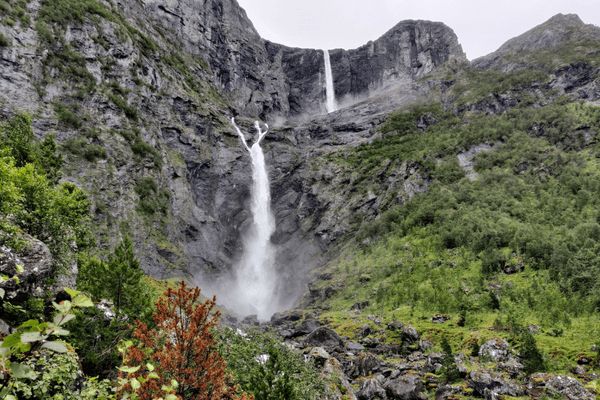 Driving through Norway
One thing you really need to keep in mind is that driving in Norway is a whole new world. At least for me, it was, but that's because I'm from flat country; the Netherlands.
Driving through Norway will not be hard, but you need to know some of the basics:
Make way
When driving the mountainous roads of Norway it's important to make way for other people. There are a lot of opportunities to make some room for oncoming traffic, and you need to make use of them. They will do the same for you.
And not only oncoming traffic will need this, but if you're a bit of a slow driver, you may also need to make way for people to pass you.
Put your lights on
In Norway, it is the law to drive with your lights on. So don't forget to put them on every time you're going out on the road!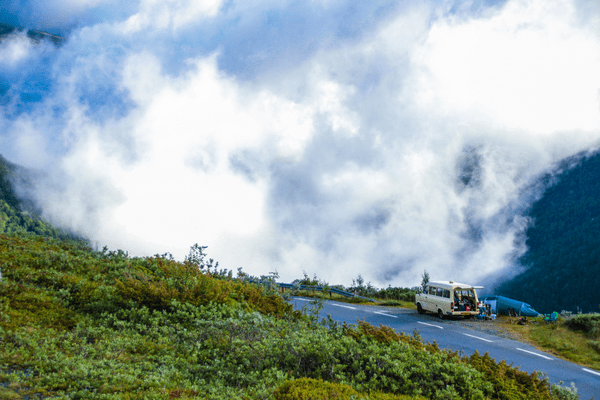 Honk!
But only when driving a van or motorhome. Some curves may be unclear, so if you're driving on a narrow road, and a bend is coming, honk. Then people will know something big's coming and it may give you peace of mind.
The roads aren't as scary as they seem
You've probably heard of the Trollstigen, which means trolls ladder. This is a Norwegian road that's famous for all its twists and turns. Although this is the most famous one, it's not the only one… There are many roads like this, you probably won't be able to avoid these.
But no worries! These roads are less scary than they seem.
Everyone who's driving these roads is alert. If you are alert and calm as well, there's nothing to worry about. Just drive slowly; before you know it, you've done an incredible job driving a mountain road!
Norwegians drive incredibly well
Yup. Norwegians may be the best drivers of Europe. I don't know what else to say. Almost every Norwegian is just a good driver, I thought that may be nice to know.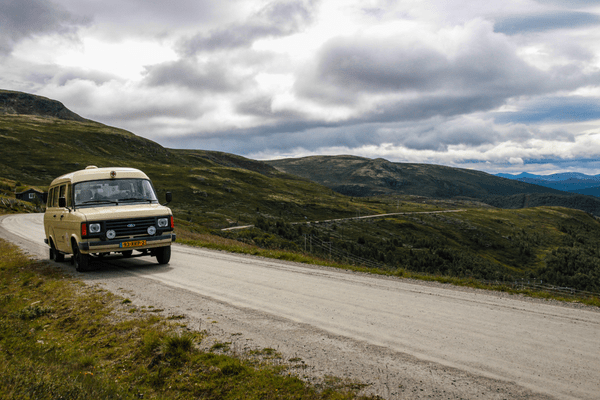 Is Norway expensive?
There's no easy way to say this…
Yep.
Norway's expensive.
Can't go around that. But as we're budget travelers, we have found a way for you to enjoy Norway on a low budget. Traveling Norway on a budget is possible.
And as in every other country, it really depends on how you spend your money and what you spend it on. Some things or products are really cheap and others are expensive. You just need to figure out what the local products are and live off of those. Because they will be cheapest.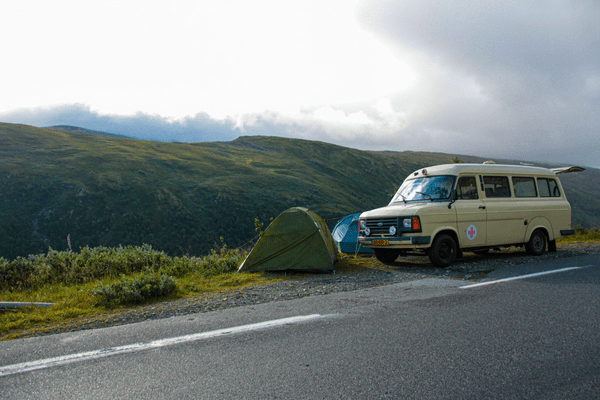 Wild camping
At least one thing you could save a ton on is accommodation. In Norway, it is allowed to go wild camping, under certain rules. But this means that you don't have to pay for your accommodation, which makes your trip soooo much cheaper.
You can go wild camping in your car, or motorhome, or just take some tents with you. Please do consider this option, it'll save you tons.
Read my full guide on wild camping in Norway
Final thoughts on this Norway 10-day itinerary
This itinerary is much different from the 14-day itinerary I've written, because of distances, this one's just more ideal for a shorter amount of time.
But all in all, these places are the ones you have to visit, to get the best taste of Norway!
Let me know what you think of this itinerary in the comments below!
Related posts
Norway 10-Day Itinerary: Everything You Have to See in Norway!
Norway 10 day itinerary