The best Things to do in Funchal you don't want to miss!
Madeira is one of the most breathtaking islands Europe has. With wonderful greenery, stunning sites, and the most unique nature… Madeira makes for a pretty interesting place to visit. And not only is the natural side of Madeira worth visiting but Madeira is also known for having one of the coziest cities on earth!
This is the capital city of Madeira: Funchal. This wonderful historic town is one of my favorite cities on the planet! And I think the photos may just convince you to visit Funchal as well. Here are my top things to do in Funchal!
Disclosure: This post may contain affiliate links, which means that if you purchase through one of the product links, we'll receive a small commission at no cost to you. We only promote products and services we 100% believe in. Thank you so much for supporting us! Read more about it in our disclosure policy.
About Funchal
The island
Madeira is a volcanic island with beautiful mountains, nature, coastlines and more! Although it's a pretty small island, there is more than enough to do and see!
Madeira is a Portuguese island that lies in the Atlantic Ocean, west of Morocco and North of the Spanish Canary islands. The island is relatively small, with only 741 cubical meters. You can drive from north to south in less than an hour, and from east to west in about an hour and a half.
Funchal
Funchal is the capital and the largest city of Madeira. With a population of 105,795, this city is the sixth largest in Portugal.
Funchal is located on the southern side of the island. The city is right inside a natural amphitheater-shaped valley, with gentle slopes beginning at the coast which rise to 1200 meters and provides a natural shelter for early settlers.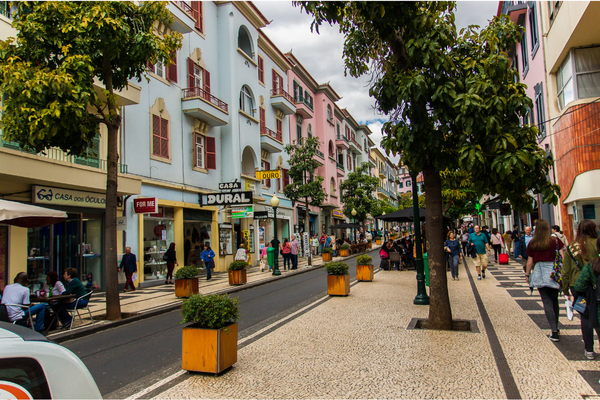 The climate
Seeing that Madeira is a tropical island, the weather is pretty good all year round. In winter it'll be around 20 °C and in summer it can get above 30°C. Which makes Madeira the perfect destination all year round. In winter you can even find snow on the 2 mountain tops. That's pretty cool, right?
Currency and Language
In all of Madeira, the spoken language is Portuguese. But especially in Funchal, English is spoken by most people as well. Madeira's currency is the Euro, as in many other European countries.
The Euro is pretty similar to US Dollars, so you won't have to do the math (but do make sure it's similar, as the worth can change at any moment).
Is Madeira expensive?
Just like in most other countries, visiting Madeira can be as inexpensive as you make it out to be.
But that's not the answer you're looking for…
No, Madeira isn't expensive. I wouldn't say it's as cheap as eastern European countries, but for a western country, it's quite inexpensive.
You can have a meal for €10 – €20 per dish, excluding drinks. There are more expensive places, but there are plenty of options for a budget dinner.
Now that you have a little information about Funchal, it's time to dive into the best things to do in Funchal!
Funchal: Things to do
The city of Funchal is in my opinion one of the best cities on the planet! There are so many places to explore and fun activities to do! Just strolling through the old town will give you a good taste of the city. But let me take you through the places you just can't miss!
Funchal Cathedral
Starting off with a central point in Funchal. The Funchal Cathedral is not that hard to find right in the center of Funchal. The official name is the Cathedral of Our Lady of the Assumption. This cathedral is built in the early 16th century, which makes it one of the few oldest structures in Funchal.
This gothic-style cathedral (with a bit of a local twist) is a unique structure that you just have to see. With a bit of luck, you should be able to enter the church.
In an hour you'll have seen the entire cathedral, inside and out! Visiting Funchal Cathedral is simply a must!
Praça do Povo Park
Located on the iconic Promenade: Avenida do Mar, you will find Praça do Povo Park. This is the ideal location to have a break and eat some lunch. With a beautiful view of the small marina, you'll definitely enjoy your time here.
Just walk through the park and take in the stunning views you'll get.
This park is also known for hosting many events and displaying beautiful Christmas lights in December.
Jardim Municipal garden
The Jardim Municipal garden, located in the center of Funchal, is also a fun place for a little break. It's a park filled with tropical plants and a charming fountain. It's so refreshing to take a little walk through this park!
Just take your time strolling through this garden, have a nice cookie, and enjoy!
Related: Madeira Roadtrip: A Complete Guide on Visiting Madeira + a 7-day Itinerary
Blandy's wine lodge
If you want to know more about Madeira wine, I highly recommend visiting Blandy's wine lodge, located in the middle of the city center.
This authentic place is filled with wines of all ages and tastes.
When visiting Blandy's wine lodge, you can get a tour, taste wines, and buy some to take home. You can book a tour for €11, €23, or €29, depending on the tour you want. You do have to book it in advance.
Check out the tours at Blandy's wine lodge.
You can also just visit here to taste some unique wines. For tasting in one of the authentic rooms, there's no booking needed.
Visiting Blandy's wine lodge is an entire experience itself. You should take a few hours for visiting this wondrous place and taste Madeira's finest wines!
Note: Before you go, make sure to learn wine tasting for beginners. It'll make your experience much more unique!
The farmers' market
One thing Funchal is pretty well-known for is this delightful farmers market! Filled with fruits, veggies, flowers, and even fresh fish! You will find it all at the huge farmers' market!
In my opinion, this is such a fascinating colorful market, which really represents Madeira's culture. People let you taste all sorts of fruits you've never seen in your life, only be careful they don't charge you for it.
I wouldn't buy anything here either, as you could end up paying €6 for only a mango. But just walking through this awesome farmers' market will give you an incredible taste of life in Funchal!
La Vie shopping mall
Care for a break from the historic old town? Then go shopping in this super modern mall! La Vie shopping mall has a great selection of shops to get some new clothes, shoes or souvenirs.
At this mall, you can also just sit down for a coffee and get some groceries. It really is a fun mall to visit, so make sure to walk by!
Flower festival
If you're lucky to visit Funchal at the right time, you may experience the glorious flower festival!
The flower festival takes place 4 weeks after Easter, in April or May. Madeira has the perfect climate for flowers to thrive. If you visit Madeira around this time of the year, you will see flowers everywhere, in backyards, gardens, and roadsides. Funchal will also be filled with flowers!
On the sidewalks in Funchal, you will find the famous flower carpets and there'll be a parade and thousands of children putting flowers in the wall of hope.
I can tell you without a doubt that the flower festival is the most magical time in Madeira and I definitely recommend visiting when this festival takes place!
Taste Poncha
Madeira is not only known for its famous wines, but also for Poncha! This traditional alcoholic drink of the island is one you simply have to taste!
Poncha is made with sugarcane brandy (aka rhum), honey, sugar, and either orange juice or lemon juice.
It is said in Madeira that Poncha cures a common cold (because it contains vitamin C) and people are encouraged to drink it if they have cold-like symptoms.
Poncha comes in many different tastes such as ''the classic'', tangerine, passion fruit, kiwi, strawberry, and more!
There are many places in Funchal where you can taste Poncha, and during the flower festival, you can't even cross the street without tripping over another Poncha stand.
The cable car
Yes, Funchal has its very own cable car. With this cable car, you can get from the seaside of the city center to the upper side of Funchal. You will get a breathtaking panorama view on this cable car. And in only 15 minutes you will reach the top, where you can find several activities to do.
There are some starting points for walking trails here, so make sure to check these out. There's also a botanical garden. Going back to the city, you can walk, take a bus, or taxi, or go down with a toboggan!
A toboggan is kind of a sled on asphalt. According to the story, the toboggan was used by servants to get the rich people down to the city.
Some people will say that taking the toboggan is unsafe and terrifying. But I liked every part of it.
Monte Palace
So, this is the botanical garden, where the cable car will take you.
Right outside the arrival place of the cable car, you'll find the botanical garden of Monte Palace. After entering the gardens, it'll feel like you've entered a whole other world. This place is simply magical.
Monte Palace does have an entrance fee of €12,50 per adult. But I can guarantee you that the price is definitely worth it! Visiting Monte Palace will take you 1 – 3 hours.
Dolphin and whale spotting
Seeing that Madeira is an island, surrounded by the Atlantic Ocean, there is a lot of wildlife around. Like dolphins, whales, sea turtles, and many kinds of fish.
When I was in Madeira, I saw a lot of dolphins. I could hear them at night, swim by the hotel, see them on the day, and I had a unique experience seeing dolphins on a tour.
That is why I recommend everyone visiting Madeira, to book a dolphin spotting tour!
I went on a dolphin tour and it was wonderful. We went out to the sea in a catamaran. The guides knew exactly where the dolphins could be and went to those places. And before I knew it, I looked inside the water and saw a few dolphins swimming by.
It was a group of around 15 wild dolphins. They were jumping out of the water and doing some tricks, and then they just moved on. It was such a great ethical experience.
Of course, they can't guarantee that you see dolphins, but you can just enjoy the boat ride and take in the beauty of the ocean and sea cliffs. You might see a whale or sea turtle, but it's not likely. I saw a flash of a sea turtle, but I can't be 100 percent sure it was one.
You should book your trusted tour on GetYourGuide.
New Year's in Funchal
Did you know that Funchal is one of the most popular destinations in the world for celebrating new year's Eve?
On December 31st the city will slowly come alive in the morning. It'll get more crowded throughout the day and in the evening, everyone will be watching the huge firework show!
In 2006, this show was recognized by the Guinness Book of Records as "The greatest fireworks show in the world".
The fireworks show lasts for about eight minutes and includes 3D illuminations, waterfalls of light, and giant walk-through creations. The fireworks are set off from the Funchal amphitheater, the waterfront, the city center, the sea, and Porto Santo Island. You will be surrounded by light!
Plus, you won't be freezing your ass off. Of course, it won't be that warm on new year's, but it definitely won't be cold either!
All the more reason to spend new year's eve in Funchal and get this unique experience checked off your bucket list!
Final thoughts on Funchal: Things to do
Funchal is such a sensational city, you simply can't skip it! With these many fun activities, you will get a good taste of Funchal.
Which activity would you like to do? Let us know in the comments below!
Related posts
Visiting Funchal: Unique Things To Do in This Lovely City