Everything you need to know for planning a memorable roadtrip through Madeira.
Hi there! Welcome to this blog post where I plan on telling you everything about a roadtrip through the breathtaking Madeira! I once took a 7-day road trip through this beautiful island and it is definitely one of the most beautiful places I've ever visited!
Disclosure: This post may contain affiliate links, which means that if you purchase through one of the product links, we'll receive a small commission at no cost to you. We only promote products and services we 100% believe in. Thank you so much for supporting us! Read more about it in our disclosure policy.
About Madeira
Madeira is a little Portuguese island located in the North Atlantic Ocean. Madeira is north of the Canary Islands and southeast of the Azores. The capital of Madeira is the lively city of Funchal.
Madeira is a volcanic island with beautiful mountains, nature, coastlines, and more! Although it's a pretty small island, there is more than enough to do and see!
Distances in Madeira
And because the island is so small, it's easy to get around and it won't take you a lot of time. You can drive from north to south in less than an hour, and from east to west in a little more than an hour.
Even though the distances aren't that big, the island of Madeira is still diverse in many ways. Every place on the island is different and beautiful.
The weather in Madeira
The weather in Madeira isn't what you would expect from a tropical island. In summer, temperatures don't really go above 30 degrees Celsius (86 F.). But in winter it doesn't get cold either. This island just has good weather all year round (temperature-wise).
In my opinion, the best time to visit the island is in April or May. Around this time of year, there's a flower festival, which I will tell you more about in a bit.
Check this site out for the annual weather in Madeira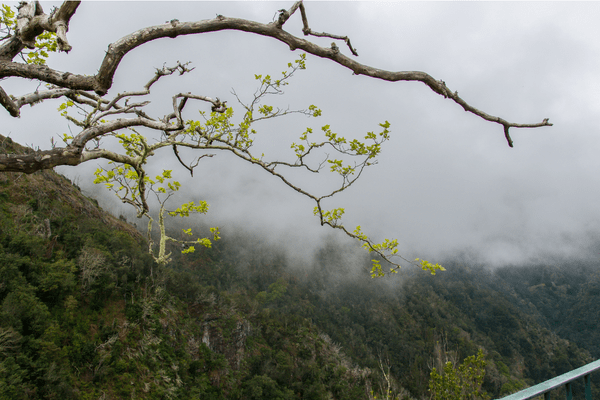 Currency and Language in Madeira
The language of Madeira is Portuguese. English is also a well-spoken language on the island. But on Madeira, it doesn't really matter what language the people are speaking, because they're so incredibly kind! They are willing to help you out in many ways, without even speaking the same language.
When I was there I only learned the word ''obrigado'', which means thank you. The Portuguese will be so happy if you're only trying to speak their language. As I said, they are so kind. So remember to say obrigado if someone helps you.
The currency used in Madeira is the Euro. There are many opportunities to pay with a card, but make sure you have some cash as well. In some restaurants, you can only pay with cash. But finding an ATM, won't be a problem, especially in Funchal.
Is Madeira expensive?
Just like in most other countries, visiting Madeira can be as inexpensive as you make it out to be.
But that's not the answer you're looking for…
No, Madeira isn't expensive. I wouldn't say it's as cheap as Eastern European countries, but for a Western country, it's quite inexpensive.
You can have a meal for €10 – €20 per dish, excluding drinks. There are more expensive places, but there are plenty of options for a budget dinner.
And for accommodation, there are many hotels or Airbnb options. You can book a different accommodation every night, or just stay in the same accommodation, as the island is small enough to drive in a day or 2.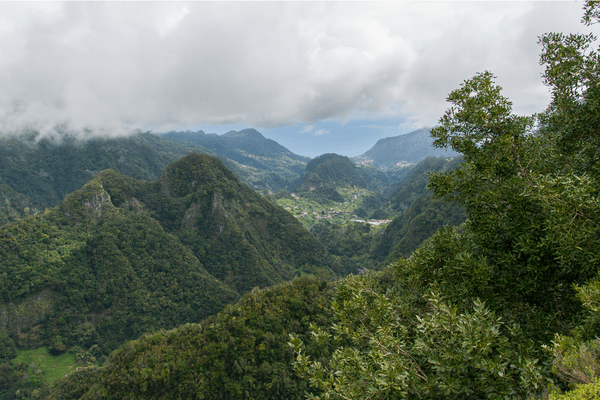 How to get around on your Madeira roadtrip
In Madeira, it's quite easy to get around. I had booked a lot of tours by bus, so I didn't have to rent a car. I also took the local bus a few times. But if you want more freedom on your trip, I'd recommend renting a car.
I recommend renting your car at Rentalcars, as they're very affordable and trustworthy.
Do beware of the steep streets and sketchy twists and turns on the roads. So make sure to drive with confidence and concentration.
Best time to road trip Madeira
There really isn't the best time to visit Madeira, as it's worth visiting throughout the entire year. But if you want to visit in the warmest weather, the best time would be in August or September.
However, visiting in April or May can be even better. Because then, there is a flower festival!
Flower Festival Madeira
The flower festival takes place 4 weeks after Easter, in April or May. Madeira has the perfect climate for flowers to thrive. If you visit Madeira around this time of the year, you will see flowers everywhere, in backyards, gardens, and roadsides. Funchal will also be filled with flowers!
On the sidewalks in Funchal, you will find the famous flower carpets and there'll be a parade and thousands of children putting flowers in the wall of hope.
I can tell you without a doubt that the flower festival is the most magical time in Madeira and I definitely recommend visiting when this festival takes place!
Madeira roadtrip itinerary while staying at one hotel in/near Funchal
Day 1: Funchal – historical center
When arriving at the airport, it's likely that you booked a hotel near Funchal. I stayed an entire week at Fourviews Oasis Hotel in Canico.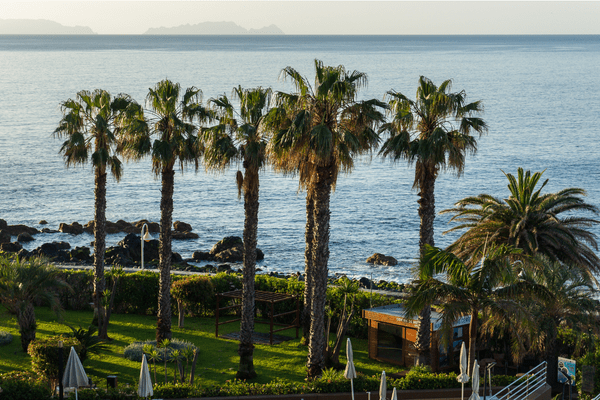 From Canico it's easy to take a local bus or a rented car to Funchal.
When you arrive in Funchal, just go around exploring the city in all its glory.
If you want to go shopping, visit the Marina shopping mall, or La Vie shopping mall. These are located inside the city center.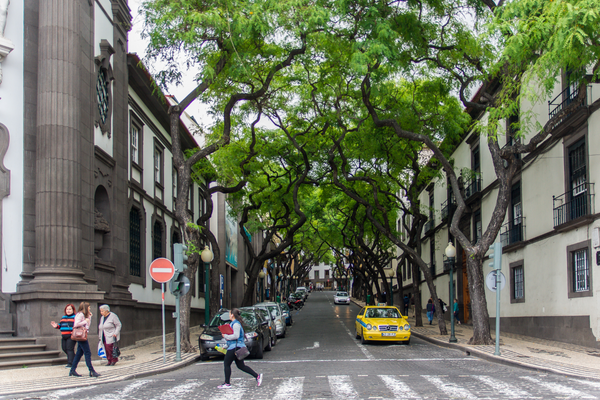 Make sure to:
Admire the Funchal Cathedral
Take a stroll down the Praça do Povo Park
Walk through the Jardim Municipal garden
Take in the beauty of the many flower carpets (if you're visiting during the flower festival)
Taste some delicious Madeira wine at Blandy's Wine Lodge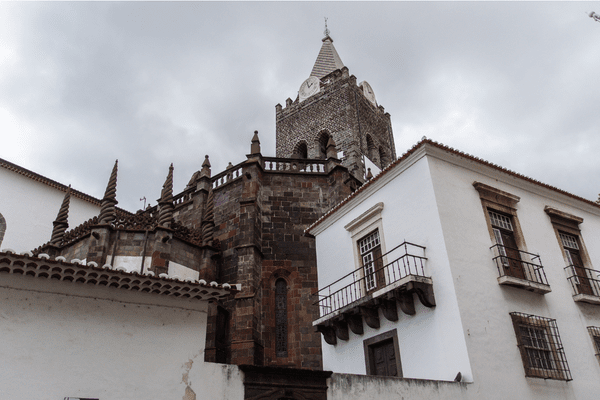 After this cultural day, make sure to eat a nutritious Portuguese meal. I had a meal back in Canico, at Reis Magos, which was delicious. I recommend eating there if you're nearby.
Day 2: Pico de Ariero – Ponta de São Lourenço – Porta da Cruz – Santana
First, start your day off with some delicious coffee, today you are going to explore eastern Madeira!
I recommend leaving around 9 or 10 am.
Pico de Ariero
First off you'll drive to Pico de Arieiro at 1810 meters in height. Yep, great start.
This is the second-highest mountain in Madeira. When I was there, it was quite foggy, but everything still looked cool. However, if you have good weather without fog, there should be a stunning panoramic view over the entire island. There's a little souvenir shop and a place to get some coffee.
If you're not up for driving up a sketchy road, you could skip Pico de Arieiro. But do know what you're missing out on.
Ponta de São Lourenço
Next up is a breathtaking walk at Ponta de São Lourenço. Here you'll find gorgeous views over sea cliffs. You can take several walks, but I recommend taking the smallest one because there are still many other things to see today.
You could also skip the walk and just admire the views.
Extra tip: Make sure to search for dolphins, they like to swim around this place.
Porto da Cruz – Rum distillery
From here, you'll drive up to the town of Porto da Cruz. In this little town, you'll find North Mills Distillery. This is a wheat sugar factory and distillery where a lot of rum is made.
At this place, you can taste the most delicious Poncha on the island. Poncha is a drink containing rum and fruit juice (most likely orange or passion fruit). This is a real delicacy of Madeira, you should try this at least once. But don't drink too much here, you should still be able to drive (unless you're on a tour).
Make sure to grab some lunch somewhere along this route.
Santana
Now take the little 15-minute drive to Santana. This little village is known for its cute typical Madeira A-houses. Santana is a place filled with culture. Make sure to admire the houses, take some photos, and visit a flower shop, before moving on.
Sao Jorge
Now last, but not least, Sao Jorge. At the coast of this town, you will find stunning ruins, a wooden walkway along a rock, and gorgeous views.
About that walkway… Ponta de São Jorge is a wooden walkway along a rock. It's a dangerous walkway, in a bad state, but you can walk it. I mean, you shouldn't, but it is possible.
This trip over eastern Madeira will take you around 8 hours to complete. It's driving 140 kilometers (about 3 hours), with tons of time to admire the places you're visiting.
You don't have to visit all these things, but in my opinion, this is the most complete trip through the east you can get. When you're done, just take your time driving back to your accommodation and enjoy the views you get.
Day 3: Cable car – Monte Palace – Toboggan
Cable Car – Monte Palace
From Funchal, you can take the cable car to Monte Palace. A return ticket for the cable car is quite expensive at €16, but maybe you won't need a return ticket… In a minute I'll tell you why.
Up the hill, you'll find the botanical garden of Monte Palace. After entering the gardens, it'll feel like you've entered a whole other world. This place is just magical.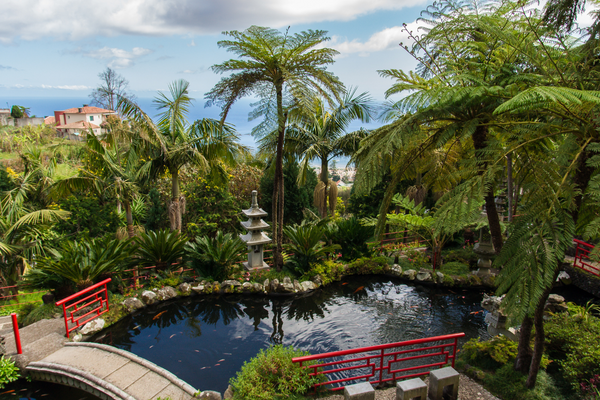 Monte Palace does have an entrance fee of €12,50 per adult. But I can guarantee you that the price is definitely worth it! Visiting Monte Palace will take you 1 – 3 hours.
Budget option: For visiting Monte Palace on a budget, you can just drive there in 15 minutes or walk up the hill in about an hour.
You can go back to Funchal by car, bus, taxi, or again the cable car.
But… There's a far more fun way to go back down.
It's called a Toboggan
A toboggan is kind of a sled on asphalt. According to the story, the toboggan was used by servants to get the rich people down to the city.
Some people will say that taking the toboggan is unsafe and terrifying. But I liked every part of it. It did cost me €15 and I sat aside someone I didn't know. But it was the most fun you could wish for!
Related: Visiting Funchal: Unique Things To Do in This Lovely City
Day 4: Dolphin spotting tour
On day 4 you could go on a dolphin-spotting tour! As you may already know, dolphins like to swim around the island. When I was in Madeira, on the first day I stood on the balcony of my hotel room and I already saw a group swimming by.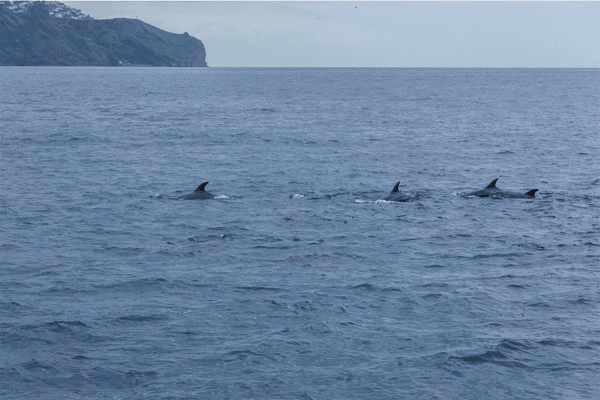 And sometimes at night, the window would be opened and you could hear the dolphins with their squeaky sounds. It was wonderful.
I guess I saw dolphins around 4 times in 7 days. So yeah, chances are you may see dolphins when you're in Madeira. And maybe not, as you can't predict what they do.
I went on a dolphin tour and it was wonderful. We went out to the sea in a catamaran. The guides knew exactly where the dolphins could be and went to those places. And before I knew it, I looked inside the water and saw a few dolphins swimming by.
It was a group of around 15 wild dolphins. They were jumping out of the water and doing some tricks, and then they just moved on. It was such a great experience.
Of course, they can't guarantee that you see dolphins, but you can just enjoy the boat ride and take in the beauty of the ocean and sea cliffs. You might see a whale or sea turtle, but it's not likely. I saw a flash of a sea turtle, but I can't be 100 percent sure it was one.
Day 5: Cabo Girão – Ribeira Brava – Madalena do Mar – Levada walk – Porto Moniz – Miradouro do Véu da Noiva
Today you'll be exploring the west side of the island.
Start off your day with a delicious coffee. If you're afraid of heights, you might need a second cup of coffee. Just saying…
Cabo Girão
It's time to drive to Cabo Girão. Here you'll find a glass platform you can stand on… Over a cliff of 589 meters high… Told ya to take that second cup of coffee…
Cabo Girao is one of the highest sea cliffs in the world! And you get to see it! I wouldn't say no to that…
Remember not to look down. Enjoy the panorama view this place offers. Just take in all its beauty. Then look at your feet and freak out. Just kidding… Don't look at your feet…
Ribeira Brava
After this scary activity, it's time to take another small drive to Ribeira Brava. This is just another small Portuguese town. You can visit a beautiful church and grab some coffee or lunch.
Madalena do Mar
After that, it's time to visit a banana plantation.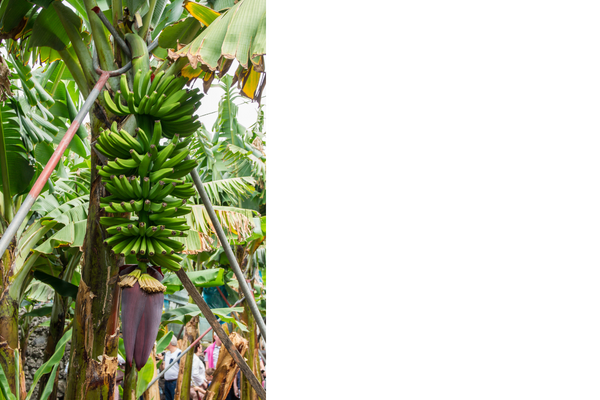 Fun fact: Madeira doesn't import any bananas, because they produce their own. However, Madeira's bananas are too small for export so they eat all their own bananas.
In Madalena do Mar you'll find Rota da Banana. Here you'll be able to take a little hike through the plantation. There are some rules though, like, it's not allowed to pick a banana.
Levada walk
From here you'll drive inland for a short Levada walk: Levada do Alecrim. This is a gorgeous and easy walk. It's only 6 km round trip. So you'll arrive back at your car.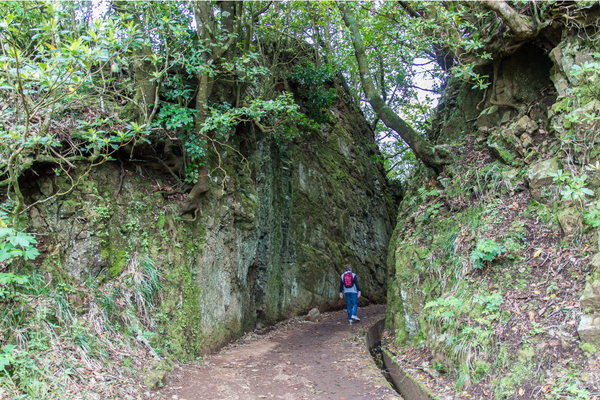 A Levada is an irrigation channel. You can only find them in Madeira, which makes them pretty special. Levada's are even UNESCO World Heritage sites.
Although a Levada walk doesn't seem that special, don't underestimate it. The places you'll be seeing will look like a fairytale. On a Levada walk you can come across any sort of landscape, from mysterious to magical, it's always a surprise!
Porto Moniz
After the gorgeous Levada walk, you'll be driving north, to the town of Porto Moniz. While descending from the steep road you may already notice the raging waves and the natural pools, Porto Moniz is known for.
These natural pools are great for taking a quick dip after lunch at Chachalote. I ate at this traditional restaurant, and just to be clear, you must love fish to go eat here. Otherwise, you won't find anything on the menu you'll like. I loved the food there. There are other restaurants you can grab some lunch, or you can just grab a quick bite at a supermarket.
In Porto Moniz you can easily stay for an hour or 2, to take a swim, take a stroll through the town or visit the aquarium. Take your time here.
Miradouro do Véu da Noiva
From Porto Moniz, you'll drive east, along the coastline, until you reach the town of Seixal. Now drive for another 5 minutes and you'll find Miradouro do Véu da Noiva. This may just be the most breathtaking, picturesque viewpoint in Madeira. With beautiful green sea cliffs and a big waterfall, this is a must-see place on the northern coast of Madeira.
Câmara De Lobos
After admiring the view, you can drive to the south coast again in only half an hour, to visit Câmara De Lobos. In this fishing town, you'll find delicious Poncha at Bar Number Two. After tasting one or two, you can visit some cute souvenir shops and take a stroll down the harbor.
Take your time exploring Câmara De Lobos. After this, it's only a 15-minute drive back to Funchal.
When back at the hotel, treat yourself to a delicious cocktail. You deserved it!
On this day you'll be driving a total of 125 kilometers in less than 3 hours. This trip will take you around 9 hours. You can always split it in half and do the rest tomorrow.
Day 6: Free
After a busy day like that, take a free day. You can do anything you like, such as:
Exploring Funchal again
Going shopping
Taking a swim
Relaxing at the beach
Going for a Levada walk
Visiting a small town you found
Go road-tripping
If you feel that you should take it easy, just do nothing. And if you still have high energy levels, go out into the mountains or something, just do whatever you feel like doing.
If you choose to do a Levada walk, here are some highly-rated walks to choose from:
PR11 Levada dos Balcões
PR9 Levada do Caldeirão Verde
Levada da Rocha Vermelha
PR16 Levada Fajã do Rodrigues
Levada dos muinhos
These hikes are all listed on the map at the beginning and at the end of this post. They are green icons.
Day 7: Pico Grande
On day 7 there are several options for you. Maybe your plane is leaving in the afternoon and you don't have much time to do anything big. I'd recommend that you take another free day if this is the case. Just stay near Funchal, or the airport, have a coffee, maybe go for a swim, just take it easy.
But if you do have another day… And you are an adventurer… I challenge you to climb Pico Grande! This is the best scenic inland mountain hike you can possibly do. It is a bit of a challenging hike, but the views and nature are definitely worth it!
Miradouro Boca da Corrida is a great starting point for this walk. It won't take you more than 2,5 hours to reach Pico Grande. If you're going to do this walk, make sure to bring good hiking gear and enough water.
Final thoughts on this Madeira roadtrip
These are all the places I visited when I was in Madeira for a week. I just love that every place is nearby, but so diverse. You have plenty of time to explore every place. This is the most complete itinerary I can offer you. Of course, there are so many more places in Madeira to explore, but by following this itinerary, you'll see every must-see place in Madeira!
Which place do you want to explore in Madeira? Let me know in the comments below!
Related posts
Madeira Roadtrip: A Complete Guide on Visiting Madeira + a Magnificent 7-day Itinerary