Must-know space-saving travel packing hacks.
How great would it be if you can have unlimited space inside your suitcase? Sounds like a dream, right? Unfortunately, we're not all Mary Poppins. We have to live with limited space. So here are my best space-saving packing hacks for travel!
Disclosure: This post may contain affiliate links, which means that if you purchase through one of the product links, we'll receive a small commission at no cost to you. We only promote products and services we 100% believe in. Thank you so much for supporting us! Read more about it in our disclosure policy.
Space-saving packing hacks for travel
Traveling light
Traveling light is my number one tip. There's nothing worse than dragging all sorts of bags and suitcases around town. Traveling light has many benefits:
You can avoid baggage fees
You will face fewer lines at the airport
Navigating in a new destination is a lot easier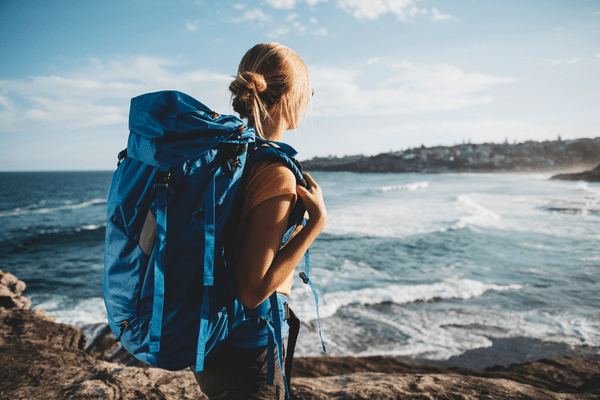 Believe me, when I say, the last one is so important. Last year we backpacked through Croatia and I can't imagine what it would be like if we had more luggage. We had to walk for miles and miles with our backpacks. Of course, a heavy backpack isn't ideal either, but it's better than like, anything else. Which brings me to the next topic.
Choose the right bag/suitcase
This is a crucial aspect of packing. You need to have the right bag(s). You need to consider your destination and your personal values and experiences. There are a few things to consider before packing:
How many clothes you want to bring
Will you be washing your clothes
Do you prefer traveling by suitcase/backpack/duffle bag
How's the weather? Do you need thick clothes or thin clothes?
Are there other essentials that need to fit? Maybe a tent, sleeping mat/bag, or hiking gear?
Think about your priorities. What do you absolutely need in a bag/suitcase?
I, for instance, only have 2 backpacks I always take with me. My big Nomad Karoo 55 NF, and my (much loved) Quechua daypack. The Nomad is ideal for all my clothes, gear and anything else I need. My daypack is wonderful for carrying a water system, taking (cooled) snacks with me, and carrying 15 more liters of stuff. My only preferences were:
Having a water system
Places for water bottles that I can easily reach
My big backpack needed to be front-loaded. I dislike top-loaded backpacks, since you basically can't keep it organized.
All the other features I got were a nice bonus!
Travel packing hacks: clothing
Packing clothes always becomes a bit of a dramatic scene with me. ''I want to bring this top but it's not really comfy'' or ''Let me please bring this thick jacket, just in case'' or ''maybe I need 3 pairs of jeans instead of shorts, what if it gets cold''.
Having too many clothes can make it stubbornly hard to pack.
When packing clothes, I live by 3 rules.
Rule 1: Only pack one week's worth of clothing. This is more than enough. During our first week in Croatia, we booked an Airbnb with a washing machine, so we could do our laundry. In the second week, we brought our clothes to a laundromat, and in the third week, our trip went to hell so we kind of lived in our last clothes for a few days.
But back to the point, believe me when I say that one week's worth of clothing is more than enough. There are always washing opportunities like laundromats, bathtubs, sinks, or even lakes.
Rule 2: Don't take outfits with you! Take matching clothes. For example, take only black and/or white tops and make sure your bottoms are all but those colors. Take denim, skirts, shorts, or hiking pants. As long as they're not the same color as your tops.
See how easy it is to take matching clothes? Just stick to 1 or 2 colors in your tops and vary in color with your bottoms. Or the other way around!
Rule 3: Half it and half it again. This may seem a little extreme, but seriously, it's legit. You don't need as many clothes as you think you do. So lay out everything you want to take and half it. Halving it again is your personal choice, if you like having some options, you can always skip this part. I did it though and I don't regret it. I used every single piece of clothing I took with me and it was enough.
Extra tips on how to pack clothes:
Dresses! These one-piece clothes are the best!
Roll everything. This way it doesn't crinkle as much, it's easier to grab it out of your bag, and it can fold down smaller.
Use packing cubes. More about this in a minute.
Check out this post: 6 Best Islands in the Caribbean to Visit!
Space-saving packing hacks: Packing list
Once you've figured out which clothes you want to bring, make a packing list! This is an incredibly important step. Because you're already taking fewer clothes, you don't want to end up forgetting something. On this list, you have to write down everything you're bringing.
I always make a list a few weeks before my trip, because I always keep forgetting about some things. So then I have a few weeks to remember everything and write it down as well.
When packing, keep your list close and cross everything you've put inside your bag off. When everything on the list is crossed off, you're ready to go!
Must-haves for travel packing
Travel towel(s)
One of the most space-saving things you need is a travel towel. These towels are big enough to lie on, as they are just as big as regular towels. But these towels fold down so small, it will take up so much less space than a regular towel.
Packing cubes
The handiest things you'll be needing are packing cubes. Last year I bought 7 packing cubes in different sizes and shared half of them with my boyfriend. Packing cubes are just sort of fabric bags, nothing special, really. But they are so handy.
Pro tip: There are many different packing cubes out there, find the best packing cubes here!
You'll get a lot of organization in your bag or suitcase. Whenever you need a piece of clothing, you just grab your clothing cube and take out what you need, without messing up your whole bag. And some cubes have a compression feature, so they can store as much but are smaller to pack.
Reusable bags
Do you know what I always forget on my trips? A laundry bag. Something I can just put my dirty clothes in. Since I started bringing reusable bags, I can always use one for my laundry!
These bags come in so handy for anything. You can use them for souvenirs, groceries, laundry, and more!
And they are incredibly small and light, so these are the only things I allow you to bring 'just in case'.
Zipper bags could come in handy as well. Make sure to pack some of these.
Lunch box
A lunch box. Even if it's just for storing socks, underwear, or snacks. In fact, you can use it the same as a packing cube. But whenever you cooked a delicious meal and you have something left, put it in your lunch box and eat it again the next day! I love doing this with pasta because it's as delicious cold as it is hot.
Reusable water bottle
Stop buying your water. You can re-fill your reusable bottle almost everywhere for free. And it's so much better for the earth.
Locks
You never know where you'll end up sleeping. Make sure to bring some padlocks.
Carabiners
Multipurpose carabiners are a must-have. If you're traveling by backpack, you can use them for clipping anything to your backpack, like flip-flops, a water bottle, or your travel cutlery. They're also really handy for keeping your hair ties together.
Hygiene wipes
These are my best friends. On a hot and sweaty day, you might want to refresh every few hours. A quick wipe is the way to go. Always put these wipes in your day pack, next to your deodorant.
Paperwork
Paperwork. The most boring thing, but it may just become the most important thing in your bag. Things not to forget packing:
Copies of your ID card or passport.
Lodging confirmations
Flight information
Some cash (for emergencies)
Other paperwork you really don't need easy access to
Make sure your actual passport and boarding pass are easily accessible.
All our paperwork went into a little folder (like the one below) and we put it into the laptop compartment in our backpacks. Make sure you really bring copies of your IDs, because we lost our ID cards and it was kind of hard to get new ones without a paper copy.
Extra tips for travel packing:
Make sure to bring the right adapter and an extra battery.
Use travel-sized goodies, it's really all that you need.
Stuff socks in shoes.
Also, don't bring more than 2 pairs of shoes and one pair of flip-flops.
ALWAYS bring a daypack. That way you can easily take water, sunscreen and other essentials with you.
Keep your liquids secured in a bag and separate them from everything else. I once had a laundry detergent explosion in my backpack. Wasn't fun.
Always wear your heaviest clothes on the plane, train, bus, etc.
Leave a little extra space. You will probably buy something. Make sure you can store it.
Take pens on your trip. Put them in every bag. They always come in handy.
Final thoughts on travel packing hacks
Packing isn't supposed to be stressful. So have fun next time you're packing and make sure to use these tips. Did I forget any useful tips? Let me know in the comments!
Related posts
The 13 Most Genius Space-Saving Packing Hacks for Travel!