Eco-friendly travel products to reduce your environmental footprint.
Traveling can be a wonderful experience, and it can also be an opportunity to make a positive impact on the environment. With so many eco-friendly travel products available today, making a difference is easier than ever before!
From reusable water bottles to recycled travel containers, there are plenty of options to help reduce your environmental footprint while on the go. This article will discuss the benefits of using eco-friendly travel products, give an overview of some of the most popular items, and provide ideas on where to buy them.
With a few simple changes to your packing list, you can travel sustainably while still having an enjoyable and comfortable experience!
Disclosure: This post may contain affiliate links, which means that if you purchase through one of the product links, we'll receive a small commission at no cost to you. We only promote products and services we 100% believe in. Thank you so much for supporting us! Read more about it in our disclosure policy.
Where can I buy eco-friendly travel products?
The best way to be sustainable is to get your eco-friendly products locally. These products don't have to fly all over the world to reach you, that is exactly what we're trying to prevent.
To find these local shops, you should just google if there are any in your area or a nearby city. Since sustainability has become sort of a trend, you'll likely find several shops to visit.
Sometimes there are even online businesses that focus on sustainability. They package and ship their eco-friendly products in a safe way for the environment. And make sure these businesses are located in your country.
Another online place where you'll find eco-friendly travel products is Etsy. From recycled materials to handmade clothes, you'll find a lot of things on Etsy!
Throughout this post, I will tell you exactly where I buy some of my favorite eco-friendly products.
The 21 eco-friendly travel products for you
Below you'll find the eco-friendly travel products I highly recommend through my own experience or others who've told me about them.
General everyday products
Reusable water bottle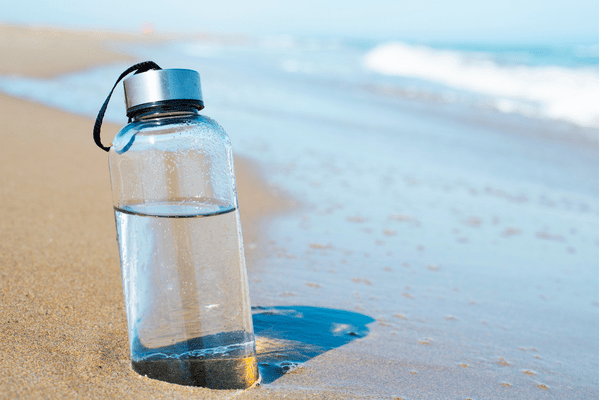 This certainly won't come as a surprise: the reusable water bottle. This is one of the best and easiest swaps you can make for the environment. All you have to do is invest in a good water bottle and in the future it won't only save you money, but it'll save the earth from thousands of plastic bottles.
One of the best things about Europe is that you can fill up your water bottle literally everywhere. Many cities have water taps on street corners, squares, and such. And if you can't find one of these, you can easily fill it up in a public bathroom, restaurant, and many other places. In other continents I'm not sure if it's this easy, it probably is in the US. But a reusable water bottle is certainly a must for your next trip (and your everyday life).
Water filter
While we're at it, a water filter is also something that might come in handy. Some countries don't have drinking water available to them from the tap. In countries like these (research this about your next destination), you'll be constantly buying plastic water bottles because you simply can't drink from the tap.
But if you're using a life straw, you can filter the tap water and drink it. It'll save you so much money and the trouble of buying plastic water bottles. If you happen to run out of water and the supermarkets are closed, you don't have to worry, because you have your life straw.
Do research your travel destination on tap water and buy a life straw if needed.
Microfiber towels
One of my favorite travel products is the microfiber towel. I once bought one and now I can't live without it. These towels are super small in volume and dry 4 times quicker than a normal towel!
These microfiber towels aren't only small and super handy, but they're also good for the environment. They need less water to be washed and they'll dry in the air in no time!
I recommend microfiber towels to everyone!
Reusable utensils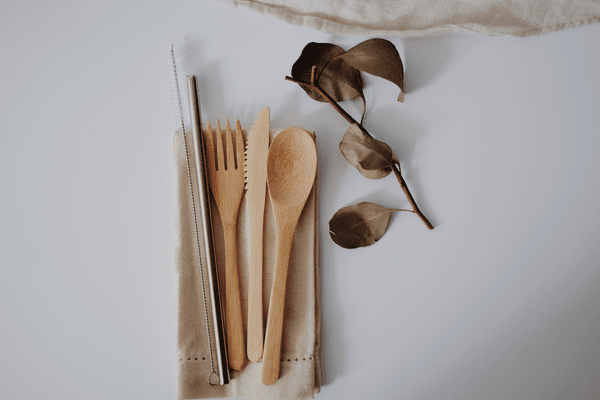 From eating street food to enjoying yesterday's dinner, reusable utensils will always come in handy. You can buy them in many different materials, like recycled plastic, bamboo, metal, and more!
Food containers
Another unmissable product is Tupperware! A (collapsible) food container is a must!
And how exactly is a food container eco-friendly?
Well, it reduces waste. If you've cooked dinner in the evening and there's a little left, store it in your food container and eat it the next day. This way you can enjoy your meals with zero waste.
You can get a collapsible container, but I usually take a normal one with me and store emergency snacks in it when not in use.
Reusable shopping bags
Do you often see these images of a seal or turtle stuck in a plastic bag? It's literally to cry for. And the worst thing is that we caused that ourselves. Way too many of these plastic bags end up in nature.
That's why you should take some reusable bags with you! These bags are super handy, sturdy, cheap, and eco-friendly!
Make sure you're no longer the cause of animals suffocating in plastic bags, simply by not using them anymore. Get your reusable shopping bag below.
Mesh bags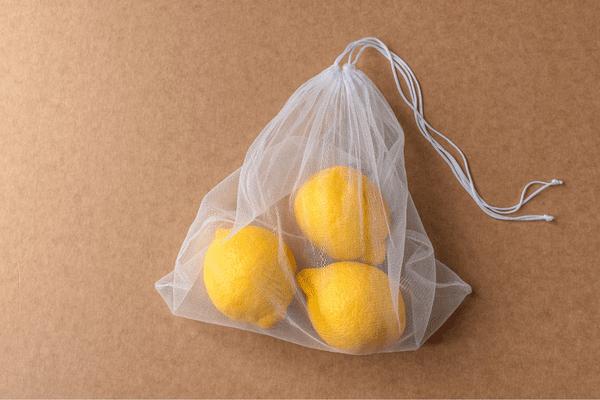 Yeah, you can go grocery shopping with a reusable bag and all, but what you you do with fruits, veggies, and bread? They usually go in a plastic bag as well, but you can make the difference by using these cloth mesh bags.
These high-quality bags are made from organic cotton and they'll last for years! That's worth the small investment, isn't it?
Bee's wrap
The invention of the century has to be bee's wrap!
Bee's wrap is a wonderful alternative to plastic wrap. It's made with certified organic cotton, responsibly sourced beeswax, certified organic plant oils, and tree resin; this combination creates a durable, yet pliable plastic wrap alternative that can be used again and again.
It's easy to use as well, you can just use the warmth of your hands to make it cling. Bee's wrap will keep your food super fresh without toxins and plastic.
And if your bee's wrap loses its grip, you can simply compost it and return it to the earth! What more could you ask for, right?!
I love bee's wrap and recommend it to everyone!
Stainless steel or bamboo straws
Do you just love mixing your own cocktails when abroad? I know I do. Spending the evenings right outside my campervan, with a great view and a cocktail in my hand. Sounds like a dream.
But a cocktail does hit differently with a straw, doesn't it?
That's why I love (especially) stainless steel straws. They give you that tad of luxury while still being small and easy to clean.
You can also go for the bamboo straws, I don't know what they're like, but other people seem to love them.
Natural laundry detergent
Doing laundry on the road is a super easy hack to save a lot of space in your backpack. It just takes a bit of your time, but you can take fewer clothes with you. But where you can wash your clothes is always a surprise; the possibilities are endless: a launderette, a sink, even a bucket filled with lake water!
But one thing you'll always need is laundry detergent. Preferably a natural one that doesn't have any toxins that harm the earth.
Emergency sewing kit
If there's a hole in your shirt, why put it in the trash if you can just fix it in under 10 minutes? A sewing kit will cost you as less as €5 euros and it'll save you even more money; you don't have to buy a new clothing piece every time something's damaged.
This is a good zero-waste way and you won't contribute to fast fashion, by doing this.
Bonus tip: Many of these products are great gifts for travelers! Check out this post for more gifts for your friend going abroad.
Toiletries
Many of these eco-friendly toiletries aren't just better for the earth, they're also better for your health. Nowadays there are so many harmful ingredients in soaps, deodorants, and more. Using eco-friendly products made from 100% natural ingredients is much better for you!
Bamboo toothbrush
One thing I always recommend is getting a bamboo toothbrush. Regular plastic ones almost never get recycled, they just end up in the trash.
A bamboo toothbrush is compostable and fully biodegradable, which makes it a great choice!
Toothpaste tabs
Do you just hate worrying about your toothpaste exploding in your bag? There's nothing I hate more. That's why I've completely stopped using regular toothpaste and switched to toothpaste tablets.
My reason for using these tablets isn't just that they're good for the environment. It's also that they're super easy to use and work incredibly well! All you have to do is chew a bit on it and then simply brush your teeth like usual.
And you never have to clean up a toothpaste mess in your bag ever again!
Bamboo hairbrush
What happens to your hairbrush at the end of its life? Do you just throw it in the trash?
Many care products never get recycled, because we simply don't think about it. But it's time for a change.
Bamboo is a super eco-friendly material that's endurable and doesn't impact the earth.
Getting a bamboo hairbrush is an easy swap to make, so what are you waiting for?
Solid soap bars for hair and body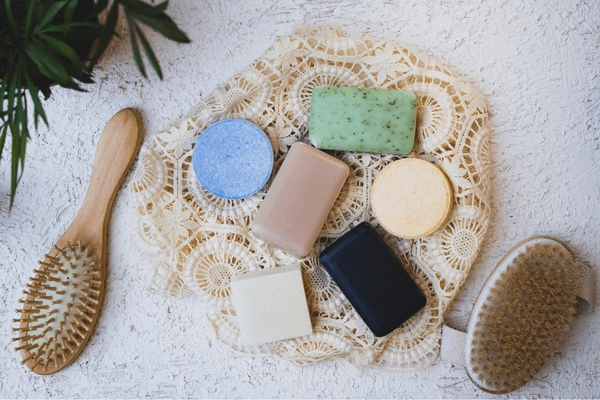 A few years ago I decided to stop using hair products entirely (it's so freeing). But before that, I used shampoo and conditioner bars. And I can't recommend them enough!
These bars are specifically made for a purpose, you can buy shampoo, conditioner, body wash, and more in solid form.
They are super easy to use and are eco-friendly, as you'll stop using plastic containers. No more plastic waste, that's the dream, right?
And a huge plus is that these solid soap bars are made with natural ingredients. So no more toxins, plastic, and such, just natural skin- and haircare.
I used to get my soap bars at Happy Soaps, this is a local Dutch company that even sends out your package in a climate-friendly way. They've grown so much over the last few years, they sell soaps over the entire world! I recommend checking it out!
Natural deodorant stick
I've tried many different deodorants in my life. But it's so hard to find the right one, especially if you're looking for a natural one that doesn't have any toxins and one that's eco-friendly. And I'm sure I'm not the only one who's had trouble finding the right one.
But then…
I found Wild deodorant. This eco-friendly company sells the best deodorants (in my opinion). They're 100% natural, vegan, plastic-free, and super convenient. And they're so affordable! I've been using their deodorant sticks for a few years now, and I can't recommend them enough!
Of course, everybody is different and this deodorant may not be for you. There are many other companies that make natural eco-friendly deodorants, don't stop searching.
Reusable ear swabs
Do you always take some ear swabs with you on your trip? They take up a bit of space because one isn't gonna be enough. You always need to take several with you.
And although they make not take up much space, every space-saving idea is welcome, right?
And how great is it that these reusable ear swabs won't only save you space, but they're eco-friendly! They don't leave toxins or cotton pieces in your ear and are easy to use and clean!
After buying a reusable ear swab, I can't imagine going back to regular ones. Check them out!
Safety razor
Another eco-friendly bathroom product I absolutely love is the safety razor! I've used it almost every day for over 2 years now and am still happy as ever with it!
This safety razor is plastic-free and zero-waste. One razor can live for up to 15 years! All you have to do is change the razor blade every few months, and you're good to go!
This razor has also saved me a lot of money. It was a one-time purchase of €25 euros including 20 razor blades. When you run out of blades, new ones aren't expensive at all, so this safety razor will save you a lot of money!
Menstrual cup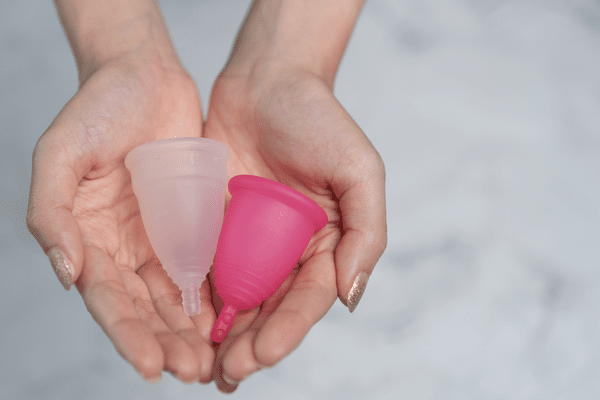 Here's another feminine eco-friendly travel product that saved me from so much trouble and money. I can't imagine ever living without a menstrual cup! They are so easy, especially for travel.
Did you know that a single tampon is equal to 4 plastic bags? Of course, you always use more than one, which makes menstrual products one of the biggest polluting products. And they're proven to harm your health. Tampons contain so many chemicals that will end up in your bloodstream. And let me tell you, that's something you surely want to avoid.
Luckily, there are many alternatives to single-use menstrual products nowadays. You can use reusable pads, menstrual underwear, or my favorite; the menstrual cup!
This cup is super safe to use and easy to clean, and you only have to empty it every 12 hours. Even for women with heavy flow, this cup is a wonderful option!
Yes, using a cup does have a bit of a learning curve, but after a few months, it'll be as easy as waking up in the morning!
I can't recommend a menstrual cup enough! Especially for travel. On long flights or endless travel days, you won't have to worry about your menstruation as much, a cup is super reliable!
Just take a look at this post by Kathryn Kellogg, she'll tell you more about using a menstrual cup.
I've bought my safety razor, reusable ear swabs, and menstrual cup at a Dutch online shop called Bamboozy.
Sunscreen
The thing that caused me the most trouble was finding the right sunscreen. In summer I will get burned in less than an hour!
But most sunscreens have many chemicals that don't only harm your health, they harm the oceans, and pollute water and nature.
But there is an alternative! Actually, there are many alternatives. Eco-friendly, chemical-free sunscreen that actually works does exist!
The one I use is produced in my own country using only natural ingredients. The HappySoaps sunscreen stick has been a lifesaver for me!
To find the right sunscreen for you, just google 'eco-friendly sunscreen' and many options will pop up. Please use eco-friendly sunscreen, the earth will thank you in so many ways!
Natural mosquito repellent
The same thing goes for mosquito repellent. It's something you sometimes just have to use, you can't go without. But so many mosquito repellents are full of chemicals.
But there are natural eco-friendly mosquito repellents on the market, you can easily find them with only one google search. And it's so worth the small amount of time to find the right one, it's so much healthier for you and the earth!
Extra tips on eco-friendly travel
So now we've come to the end of the list. Thank you for your dedication toward finding the right eco-friendly travel products for you!
Here are some extra tips for you!
Try to avoid single-use plastic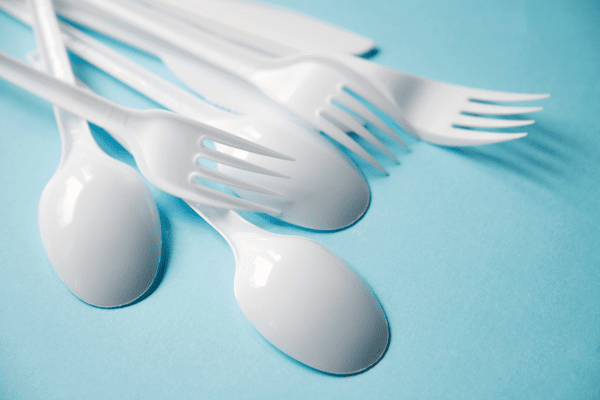 Even if it's given to you at a street food stand or anywhere else. Just politely say no and use your own utensils, straw, or anything else. Even the smallest things you do will make a change!
Only buy things you need
Now, I don't want you to buy everything that's on this list. It would be best if you thought it through. Will I actually use reusable ear swabs, bee's wrap, or an emergency sewing kit? Is this something I will need on my trip?
Do think about this before purchasing things you might not need. It'll save you money.
Take care of what you already have
There's no sense in buying a new microfiber towel (for example) if you already have one. Just take care of the stuff you already have. This is a good zero-waste thing to do and it'll save you money.
Use these products at home too
Who's to say you can only use these products on your trip? I use them at home all the time! And so should you! These products are just super easy and comfortable to use, I see no reason not to use them at home.
Final thoughts on eco-friendly travel products
Now that you know about these eco-friendly travel products, it's time to make a change! Save the precious earth by no longer contributing to pollution. Start using these eco-friendly products from now on and see what change it makes, not only for the earth but also for your health!
Related posts
The 21 Eco-Friendly Travel Products you Need to Make Your Trip More Sustainable