Things to do in the Netherlands in spring and everything you need to know.
Spring can be a magical time in the Netherlands. There'll be sunny weather, tulip fields everywhere, blossom trees will be in bloom, and so much more! If you're someone who loves flowers and good vibes, you have to spend your spring in the Netherlands!
Disclosure: This post may contain affiliate links, which means that if you purchase through one of the product links, we'll receive a small commission at no cost to you. We only promote products and services we 100% believe in. Thank you so much for supporting us! Read more about it in our disclosure policy.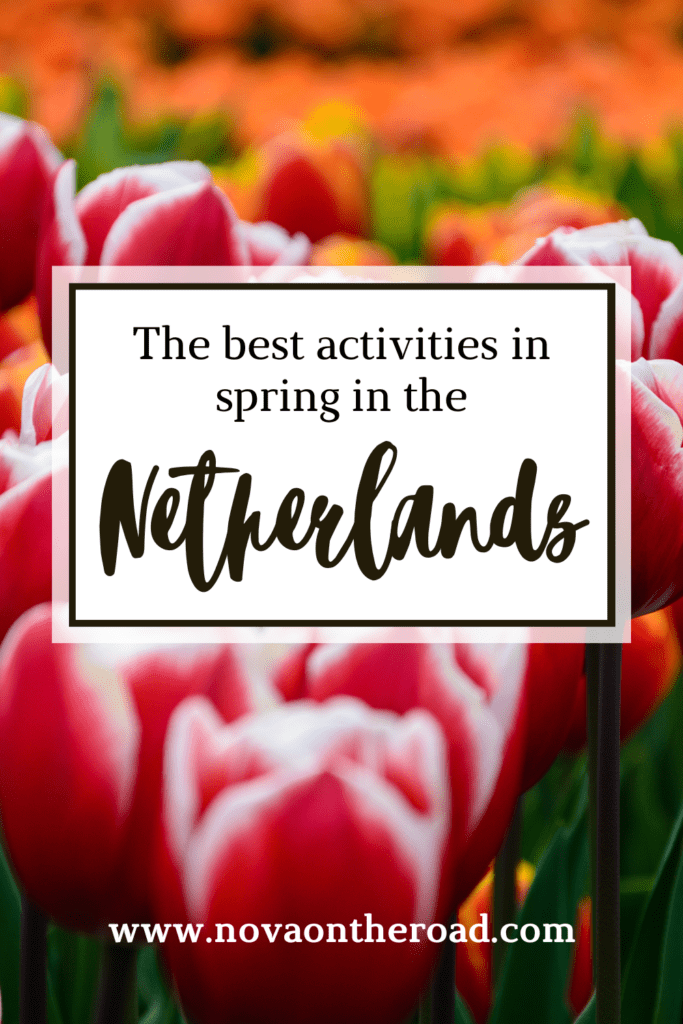 Weather in the Netherlands in spring
The weather in the Netherlands in spring can be pretty good or terribly bad. Every year it's different and it can change with the day.
Dutch people often talk (or rather whine) about the weather, because it's super unpredictable. When the news says it'll be sunny, don't be surprised if a huge storm comes over in the afternoon.
In my opinion, it's not as bad as they say it is. I've lived in the Netherlands my whole life, and the weather predictions have gotten more accurate in the last few years.
But when should you visit the Netherlands?
I'd say April and May are the best months to visit and see the flower fields. In March the weather can still be cold and wet, while in April, the sun tends to come out more. With an average temperature of 9,5° Celsius in April and 13° Celsius in May, the climate is rather mild.
There can still be colder or warmer days. April counts around 12 rainy days and May will have around 14 rainy days.
Note, these are all averages, based on the last 10 years. Don't depend on these numbers too much, it can always be different.
Events in Spring in the Netherlands
Spring is known to be one of the seasons with many events. Let me walk you through them.
The European Fine Art Fair, Maastricht
At the beginning of March, TEFAF takes place in Maastricht for 10 days. If you're an art fanatic, you'll certainly enjoy visiting the European Fine Art Fair in the historical city of Maastricht!
Flower fields
Around mid-April to mid-May, the tulip fields will be in bloom. You'll find them everywhere throughout the Netherlands. But the most beautiful ones are located between Amsterdam and Den Haag (The Hague).
Kingsday
On April 27th, we're celebrating our King's birthday. Throughout the entire country, you'll find fun activities. Many people get a day off to enjoy the celebrations and eat an ''oranje tompouce''. This is a day you don't want to miss.
Golden tip: Read this guide to spending Kingsday in the Netherlands, to find the best things to do!
Liberation day
Every year on May 5th we celebrate the end of the German occupation of the country during the Second World War. In many cities and villages, there are several activities to celebrate this day.
The best activities in spring in the Netherlands
As I've been living in the Netherlands for my entire life, I know exactly which places to visit and when to visit them. These may not be the popular places everybody knows about, like Amsterdam or Scheveningen, but they're well worth it.
These are places I've visited myself and my honest review of them.
Keukenhof
Let's start with the most obvious activity: Keukenhof!
This huge flower garden is one I've visited a few times in my youth. I remember it being the most beautiful thing I've ever seen. Of course, that doesn't say much, I was just a child.
But overall, Keukenhof is a well-loved place in the Netherlands. It changes a bit each year and people tend to go back again whenever they can. Which can make this place a bit crowded.
It's open from mid-March to mid-May and a ticket will cost you €19,- euros.
I recommend visiting Keukenhof on a weekday (Monday, Tuesday, or Thursday are best), at 8 a.m. I've seen this garden on weekends and it's just too crowded. Go on one of these weekdays and you'll feel like you're walking through a fairytale!
Bike ride along the flower fields in the Bollenstreek
The most Dutch thing you can do is go on a bike ride! And not just through the city, you should go out to the flower fields! Especially in de Bollenstreek, you'll find the most beautiful ones!
Between Lisse and Voorhout are the most flower fields with stunning scenery. On a warm sunny day in Spring, bicycling along these flower fields is a must!
Again, try to avoid the weekends, it'll be more crowded. Go on a weekday, and you'll be fine.
Insider tip: You'll find the best scenery and shoot the most breathtaking photos at golden hour. So try to go around sunrise or sunset.
Related:
Kersenbloesem park (cherry blossom park), Amsterdamse bos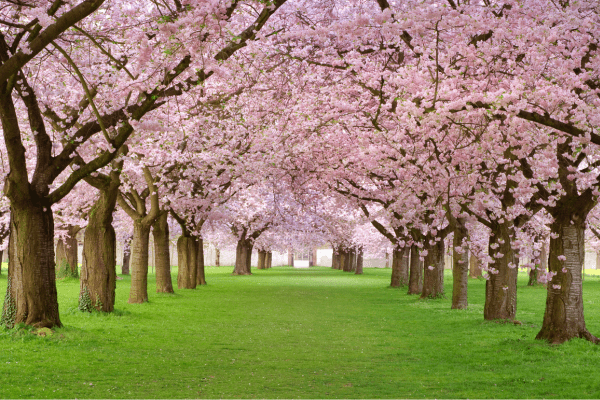 One place that's becoming more and more popular each year is the cherry blossom park in the Amsterdam forest. And no wonder why. It's one of the most stunning places in the entire country.
But only at the beginning of April will these blossom trees be in bloom. And it gets super crowded. It's hard to find a good time to go here, but your best bet is to go early in the morning on a weekday. And by that, I mean like super early. Around 7 am, when the sun just starts to rise will be the least crowded.
But once you're there, you'll see why it's so popular. Definitely a must-see!
Zaanse Schans
I always like to add the Zaanse Schans to my posts, because it's simply worth visiting. Especially with the spring glow, this place is the best!
Visiting the Zaanse Schans can be a great day trip from Amsterdam! It's only about a 20-minute drive from Amsterdam. This preserved historical village has the most picturesque Dutch sights and views.
At the Zaanse Schans, there are some museums you can visit, like the wooden shoe museum, the World of Windmills, the bakery museum, and the open-air museum Zaanse Tijd.
Other things you can find at the Zaanse Schans are souvenir shops, restaurants, a cheese farm, and of course, many windmills.
This picturesque place is definitely worth a visit!
Paaspop, Schijndel
Something that's quite unique to visit in the Netherlands is Paaspop.
Paaspop is a festival that takes place on Easter, from Good Friday to the First day of Easter. With many Dutch and international artists, this weekend will be a celebration!
This is the only place on this list I haven't actually been to, but it's said to be one of the best festivals in the Netherlands. So if you're in the Netherlands at Easter, you should totally consider going to this festival!
Bergen aan Zee
A town I can't seem to stay away from is Bergen aan Zee. I've been here many times already because it's simply a feel-good town.
With the sea just around the corner and the most astounding dunes to hike, this place is perfect for a weekend away. Especially if you're staying in Amsterdam, you should spend one night in Bergen aan Zee, it's so refreshing!
Just strolling through the town is enough for me to regain all my energy and feel amazing. And there's an incredible sea aquarium you have to visit.
I recommend staying at Landgoed Huize Glory. Located high in the dunes with a view over the sea, this hotel is the best!
Seringenberg, Wassenaar
The place where I (literally) found love… Right beneath the Seringenberg is where my boyfriend kissed me for the first time. It's a memory I'll cherish forever.
But it's not just that, which makes this place so special.
The Seringenberg in Wassenaar is a magical place that's not crowded at most times (Sundays it gets a bit crowded). It's located in a forest called: the Horsten.
The literal translation of Seringenberg is the lilac mountain. But seeing that the Netherlands doesn't have mountains, this is not an actual mountain. It's more like a high hill filled with lilac bushes. This purple hill looks and smells amazing!
On a sunny day, this place is perfect for having a picnic on the field beneath the Seringenberg. Trust me, it's incredible!
Around the month of May, the Seringenberg will be in bloom for 2 to 3 weeks. It's a little walk through the forest, to get to this hill. The Horsten is open daily from 9 a.m. to 8:30 p.m. A parking ticket costs 3 euros, and entrance to the forest is free.
Kasteel de Haar
The largest castle in the Netherlands is Kasteel de Haar. This castle is so fricking gorgeous. In less than 40 minutes from Amsterdam, lies this stunning hidden gem.
Kasteel de Haar was built in the 12th century and rebuilt in 1892. To this day, the castle is as beautiful as ever because of its good maintenance. The castle has a beautiful interior and stunning gardens. You should really check it out, especially in Spring, when the garden is in bloom!
Ticket prices of Kasteel de Haar vary from €7 to €25,50 euros, depending on what you want to visit at this castle (park, castle, and/or Chatelet). A parking ticket costs an extra €6 euros.
The Dolmens of Drenthe (Hunebedden)
A province in the Netherlands called Drenthe is popular for its Hunebedden.
What the fudge is a Hunebed, you may ask?
A Hunebed is kind of a special tomb made of huge boulders. They were built in approx. 3350 to 3050 B.C.
And you'll find them everywhere in Drenthe. To see where they are, you can just type in ''Hunebed'' on Google Maps.
Last fall I went to Drenthe for a few days and found some Hunebedden while hiking. They were spectacular, I'd love to see more of them next time I'm there.
De Efteling
For the last activity, I've chosen to mention de Efteling. This amusement park is the biggest one in the Netherlands and has the most fun attractions. For many Dutchies, including me, visiting the Efteling is quite nostalgic.
De Efteling is a fun activity for everyone! From terrifying roller coasters to relaxing boat rides, it's all there!
However, this amusement park isn't cheap. An adult ticket will cost you €45 euros for the entire day. I think it's worth it, but only if you absolutely love amusement parks.
I recommend going on a weekday. You do need to make a reservation to visit the park, so it doesn't get overcrowded. You can make a reservation and buy your tickets right here.
A practical guide for visiting the Netherlands
The Netherlands is a country like no other. It's smart to read this guide before visiting; to get a little taste of what the Netherlands is like.
Getting to the Netherlands
If you're from a neighboring country, it's easiest to go to the Netherlands by train or car. This is cheap and shouldn't take too long. However, most people are gonna have to fly to the Netherlands. We do have 2 airports, but you will probably (and should!) land at Schiphol, located near Amsterdam.
From Schiphol, many trains and buses will take you to the city center of Amsterdam (or other cities).
How to get around
Getting around in the Netherlands isn't hard at all. With an amazing train network, rental bikes everywhere, and car rental, the options are endless!
Car
Many people visiting from Belgium, Germany, or France, choose to drive to the Netherlands, which instantly gives you complete freedom to explore the entire country. As I live in the Netherlands, I go everywhere by car, which is in my opinion the best way to get around.
We have incredibly good highways, that will direct you to your destination fast.
Cycling
Did you know that in the Netherlands, there are more bikes than people? It's not because every person owns 2 bikes (some do though…), I presume it's because of rentals.
In the Netherlands, you can always find trusty bike rental services, but you can also get an OV-chipkaart (more about this below). With this card, you can ''rent'' a bike to get from one place to the other.
OV (public transport)
OV means public transport. Many Dutchies own an OV-chipkaart, which is a card you can use to check in and out of buses and trains. But as I've told you above, you can also use this card to rent a bike.
On a week's trip to the Netherlands, you don't really need an OV-chipkaart, because you can pay with your debit card in buses and just buy train tickets at the station. However, if you're in the Netherlands for longer than a month, and using public transport a lot, you should get one (most Albert Heijn supermarkets sell them at the service desk, for €7,50).
Money
The local currency of the Netherlands is the Euro. This is the easiest currency in all of Europe, as many other EU countries also use it. The Euro is very similar to US dollars, in worth, which also makes it easy to use for Americans.
Language
The official language of the Netherlands is Dutch. But this country has one of the highest rates of English proficiency in the world, even when you include English-speaking countries. So speaking English in the Netherlands is no problem at all, most Dutch citizens speak English fluently.
Weather
The most used small talk topic in the Netherlands is the weather. But why do people talk about it all the time?
Because it's unpredictable.
But having lived in this country my whole life, I'm pretty used to it. It's not that unpredictable when you live here. It's unpredictable when you want to book your trip, because you may think it's safe to come in summer, but then it's raining all the time.
You just need to be lucky.
We've had 20°C and sun in February. We've had loads of rain, even storms, in July and August. The weather never does what it's supposed to, so you just need to pray for good weather and maybe you're in luck.
Click here to check out the current weather in the Netherlands.
Best time of year to visit the Netherlands
There is no best time weather-wise. There is bad and worse, though.
But the best time to visit is between June and September. Temperatures will be very hot on a good day and there are tons of possibilities to avoid the heat (like floating in the sea).
Summer is a wonderful time in the Netherlands, however, my favorite time has to be Spring. This season is when the Netherlands welcomes the most tourists, because of the world-famous flower fields. April and May are incredible months to visit.
Read this flower fields guide, to find the best dates for your trip.
Dutch delicacies
I'm so lucky to live in the Netherlands. Because some of our delicacies are the best in the world. In this country, we have so many unique foods that you simply have to try. You shouldn't be allowed on the plane back without having tasted:
Stroopwafels
Hollands nieuwe haring (by the sea)
Kroket
Oliebollen (in season from October til NYE)
Gouda cheese
Poffertjes
Snert (pea soup)
This is just a fraction of our local foods, but the most delicious ones. Make sure to try every one of them. You'll thank me later.
Final thoughts on spring in the Netherlands
Spring is a magical time in the Netherlands. Probably even the best time to visit here. With flowers everywhere, this country turns into a true fairytale!
Have you ever been to the Netherlands? Let me know in the comments below!
Related posts