How to visit several different flower fields in the Netherlands.
Are you looking for the best activities in the Netherlands? You should consider visiting flower fields! Even if you're not visiting in Spring, as there are many different flower fields throughout Spring AND Summer! Here is everything you need to know about visiting the flower fields in the Netherlands!
Disclosure: This post may contain affiliate links, which means that if you purchase through one of the product links, we'll receive a small commission at no cost to you. We only promote products and services we 100% believe in. Thank you so much for supporting us! Read more about it in our disclosure policy.
As in this post, I will only be talking about Spring and Summer, I do not think it's relevant to talk about the weather in Fall and Winter. However, if you are interested in visiting the Netherlands in these seasons, these posts are for you:
Things you need to know about flower fields in the Netherlands
Flower fields in Spring in the Netherlands
Of course, everybody knows about the flower fields in the Netherlands in spring. Everyone has seen photos of red and yellow tulip fields, ironically with a windmill in the background.
And I will tell you, these flower fields are very much worth visiting. Nowhere else in the world can you take a bike ride through a region and see so many fields of flowers!
6400 acres of land are reserved for flower bulbs, so there are enough places to admire them!
Flower fields in Summer in the Netherlands
But did you know that in summer we also have the most unique flower fields in the Netherlands?
While not as impressive as the tulips and hyacinths, in summer dahlia flowers can grow quite beautifully in some fields. There are even fun activities where you can pick a stunning dahlia bouquet!
And as if that's not enough, you can also visit the most magical heather fields in the Netherlands! At some places in the country, you will see these picturesque purple hills as far as the eye can reach!
We even have fields of wildflowers!
I know, the amount of flowers in the Netherlands is quite overwhelming, but be patient, I will take you through the best places, activities, blooming information, and more!
Picking flowers
At some very special places in the Netherlands, there are ''plucking farms'', where you can pick flowers and make your own bouquet!
Picking flowers is a fun activity in the Netherlands, but only allowed at these farms, so please leave the regular flower fields alone.
Make sure to read through to the end, to find out where these picking farms are located!
Flower fields in Spring
Tulip fields
An important icon of Dutch heritage, is without a doubt, the tulip. Every year you can admire fields upon fields of tulips in all colors!
The most Dutch thing you can do when visiting the tulip fields is get there by bike! There are more bikes than people in the Netherlands, which means that there are many bikes for rental!
Check out these Bollenstreek bicycle routes!
Another option is renting a Twizy, which is a very small electric car for 2 people. You can drive along the tulip fields and see many places without the need to be active. This is a very unique way to explore the tulip fields, you should definitely check it out!
Tulip blooming time
From mid-April to early May, you can find these tulip fields anywhere in the Netherlands.
Where to see the Tulip fields
The tulip fields won't be hard to spot, but you do need to be in the right regions. Here's a list of all the regions where you will find tulip fields:
Bollenstreek (the region between the cities Leiden and Haarlem)
Flevoland (Dronten, Lelystad, Zeewolde)
Kop van Noord-Holland (region around Schagen)
Zeeuws-Vlaanderen (the southernmost place in Zeeland)
Goeree-Overflakkee (an island in Zeeland, near Rotterdam)
Tulip activities
Keukenhof
The most popular tulip-related activity in the Netherlands is Keukenhof. This is a huge flower garden located in Lisse. Keukenhof is a well-loved place in the Netherlands.
The garden changes a bit each year and people tend to go back again whenever they can. Which can make this place a bit crowded.
It's open from mid-March to mid-May and a ticket will cost you €19,- euros.
I recommend visiting Keukenhof on a weekday (best on Monday, Tuesday, or Thursday), at 8 a.m. I've seen this garden on weekends and it's just too crowded. Go on one of these weekdays and you'll feel like you're walking through a fairytale!
Tulip Experience Amsterdam
The Tulip Experience Amsterdam is a lot of fun to visit! It's located only 2 kilometers from Keukenhof, so you can easily combine these 2 activities in a day.
At the Tulip Experience, you can:
Pick your own tulip bouquet
Take the most beautiful pictures among 1 million tulips (and 700 varieties!)
Learn about tulips in the museum
Enjoy Dutch delicacies in the coffee corner
And more!
It does cost €10 euros per adult (€7,- for children) to visit the Tulip Experience, but the price includes the tulip bouquet you can pick yourself!
The Tulip Experience Amsterdam is open from mid-March to mid-May.
Tulip Festival Amsterdam
The name might sound a lot like the former activity, but it's very different. During the annual Tulip Festival in Amsterdam, you will find tulips at more than 85 locations throughout the city center of Amsterdam!
The public places where you can find tulips are free, but for museums and several gardens, the regular entrance fee applies.
The tulip festival always takes place for the entire month of April.
Tulip farms
Visiting a tulip farm is one of the best ways to enjoy the Dutch tulip fields. There are several tulip farms in the Netherlands, of which most are located in the Bollenstreek.
But what is actually a tulip farm?
Well, a tulip farm is a place that's focused on tourists. There are several activities that will make your trip to the Netherlands complete.
Things you can do at most tulip farms:
Walk through the tulip fields (on regular fields this is not allowed)
Take the most Instagrammable photos
Pick your own tulip bouquet
Enjoy some Dutch delicacies
Follow a tour
Some farms have rental services (bike or Twizy)
The best tulip farms in the Netherlands are:
Tours
There are a lot of guided tours where you can visit many of these places and activities. Booking a tour is often much easier than figuring out everything yourself, like how to get there and where to pay.
On a guided tour you can visit many places stress-free, I highly recommend it!
Book your trusted tours on GetYourGuide!
I know I've written a lot about the tulips, but please bear with me. There is a lot more than just tulips in the Netherlands and I will tell you about them from here on!
Hyacinth fields and Daffodil fields
In Spring you'll find many more flower fields. Hyacinth fields for example are very popular and you'll find them everywhere in the Bollenstreek. The same goes for Daffodils!
Hyacinth and daffodil blooming time
Blooming times of these flowers can start as early as late February! However, most Hyacinths and Daffodils will start blooming in March (depending on the climate), until the end of April.
The first weeks of April are the best to explore these flower fields.
Where to see the Hyacinth and Daffodil fields
You will find daffodils EVERYWHERE. Both in and outside the cities can you find these magnificent flowers. You don't have to worry about not seeing them because I can guarantee you, you will!
Daffodils also grow in fields resembling the tulip fields.
Hyacinths are more popular to be seen in these fields, in purple, pink, blue, and white colors! They look magical and smell amazing!
You will find these fields in the Bollenstreek (in between Leiden and Haarlem).
Lilac hill
A personal favorite of mine, and a real insider location is Lilac Hill (known as Seringenberg to the locals).
The Seringenberg in Wassenaar is a magical place that's never crowded (However on Sundays it gets busier). It's located in a forest called: the Horsten.
The literal translation of Seringenberg is the lilac mountain. But seeing that the Netherlands doesn't have mountains, this is not an actual mountain. It's more like a high hill filled with lilac bushes. This purple hill looks and smells amazing!
The Seringenberg is a fun gem to visit in Spring!
Lilac blooming time
In May, the Seringenberg will be in bloom for 2 to 3 weeks. It's a little walk through the forest, to get to this hill.
Where to see the Lilac Hill
Lilac Hill is located in a forest called: De Horsten, in Wassenaar. It's easily reachable from both the Hague and Amsterdam.
The Horsten is open daily from 9 a.m. to 8:30 p.m. A parking ticket costs 3 euros, and entrance to the forest is free.
Related: A Practical Guide on Spending Spring in the Netherlands + Fun Activities
Cherry blossoms
One of the most famous cherry blossom forests is located in the Netherlands! It's a small but magnificent park that'll blow your mind!
In the Cherry Blossom park, you can go for a picnic, photoshoot, or just enjoy the nature around you.
Cherry blossom blooming time
At the beginning of April will these blossom trees be in bloom. And it gets super crowded. It's hard to find a good time to go here, but your best bet is to go early in the morning on a weekday. And by that, I mean like super early.
Around 7 am, when the sun just starts to rise will be the least crowded.
Where to see the cherry blossoms
The Cherry Blossom Park is located in Het Amsterdamse Bos. Parking and entrance are free!
The Dutch flower parade (bloemencorso)
For many, it's the most annoying thing and for others, it's what they've enthusiastically been waiting for: The Dutch Flower Parade!
When telling you it's annoying I mean for the locals who still have to work (I've had an experience…)
Anyhow…
The Flower Parade is quite the spectacle! There are over 20 floats decorated with the most breathtaking tulips, hyacinths, and other greenery! Several vehicles and oldtimers accompany these floats quite elegantly.
The Dutch Flower Parade takes place every year in April (20th in 2024). The entire parade will cover a route of 42 kilometers, beginning in Noordwijk and ending in Haarlem. There are many places where you can watch the floats drive by along this route, so make sure to be on time!
Check out more about the Dutch flower parade
Pro tip: This is not the only flower parade in the Netherlands, there are several more in Spring and Summer, check them out here.
Flower fields in Summer
Dahlia fields
What most people don't know is that the flower season doesn't end in Spring. It actually goes on to summer but with different flower species.
Dahlia fields may be the most colorful fields you will find in summer! Okay, dahlias are not as popular as tulips, but still, they are worth checking out!
Dahlia blooming time
Dahlias are in bloom from July till late August.
Where to see the dahlia fields
There are several places where you can see the dahlia fields (for free!):
Heather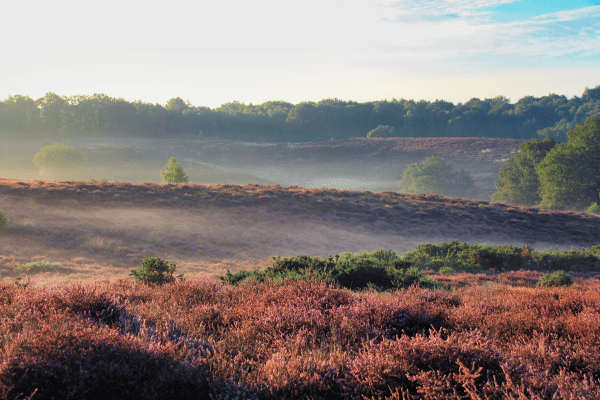 One of my favorite flower fields are definitely heather fields! Although it's more of a plant than a flower, heather looks straight out of a fairytale!
When visiting the heather fields you'll likely be overwhelmed by its beauty. You'll find entire purplish-pink hills, as far as the eye can reach!
Heather blooming time
From mid-August to mid-September, the heather will be in bloom throughout the Netherlands.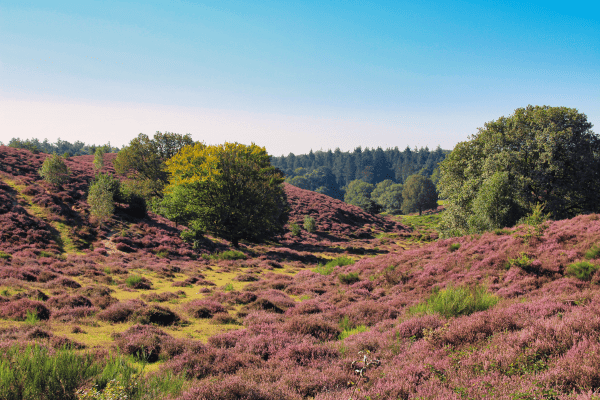 Where to see the heather fields
There are many places where you can admire the heather fields, however some are way better than others. These are the best places to see the heather fields:
Posbank, Nationaal Park Veluwezoom, Gelderland
Sallandse Heuvelrug, Overijssel
Nationaal Park Dwingelderveld, Drenthe
Loonse en Drunense Duinen, Brabant
Every year I seem to return to Posbank to hike through the heather fields, I highly recommend going there!
Wildflowers
Throughout the entire country, more and more wildflowers are blooming every year! You will find them in both the smallest places and in huge wildflower fields!
Wildflower blooming time
From mid-June to early August wildflowers like poppies, daisies, red clovers, dandelions and more are fully in bloom!
Where to see the wildflowers
There are no certain places where these flowers grow. One year you may spot them in a certain place and the next they're gone.
My favorite place to adore wildflowers is at the Klinkenbergerplas, near Leiden. I find them here every year, so you may want to check it out!
Alliums
A flower that shouldn't be in this list, but I couldn't ignore, is the allium. There is one certain place where you can see these flowers, and it's quite unknown and unpopular.
Whenever I see an allium, you can always hear me say ''Look, it's a purple ball flower!''. Because that's exactly what they look like and they're so beautiful!
At De Groene Bollenschuur in Hillegom, you can admire Allium fields in early June. De Groene Bollenschuur is also one of the loveliest Bed&Breakfasts I know of. So make sure to stay there for a night or two!
A practical guide for visiting the Netherlands
The Netherlands is a country like no other. It's smart to read this guide before visiting; to get a little taste of what the Netherlands is like.
Getting to the Netherlands
If you're from a neighboring country, it's easiest to go to the Netherlands by train or car. This is cheap and shouldn't take too long. However, most people are gonna have to fly to the Netherlands. We do have 2 airports, but you will probably (and should!) land at Schiphol, located near Amsterdam.
From Schiphol, many trains and buses will take you to the city center of Amsterdam (or other cities).
How to get around
Getting around in the Netherlands isn't hard at all. With an amazing train network, rental bikes everywhere, and car rental, the options are endless!
Car
Many people visiting from Belgium, Germany, or France, choose to drive to the Netherlands, which instantly gives you complete freedom to explore the entire country. As I live in the Netherlands, I go everywhere by car, which is in my opinion the best way to get around.
We have incredibly good highways, that will direct you to your destination fast.
Cycling
Did you know that in the Netherlands, there are more bikes than people? It's not because every person owns 2 bikes (some do though…), I presume it's because of rentals.
In the Netherlands, you can always find trusty bike rental services, but you can also get an OV-chipkaart (more about this below). With this card, you can ''rent'' a bike to get from one place to the other.
OV (public transport)
OV means public transport. Many Dutchies own an OV-chipkaart, which is a card you can use to check in and out of buses and trains. But as I've told you above, you can also use this card to rent a bike.
On a week's trip to the Netherlands, you don't really need an OV-chipkaart, because you can pay with your debit card in buses and just buy train tickets at the station. However, if you're in the Netherlands for longer than a month, and using public transport a lot, you should get one (most Albert Heijn supermarkets sell them at the service desk, for €7,50).
Money
The local currency of the Netherlands is the Euro. This is the easiest currency in all of Europe, as many other EU countries also use it. The Euro is very similar to US dollars, in worth, which also makes it easy to use for Americans.
Language
The official language of the Netherlands is Dutch. But this country has one of the highest rates of English proficiency in the world, even when you include English-speaking countries. So speaking English in the Netherlands is no problem at all, most Dutch citizens speak English fluently.
Weather
The most used small talk topic in the Netherlands is the weather. But why do people talk about it all the time?
Because it's unpredictable.
But having lived in this country my whole life, I'm pretty used to it. It's not that unpredictable when you live here. It's unpredictable when you want to book your trip, because you may think it's safe to come in summer, but then it's raining all the time.
You just need to be lucky.
We've had 20°C and sun in February. We've had loads of rain, even storms, in July and August. The weather never does what it's supposed to, so you just need to pray for good weather and maybe you're in luck.
Click here to check out the current weather in the Netherlands.
Best time of year to visit the Netherlands
There is no best time weather-wise. There is bad and worse, though.
But the best time to visit is between June and September. Temperatures will be very hot on a good day and there are tons of possibilities to avoid the heat (like floating in the sea).
Summer is a wonderful time in the Netherlands, however, my favorite time has to be Spring. This season is when the Netherlands welcomes the most tourists, because of the world-famous flower fields. April and May are incredible months to visit.
Read this flower fields guide, to find the best dates for your trip.
Dutch delicacies
I'm so lucky to live in the Netherlands. Because some of our delicacies are the best in the world. In this country, we have so many unique foods that you simply have to try. You shouldn't be allowed on the plane back without having tasted:
Stroopwafels
Hollands nieuwe haring (by the sea)
Kroket
Oliebollen (in season from October til NYE)
Gouda cheese
Poffertjes
Snert (pea soup)
This is just a fraction of our local foods, but the most delicious ones. Make sure to try every one of them. You'll thank me later.
Final thoughts
My mission is mainly to show people that tulips aren't everything the Netherlands is about. We've got so many more beautiful flower sites, and I hope you are now informed enough to visit them!
Have you ever been to the Netherlands? Let me know in the comments below!
Related posts
These Are the Most Beautiful Flower Fields in The Netherlands (More than Tulips)