The ultimate guide to visiting Trieste and all the things to do.
In May 2023, our trip didn't go as planned and instead of visiting Tuscany, we drove to Slovenia. Of course, we had to stop by Trieste, after hearing amazing about this majestic city. Only there are so many things to do, you might feel lost. Stick around to find the best things to do in Trieste!
Disclosure: This post may contain affiliate links, which means that if you purchase through one of the product links, we'll receive a small commission at no cost to you. We only promote products and services we 100% believe in. Thank you so much for supporting us! Read more about it in our disclosure policy.
About Trieste
A major city in northeastern Italy is Trieste. It's located near the border of Slovenia and lies by the Gulf of Trieste.
Trieste is a city filled with history, which you will see all around. This historic city is my favorite city in Italy!
Best things to do in Trieste
Be blown away by Piazza Unità d'Italia
Welcome to the main square of Trieste. Surrounded by Town Hall, Palazzo del Lloyd Triestino, the Palazzo del Governo, and the Palazzo Pitteri, this square is absolutely stunning! All the historic facades and the pristine sea on the other side… It's truly impressive!
Piazza Unità d'Italia is actually believed to be the largest sea-facing square in Europe! It was built at a time when Trieste was an important seaport for the Austro-Hungarian empire. The former name of the square was Piazza Grande, for both its size and glory.
At night, Piazza Unità d'Italia truly comes to life! It'll be one of the most romantic sights in the city, so make sure to walk by here at night!
You should definitely stop by this spectacular square, you'll be blown away!
And don't forget to take a look at Piazza Della Borsa
In the same corner of the city where Piazza Unità d'Italia is located, you'll find Piazza Della Borsa. This is another majestic square, known as the city's economic square. The Chamber of Commerce building is actually located at the far end of the square, in a wonderful historic building with a columned entrance.
From time to time you may find a market on this square. Piazza Della Borsa is great to walk through, take photos, and sit down for a refreshing drink!
Take a photo of Canale Grande
One thing that took my attention instantly while walking through the city center, was Canale Grande. Never had I seen such a big centered canal with the bluest water filled with jellyfish!
Every Springtime, many jellyfish come to the shores of Trieste. They can be seen in the sea, and on a lucky day, you will see many jellyfish in Canale Grande. It was such a peaceful sight!
Anyhoo…
Canale Grande is very old, it has been there since the mid-1700s. It was built to allow boats to go directly into the city to unload their cargo.
Walking around the canal that's approx. 200 meters inland, you will be amazed by spectacular views of the surrounding buildings, like the Palazzo Carciotti and the Palazzo Gopcevich.
You shouldn't miss this picturesque place!
Admire the view at Castello di San Giusto
The "Castello di San Giusto" is a historic fortress located on San Giusto Hill, in Trieste.
The castle has a long and complex history, with its origins dating back to Roman times when it was used as a military outpost. Over the centuries, the castle underwent various modifications and expansions under different rulers and influences; that is why the castle has a very interesting architecture.
To visit this castle, you will first need to cross a wooden drawbridge across a narrow moat. In the castle itself, you can explore:
The walls and towers
The castle museum
Archeological remains
The cathedral of San Giusto
Amazing panoramic views
Castello di San Giusto is worth visiting, if only for the views over the entire city, the Gulf of Trieste, and the surrounding hills… Make sure to stop by!
Visit the Trieste Cathedral
Of course, when visiting Trieste, you can't miss the Trieste Cathedral, which is also known as the Cathedral of San Giusto.
The history of Trieste Cathedral dates back a while. The first religious site was built here already in the 6th century, but the current Gothic structure dates back to the early 14th century.
The impressive architecture and historic details will leave you amazed. Trieste cathedral is a place you have to visit, you won't be disappointed!
Sip coffee at a historic café
Climbing the San Giusto hill must've been very exhausting. It's time to go down into the city center again, and enjoy a well-deserved cup of coffee!
Trieste has a rich coffee culture and a history of coffee houses that have played a significant role in the city's social and intellectual life. Trieste might even be the ''coffee capital'' of Italy!
In the mid-18th century, Trieste became a major coffee port in the Mediterranean. Trieste received beans from coffee plantations from around the world to supply coffee houses throughout the Austro-Hungarian Empire.
Most coffee houses in Trieste date back to the 19th century! Make sure to take a coffee break at these historic cafes:
Caffè Tommaseo: One of the oldest coffee houses in town!
Caffè degli Specchi: Also known as the ''café of mirrors'', you find this coffee house is filled with large mirrors.
Caffè Stella Polare: A very interesting arctic-themed coffee house, you should check it out!
Take a night's stroll down Molo Audace
A perfect place to get some refreshing air is Molo Audace; a 130-year-old pier that extends more than 250 meters into the Adriatic! It's a popular place amongst both locals and tourists. From this pier you can enjoy the views over the harbor, you can see Piazza Unità d'Italia, and see fish swimming around in the sea.
I loved taking a break from the city at Molo Audace, it's the perfect place for relaxing!
Especially at night, when you will have a stunning view over the most romantically lit square in the city. Going out onto the pier with your loved one is highly recommended!
Visit the Roman Amphitheater
The Teatro Romano di Trieste is an ancient Roman amphitheater located in the city of Trieste. It was built during the 1st century AD and is considered one of the most important archaeological sites in the city.
The theater was likely used for various performances, including theatrical plays, gladiator contests, etc., and it offered space for up to 6000 spectators!
The amphitheater is free to visit and is open 24/7. I recommend checking it out!
Admire beautiful art at Museo Revoltella
There are several museums in Trieste, but Museo Revoltella is a sure favorite amongst many people.
Museo Revoltella is dedicated to showcasing modern and contemporary art, offering visitors a diverse range of artistic expressions. You'll find a huge collection of 19th– and 20th-century art, including more than a thousand paintings, several hundred sculptures, drawings, and prints! You will also find beautiful furniture that belonged to Baron Pasquale Revoltella.
And from the museum's rooftop, you'll have the greatest panorama view over the city! If you only have time for one museum, make sure it's Museo Revoltella!
And take a break in Villa Revoltella Park
An hour's walk inland from the city center will take you to Villa Revoltella Park. This park has been donated to the city by Pasquale Revoltella, ensuring that it will always be open to the public.
In this park, you will find a magnificent garden, a koi pond, a villa, and a church.
It's a great break from the busy center, if you have the time for it, you should visit this wonderful garden!
Visit the Saint Spyridon Church
The Serbian Orthodox Saint Spyridon Church is one of the major points of interest in Trieste. It is named after Saint Spyridon, a revered saint in the Eastern Orthodox tradition. The church is an important religious and cultural landmark in Trieste, particularly for the Serbian community in the city.
The architecture of the Saint Spyridon Church reflects elements of the Byzantine and Eastern Orthodox architectural styles. It features a distinctive dome and ornate decorations on its exterior and interior.
This eye-catching church is open to visitors and free to enter. You should check the opening hours before visiting, as they may change at times.
Related posts:
Enjoy some delicious gelato at Gelateria Zampolli
Because you can't visit Italy and not enjoy their Gelato… It's not a question of whether we should get some gelato, the right question would be: Where to get some Italian gelato?
And I've got the answer for ya!
Gelateria Zampolli is known to be the best gelateria in Trieste! With deliciously strong flavors, big scoops, and the best service, Gelateria Zampolli is a favorite in Trieste!
I (as a professional baker and ice cream taster (no joke)), LOVED Zampolli's gelato. So check it out!
Visit the Miramare Castle
One of the biggest attractions in Trieste must be Miramare Castle (Castello di Miramare). It's located a bit outside the city, but easily reachable by local bus or car.
Miramare Castle looks like it's straight out of a fairytale! Standing at the tip of a rock overlooking the Gulf of Trieste, the majestic Miramare Castle is truly a magnificent sight to see.
The castle's architecture is a mix of Medieval, Gothic, and Renaissance elements, and was built in the mid-19th century as a summer retreat by the Habsburg Archduke Ferdinand Maximilian. The Archduke only lived here for 4 years with his family, before leaving for Mexico, where Ferdinand Maximilian was crowned, and shortly after executed.
The park around the castle is free to visit, but an entrance to the castle will set you back €12 euros. However, seeing the inside is very worth it!
See the opening hours here and get your tickets!
Take a look at the old harbor
The Old Port of Trieste, also known as the Old Harbor (Porto Vecchio), is a historic maritime area in Trieste, Italy. It holds a significant place in the city's history as a bustling commercial and trade hub.
Porto Vecchio was the main port of the Austrian Empire when the city was part of it. The Old Harbor area is characterized by its historic buildings, warehouses, and docks that line the waterfront. These structures reflect different architectural styles and eras, showcasing the city's evolving identity and role as a major trading port.
The Old Harbour in Trieste was built between 1868 and 1887. There are several large buildings that still wear all signs as well as the old railway line with some rusty trains.
We parked our campervan at Park Bovedo, and we walked past the old harbor and took a good look around. You can't actually go into the old harbor, there are fences everywhere, but you can get a good look at it.
See the impressive Victory lighthouse
The "Faro della Vittoria," also known as the Victory Lighthouse, is an iconic monument located in Trieste, Italy. It is a symbol of the city and commemorates the fallen soldiers of World War I.
This impressive landmark has a height of 68 meters and it is therefore really hard to miss. This lighthouse is amongst the tallest in the world!
The Faro della Vittoria was designed by the architect Arduino Berlam and was built between 1923 and 1927. The lighthouse is situated on a hill overlooking the Gulf of Trieste and offers panoramic views of the city, the sea, and the surrounding landscape.
The lighthouse is accessible by car or on foot. Admission is free and has very specific opening hours, make sure to check before visiting.
Visit the Grotta Gigante
About 20 kilometers from the city center of Trieste, you'll find the Grotta Gigante. This is one of the largest caves in the world that's open to tourists!
The 50-minute guided tour will get you through a big part of the cave, but long not all of it. However, your jaw will drop as you take a look inside the main underground chamber, which is 98 meters high, 76 meters wide, and 167 meters long!
Grotta Gigante is definitely worth visiting. An adult ticket will cost you €15 euros, check it out here!
Go hiking in Val Rosandra
Located east of Trieste, by the border of Slovenia, there lies a magical nature reserve, called Val Rosandra. You can go hiking in this mountainous area, to many panoramic viewpoints.
There's also a stunning blue river and a magnificent waterfall; Cascata del Torrente Rosandra. If you're a nature lover, it's truly worth checking this out!
The best way to get there is by car. The reserve is free to visit.
Day trips from Trieste
Seeing that Trieste is quite close to the Slovenian Border and you can also get to Croatia real quick, you can go on wonderful day trips. Let me make you a list of the best things to do in the surrounding areas.
Golden tip: Booking a day trip via GetYourGuide is often a lot cheaper than renting a car!
Ljubljana
The vibrant capital city of Ljubljana is a magical place. With the most colorful architecture, amazing culture, and the most unique things to do! Ljubljana is only 100 kilometers from Trieste, and easily reachable by car or local transport.
You can also book an affordable tour including transport.
Lake Bled
The dreamiest lake in Slovenia is Lake Bled. You may already have heard of it or seen some pictures. And I can tell you for sure, that Lake Bled is worth the hype.
With stunning turquoise water and a picturesque island in the middle, Lake Bled is such a peaceful place! You can row a boat to the island, walk around the lake, explore the village, and so much more!
Lake Bled is 150 kilometers from Trieste, and also easily reachable by car or public transport. You can easily combine a trip to Ljubljana with Lake Bled in one day.
Want to know more? Check out this post about things to do in Lake Bled!
Predjama Castle and Postojna Cave
A bit closer to Trieste, you'll find Predjama Castle and the Postojna Cave. The 800-year-old Predjama Castle and Postojna Cave are somewhat the most popular things to do near Trieste!
The Predjama castle is something you'll have never seen before! The castle has been built on a 123-meter-high cliff, set right into the mouth of a huge cave. It's a very impressive sight to see, and definitely worth checking out!
Only a few minutes from Predjama, there's a town called Postojna, where some of the greatest caves are located. These caves are quite popular in Slovenia and welcomes over a million visitors a year.
These 2 activities are great to combine in a day.
Slovenian coast
I'm in love with the Slovenian coast! Featuring only 3 towns; Koper, Izola, and Piran, the coast is not that big. However, it is truly magnificent! With pristine beaches in between these towns, there is a lot more to do than you might think!
Book your highly-rated tour of the Slovenian coast!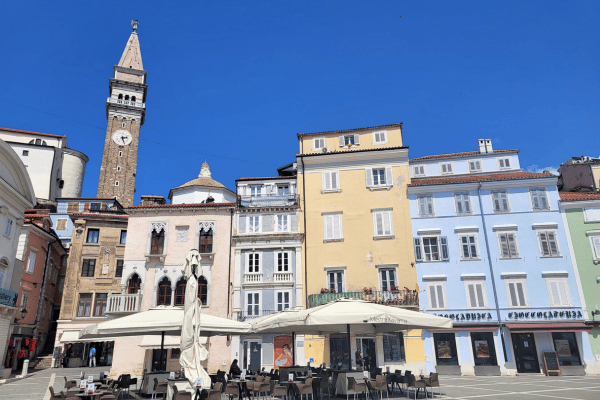 Related: How to Explore the Magnificent Coast of Slovenia – A Full Guide
Istria
A less popular place to visit on a day trip is Istria. However, it's not far away; only an hour and a half drive to Poreč. There are a lot of things to do in Istria, like go on a guided food tour, visit one of the picturesque towns, or dive into Istria's hidden gems!
Istria is a great choice for a day trip from Trieste!
Practical information for visiting Trieste
If it's your first time visiting Italy, you may need this practical information
Language and currency
The language in Italy is Italian. However, in Trieste, many people also speak English, Slovenian, or Croatian.
The currency in Italy is the Euro.
Best time to visit Trieste
Like many more places, every season suits Trieste well. In Summer, it can get very hot in this Mediterranean city and it'll be high season, so that means more tourists and higher prices.
For the best weather and fewer tourists, April and May are perfect. September and October are also very good times to avoid the crowds.
Of course, you can visit Trieste all year round, but between November and March, you will need some thicker clothes with you, as it can get as cold as 0° C. Rainy days are very minimal in Trieste.
How many days to see Trieste
We have only been to Trieste in one full day but felt like it was too short.
2 to 3 days in Trieste will be enough to see every hi
Final thoughts on things to do in Trieste
I hope this post sums up everything there is to do in Trieste! Will you be visiting Trieste soon? Let me know in the comments below, I'd love to hear from you!
Related posts
The 17 Most Surprising Things to Do in Trieste, Italy