All the places to visit and what to do on the coast of Slovenia.
Did you even know that Slovenia has a coastline? I mean, if you look at google maps, you may not see it in an instant. But Slovenia does have a small coastline with several towns. The coast of Slovenia is just 47 kilometers on the Adriatic Sea.
The coastline of Slovenia is most popular for 3 historical towns: Koper, Izola, and Piran. But how to visit these towns and what to see there?
Stick with me to find out!
Disclosure: This post may contain affiliate links, which means that if you purchase through one of the product links, we'll receive a small commission at no cost to you. We only promote products and services we 100% believe in. Thank you so much for supporting us! Read more about it in our disclosure policy.
About the coast of Slovenia
The Slovenian coast is only 47 kilometers of pure beauty. With the 3 main towns being the most important, it's not all that the Slovenian coast has to offer. You'll also find the most wonderful nature and stunning beaches.
The coast of Slovenia may be very small, but it's definitely worth a visit!
Best time to visit the coast of Slovenia
Since the coast of Slovenia is so small, it gets crowded easily. Some towns are more touristy than others, but overall, you don't want to find yourself there in summer. The coastline is very well-visited and super crowded from June to September.
If you want to visit the Slovenian coastline, you should be going in spring, from March to May, or in Autumn; especially in October. During these times, the weather and the sea temperatures are very pleasant, and you won't be drowning in the crowds.
The Slovenian coast is only 1,5 hours' drive from Ljubljana, which is one of the most beautiful cities I've seen in Europe! Read how to explore Ljubljana in one day!
How much time to spend on the Slovenian coast
In the Spring of 2023, we were traveling several countries in Europe. On our trip, we wild camped everywhere, which somehow gave us more time to explore each place.
We visited all 3 towns of coastal Slovenia in 1 day. We didn't rush at all and even lay on the beach for a short time (we're not beachy people).
I had no problem visiting all places in 1 day, but if you really want to explore and take your time, 2 to 3 days are enough for exploring the entire coast.
Best way to get to the coast of Slovenia
The best way to see the Slovenian coast is to drive by car. There are many affordable parking lots in the towns and you get to drive the most scenic coastal roads. The roads in Slovenia are good and driving there isn't any different from driving in other countries in Europe.
The coast of Slovenia is:
1,5-hour drive from Ljubljana
Half an hour from Trieste, Italy
1,5-hour drive from Rijeka, Croatia
You can easily reach Koper by train or bus if you don't have a car. From there you can visit the other places by bus. Public transport is very good and super cheap in Slovenia.
Bonus tip: You should pair your trip to the Slovenian coast with a road trip through Istria, Croatia. Read about Istria's hidden gems here!
The 3 main towns on the coast of Slovenia
The 3 main towns in coastal Slovenia are Koper, Izola, and Piran. All these towns are very different from each other and all very worth visiting.
Let me take you through them one by one.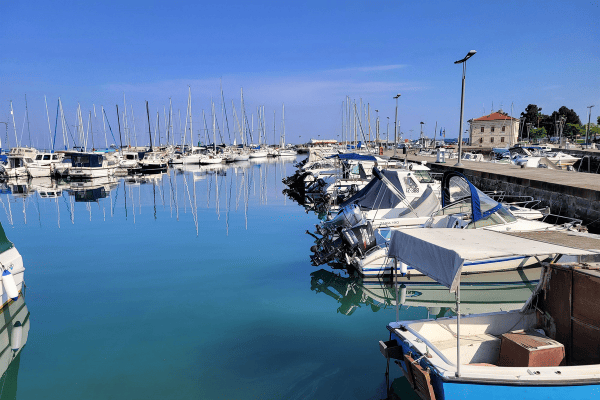 Koper
Koper is the largest town of the 3 and is also home to the main port on the Slovenian coast. This makes it look a bit industrial at first, but once you head into the old town, you'll have forgotten that part.
Koper is filled with history, dating back to Roman times. Koper is actually the oldest town in Slovenia! For a few centuries, it was part of the Venetian Republic, and the old town was actually an island. This makes it a super fascinating town to explore.
There are many things to do in Koper, like:
Walk through the Muda Gate
Take a look around Tito Square
Climb the tower of the Cathedral of the Assumption
Wander through the medieval streets and alleys
Visit the Praetorian Palace
Count the lions (you'll find them everywhere throughout the old town)
These are some attractions you need to visit, to get a good impression of the city. But don't forget that there are many things to do outside the city, like exploring the Hinterlands or doing a wine tasting at our favorite winery: Bordon Wines.
Best beaches in Koper
Koper is not really known for its beaches, so you won't find many of them. There's one beach next to the marina, in the city, but the one you want to visit is called plaža Žusterna. This beach is absolutely beautiful and within walking distance of the city.
Where to park in Koper?
You should park your car at Parcheggio del Mercato. It is a paid parking lot, but it's affordable and super close to the city. You can also park your campervan or other bigger vehicles here.
How long to stay in Koper?
In half a day you'll have seen everything there is to see in Koper. You can easily visit another town on the same day, like Izola.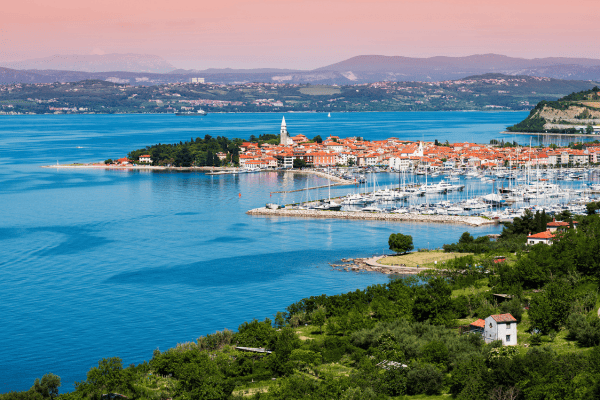 Izola
The least crowded town on the Slovenian coast is Izola. When we were visiting, Izola was so quiet and peaceful, we loved it!
Izola is named after ''isola'' which means island in Italian. Because like Koper, Izola was also once an island.
Izola is located between busy Koper and stunning Piran and is often overlooked by tourists. I personally see this as a huge advantage, as you can take photos without people in them, don't have to wait in lines, and the prices are very reasonable.
However, Izola is pretty well known for its cuisine. In this town you'll find the best fish and seafood in Slovenia, yet another reason not to skip Izola.
When visiting Izola, make sure you:
Admire the biggest marina in Slovenia
Visit the Besenghi degli Ughi Palace
Eat some famous seafood at Restavracija Hotel Marina
Wander through the old town
Enjoy the Parenzana Museum
Explore the many art galleries
Lay on one of the many stunning beaches
Hike through Strunjan Landscape Park
As you see, not all these things to do are in the city itself, like the Strunjan Landscape Park. And believe me, you don't want to ignore this activity. This park located between Izola and Piran is literally breathtaking. Make sure to go there!
Best beaches in Izola
Izola is the town with the best beaches. But the ones near town can get crowded and chaotic. That's why you need to visit these 2 beaches:
Bele Skale Beach
Moon Bay (in the Strunjan Landscape Park)
Where to park in Izola?
Parkirišče Lonka is hands down the best parking lot in Izola. It's cheap, very close to the city, and you can park your campervan here.
How long to stay in Izola
The old town of Izola is so small, you won't need more than 2 hours to explore. But seeing there are more activities near this town, you should plan on staying in Izola for half a day.
Piran
The last of the 3 big towns is said to be the most stunning town: Piran.
I love Koper and adore Izola, but Piran stole my heart. This town is out-of-this-world beautiful and very famous for it. This town has been shaped by the Venetian rule, which you can see everywhere. These wonderfully shaped structures are hard to beat.
Piran is the most beautiful town, which also means is the most popular among tourists. The town will get crowded, but you can easily avoid the tourists by starting to explore early in the morning.
There are a lot of things to do in Piran, like:
Have some coffee at Tartini Square
Visit the Church of Saint George
Climb the bell tower for spectacular panoramic views
Walk the medieval walls of Piran
Get lost in the maze of cobblestones streets in the old town
Eat some seafood at the restaurant Pirat
Walk the Piran promenade to Punta
You should not take the beauty of Piran lightly. There's so much to see and do in Piran, you can easily spend an entire day here.
Best beaches in Piran
Piran is another town very famous for not only its architecture but also for its beaches. The best beaches to visit in Piran are:
plaža Fornače
Plaža Pacug
Plaža pod Obzidjem
Moon Bay
Where to park in Piran?
Our favorite parking in Piran may have been one of the best parts of our trip. We parked our van at Parking Fiesa for very cheap. At first, we were put off by the 30-minute walk to the city center, but this place was the only one where we could park our campervan.
But then, we were so grateful for finding this parking lot. All we had to do was follow the stunning Fiesa footpath to the city. This was actually the most refreshing part of our trip to the Slovenian coast!
So just park your car at parking Fiesa, and you'll find out what I mean 😉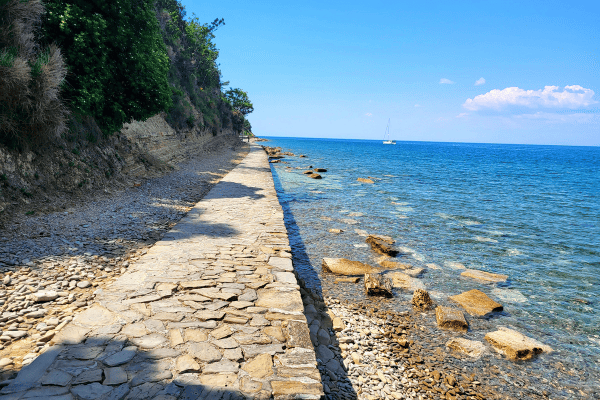 How long to stay in Piran?
As there is a lot to see and do in Piran, I recommend staying here for a full day and night.
Other places to visit on the coast of Slovenia
These 3 towns may be most popular on the coast of Slovenia, but they aren't everything there is. The Slovenian coast has so much more to offer! If you have enough time on your trip, you should consider also visiting the places listed below.
Ankaran
Ankaran is a town north of Koper, and it's very famous for its beaches. So if you're in Koper, where the beaches aren't that good, you should definitely take the trip to Ankaran, where you'll find a lot of wonderful beaches like:
St. Katarina beach
Ankaran Beach
Valdoltra Beach
Student Beach
So for a refreshing beach break from Koper, Ankaran is your best choice.
Strunjan Nature Park & Moon Bay
Yes, I've already praised Strunjan national park, but I'm going to give it another shoutout. That's how much I love it.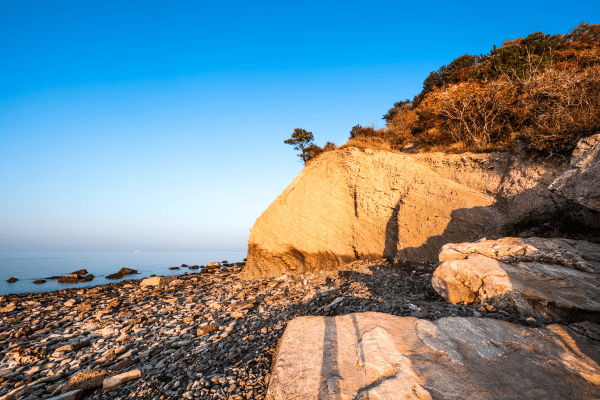 When visiting this nature park, you should first walk through the famous salt pans. After that, you can climb the highest cliff of the eastern Adriatic towards the White Cross. From here you'll get the most amazing views over Moon Bay.
Then you can descend to the Moon Bay beach, by following the marked paths. Then you can just relax on the beach. From here you can hike back up, or follow the coastline to Izola or Piran.
Believe me, this park is worth it.
Portoroz
The town of Portoroz isn't actually as historic as the other towns. However, Portoroz is the most popular Slovenian town for a resort vacation. The town is filled with hotels and resorts, and there are many beaches, of which even an artificial sand beach.
Portoroz is a good place as a base for your trip. From here it's easy to visit all the towns and places on the Slovenian coast, and it's great for relaxing by the pool or on one of the beaches.
Slovenian Istria
The countryside of the Slovenian coast is often referred to as Slovenian Istria. You'll find this place between The Karst Edge and the coast.
It's called Slovenian Istria, because in this region you'll find typical Istrian delicacies, like truffles, olive oil, and wine.
And of course, you will find amazing nature here. Green rolling hills filled with vineyards and olive groves.
Slovenian Istria is a place you should definitely visit if you have enough time.
Which town on the coast of Slovenia is the best?
It could be that you only have one day to explore the Slovenian coastline. No worries, I'll tell you exactly which places you can skip.
In my opinion, you can skip the northern part of the coast, with Koper, and focus on the southern part.
On this one day, the best places to visit are:
Piran
Strunjan Nature Park & Moon Bay
Izola
Visiting these places will give you a good taste of the Slovenian coast, and you won't feel like you've missed much.
But ideally, you should plan 2 to 3 days for exploring the Slovenian coast.
Final thoughts on the coast of Slovenia
The Slovenian coast may be very small, but it's so worth visiting. With all the historic towns, the overwhelming nature and the most relaxing beaches, you should make the trip.
Which place on the Slovenian coast do you like best? Let me know in the comments below!
Related posts
How to Explore the Magical Coast of Slovenia – A Full Guide