The best things to do in Lake Bled, Slovenia.
The most picturesque lake in Slovenia has to be Lake Bled. When I first saw it, this lake took my breath away and I was speechless. There are many things to do in Lake Bled, scroll down to uncover this lake's secrets!
Disclosure: This post may contain affiliate links, which means that if you purchase through one of the product links, we'll receive a small commission at no cost to you. We only promote products and services we 100% believe in. Thank you so much for supporting us! Read more about it in our disclosure policy.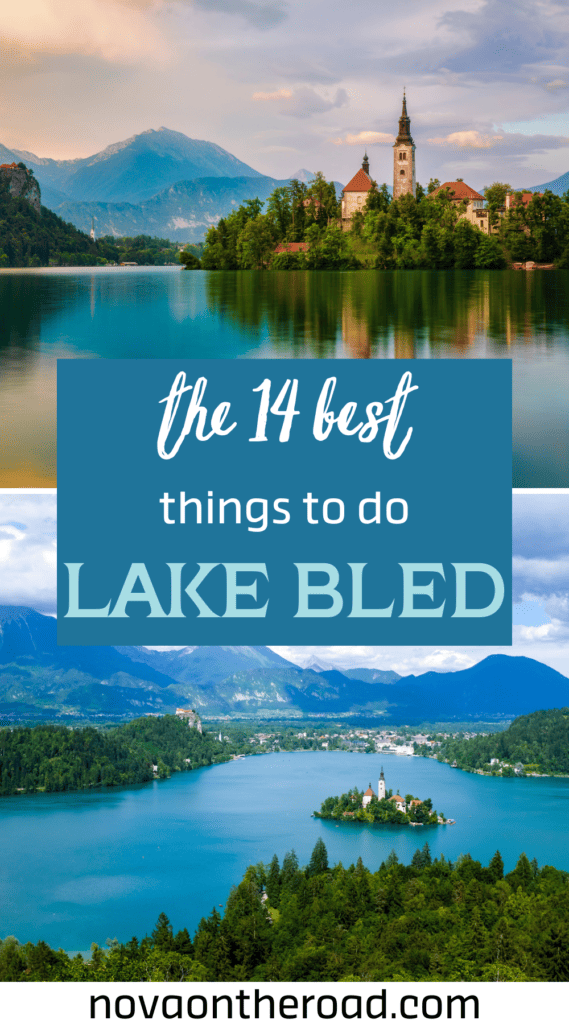 About Lake Bled
Located in the Julian Alps you'll find the dreamy Lake Bled. This lake is very famous for its turquoise water, with a small island in the middle. On this island you'll find the Assumption of Maria Church, which you can visit.
Lake Bled is a perfect summer destination, as the water can warm up to 25° C, which makes it very pleasant to bathe in! But this also means it can get crowded by the lake.
Lake Bled is the perfect destination to add to your Slovenia itinerary!
The best time to visit Lake Bled
There is not a single season in which you shouldn't visit Lake Bled. Every single season suits Lake Bled, somehow. I visited the lake in late spring and it was magical! But I've also seen photos of the lake in the Fall, and it looks amazing with all the colorful foliage!
In winter Lake Bled becomes a true winter wonderland. With snow-topped mountains and white scenery, winter gives the lake a magical touch.
And in Summer the lake is awesome for water activities, swimming and more! However, if you want to avoid tourists, summer is not the best time to come here. But otherwise, summer has the best temperatures to take a dip!
Top things to do in Lake Bled
There are a lot of activities in and near Lake Bled. First I will take you through the things to do in Lake Bled, and then you'll find a list of day trips from Bled. Make sure to read through to the end, all these activities are so worth it!
Row a wooden boat to Bled Island
The first activity is the most obvious one; getting out on the water with a wooden boat. These authentic boats can be rented anywhere around the lake, and it's a super romantic way of exploring the lake and visiting the island.
If you want to rent a wooden boat in the high season, you should come early in the morning, or you'll be having a hard time finding an empty boat.
On the island's western side, you can dock your boat to take a break and explore the island.
As I've said, you can find boat rental companies all around the lake, and at most places, it costs €15 to €20 euros per hour.
At Hotel Toplice, you can rent a boat for 2 hours and enjoy a picnic for €60 euros. The picnic basket consists of different cheeses, roast beef, sashimi, chocolate cake, and champagne. Check it out!
Golden tip: Take some sunscreen with you, on the water you're more likely to burn, even if it's cloudy!
Or take a Pletna Boat to the island
Alternatively, you can take a Pletna boat to the island. Pletna boats are handmade boats that are typically from Lake Bled. The origin of these boats dates back to 1590.
Pletna boats are 7 meters long and 2 meters wide, and can hold up to 18 people! You'll find these boats filled with tourists daily, on the lake.
An adult ticket to the island and back will cost you €18 euros.
Ring the wishing bell
Once you're on the island, there are some activities you can do. First, you have to climb the 99 Steps Stone Stairway. Then you can get some ice cream, buy a beer, shop for souvenirs, or simply walk around the island.
But you can also enter the Assumption of Maria Church, and ring the wishing bell. By ringing this bell, it is said that your wish will come true… This does come at a price though, for €6 euros you can enter the church and ring the wishing bell.
Visit Bled Castle and dine with a view
When visiting Lake Bled, the second thing you're going to notice is a castle sitting on top of a massive rock. This castle, sitting on a cliff towering 130 meters above Lake Bled is very worth visiting. Because not only will you see a stunning castle, but you will also get one of the best views over the lake!
An adult ticket to this castle costs €15 euros. You can get there by car, bus, or on foot.
Insider tip: Are you young and do you still have your student card? By showing this card you'll get a discount of €5,50, so make sure to make use of your student card!
Walk or cycle around the lake
There are easily accessible roads and footpaths all around Lake Bled. So why not enjoy this lake from every viewpoint possible? A walk around the lake is about 5,5 kilometers and will take you less than an hour and a half to finish.
You can also cycle around the lake and in the region. There are several places in Bled where you can rent a bike, or you can take your own bike with you. Cycling around the lake is a very popular choice, you won't be the only one doing this.
Go hiking to the most spectacular viewpoints
If you're looking for even better viewpoints, don't worry, they exist. Say what?! Even better viewpoints than the ones we've already seen? YES!
It does take a small hike to get there, but once you've reached the viewpoints, you'll be grateful!
The number 1 best viewpoint is Ojstrica. This viewpoint is the most popular, as it's easy to get there and you'll be able to get the most spectacular views from above!
Velika Osojnica Viewpoint is not that far from Ojstrica Viewpoint, but it's just as spectacular! With a view over the picturesque lake that'll amaze you, this viewpoint is just as worth it!
Mala Osojnica Viewpoint is the third popular viewpoint over the lake. This is a favorite for photographers, but you'll find fewer tourists here than in the first viewpoint.
Read all about visiting these viewpoints!
Go paddleboarding
There are many places by Lake Bled where you can rent a paddleboard. If you're not that into rowing in a wooden boat or taking a Pletna Boat, paddleboarding may be the perfect choice for you!
Paddleboarding is a very fun way of getting out on the water and definitely one of the best things to do in Lake Bled!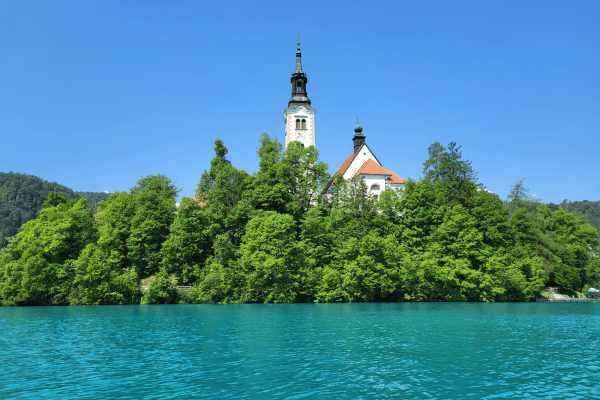 Related:
Wine Tasting Bled
Did you know that Slovenia is a wine country? It is a bit overruled by its neighbor Italy, but wines in Slovenia are different and taste just as good!
I've been to a wine tasting in Slovenia, not at Lake Bled, but in Ajdovščina region. However, the wines were spectacular! Actually, all the wines I tasted in all of Slovenia were super tasty and delicious!
Book this wine tasting at Petric Winery on the official website!
And of course, when visiting Lake Bled you can go for a wine tasting!
At Wine Tasting Bled, you can taste 7 Slovenian wines and learn about the wines from a professional! With delicious appetizers included and the location being a 100-year-old wine cellar, it guarantees to be an amazing wine tasting!
Lay on a beach and take a swim
All around Lake Bled you'll find beaches to relax on and places to enter the water. I mean, after all these activities, it's nice to relax for a bit. The water temperature tends to be very mild and pleasant, especially in summer.
So just take a break, relax, and enjoy the view of Lake Bled whilst swimming in it!
Try some Bled cream cake
Have you ever heard of Bled cream cake? This is a typical delicacy only found at Lake Bled. This is a pastry made of millefeuille dough, vanilla cream, and whipped cream. And it's delicious!
You'll find the original Bled cream cake at Kavarna Park. But throughout the town of Bled, you can find it in almost any restaurant. I ate some Bled cream cake at Art Cafe Bar, and it was delicious! I'm actually craving some cream cake now…
So when in Bled, make sure to eat some Bled cream cake!
Lake Bled toboggan
If you're looking for some adrenaline on your trip to Bled, don't worry! I've got you covered 😉
In summer, you can hop on a toboggan and race down the hill. The length of the track is 520 meters, with an altitude difference of 131 meters. You can reach a max speed of 40km/h!
The tickets range between €8-€15 for adults and €4-€10 for children, depending on how many rides you want. Make sure not to miss this activity, it's so worth it!
Day trips from Lake Bled
Not only are there more than enough activities in Lake Bled, but you'll also find tons of them around it! The activities below are perfect for half-day trips or full-day trips.
Vintgar Gorge
First off is the Vintgar Gorge! The famous Vintgar Gorge is one of the most popular natural highlights in Slovenia! You can explore this impressive gorge by wooden bridges and footpaths.
The natural beauty of the Vintgar Gorge is extraordinary. On your hike, you'll explore the most impressive rock formations, the beautiful blue-and-green river, spectacular waterfalls, and more! The hike through Vintgar Gorge is breathtaking, this special place is one you won't be able to forget!
The hike is around 3,6 kilometers but you will need around 3 hours to finish it, as you'll probably be stopping all the time to admire the beautiful views!
I recommend doing this hike early in the morning, as soon as the park opens, which should be around 8 am. This way you'll avoid the crowds and have an incredibly peaceful experience at the Vintgar Gorge!
An adult entrance ticket costs €10 euros. I know this is expensive, but it's very worth it!
Check out this site to buy tickets and see the exact opening hours.
You can also book this E-bike tour to Vintgar Gorge, which is very highly rated and an unforgettable experience!
Rafting on the Sava River
Another super fun thing to do from Lake Bled is rafting on the Sava River! Experience the river's strong rapids on a super fun guided rafting trip!
It costs €45 euros per person, which is a very fair price for this high-quality rafting experience. Make sure to check it out!
Other outdoor activities, like canyoning, kayaking, or ziplining
There are many other activities near Bled you can book. You can go underground kayaking, canyoning, ziplining, regular kayaking, and so much more! The options are very wide; there has to be something you like.
Check out these outdoor activities near Bled!
Lake Bohinj
Another lake that's only a 40-minute drive from Lake Bled, is Lake Bohinj.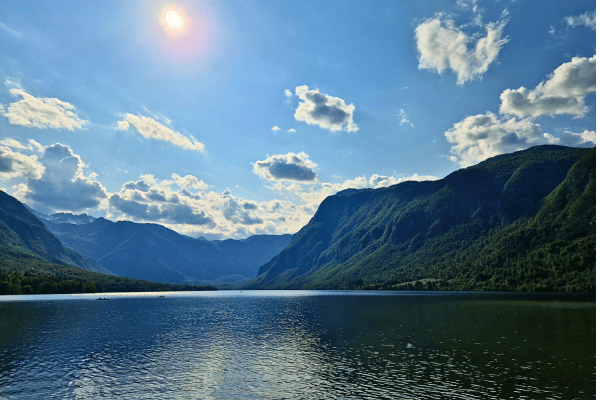 Bohinj is filled with the most fun activities, you can:
Visit the St. John The Baptist Church
Go paddle boarding, kayaking, or canoeing in the lake
Walk around Lake Bohinj
Admire Savica Waterfall
Ride the Vogel Cablecar and get the most spectacular views
Relax on a beach by the lake
You can fill your entire afternoon using these activities, and enjoy the wonders of Lake Bohinj!
Food tip: In Lake Bohinj, we ate at a wonderful restaurant that's worth a mention. Restavracija Kramar was super delicious and very affordable, definitely worth checking out!
Insider tip: If you're into water activities, you can rent anything at Alpinsport, for a cheap price, with good service, and you can pay afterward! This way you don't need to keep track of time, they will do it for you and you can just pay an honest price when returning the gear.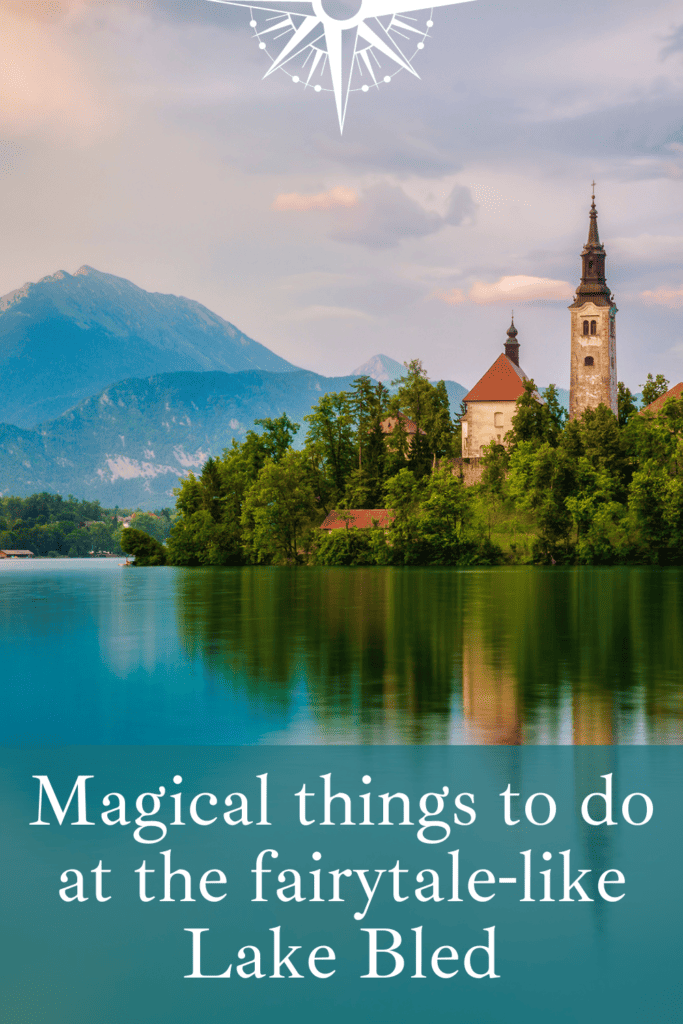 Where to stay in Bled
As Bled is so popular, the accommodation options are endless! From hostels to 5-star hotels, even treehouses! There are plenty of options to choose from!
My recommendations are…
Budget accommodation: If you're just looking for a place to crash on a budget, Hostel Bledec is perfect for you! This hostel is the cheapest in town with prices from €44,- euros per night!
Luxury accommodation: If you want the perfect place to sleep and you don't mind the cost, Grand Hotel Toplice is your place to be! Located along the lake, you can't get accommodation better than this! With a swimming pool and world-class service, you'll feel like a king!
Unique stay: Are you looking for an unusual place to sleep in Bled? Then Garden Village Bled is the perfect place for you! The accommodation options in this small ''resort-like'' place are treehouses, tents with wooden hot tubs, and deluxe apartments.
Authentic accommodation: Only 300 meters from Lake Bled, you'll find the Old Bled House. This hotel is authentically furnished and super cozy! If you love living in Slovenian culture, this charming hotel is perfect for you!
Final thoughts on things to do in Lake Bled
Lake Bled is one of the most spectacular destinations in Slovenia. Now that you know everything there is to do, it's time to book your trip! Happy travels!
Related posts