Slovenia road trip itinerary for 7 days.
Slovenia is a perfect European destination for everyone. You can go hiking in the Slovenian Alps, lay by the sea or a lake, visit towns, and do many more activities! This is your sign to go on a road trip to Slovenia this year!
Disclosure: This post may contain affiliate links, which means that if you purchase through one of the product links, we'll receive a small commission at no cost to you. We only promote products and services we 100% believe in. Thank you so much for supporting us! Read more about it in our disclosure policy.
About Slovenia
The Republic of Slovenia is a small south-central European country, often described as Europe's green heart. Slovenia has borders to Italy, Austria, Hungary, and Croatia. With a total of 20,271 km2, it's only a small country, which makes a road trip through Slovenia much easier!
Slovenia is mostly mountainous and forested. Its capital city is Ljubljana and 2 other important cities are Koper and Maribor.
Slovenia is a small country with endless things to offer!
The Slovenian Alps
You'll find the Slovenian Alps in the northwest of the country, also known as the Julian Alps. This area is very popular for hiking and water sports. Because other than high mountains, you'll find many turquoise rushing rivers in the Julian Alps.
And with many other attractions, like Lake Bled, Triglav National Park, many waterfalls, and the Soca River, the Julian Alps is a magical place you have to see!
The Slovenian Coast
The coast of Slovenia is only 47 kilometers of pure beauty. With the 3 main towns; Koper, Izola, and Piran being the most important, it's not all that the Slovenian coast has to offer. You'll also find the most wonderful nature and stunning beaches.
The Slovenian coast is only a 1.5-hour drive from the capital city Ljubljana.
Read my full guide on visiting the Slovenian coast!
Things to know before visiting Slovenia on a road trip
Every country is different, so you should know some things before visiting, that may come in handy.
Language and Currency in Slovenia
The spoken language in Slovenia is Slovene, and other understood languages are Italian and Hungarian. Don't worry, many people can speak English, especially in the more touristy places.
We had no trouble speaking English with anyone in Slovenia.
In Slovenia, they pay with the Euro, like many other European countries.
Transport in Slovenia
The roads in Slovenia are very good and drivable, for every driving skill. Of course, you will find some steep roads with tricky twists and turns, but everyone should be able to drive it.
So the best way to see Slovenia is by car. You can literally get anywhere when traveling by car. The country's pretty small, so driving distances are small as well.
We visited Slovenia with our campervan: Nova. It was so nice to have the freedom to drive anywhere and do anything you'd like. And the views you get to see from the car are unbeatable!
But say you don't have a driver's license, what then?
Well, Europe is very famous for its good train network. With an Interrail pass, for example, you can easily visit several European countries for a good price. They also have one-country passes, which are also available for Slovenia.
In Slovenia, you can take trains to Maribor, Ljubljana, Koper, and some more places. Other locations are easily reachable by bus.
You can get a Slovenia Interrail pass for €54 – €140 euros (depending on your travel plans and preferences). Read all about Interrail here, or buy your pass at the Interrail website.
So road-tripping Slovenia by car is by far the best option, but it's also possible (and very much fun) to travel through Slovenia by train.
Accommodation in Slovenia
As for accommodation, the options are endless! From camping to staying in 5-star hotels, you will find anything and everything in Slovenia!
So the main question is: What is your budget? Because depending on what you want to spend, you will find something that fits your budget and your preferences.
If you like traveling on an extreme budget or you're traveling solo, your go-to accommodation is Hostels. There you may be able to stay the night for less than €20 euros and you will probably meet some very nice people.
Of course, there are also many campings in Slovenia. For a very affordable price, you can sleep in your tent or motorhome. Some campings in Slovenia are very basic and others will bring you the most extraordinary views and an unforgettable experience!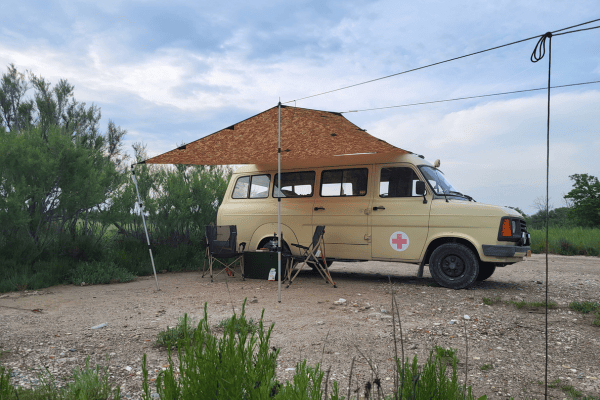 We wild camped most nights on our trip. However, this is not allowed in Slovenia so if you choose to take the risk, make sure you don't leave any rubbish behind.
If your budget is up to €30 euros per person per night, head for Airbnbs. Especially when you're traveling as a couple or a family, Airbnbs are perfect for you!
And if you don't mind the cost and you want some luxury, hotels are for you! Anywhere in Slovenia, you can find hotels, from 2 to 5 stars.
Fun fact: Slovenia is filled with unique places to stay. So for a memorable vacation, check out these unique stays!
Food in Slovenia
Slovenia may be Europe's most underrated food destination. But actually, the food in Slovenia is excellent! From gastronomic dishes to the most delicious Slovenian wines, it's all so good!
Food is pretty affordable in Slovenia, it's not expensive and not crazy cheap either. Eating out you can have a delicious meal for a reasonable price.
Certain regions in Slovenia have their very own delicacy, like this Bled cream cake. A typical pastry only found at Lake Bled.
If you're traveling on a budget and staying in an Airbnb or Hostel, you can easily cook your own meals. Supermarket products can often be very cheap and you can cook your own meal for under €5,- euros!
Insider tip: Get your breakfast or lunch at a local bakery. At most bakeries, we paid €1,30 for a cappuccino and no more than €4 euros for a good, filling breakfast.
Is a Slovenia road trip expensive?
I've already told you a bit about the cost in Slovenia, but overall, for a European country, Slovenia isn't expensive. I wouldn't say it's as cheap as most Eastern European countries, but it's definitely cheaper than most countries in Europe.
And then again, it's only as expensive as you make it out to be. If you're traveling on a budget you can keep your trip very affordable, like €500 euro per week. But if you go all out, yeah, you're gonna need some extra cash.
Do you want to visit Slovenia on a budget but now sure how? Read my free E-book about traveling Europe on a budget. It's filled with simple tips and tricks to keep your trip super affordable. Check it out below!
Slovenia road trip 7-day itinerary
Now that you know a bit about the country, it's time to plan your trip! I have made you a 7-day itinerary that's perfect if you like an active vacation, but don't mind a day or 2 relaxing. This itinerary doesn't have hikes longer than 3 hours and is filled with ideas for unique activities.
This self-drive road trip itinerary begins and ends in Ljubljana. However, you can also let your trip end anywhere else. I've made it this way because many visitors fly into Ljubljana and from here you can easily rent a car and return it a week later.
Seeing that Ljubljana lies very central, you can choose to stay here for the entire week and go on day trips. However, this itinerary is made in a logical order, so you can also choose several different accommodations along the way (which I highly recommend).
Here it comes…
Day 1: Arrival – Ljubljana
On the first day, you can already explore a bit of the city, depending on your arrival time. I'm always a big fan of arriving in the afternoon because you can check into your accommodation at once and still have some daylight left to explore the city. So try to book a flight that's arriving in the afternoon.
Ljubljana is one of the most vibrant cities in Europe! With the most colorful architecture, unique landmarks, and the best nightlife, Ljubljana will blow your mind!
Ljubljana is also known as the city of dragons because legend has it that long ago there was a dragon living near the spring of the Ljubljanica river. It was killed by Jason, the hero of Greek mythology, who is known as the founder of the city. As of today, the dragon is the symbol and protector of the city, and you will find several dragons there.
Things to do in Ljubljana:
Admire the breathtaking city center
Discover all the famous bridges
Try and find all the dragons
Visit Ljubljana Castle
Enjoy Slovenian cuisine at some of the finest restaurants by the Ljubljanica River
Take a break at Tivoli Park
One day in Ljubljana is enough to see all the highlights. On day 1 you're probably gonna have just half a day in the city, but on day 2 you'll also stay in the city for the bigger part of the day.
Day 2: Ljubljana – Piran
In the morning you should get some breakfast in the city, we got some amazing breakfast at Slovenska Hiša (Slovenian House). This restaurant is all for Slovenian cuisine, serves the best breakfast, and the riverside location is amazing!
Now it's time to explore the parts of the city you didn't get to yesterday. Make sure that you're satisfied with the things you've seen in the afternoon because it's time to drive to the coastline!
Pro tip: Pick up your car on this day, in the afternoon, because you'll only need it from now on. This way you don't have to pay for the first day of the itinerary when you won't use it anyway. It's cheaper to take the bus from the airport.
The drive down to Piran is only about an hour and a half.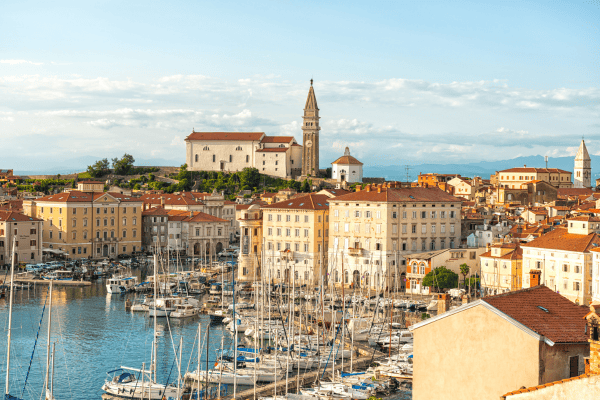 Day 3: Piran – Koper
Today you'll explore the coast of Slovenia. On this small coastline, you'll find several historic towns, with Koper, Izola, and Piran being the main ones. I've visited all 3 towns in 1 day and found that Izola is so small, you'd better visit Koper and Piran if you're on limited time.
Let's get in some breakfast and start exploring Piran.
Ps. In and near Piran you'll also find the most stunning beaches of Slovenia, so getting in a beach break is more than recommended!
Piran
I love Koper and adore Izola, but Piran stole my heart. This town is out-of-this-world beautiful and very famous for it. Piran has been shaped by the Venetian rule, which you can see everywhere. These wonderfully shaped structures are hard to beat.
Things to do in Piran:
Have some coffee at Tartini Square
Visit the Church of Saint George
Climb the bell tower for spectacular panoramic views
Walk the medieval walls of Piran
Get lost in the maze of cobblestones streets in the old town
Eat some seafood at the restaurant Pirat
Walk the Piran promenade to Punta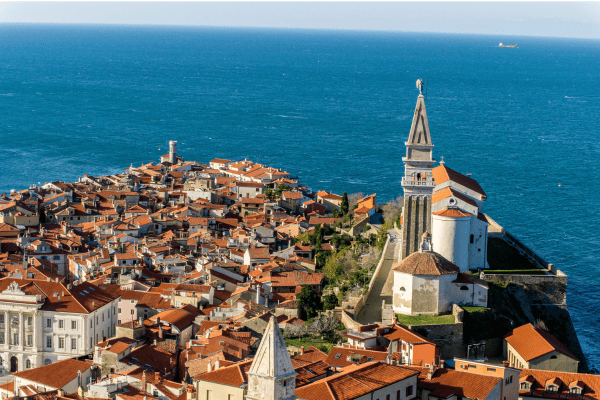 Staying 3 to 4 hours in Piran should be enough to enjoy the entire city.
In this Slovenian coast guide, you'll find several tips for visiting and which beaches to visit.
Now, let's move on to Koper!
Koper
Koper is the largest town of the 3 and is also home to the main port on the Slovenian coast. This makes it look a bit industrial at first, but once you head into the old town, you'll have forgotten that part.
Koper is filled with history, dating back to Roman times. Koper is actually the oldest town in Slovenia! For a few centuries, it was part of the Venetian Republic, and the old town was actually an island. This makes it a super fascinating town to explore.
Koper isn't that big a city, 2 to 3 hours is enough to see all the highlights.
Make sure you:
Walk through the Muda Gate
Take a look around Tito Square
Climb the tower of the Cathedral of the Assumption
Wander through the medieval streets and alleys
Visit the Praetorian Palace
Count the lions (you'll find them everywhere throughout the old town)
You can choose to drive up to the Julian Alps on this day, but you can also stay on the coast for another night. Get in one more sunset and have a few drinks… I recommend staying for one more night and driving to the Alps in the morning.
Day 4: Julian Alps – Great Soca Gorge
I hope you've had a good night's sleep because on day 4 we're going to explore the Julian Alps.
In the Julian Alps, there are so many activities you can do! You could go hiking, relax at a lake, visit several waterfalls, do some water activities, and so much more!
It's so much fun to just drive through the Alps and find the most wonderful sights of the mountains and the Soca River.
I must say, I find it very hard to find the right activities for everyone. Because everybody's different and like different things, I have made a list of the best activities in the Julian Alps, for you to choose from. This day is all up to you to fill with the things you want to do. You can do several activities on the list below or do none, it's up to you!
Pro tip: Read this full guide on visiting the Soca Valley, it's filled with must-know information and the best tips!
Remember, days 5 and 6 will also be spent in the Julian Alps, but are also loosely planned so that you can add another activity from the list below to these days.
Kozjak Waterfall
One of the most spectacular waterfalls in Slovenia is the Kozjak Waterfall. There's a small entrance fee of €5 euros p.p., and it's so worth it! There's a small footpath and several wooden bridges along the most beautiful blue water. The hike is super easy and not long at all. This is one of the best activities in the Julian Alps!
Boka Waterfall
Want to see the mightiest waterfall in Slovenia? The Boka waterfall is 144 meters high and has a width of 18 meters, which makes it truly eye-catching! You'll reach the viewpoint in only a 15-minute walk, and a 45-minute walk uphill will give you even better views! The walk uphill is at your own risk and could be dangerous.
Visiting the Boka Waterfall is entirely free!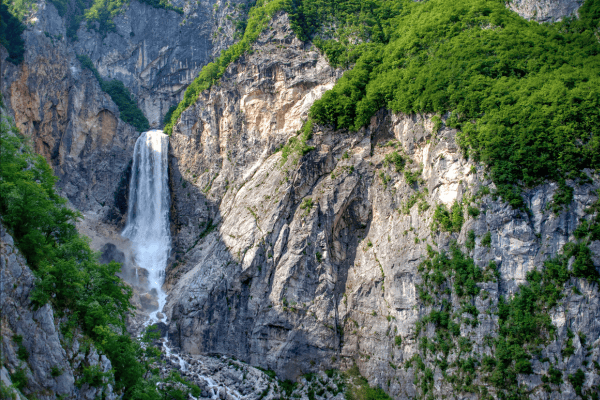 Vršič Pass
The Vršič Pass is the highest and most wonderful mountain pass in Slovenia. The pass road leads over 50 hairpin bends up into the mountains. There are many hikes starting from several points on the pass and you can stop as much as you like, to admire the amazing views! This road is closed between October and early May.
Zelenci Nature Reserve
Famous for its emerald-green lake that mirrors the huge mountains, Zelenci Nature Reserve is a must-see! On a hike through the park, you'll be able to observe many kinds of flora and fauna, and you'll get the most spectacular views of the limestone mountains!
Zelenci Nature Reserve is free to visit, and I recommend going here early in the morning on weekdays.
Šunikov Vodni Gaj hike
My absolute favorite hike in Slovenia is the Šunikov Vodni Gaj hike. This is because it's a super easy hike and nobody knows about it! Even when it was crawling with tourists along the Soča River, this hike was super quiet; we only came across 2 couples and a family along the way.
The Šunikov Vodni Gaj hike will take you to several fairytale-like waterfalls and the bluest water! As I've said, the hike is easy and takes no more than 2 hours to complete. There's a small parking at the entrance and it's totally free to visit!
The Great Soča Gorge
Wonder where the Soča Valley got its name from? Well, that would be the famous Soča Gorge. In the Great Soča Gorge, you'll find some of the bluest water in Slovenia! The icy water is perfect for taking a short dip and there are many places to sunbathe by the river.
You can't hike through the entire gorge, but there are several entrance spots where you can take some pictures like the one below!
Lake Jasna
If it's a day of relaxation you're looking for, Lake Jasna is the place to be! This lake's filled with the most crystal clear water and has a very romantic scenery. You're allowed to swim in the lake, so if you're looking for the perfect place to relax, Lake Jasna won't disappoint!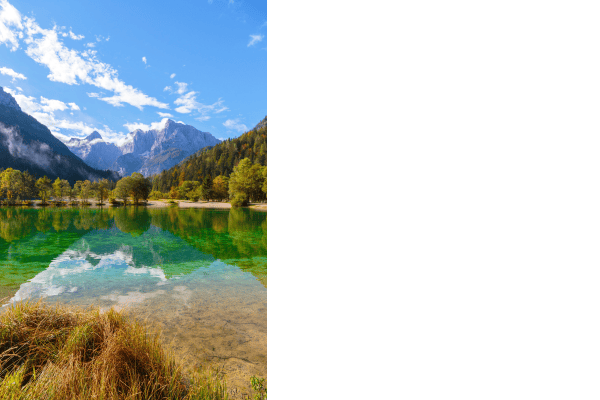 Tolmin Gorge
One of the most spectacular natural attractions in the Julian Alps is the Tolmin Gorge. Whilst hiking this 2-kilometer-long pathway, you will come across the most magnificent sights, like Bear's Head, and the Devil's Bridge. There's also a thermal spring and a cave.
Buy your tickets beforehand and reserve a time slot! This way the gorge won't get crowded. An adult ticket costs €10 euros and is more than worth it!
Slap Virje Waterfall
Considered one of the most beautiful, Virje Waterfall is a must-see! With only a 5-minute walk from the parking lot, you'll be blown away by the enchanting sights of this waterfall! And it's totally free to visit!
The sign there said you can swim in the water beneath the waterfall, but another sign said you can't, so we're not sure. I'd say get into the water if there are other people swimming and otherwise, it's probably not allowed…
Bovec
The small town of Bovec is THE hotspot for outdoor activities in the region. From this town, there's a large offer of outdoor activities and tours.
You can go:
Rafting
Canyoning
Kayaking
Hiking
Ziplining
The options are endless for thrill-seekers! If you want to experience the Soča River to the fullest, Bovec is the place to start!
Javorca Church
Have you always had an interest in the First World War? Then the Javorca Church will be fascinating to you! This enchanting wooden church is a monument to the First World War and a sanctuary of peace. The church itself and the scenery around it are absolutely breathtaking!
An adult ticket costs €4 euros, and it should be bought in advance online, while you reserve a timeslot.
Day 5: Mostnica Gorge – Lake Bohinj
Now, as I've said, if there are several things you want to do from the list above, days 5 and 6 are loosely planned, so you can add another activity to your itinerary!
On day 5, you're staying a bit longer in the Julian Alps.
Mostnica Gorge
Your first stop on this day is the Mostnica Gorge; one of the most gorgeous gorges in Slovenia (yes, I did that on purpose😉)
You can hike the Mostnica Gorge in 3 hours, on an easy footpath. The river you'll be following is super blue and flows through the most unique sceneries.
On this hike, you'll find several amazing landmarks. There's the little elephant rock, which is a very special rock formation that looks like an elephant drinking from crystal-clear water.
There's also a very picturesque stone bridge, called Devil's Bridge. It was built in 1777 and is very interesting because it only consists of one arch.
At the end of the gorge, you'll find the Voje Waterfall, which you can climb up to.
For hiking the Mostnica Gorge, there's an entrance fee of €4 euros per adult in the high season. It's open every day during the season and closed in winter.
Lake Bohinj
After your small and easy hike in the Mostnica Gorge, it's time to relax at Lake Bohinj!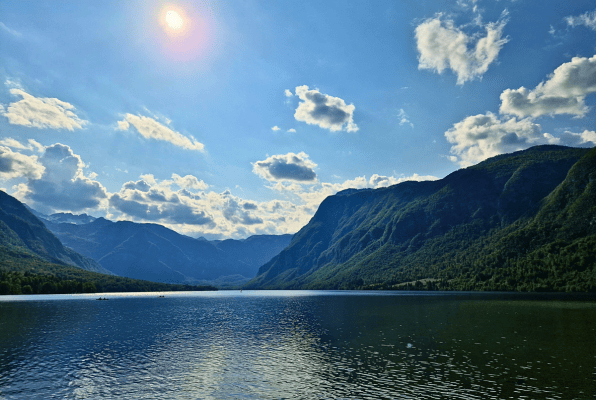 Bohinj is filled with the most fun activities, you can:
Visit the St. John The Baptist Church
Go paddle boarding, kayaking, or canoeing in the lake
Walk around Lake Bohinj
Admire Savica Waterfall
Ride the Vogel Cablecar and get the most spectacular views
Relax on a beach by the lake
You can fill your entire afternoon using these activities, and enjoy the wonders of Lake Bohinj!
Food tip: In Lake Bohinj, we ate at a wonderful restaurant that's worth a mention. Restavracija Kramar was super delicious and very affordable, definitely worth checking out!
Insider tip: If you're into water activities, you can rent anything at Alpinsport, for a cheap price, with good service, and you can pay afterward! This way you don't need to keep track of time, they will do it for you and you can just pay an honest price when returning the gear.
Day 6: Lake Bled – Vintgar Gorge
Keeping some of the best activities for last, day 6 is going to be mesmerizing! Starting the day again early in the morning with a most magical hike!
Vintgar Gorge
The famous Vintgar Gorge is one of the most popular natural highlights in Slovenia! You can explore this impressive gorge by wooden bridges and footpaths.
The natural beauty of the Vintgar Gorge is extraordinary. On your hike, you'll explore the most impressive rock formations, the beautiful blue-and-green river, spectacular waterfalls, and more! The hike through Vintgar Gorge is breathtaking, this special place is one you won't be able to forget!
The hike is around 3,6 kilometers but you will need around 3 hours to finish it, as you'll probably be stopping all the time to admire the beautiful views!
I recommend doing this hike early in the morning, as soon as the park opens, which should be around 8 am. This way you'll avoid the crowds and have an incredibly peaceful experience at the Vintgar Gorge!
An adult entrance ticket costs €10 euros. I know this is expensive, but it's very worth it!
Check out this site to buy tickets and see the exact opening hours.
After the easy hike, it's time to move on to another exceptional highlight of this itinerary!
Lake Bled
I will talk this lake up like it's the love of my life because it is…
Lake Bled is such a special place. It doesn't matter when you visit, it'll always take your breath away. I always heard that Lake Bled is beautiful and all, but that's an understatement. I was literally speechless when seeing the lake for the first time. And the second time.
Lake Bled is a fairytale-like turquoise lake located in the Julian Alps. There's a small island in the middle of the lake with the cutest church on it. The views of the lake are stunning from wherever you are!
Lake Bled is located right next to the spa town of Bled. The glacial lake can warm up to 25° C in summer, which makes it very pleasant to bathe in!
There are many things to do in Lake Bled, like:
Visiting Bled Castle, where you can get an epic view of the lake
Row a wooden boat to Bled Island and visit the church of the Assumption of Mary
Hike around Lake Bled
Rent a paddleboard
Try a Bled Cream Cake
Relax on a beach by the lake and take a swim!
These activities will fill up your day quickly. Just visiting and looking at the lake is already more than you could want, but getting in a boat on the lake, or hiking to the most spectacular viewpoints is more than worth it!
Bled Castle
Yes, you will be exhausted by the end of the day, but just ignore those doubts. Don't listen to your body, but listen to the lake calling out your name (it does do that, right? Or is it just me…?).
You should book accommodation near the lake, so in the evening you can crash and get a good night's sleep.
Day 7: Ljubljana – Departure
Is it already the last day? Time flies when you're in such a magical destination!
On the morning of day 7, just take it slow, get some coffee, and drive back to Ljubljana.
Depending on the time of your flight, you may be able to explore a bit more of Ljubljana, or just take it slow, have a drink, and relax.
I personally love to sit down in a restaurant, drink a cocktail and talk about your trip together, the things you liked best, laugh about inside jokes, and just enjoy your last afternoon of vacation.
Final thoughts on this Slovenia road trip
You now have everything you need to go on a super fun trip to Slovenia! With the best highlights and things to do, you'll have a trip you'll never forget.
Which place in Slovenia do you like best? Let me know in the comments below!
Related posts
Complete Guide for a Magical Slovenia Road Trip + 7-day Itinerary