Road trip the Netherlands and explore the most stunning cities and beautiful nature.
Have you ever thought about going on a road trip to the Netherlands? I have lived in this country all my life and I can tell you, you have to see the Netherlands at least once in your life. Yes, this country is a lot smaller than other countries, but don't be mistaken. The Netherlands has a lot more to offer than you think…
So stick around to find out the best Netherlands road trip and everything you should know!
Disclosure: This post may contain affiliate links, which means that if you purchase through one of the product links, we'll receive a small commission at no cost to you. We only promote products and services we 100% believe in. Thank you so much for supporting us! Read more about it in our disclosure policy.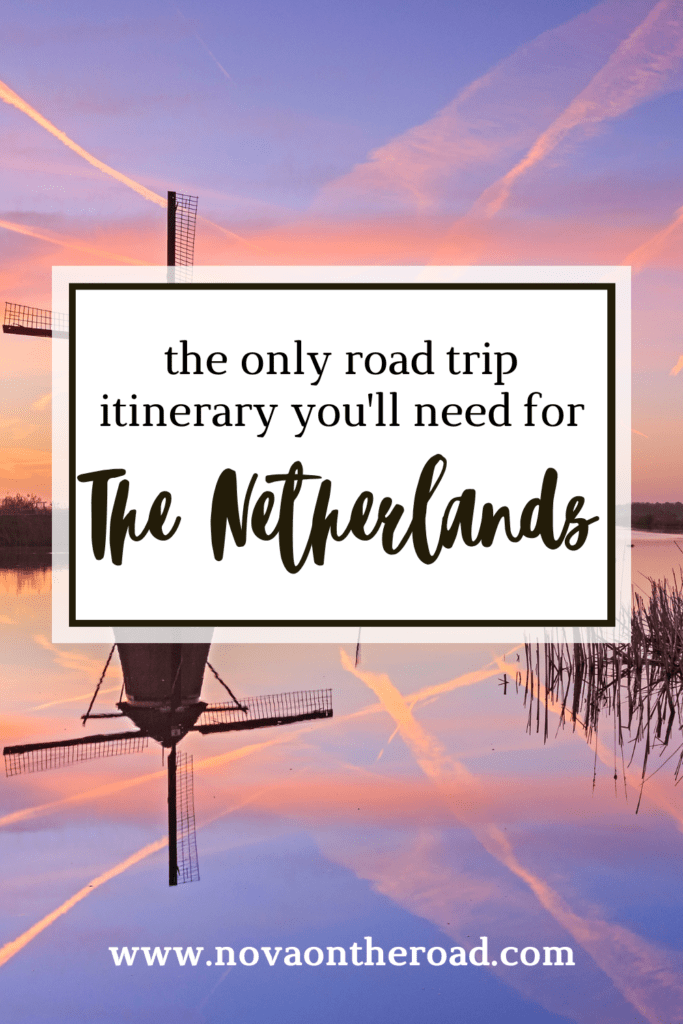 About the Netherlands
The Netherlands is a tiny country in western Europe. The capital city is Amsterdam. Most people speak Dutch in the Netherlands, but German and English are also common languages. In the Netherlands, we pay with the Euro.
When you road trip the Netherlands, you will explore this country's rich history. There are so many museums in every city that are quite interesting. So before even starting, I'm telling you to definitely visit a museum in the Netherlands. But more on that later.
Distance
Because the Netherlands is such a small country, you can drive from north to south in less than 4 hours. From Amsterdam, almost everything is less than 2 hours away. That's incredibly practical!
You can drive from Amsterdam:
To national park the Hoge Veluwe in 1 hour.
To Rotterdam in 1 hour.
To the most Nothern city: Groningen, in 2 hours.
To Haarlem in half an hour.
Public transport
The Netherlands also has a pretty good public transport system. You can easily travel between all cities by train and there's a huge network of buses. Some cities have trams and metros as well.
If you're planning on visiting for a few weeks, make sure to get an OV chipcard. You can use this card on public transport quite easily and it might save you some money.
Best time to road trip the Netherlands
The best time to visit is anytime when it's not winter. It rains in the Netherlands… A lot…
In my opinion, the best time to visit the Netherlands is in April/May. That's when the tulips are in bloom and Keukenhof is opened. You can visit an animal farm and see (and feed) all the baby goats. Spring in the Netherlands is a magical time.
Another good time to visit is in July/August. At this time the heather is in bloom in the Veluwe. These are gorgeous purple flowers. Fields of them… Purple as far as the eye can reach. Plus, in summer you have a better chance of good weather.
Talking about the weather…
The weather in the Netherlands
In the Netherlands, the weather isn't logical at all. In the summer of 2021, we had rain. All summer long. And now last April it started snowing out of nowhere. We had 3 huge storms in March. Sometimes in February, we get a weekend of summer. Sometimes summer is summer. Other times summer is winter. It's always different.
This country keeps surprising me weather-like, over and over again. But the good thing is, that the weather is predictable. If the news says it's raining next week, it's raining next week. If the news says it's going to be sunny, it's definitely going to be sunny.
But, overall, in spring and summer, there's generally good weather. Or well, it's supposed to be good weather. So with a little luck, you'll have a beautiful vacation in the Netherlands.
Click here to check out the current weather in the Netherlands.
The Netherlands road trip: Things to do
Tulip fields
Let's start off with the thing that the Netherlands is most popular for. The stunning tulip fields! 40 minutes south of Amsterdam is a town called Lisse. Also known as the center of the bollenstreek. Lisse is known for its tulips. All around lisse you can admire the tulip fields (in spring).
I'd recommend renting a bike in Lisse to cycle along the fields and take in its beauty as close as you can. Take a camera with you and enjoy!
Keukenhof
For this one, we're staying in Lisse. Keukenhof is probably one of the most touristy attractions in the Netherlands, and I fully understand that. As a kid, I visited Keukenhof a few times because it's only 20 minutes away from my house. And I can tell you, Keukenhof is definitely worth visiting.
Every year they make it a bit different. But every year it's just as beautiful.
Keukenhof is open from half March till half May every day from 8 AM till 7:30 PM. An adult ticket will cost you 18,50 euros and a parking ticket is 6 euros. It's also possible to go there by bus.
Leiden
My birth town. Leiden may just be one of the most beautifully historic cities in the Netherlands. With its gothic structures and its vibrant city center, this city will give you a wonderful experience. You can easily see the whole city in a day or two, as it isn't that big.
If you don't like the crowds, I'd recommend going on a weekday. On the weekends it's always crowded. (This kinda goes for everything in the Netherlands, as most people tend to go out in the weekends)
And there are lots of beautiful museums to visit in Leiden, like Naturalis, mill museum the Valk, Corpus, and many more. These museums all have different fees, so check them out before visiting.
Check out this site for information about the museums
Extra tip: Visit Hortus Botanicus. A gorgeous botanical garden in the center of Leiden.
Volendam
When you travel the Netherlands, Volendam is a must-see town. Volendam is the best-known Dutch fishing town that has plenty to offer for an amazing day trip.
There are a few museums to visit here, a cute harbor, the best souvenir shops, and many restaurants.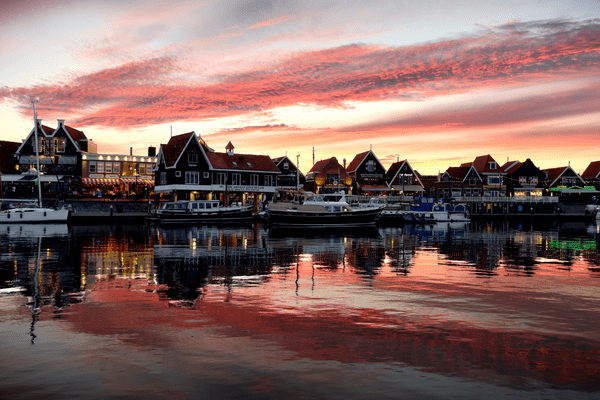 When in Volendam, make sure to get your picture taken in traditional Volendam clothing, and eat some delicious fish afterward while admiring all the Dutch ships in the old harbor. The last time I visited Volendam, it was right before Christmas, and it was so cozy, with all the lights, nice people, and hot chocolate. However, you can visit Volendam any time of the year!
Volendam is less than half an hour drive up from Amsterdam.
De Hoge Veluwe
The national park the Hoge Veluwe is situated in the middle of the Netherlands. It's a stunning park with lots of green and wildlife. You should absolutely visit the Hoge Veluwe for a long walk with lots of picturesque views.
If you'll be visiting somewhere between mid-August and mid-September, there'll be quite a pleasant surprise waiting in the Veluwe. In these 4 weeks, the breathtaking heather will be in bloom. These are little purple flowers, but entire fields of them. For as far as the eye can see.
I'd recommend if you are going to see the heather, to go at sunrise. You'll be able to take the most beautiful pictures and it won't crowded at all.
To visit the Hoge Veluwe, you'll have to pay around 11 euros. But for this price, you'll get a nice extra: You can lend a bike to explore the park and leave it elsewhere at a designated place. This is a great (and the most Dutch) way to explore the park.
Amsterdam
Of course, Amsterdam can't be skipped on this list. The Capital city of the Netherlands has so many things to offer. There are plenty of museums, gorgeous architecture, shopping streets, and even a bit of nature.
The museums in Amsterdam are incredibly diverse. It goes from famous paintings to World War 2, to sex museums. Yep…
But if you're a bit tired from all the museums, you can easily take a break in the Amsterdam forest. Here you can admire the blossom park (in spring), visit a goat farm, go canoeing or just hang out. If you don't want to leave the city center, but you want to see some nature, visit the Hortus Botanicus. This is a gorgeous botanical garden right in the middle of the city center of Amsterdam.
3 days should be enough to visit the magnificent city of Amsterdam. Read this perfect 3-day itinerary for Amsterdam!
Related posts:
Giethoorn
People call Giethoorn, Venice of the Netherlands. Giethoorn is a Dutch town with no streets (not entirely true, but let's not offend the Dutchies). When visiting Giethoorn you should rent a boat and just explore the village. There's not really much more to it.
I haven't been to Giethoorn yet, but from what I hear, it should be quite a unique experience. So check it out!
Giethoorn is about an hour and a half from Amsterdam. If you leave in the morning, there'll be plenty of time to explore Giethoorn by boat.
Delft
Another historical city in the Netherlands is Delft. You may have heard of this city because it's quite famous for Delfts Blue. It's sort of a painting style with a particular blue color on white tiles, porcelain, or ceramics.
But that's not all there is to see in Delft. In this city, there are many historical buildings, some museums, lots of shopping opportunities, and there's always a good vibe here.
Since my sister-in-law lives in Delft, I occasionally visit this city, and thus I know exactly where you should eat (from my own experience).
For some delicious burgers or vegetarian meals, visit café Het Walletje
To enjoy the best steak you'll ever taste, go to restaurant Loetje.
And for a bit of every food style, go to Heinde En Ver. At this tapas restaurant, you can eat a lot of small meals. This restaurant is good for literally everyone.
Zaanse Schans
Visiting the Zaanse Schans can be a great day trip from Amsterdam! It's only about a 20-minute drive. This preserved historical village has the most picturesque Dutch sights and views.
At the Zaanse Schans, there are some museums you must visit, like the wooden shoe museum, the world of windmills, the bakery museum, or the open-air museum Zaanse Tijd.
Other things you can find at the Zaanse Schans are souvenir shops, restaurants, a cheese farm, and of course, many windmills.
Pro tip: Read this guide for visiting the Zaanse Schans, for helpful information and tips!
The postcard-like green houses and windmills are definitely worth a visit!
Haarlem
This gorgeous city is a bit like Delft. It's cozy, you can go shopping and there's a lot of history in this city. There are many old churches and museums. There even is an old dome prison. I don't know if you can enter the dome, but it's just cool to look at.
Haarlem is a great place to go shopping, there are so many stores. In between shopping you could go and grab lunch or dinner at a cute restaurant, there are plenty to choose from. And if you're not that into shopping, you should go and visit a museum or just admire the historical center.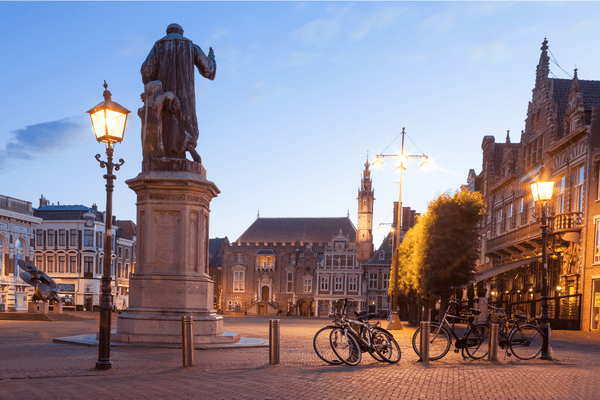 Haarlem is around a 35-minute drive from Amsterdam or 20 minutes by train.
Kinderdijk
Kinderdijk is one of the UNESCO World Heritage sites in the Netherlands. This place is known for its many mills next to a canal.
To visit Kinderdijk, you should buy an entrance ticket beforehand. This ticket will grant you entrance to 2 museum mills, a short cruise down the mills, and some other extras. A ticket costs 16 euros per adult. To park your car (in Alblasserdam) it's another 7,50 euros, this price includes a shuttle bus to Kinderdijk.
Kinderdijk is located east of Rotterdam at only half an hour's drive.
Pampus
Pampus is quite an unpopular activity to do when in Amsterdam. This little island is another UNESCO World Heritage site. Pampus a the Amsterdam island with a fort filled with history. You can get there by boat and explore the island on your own, or book a tour.
If you book your ticket online, you'll get a small discount. A ticket to the island including the boat trip is 17 euros per adult (if booked online).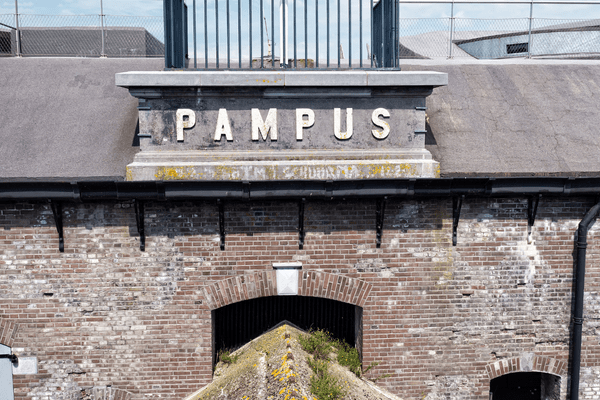 In summer a boat from Pampus leaves from Amsterdam. All year round it leaves from Muiden, which is a great combination to visiting Pampus, as there is a stunning castle to visit in Muiden; Muiderslot. Check it out, it's really worth a visit.
Kasteel de Haar
The largest castle in the Netherlands: Kasteel de Haar. This castle is so fricking gorgeous. In less than 40 minutes from Amsterdam, lies this stunning hidden gem.
Kasteel de Haar was built in the 12th century and rebuilt in 1892. To this day, the castle is as beautiful as ever because of its good maintenance. The castle has a beautiful interior and stunning gardens around. You should really check it out!
Ticket prices of Kasteel de Haar vary from 7 to 25,50 euros, depending on what you want to visit at this castle (park, castle, or Chatelet). A parking ticket costs an extra 6 euros.
Final Thoughts on the Netherlands road trip
So now that you know what places to visit, you should travel to the Netherlands soon. I know it's only a small country that gets overlooked easily, but the Netherlands has so much to offer, as you read above.
Let me know what place you want to visit in the comments below. I'd love to hear from you!
Related posts
The Netherlands Road Trip: The Most Unique Activities For You!