Find the best hidden gems in Istria, Croatia.
Nestled along the sun-kissed shores of the Adriatic Sea, Istria surprises travelers with its rugged beauty, rich history, and culinary delights. But beyond the beaten paths of its charming villages and renowned tourist hotspots, lies a world of enchanting secrets waiting to be discovered.
In this carefully assembled list, we unveil the most captivating and overlooked hidden gems in Istria!
Disclosure: This post may contain affiliate links, which means that if you purchase through one of the product links, we'll receive a small commission at no cost to you. We only promote products and services we 100% believe in. Thank you so much for supporting us! Read more about it in our disclosure policy.
About Istria
Istria (Istra in Croatian) is one of the 5 main regions of Croatia, the others being the Mainland, Kvarner, Dalmatia, and Slavonia.
This 2820 square kilometer region in the northwest is a beautiful cultural gem. Istria has a long coastline of 445 kilometers.
With magical rolling hills overlooking fields and valleys, wonderful coastal towns, white-topped mountains, vineyards, and the beautiful blue sea, Istria is a place you have to see.
Istria wasn't always a part of Croatia. Istria's history is very rich, it has been ruled by Austria, Italy, and a lot more in further history. At some point, Italy tried to Italianize Istria's population. But then when Italy lost World War 2, Istria became part of Yugoslavia.
Then in 1991, Istria officially became part of Slovenia and Croatia, and Yugoslavia was no longer. Due to this rich history, Istria has a very rich culture, buildings, and cuisine.
Why go to Istria over the other regions?
Because it's SO worth it. I can't describe Istria's beauty in words, you just have to see it for yourself.
And yes, the other regions are stunning as well, and you should visit those too, but today, in this post, Istria gets all the attention.
Istria hidden gems
Now, here's my list of hidden gems in Istria. Some places will be a bit more hidden than others, but these places aren't crowded, yet they're breathtaking and fun! These underrated places deserve a bit of attention.
Kotli
This first hidden gem is already one of the best! Located in Kotli is an abandoned village with a magical mineral oasis. This oasis is a true natural phenomenon. With unpolluted nature, shallow turquoise pools, and waterfalls, it attracts visitors worldwide!
I recently visited Kotli, and I can tell you, it's well worth it! There were only 2 other couples around, so it felt like we had the place all to ourselves!
Even though Kotli attracts many visitors, still this place is really hidden. Most people don't know of its existence, and when you visit, it probably won't be crowded. It'll feel like you've stepped into a fairytale!
This romantic place in Croatia is a MUST!
Golden tip: You should stay at Traditional Stone House Kotli for a night or 2, we loved this accommodation!
Pazin
On to the next hidden gem: Pazin! Even though Pazin is Istria's capital city, still this city is not as popular as you may think.
Pazin is incredibly underrated, seeing that this is such a stunning city with lots to offer.
Things to do in Pazin:
Take a refreshing dip at Zarečki Krov Waterfall or Pazin Krov Waterfall
Go on an adventure in Pazin Cave
Taste Istria: The best Istrian delicacies shop
Feel like a king in Pazin Castle
Go hiking to Butoniga Slap waterfall
National park Kamenjak
If you're someone who loves a good hike through nature, you can't miss out on this one-of-a-kind hidden gem!
National Park Kamenjak is one of the most beautiful places in Istria. This park isn't just stunning green nature and wonderful beaches. Kamenjak has more to offer than you think:
You can find some interesting dinosaur footprints.
On a lucky day, you may see dolphins or seals.
You can explore the park by foot or by bike.
Make sure to go for a swim on some wonderful beaches.
Go snorkeling.
Eat at the Safari Bar.
You can even go windsurfing.
And the most practical thing about this park is: It's only 10 kilometers from the city of Pula (which you should visit as well)!
Grožnjan: Town of artists
The town of Grožnjan is a small Istrian town of great cultural significance. It's called the town of artists because, in summer, it turns into a whole other place…
At the beginning of May, Grožnjan opens its summer music academies for young people, its artistic, dance, and drama workshops, and its peace activism workshops under the leadership of well-known experts and teachers and famous names from music, art, and drama.
So yeah, a handful of artistic activities, workshops, and classes. This makes Grožnjan an attractive place for art and culture lovers. But still, this is a small town, and not many people know of its artistic features, so you won't be running into huge crowds.
Definitely, a unique hidden gem to visit!
Related:
Limski Kanal
So, you're visiting Croatia, but suddenly there is something you would've never expected in this southern country: a fjord!
Wait, what?
Yes, really. Croatia has a fjord. Like the Norwegian ones.
The Limski Kanal is a huge channel that's part of the 35-kilometer Lim valley. The channel is much like a Norwegian fjord, even the Vikings visited the Limski Kanal!
The Limski Kanal is one of the most unique sites in all of Istria, one you have to see!
Don't miss out on:
The high cliffs
Stunning viewpoints
Spotting some dolphins
Romuald's cave
You should book a tour to explore the channel!
Motovun
Behold the prettiest hilltop in all of Croatia! Motovun is a charming fairytale-like town you simply have to see!
This captivating walled town is a most interesting hidden gem in Istria. Motovun is filled with old structures, history, culture, and more!
What to see in Motovun:
The main square and the Church of St Stephen
Motovun's town walls and gates
The Parenzana hiking and biking trail
Motovun is even known as one of the most romantic places in Croatia!
Dvigrad ruins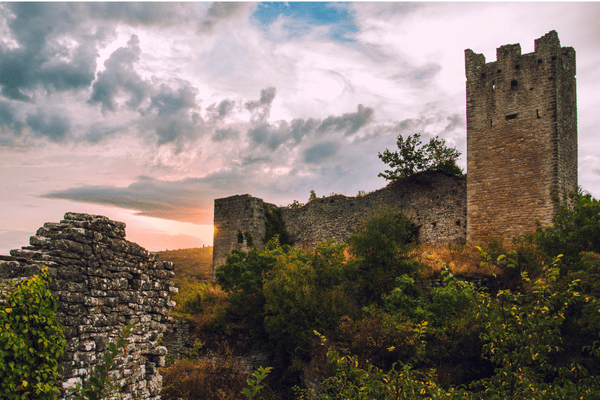 The ruins of an abandoned medieval town. This already sounds like a place that you don't want to miss. So let me tell you more about it.
Dvigrad was a town with a dark history. In the 14th century, Venetians burnt the town and slaughtered its people, and only a century later, this town was stricken by the plague, and not long after that Malaria.
Since 1714, Dvigrad has been abandoned and left to be taken over by nature.
When visiting these ruins, I was blown away by the size of this town! It's so much bigger than I expected and incredibly stunning!
This town has left many beautiful ruins, that have been preserved wonderfully. Walking through Dvigrad is certainly a unique experience!
Vrsar
This next hidden gem is a wonderful picturesque coastal town in Istria. Vrsar may be the most ideal place to base yourself in Istria. Located between Rovinj and Porec, you can easily visit any place in Istria from Vrsar. And this town is not even crowded!
Vrsar is a town with a certain authentic charm. This romantic town is one you have to visit because I simply can't explain its beauty in words. You just have to see it for yourself.
Make sure to admire:
Vrsar's harbor
The old town
The Limski Kanal (that's right next to this town)
Montraker quarry: a breathtaking place filled with sculptures
Vrsar is simply a must-see in Istria!
Baredine cave
This hidden gem is a mysterious geomorphological monument of nature: The Baredine cave!
So this is something else than just visiting a town. Visiting this cave will leave you with the best memories!
The Baredine cave contains 5 rooms that vertically descend to a small lake at a 60-metre depth. Filled with stalactites and stalagmites, and underground sculptures created by persistent, constant water flows, this cave is something you must see!
Staza sedam slapova: 7 waterfalls hiking trail
If you absolutely love hiking, this one's for you. This 13.5-kilometer trail is something you'll never forget. On this hike, you'll pass 7 breathtaking waterfalls!
This hike is a circular trail that starts in Buzet. It'll take you approx. 5 to 6 hours to finish this hike.
The Seven Waterfalls Trail will show all of Istria's mystic beauty. Its greenery and rich vegetation will leave you breathless. Most of the trail passes along the flow of the Mirna River.
This hike could be pretty demanding, so if you're not too fit, you may consider skipping this hike.
Skarline Nature Park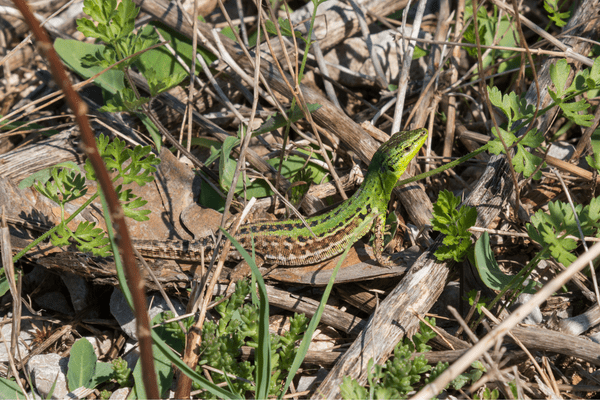 At only 2 km from the town of Brtonigla, is this beautiful gem located. Skarline Nature Park is a true secret. It's relatively small but incredibly beautiful!
With lots of greenery, a cave, a green canyon, and stunning turquoise water, this park is a place you'll have to visit!
Note: Because of the high humidity, there may be many mosquitoes in the Green Canyon, so make sure to bring your repellent.
But definitely add Skarline to your itinerary!
Tours
There are a lot of activities in Istria, like food tours, dolphin tours, day trips through the countryside, and so much more! You definitely should book a tour in Istria!
Practical information for visiting hidden gems in Istria
The spoken language in Istria is Croatian, but especially younger people speak English as well. In Croatia, they used to pay with the Croatian Kuna, but since January 1st 2023, you can pay with the Euro (€) in Croatia.
Croatian Kuna is still accepted in many places, but the main currency is now Euro.
Croatia is a country of breathtaking nature, historic cities, the best beaches, and rich culture. This country is perfect for everyone to visit.
To get from place to place, you could rent a car, or take buses, as Croatia has a pretty good bus network.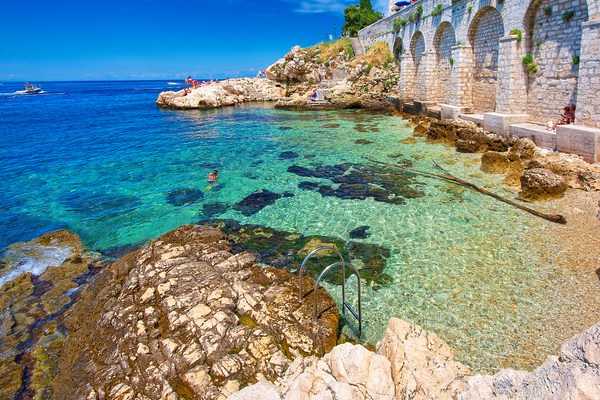 Final thoughts on Istria hidden gems
So, now you know of Istria's beauty, I hope you'll be visiting there. Istria's pretty underrated but still has a lot to offer. From the bigger cities like Pula and Rovinj to these hidden gems. Istria's a place you can't miss out on!
Let me know which hidden gem you'd love to visit in the comments below!
Related posts
Traveling Spectacular Istria: Hidden Gems you Don't Want to Miss!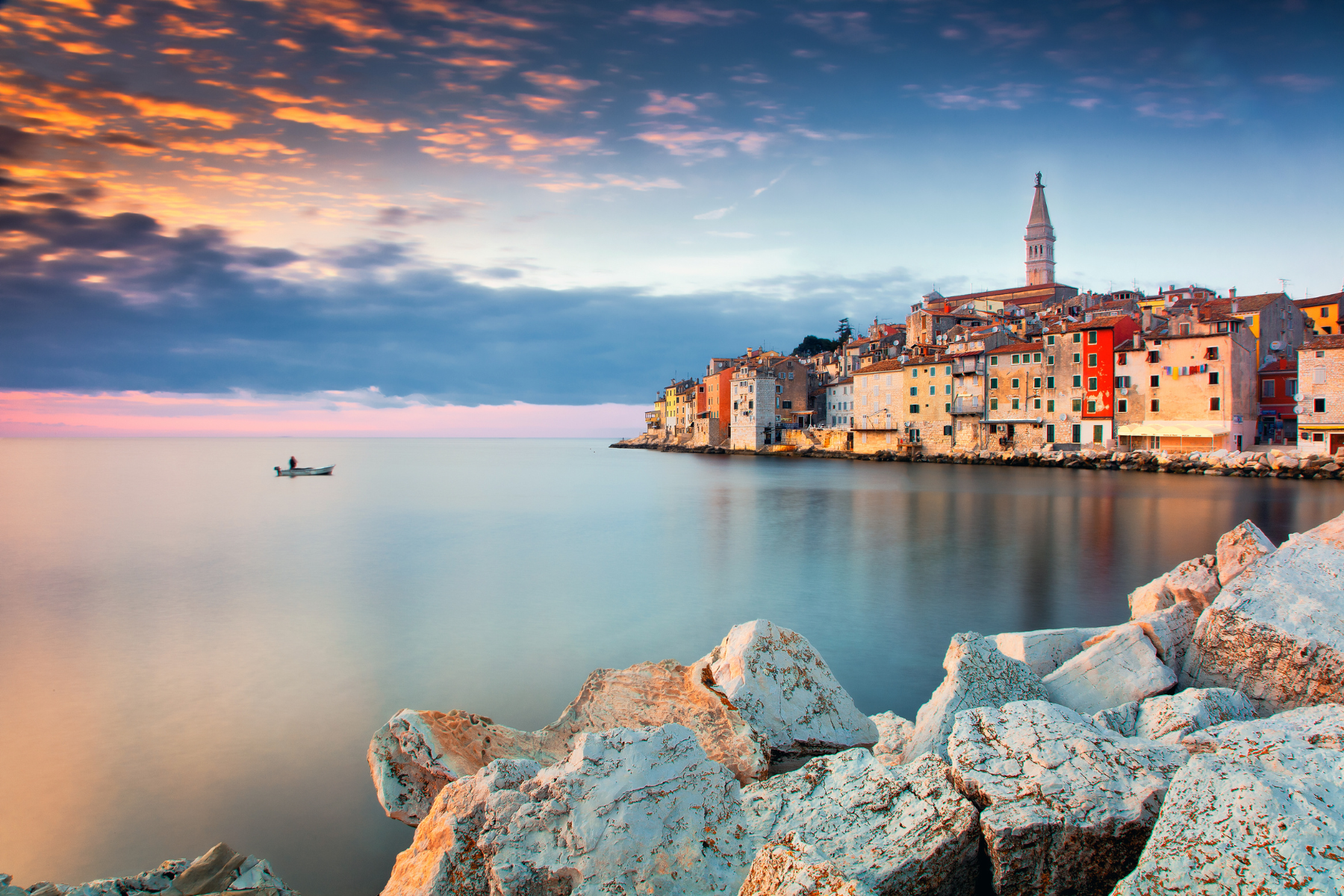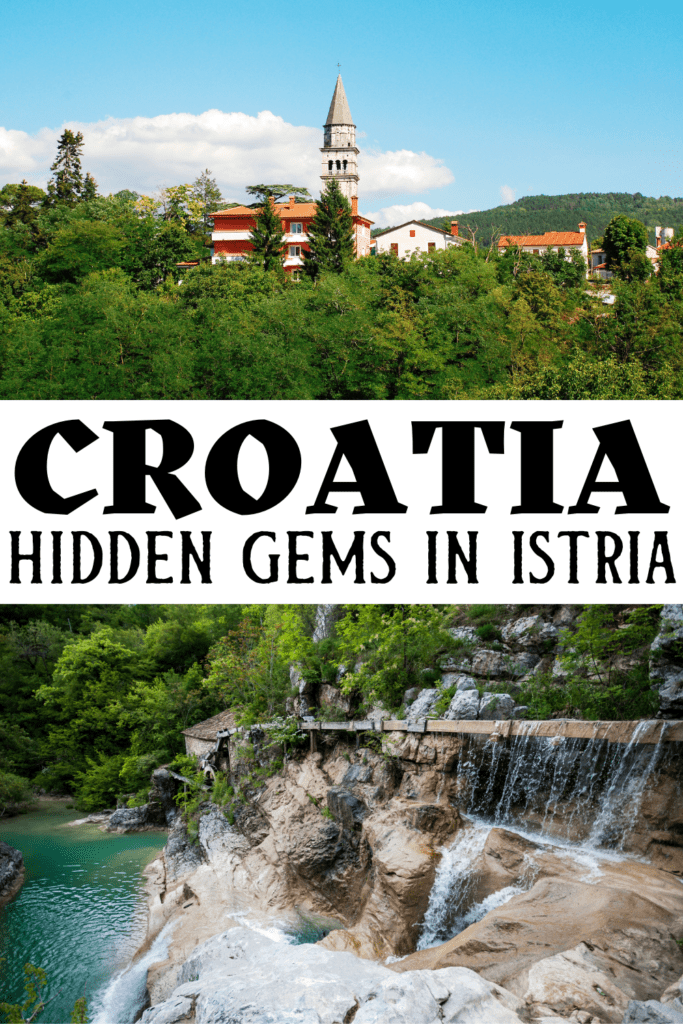 Istria hidden gems