Don't miss a thing with this ultimate Croatia Itinerary for 7 days.
Are you visiting Croatia soon? But can you see everything in only 7 days? Isn't that too short? Let me tell you, in 7 days you can see all Croatia's highlights. With this Croatia itinerary for 7 days, you won't miss a thing!
Disclosure: This post may contain affiliate links, which means that if you purchase through one of the product links, we'll receive a small commission at no cost to you. We only promote products and services we 100% believe in. Thank you so much for supporting us! Read more about it in our disclosure policy.
About Croatia
The Republic of Croatia is a country located in the northwestern part of the Balkan peninsula. This country has 3 main regions: Slavonia, Istria, and Dalmatia. Slavonia is more inland and where the capital Zagreb is located. Istria and Dalmatia are both located on the Adriatic coast.
In the Adriatic sea, there are over 1100 Croatian islands. Of which some are great to visit by boat.
The spoken language in Istria is Croatian, but especially younger people speak English as well. In Croatia, they used to pay with the Croatian Kuna, but since January 1st, 2023, you can pay with the Euro (€) in Croatia.
The Croatian Kuna is still accepted in many places in Croatia.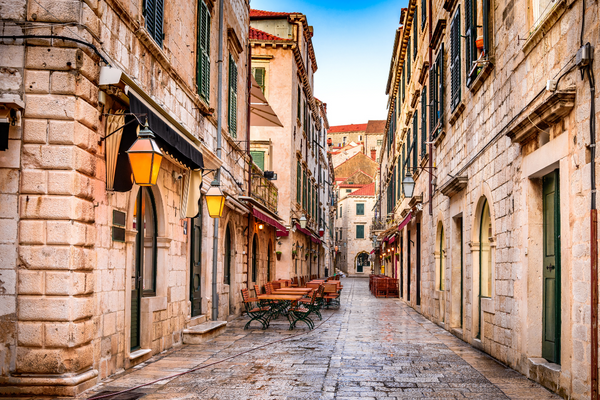 Croatia is a country of breathtaking nature, historic cities, the best beaches, and rich culture. This country is perfect for everyone to visit.
How to get from place to place
Yeah, nice that there are all kinds of places on this itinerary, but how do I get there?
Well, that depends… Are you on a budget or not?
If you're not on a budget, you should rent a car. For these 5/6 days, you'll need it, it won't be that expensive.
But if you are on a budget, then you should definitely take buses! Croatia has an incredible bus system, you can get anywhere by bus! Especially with this itinerary, buses are the second best go-to form of transport (renting a car being the first).
And it's really easy to book tours with transportation, you should definitely do that!
About this Croatia itinerary for 7 days
This itinerary starts in Zadar and ends in Split. It's quite easy to fly out to Zadar and depart in Split.
In this itinerary, you will visit both cities and nature, which are the two most beautiful things about Croatia. Seeing that these places aren't that far apart, you won't lose much time driving.
Note: If you're going to Croatia for longer than 7 days, check out this Croatia road trip itinerary!
Croatia itinerary 7 days
Day 1: Arrival – Zadar
On the first day, you'll arrive in Zadar. You'll probably have a rental car waiting at the airport, or you can easily take a bus to Zadar old town. Because that's where you'll be spending your time.
The old town of Zadar is quite impressive. It's full of historical structures, beautiful old streets, and a wonderful harbor. On the day you should explore:
The sea organ
The Roman Forum
All the churches
Queen Jelena Madijevka Park
The Zadar city walls
Zadar old town is pretty big but small enough to explore in one day.
Related: Zadar, Croatia: Top 15 Amazing Things to Do!
And in the evening is when Zadar really comes alive! The nightlife in Zadar is the best! With live bands, dressed-up people, and just fun and coziness everywhere, the nightlife couldn't be better!
Make sure to get accommodation in the city center, so you can enjoy the nightlife to the max!
We stayed in this super affordable hostel. It was right in the city center and such a cozy place. We met some new people and had the best time. Make sure to check it out!
Day 2: Zadar – Krka waterfalls – Trogir
On the second day in Croatia, you should visit Krka waterfalls national park!
First spend a bit of your morning in Zadar, get a cup of coffee and prepare to hit the road! It's only an hour drive to the national park and about 1 hour and 20 minutes by bus.
So when you've reached Krka National Park, you're gonna have to buy an entrance ticket for €40 euros (in August and July). I know it's a bit expensive, but it's worth seeing this national park with 7 waterfalls. It's a lot cheaper in the shoulder seasons.
I recommend walking through the park and exploring it by yourself (no guided tours or boat tours). The paths in this park are really cute and you get to see beautiful lakes, rivers and huge waterfalls!
Unfortunately, it's not allowed to swim beneath the waterfall anymore. I'm glad I got to do it before the swimming ban. But the upside to this is that you'll be able to take beautiful pictures of the waterfalls without people ruining them.
Spending an afternoon in Krka national park is enough to explore the important parts.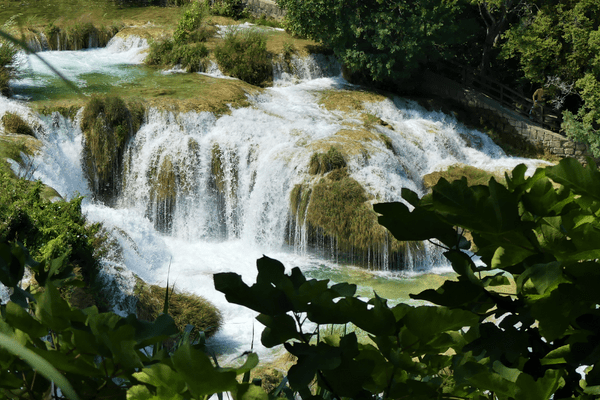 After that, you should drive or take a bus to Trogir which is only another hour. Here you should head out to one of the picturesque little restaurants for dinner.
I know this was a pretty full day, but after this, you'll get more time to relax.
Day 3: Trogir
Now it's time to explore Trogir! This is a smaller town near Split, filled with beauty and history. You should take your time exploring the old town, and maybe head to the beach for an hour or two.
The old town of Trogir is on a little island, you can just drive to. Then, there's another road to another island. This island is filled with nature and breathtaking beaches. Make sure to check it out!
Day 4: Trogir – Split
Again, you should enjoy a cup of coffee in the morning in Trogir. After that, it's time to head to Split. In only half an hour (or 45 minutes with the local bus), you'll reach the city.
Split is Croatia's second-largest city and one of the most visited cities. And no wonder why. This city has everything. And I mean, really everything. You've got a labyrinth-like old town, boats everywhere, great nightlife, it even has nature.
PS. Split is a wonderful destination for a couple's getaway!
Make sure to see:
Diocletian's palace
The fruit square
Golden Gate
Riva Boulevard
Marjan Hill park
I recommend booking accommodation a little outside the old town because it's way cheaper there. And it shouldn't be more than 10 minutes to walk to.
For cheap accommodation, take a look at Hostelworld. They offer clean and cozy hostels for the best prices! We stayed at this exact hostel and had a wonderful time!
Note: Today's also the day you should return your rental car, unless you're going for another activity inland. But if that's not the case, you should return it to save your money.
Golden tip: Read about the best things to do in Split!
Day 5: Split – Island(s)
On day 5 you should go visit an island! Croatia's well known for its many picturesque little islands. Near Split there are 4 wonderful islands: Solta, Brac, Hvar, and Vis. You can just choose to visit one island…
Or…
You can choose to book a tour and visit 2 to 5 islands!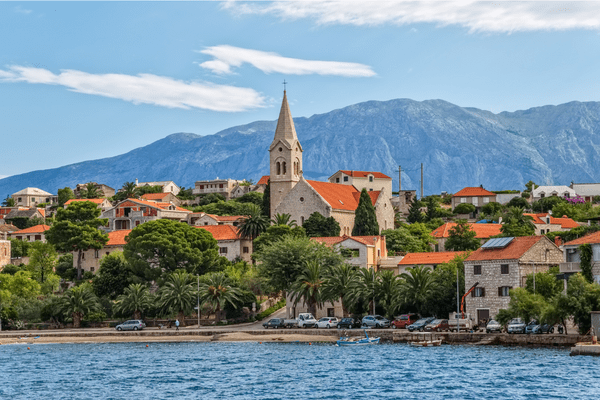 Day 6: Free
On the 6th day, you have the day all to yourself. You can choose to stay on an island for another day, head out to the beach, or explore more of Split. There are plenty of options. You can also book a tour to go rafting, canyoning, or ziplining. The options are endless!
Things to do near Split:
Just make sure to do whatever you like to do. And listen to your body, I mean, all these busy days could take a toll on your body. You may be tired, in that case, you should just go to the beach and relax.
Day 7: Split – Departure
On the last day, you should take another stroll through the old town of Split. Have some breakfast and enjoy your last day!
Split is definitely a city you can't get tired of. Every time you walk through its little streets and hidden paths, you'll explore another thing. This old town is kind of labyrinth-like with lots of hidden places. That's what I love about it.
Final thoughts on this 7-day Croatia itinerary
As you can see, 7 days are enough to explore lots of places in Croatia. I hope you've enjoyed this post. Have fun on your trip to Croatia!
Let me know why you want to visit Croatia in the comments below!
Related posts
Explore All Croatia's Highlights with this Complete 7-day Itinerary