A full breakdown of our trip to Ireland and the best tips for Ireland budget travel.
Ireland, the Emerald Isle, is a land where history, culture, and natural beauty converge to create an enchanting tapestry. And here's the secret – you don't need to break the bank to experience its magic. Welcome to our Ireland budget travel guide, where we'll unravel the mysteries of this captivating country while keeping your wallet happy.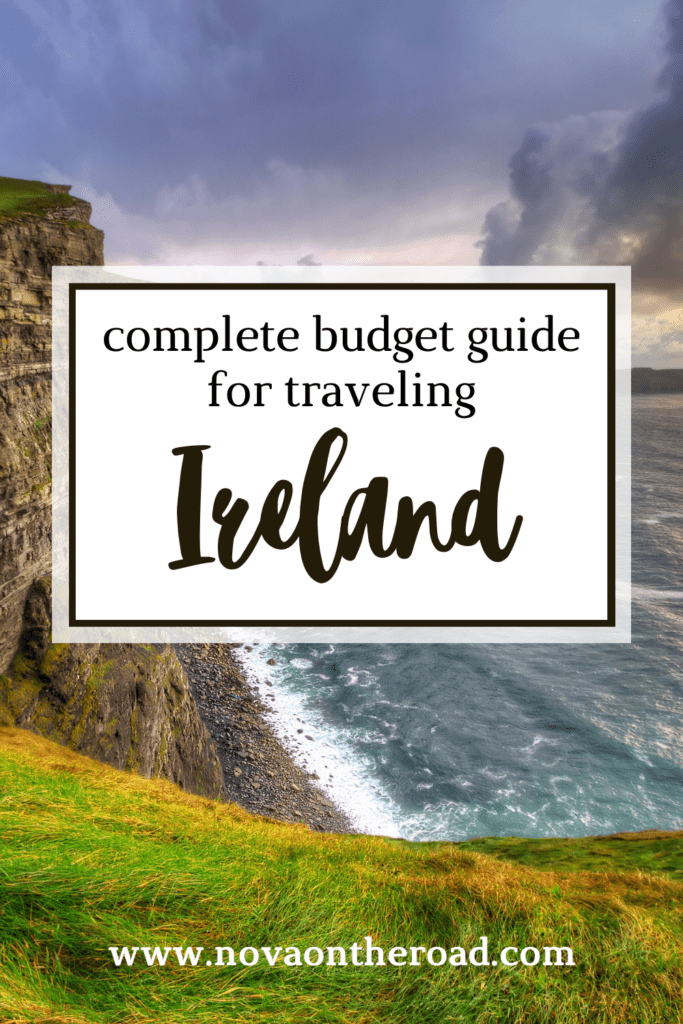 In the infographic below you can find the cost of traveling to Ireland. Besides our budget breakdown, I will give you "budget options". With these options, you can stay in Ireland for less money and stretch your budget to the max.
This post was written by Lotte from the travel blog Phenomenal Globe. She's a lovely person who writes great content. Through a wonderful collaboration, I now edited and published this post. Check out her awesome travel blog.
Disclosure: This post may contain affiliate links, which means that if you purchase through one of the product links, we'll receive a small commission at no cost to you. We only promote products and services we 100% believe in. Thank you so much for supporting us! Read more about it in our disclosure policy.
Make sure to read through to the end, to learn about every budget tip!
Ireland budget travel: essential facts and figures
• I traveled to Ireland with my husband (obviously, it was our wedding anniversary), all expenses are for the two of us together.
• I spent 5 days in Ireland, in total we spent €1130. This comes down to an average of €226 a day for us as a couple and includes all our expenses in Ireland.
• It does not include our airplane tickets from the Netherlands to Ireland and back home.
• My trip started and ended in Dublin, take a look at our Ireland road trip itinerary.
Ireland budget: travel expenses
Our Ireland expenses are divided into 5 categories:
Hotel in Dublin: 5% of our costs
Campervan: 64% of our costs
Transport by bus: 1% of our costs
Food & drinks: 34% of our costs
Activities: 4% of our costs
1. Budget hotel in Dublin
We stayed at Hotel St. George and paid €55 for a night, not including breakfast. The room wasn't big, but it was recently refurbished so everything was clean, tidy, and smelled very fresh.
The hotel is a stone's throw from the busy Upper O'Connell Street and you can easily walk to the main sites in Dublin. Checkout time was noon which was very convenient!
Budget option: There are some hostels for about $30 a night. Great for traveling alone. However, if you're traveling as a couple, the hotel above will be your best option. Airbnb's are crazy expensive in Dublin, only worth checking out if you're traveling with a bigger party.
2. Renting a campervan in Ireland
The total cost of renting a Vista campervan from Bunk Campers for 5 days was €719, which comes down to €144 per day. Considering this is the combined costs for accommodation and transport which I think is very reasonable for a country in West-Europe.
Our campervan expenses include:
Rental fee ⇒ a Vista campervan costs ~ €73 per day, for 5 days the total amount is €365.
Additional insurance ⇒ optional, but I had a parking accident in New Zealand and was so happy this was covered by our collision waiver damage. Having extra insurance just gives me peace of mind.
Petrol ⇒ between €1,17 and €1,22 per liter. We drove 1400 kilometers in total and paid €138 in total for diesel.
Toll ⇒ on the M roads (highways) of Ireland you have to pay a toll. It costs €1,90 for a car (also for the Vista van) every time you pass a toll booth. For our 5-day road trip around Ireland, the total costs were €15,50.
Parking ⇒ a minor expense, we paid a couple of euros for parking in Dingle town and at the Rock of Cashel.
Important: Due to inflation, these costs may be higher than when I was in Ireland.
3. Transport by bus (Dublin airport to the city)
The only public transport we used in Ireland was the bus from Dublin Airport to the city center (more info about the bus is found here). The costs of this bus trip were €3,30 per person.
Our total bus transport costs were €12 (tickets from Dublin to the Bunk depot are €2,70 per person, the office is very near to the airport).
4. Food and drinks
This is where we splurged compared to our usual travel style. We bought a couple of groceries (breakfast and some snacks for hikes) but other than that we ate out every single day, both for lunch and dinner.
Lunch was mostly sandwiches from deli shops (price between €3-€6) and we had dinner in pubs (price between €10-€20). On the day of our anniversary, we had a fancy dinner at a nice restaurant.
Total amount spent on groceries, food, and drinks: €296 (almost €60 a day).
Budget option: To nobody's surprise, cook yourself! Most campervans have a kitchen inside. If you choose not to travel by campervan, then go for a hostel or Airbnb with a kitchen. This will save you so much money.
5. Activities
We did three paid activities during our trip. The first was a visit to Trinity College and the beautiful Old Library where the Book of Kells is on display. The admission fee was €11 per person.
The second paid activity was the famous Cliffs of Moher. The admission fee was €6 per person (this includes access to the parking area).
Our last paid activity was visiting the Rock of Cashel, admission was €7 per person. The total for paid activities came to €48 for the two of us.
How to save money in Ireland?
As I mentioned at the beginning of this post, you can easily travel around Ireland for less. Here are a couple of ways to save money on your trip.
Rent a cheaper camper van
First of all, you could rent a cheaper camper van, the Roadie costs just €40 a night, instead of €73 per night like the Vista van we had. This reduces your rental fee by 45%.
Skip the additional insurance
If you are confident about your own driving skills you can skip the €195 additional insurance I took out. I always take out additional insurance since I had a little parking incident in New Zealand a little while ago.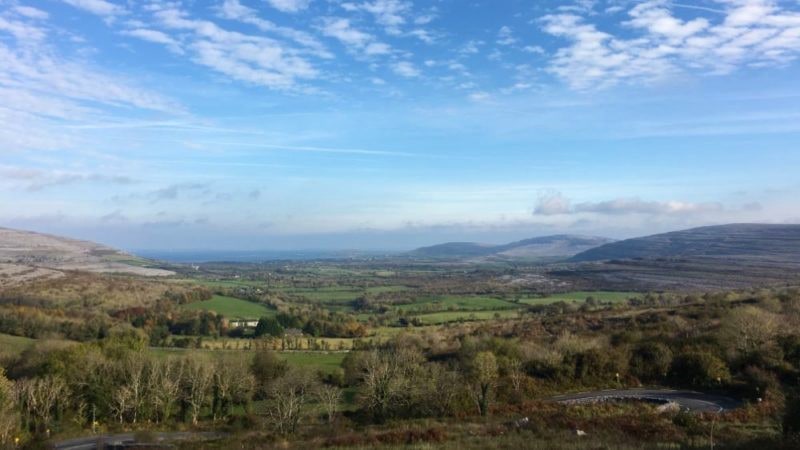 Cook your own meals
We ate out every day and that doesn't come cheap in Ireland. In Southeast Asia eating out is cheaper than cooking your own food. However, in Ireland, the average pub meal sets you back between €10 and €20.
If you cook your own dinner you can easily stay within a €20 budget a day for 2 people. So instead of spending €296 on food & drinks, you could spend as little as €100… Maybe even less.
Potential savings on your Ireland budget trip
These measures could potentially save you €424, bringing down your total expenses to €706 (€140 per day for a couple = €70 per person).
Of course, everything depends on the choices you make. I chose not to worry about our Ireland vacation cost, because we wanted to celebrate our wedding anniversary and it was only a short trip.
We were a lot more careful with our budget during our yearlong trip around the world because we wanted to travel as long as possible.
Final thoughts on Ireland budget travel
I hope this post has given you an idea about the cost of a trip to Ireland. If you have any questions, leave a comment below.
Happy travels!
Related posts
Ireland Budget Travel: Essential Tips for Traveling Ireland Like a Pro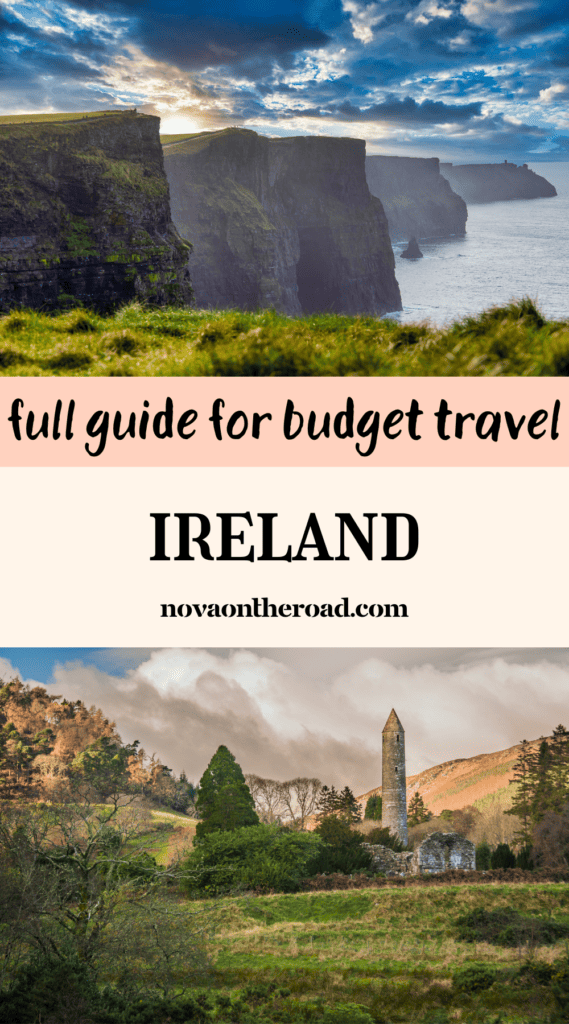 Ireland budget travel