Everything you need to know about spending a weekend in Madrid and things to do.
The most vibrant capital city of Europe has to be Madrid! With unique architecture, AMAZING weather, the best food, wonderful views, and the coziest vibes, Madrid makes for a perfect city trip destination! Here's everything you need to know about spending your weekend in Madrid!
Disclosure: This post may contain affiliate links, which means that if you purchase through one of the product links, we'll receive a small commission at no cost to you. We only promote products and services we 100% believe in. Thank you so much for supporting us! Read more about it in our disclosure policy.
Why go on a weekend to Madrid
Like many Spanish cities, Madrid is pretty big. Okay, that's an understatement. Madrid is a huge city filled with nothing but beautiful buildings. You'll always have a big architectural structure in eyesight and a cute street around the corner. Madrid is also known to have a vibrant nightlife. Read about things to do in Madrid at night!
Plus, in Madrid getting around is easy and super cheap. There's a huge metro network throughout the entire city where you hop on and off pretty much everywhere. This is ideal and something you should definitely use!
Bonus tip: I highly recommend taking a day trip to Segovia from Madrid!
Getting to Madrid for a weekend
Getting to Madrid is pretty easy. There's a huge airport and you can fly to Madrid from nearly anywhere in the world.
Other ways to get to Madrid are by bus or train. These are great options if you're coming in from France or if you have all the time in the world. But coming from anything above France, it'll take you a while to get to Madrid.
I wanted to take a Flixbus from Rotterdam to Madrid. It was the cheapest option, but it would take 25 hours… It's 25 hours I didn't have, that's why I took a plane that was crazy expensive because I was tied to certain dates.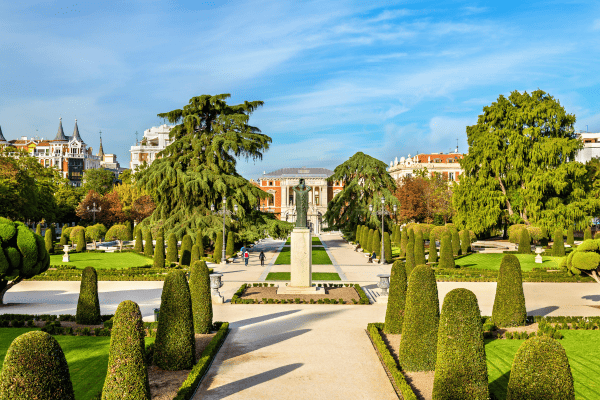 So if you're going to Madrid for a weekend, you should do research on dates and prices in advance, to find the cheapest options.
Check out Kiwi to find the cheapest flights, and Trainline to find the best train and bus options.
Where to stay on your weekend in Madrid
Madrid isn't really the best place for budget travelers. However, it's not impossible to spend a weekend in Madrid on a tight budget.
Hostel
If you actually are on a budget, staying at a hostel is the perfect option for you! This way you can sleep inside the city center for only a small price.
The hostel I recommend is Way Hostel Madrid. You can stay here from €29 euros a night and the location is perfect. The staff here is super nice and they'll genuinely answer your questions.
Plus, this hostel is super clean and has a huge kitchen where you can cook your own food! Check it out!
Airbnb
My personal favorite option is Airbnb. In Madrid, Airbnbs aren't particularly cheap, but they're still cheaper than hotels. And most Airbnbs are fully equipped apartments, which gives you the option to cook your own food
Hotel
If you're not on a tight budget, you should definitely head for a hotel. There are a lot of hotels in Madrid to choose from. From basic 2-star hotels to super luxurious 5-star hotels, there must be something for you!
Things to do on your weekend in Madrid
Before starting on things to do in Madrid, I recommend keeping your google maps nearby, so that you can save the places I mention. This way you'll know exactly where in Madrid you need to go.
Admire Plaza Mayor
When googling Madrid, Plaza Mayor is the first thing that pops up. It's THE place in Madrid. Plaza Mayor is a square inside a perfect pink building. In the middle of the square, you'll find a statue of Felipe III.
Lined with terraces and cute shops, this picturesque square is a place that will blow your mind! You definitely can't miss Plaza Mayor when you're in Madrid!
Eat some churros at Restaurante Arrabal
Another thing you can't miss out on is Spanish Delicacies. There are several delicacies I will cover in this post, but for now, let's focus on Churros.
If you don't know what churros are, let me tell you. Churros con chocolate is simply heaven. Churros are a kind of sweet snack that's pretty popular in Spain and Portugal. It's made of deep-fried choux dough, sprinkled with sugar and served with hot chocolate.
Churros simply taste amazing and it's a good way to taste a bit of Spain.
You can eat churros at many places throughout Madrid. We sat down at Restaurante Arrabal on Plaza Mayor, where we got 6 churros with hot chocolate for only €4,50! And they tasted amazing!
Enjoy the incredible view at Mirador de la Cornisa del Palacio Real
Between the huge Cathedral de La Almudena and Palacio Real de Madrid, you'll find a square; Plaza de Armeria. At the end of the square is where you want to be.
Because here you'll find a huge viewpoint where you'll be able to see a wonderful view of the surrounding area and the mountains. This viewpoint is one you shouldn't skip!
Visit Cathedral de La Amudena
And now that you're already at the viewpoint next to the cathedral, why not visit the cathedral? It has a beautiful layout on the inside, crypts you can visit, and you can climb the dome to get some magnificent views of the city and the palace.
Make sure to visit this cathedral and admire its features!
Wander through the Royal Palace of Madrid and the gardens
This huge palace with no less than 3418 rooms, an armory, and a garden is a wonderful place to visit when you're in Madrid. The architecture and scale of building is stunning and so worth visiting!
I recommend going on an audio tour through the palace, it's super informative and makes your visit much better!
Eat tapas with a view at El Viajero
El Viajero is a restaurant in Madrid we couldn't stay away from. The food here is heavenly and the view from the rooftop garden terrace is the best!
The patatas bravas at this place are super tasty and the cheesecake is out-of-this-world delicious! Make sure to stop by to try some more Spanish delicacies!
Take a break at Parque Casa de Campo
As I've mentioned before, Madrid has many parks, and the biggest one is Casa de Campo. This park is where many locals go to take a break from their city lives and taste some nature.
At Casa de Campo there are many trails, landmarks, viewpoints, and more! There even is a zoo, an aquarium, and an amusement park: Nickelodeon Land.
So if you're looking to escape the city crowds for a moment, you should head for Casa de Campo!
Tip: If someplace is too far to walk to, you should take the metro! They will take you almost anywhere inside the city for less than a euro!
Admire some art at Museo Nacional del Prado
Museo del Prado is considered to have one of the world's best collections of European art. With thousands of works of art, including pieces by Diego Velazquez, Francisco Goya, and so much more, this museum can't be ignored. So if you're an art lover, this is simply a must-see on your city trip!
Or visit one of the many other museums in Madrid
But Museo del Prado isn't the only museum in Madrid. Far from it actually. There are over 50 museums in Madrid! That's a shockingly big number, isn't it?
Of course, you can't visit all of them on your trip, so here's a small list on the best museums to visit in Madrid:
Sorolla Museum (I've been here and it's truly impressive)
Museo Nacional Centro de Arte Reina Sofía
Thyssen Bornemisza Museum
National Archaeological Museum
Cerralbo Museum
And if you're more into ''unusual museums'', check out these:
Balloon Museum
Zero platform museum
Sweet Space Museum
Caixa Forum
Stroll through Plaza de Cibeles
Plaza de Cibeles is a place where you'll find another impressive building: Palacio de Linares. With Cibeles Fountain at its front door, this place makes for a wonderful site. Do check it out!
Be blown away by Puerta de Alcalá
From Plaza de Cibeles it's easy to walk to Puerta de Alcalá. This is a neoclassical 5-arched triumphal gateway. It's simply a huge structure that's incredibly stunning. If you're nearby, you should really take a look at it!
Order a Jarra de Sangria and enjoy!
Yet another Spanish delicacy: Sangria! This alcoholic drink is so tasty, I could drink an entire bath of it (but I don't because it'll kill me).
This drink is kind of a combination between red wine and bubbly water (or sprite). There's some fruit in it to give it a little tang.
But if you don't like red wine, don't be discouraged. The taste is not overwhelming at all! Sangria is more like soda than wine; as far as I know, everybody loves Sangria. So do give it a try!
Ojalá is a place with the most delicious Sangria, make sure to stop by!
Discover Parque El Retiro
Another beautiful park in Madrid is El Retiro. And other than beautiful trails, this park has a lot of things to offer. There's:
Palacio de Cristal (crystal palace)
Great Pond of El Retiro where you can row a boat
Palacio de Velázquez (museum)
A public library
Real Jardín Botánico (botanical garden)
Several other gardens
El Retiro is the perfect place to spend an afternoon and unwind.
My experience at El Retiro was amazing! We went to the crystal palace and in front of it was a pond with turtles. And if you've read my Croatia post, you know that I can watch turtles for hours. It's quite therapeutic, I can recommend it 😉
Enjoy the best breakfast at Novo Mundo
The best croissant I've ever eaten was at Novo Mundo. Here you can get the tastiest coffee and the best bread, buns, and pastries for a fine price.
I recommend getting your breakfast here but do keep in mind that there may be a queue. We went on a weekday and only had to wait for like 2 minutes. But I've been told that on weekends it gets quite crowded because everything's so delicious!
Take some photos of Puerto de Toledo
Like Puerta de Alcalá, Puerto de Toledo is a huge monument. It's a wonderful historical site that stands tall. Make sure to stop by and take some photos of it, it's well worth it.
Eat some lunch at Parque de la Montaña
Yep, here's another park, Madrid's full of them. But this specific park is adored for many reasons:
There are several viewpoints overlooking the entire city
You can enter the Temple of Debod for free
The cozy vibes!
On a Saturday night, we went here around 9 pm to eat some takeout sushi. The sun was just going down, causing the sky to show its best colors. And we weren't the only ones there, it was crowded. But it was a good kind of crowded, a cozy one. There was an awesome street musician nearby and we just enjoyed the moment, ate the sushi, made some photos.
Parque de la Montaña has a special place in my heart.
Stroll Down Gran Via (and do some shopping)
The Gran Via is THE shopping street in Madrid. With the most popular stores and food chains, you can easily lose track of time here. Do some shopping, use the toilet in Burger King (guilty), eat some lunch, and enjoy!
The Gran Via is massive and even if you're not into shopping, it's a street you have to walk through. So make sure to check it out!
Explore Malasaña Neighborhood
If you're into vintage and second-hand shopping, this is your place. Malasaña is kind of a hipster neighborhood with the cutest streets, restaurants, and shops. Many shops here are second-hand, vintage clothing, or antiques. If you're a bit like me, you'll love it here!
This is where we sat down for some Sangria at Ojalá, as I mentioned before. In this neighborhood, you'll find many great terraces to sit down and take a break from walking or shopping.
The Malasaña Neighborhood is a place you have to visit!
Final thoughts on weekend in Madrid
Now that you know all the best places to see, the tastiest restaurants, and the most breathtaking viewpoints, you're all ready for your city trip to Madrid! Have you ever been to Madrid? What did you think of it? Let me know in the comments below!
Related posts
Weekend in Madrid: Epic 2-Day Itinerary for You!