Medieval towns in Europe that need to be on your bucket list.
In the middle ages, Europe was a rapidly growing continent. Cities and towns were formed that are now known as ''medieval towns'' in Europe.
These towns are filled with charming cobblestone streets, amazing architecture, fairytale-like buildings, and more!
Disclosure: This post may contain affiliate links, which means that if you purchase through one of the product links, we'll receive a small commission at no cost to you. We only promote products and services we 100% believe in. Thank you so much for supporting us! Read more about it in our disclosure policy.
Medieval towns in Europe
Below you'll find the 18 best underrated medieval towns of Europe. I've decided not to include the bigger cities like Prague and Edinburgh because they're simply not hidden and underrated anymore.
I want you to know about towns you haven't even heard of, that are not crowded and touristy.
So here it goes…
Cesky Krumlov, Czech Republic
Let's start with one of my favorites: Cesky Krumlov. Located in south Bohemia, you'll find this majestic medieval town.
Lined with cobblestone streets, surrounded by the beautiful river Vltava, and a magical castle overlooking the city, this town makes for a wonderful stop on your trip to the Czech Republic!
This picturesque town is getting more popular by the day. But don't worry, most people think it's not worth the 2-hour drive from Prague, so you're in luck. It won't get as touristy as Prague, but this UNESCO World Heritage site is so worth the visit.
Things to do in Cesky Krumlov:
Simply explore the old town on foot
Have some lunch at Namesti Svornosti (Main Square)
Feel like a royal in Cesky Krumlov Castle
And of course, climb the castle tower!
Cross the Cloak Bridge
Be amazed by the castle garden
Freiburg im Breisgau, Germany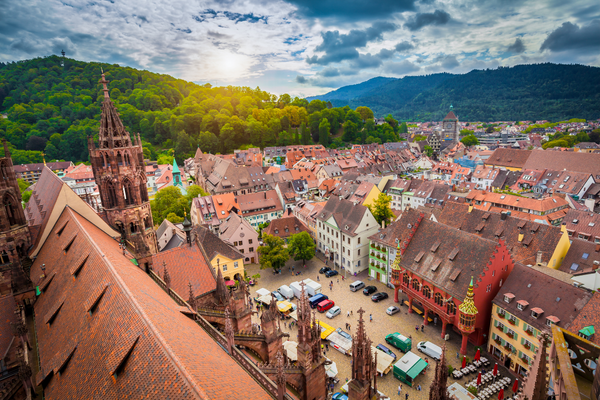 Now traveling to Czechia's neighbor, Germany! You will find many medieval towns in Germany, like Freiburg im Breisgau!
Freiburg is known as a vibrant university city in southwest Germany's black forest. Filled with magnificent medieval buildings and the black forest right around the corner, this town is definitely worth adding to your trip!
And overlooked by the bigger cities, like Munich, Stuttgart, and Frankfurt, the town of Freiburg doesn't get that crowded, which is great!
Things to do in Freiburg:
Explore Munsterplatz and the daily market
Take the Schlossbergbahn for hiking and the best views
Visit the Freiburger Münster Cathedral
Admire the Schabentor and Martinstor
Explore the university library
Feel the amazing vibes of Rathausplatz
Avila, Spain
On only an hour from Madrid, you'll find the medieval town of Avila. This fortified town is quite unique, seeing it's one of only a few medieval cities in the world that is totally enclosed in a nearly intact city wall.
Avila is a UNESCO World Heritage City and one of the most magnificent cities in Spain. This ''town of stones and saints'', as it's called, is an authentic, fairytale-like medieval town that will take you back in time.
One thing that's for sure is that Avila will blow your mind!
Things to do in Avila:
Walk the city walls
Admire the Avila Cathedral
Enter the city through Puerta Del Alcazar
Explore Avila's old town
Learn the history of Basilica San Vicente
Take a stroll through the Sephardic Garden Of Moshe De Leon
Rothenburg ob der Tauber, Germany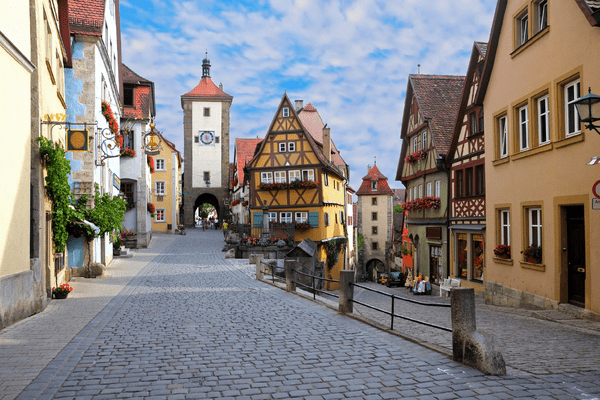 And back to Germany, let's visit Rothenburg ob der Tauber!
Rothenburg may look a bit like Freiburg but it's very different in a unique way. One thing that's for sure is that Rothenburg ob der Tauber is a lot more popular.
And no wonder why! Rothenburg is known for its medieval architecture. Half-timbered houses line the cobblestone lanes of its old town. This is a town with serious charm!
Rothenburg is one of the most popular towns of the Romantic road through southern Germany.
Things to do in Rothenburg:
Stroll through the old town
Explore the Marktplatz
Walk the old town walls
Take some pictures of Plönlein
Visit the St. James's Church
Admire the castle garden: Burggarten
Extra tip: Read this post to find the best practical tips and things to do in visiting Rothenburg ob der Tauber!
Carcassonne, France
Carcassonne, a hilltop town in southern France is famous for its medieval citadel, La Cité, with numerous watchtowers and double-walled fortifications.
This medieval town often gets described as ''Disney-like'', that's how magical it looks. Carcassonne is a dreamland of old architecture, secret passageways, and winding alleys. And this glorious place is so underrated, it almost hurts.
The hilltop town of Carcassonne in France is one you should definitely add to your bucket list!
Things to do in Carcassonne:
Stroll through La Cité de Carcassonne; the Citadel
Visit Château Comtal and Ramparts
Wine and Dine in the old town
Discover the secrets of Châteaux de Lastours
Be amazed by Basilica of Saints Nazarius and Celsus
Admire the Carcassonne Cathedral
Siena, Italy
In the Tuscany region of Italy, you'll find the medieval town of Siena. This picture-perfect town has an indescribable unique charm. This characteristic town is filled with charming old red-brown brick houses and the most romantic sights.
You'll be able to spend hours in this maze of hidden alleyways and charming paths, and not get bored at all! It's more likely that your camera will be glued to your face all the time.
For many people, the magical historic center of Siena is the most beautiful in Italy! I mean, man, it's got to be good, isn't it?
Things to do in Siena:
Take some photos of Piazza del Campo
Get lost in the old town
Climb the Torre del Mangia Tower for an amazing view over the city
Admire the Cathedral of Siena
Be blown away by Palazzo Pubblico
Visit the Basilica di San Domenico
Ghent, Belgium
The town I have been amazed by only under 2 weeks ago (January 2023). Ghent is such an amazing medieval town filled with structures you can't imagine and many, many wondrous churches. With the most picturesque sights, Ghent made it to this list of the best medieval towns in Europe!
And of course, Ghent has the best beers and chocolates in all of Belgium! It used to be an incredibly important city in Europe, but now Ghent is rather overlooked. Which makes for fewer crowds!
Ghent should definitely be added to your trip to Europe!
Take some photos at the St. Michael's Bridge
Be amazed by Graslei and Korenlei
Climb the Belfry Tower
Admire Saint Bavo's Cathedral
Discover life at medieval Ghent at castle Gravensteen
Have a drink at Vrijdagmarkt
Related: A Thorough Guide for Where to Stay in Ghent in 2023!
Sibiu, Romania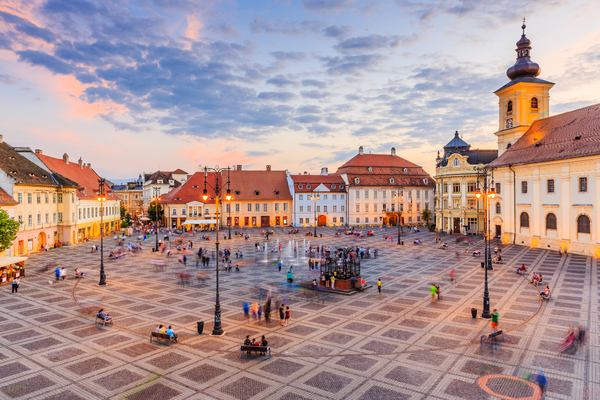 Now, going to the other side of Europe, we have the medieval town of Sibiu, Romania!
This charming, cobble-stoned town was voted Cultural European Capital in 2007 and is Europe's 8th most idyllic place to live, according to Forbes.
That's not nothing, eh?
This unique and interesting town is based on the foothills of the Cindrel Mountains in Transylvania. Sibiu is well-known as ''the city with eyes''. Why is this, you may ask? Just look in the photo below, and you'll have your answer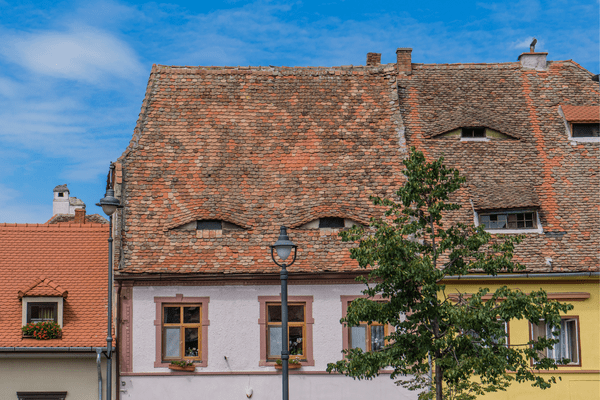 But other than this creepy feature, Sibiu is a medieval town well worth a visit!
Things to do in Sibiu:
Admire Piata Mare; the big square
Take photos of The Evangelical Cathedral and climb the tower
Admire the Holy Trinity Cathedral
Cross the Liar's Bridge
Explore the upper and lower town
Stare back at the houses with eyes
Bruges, Belgium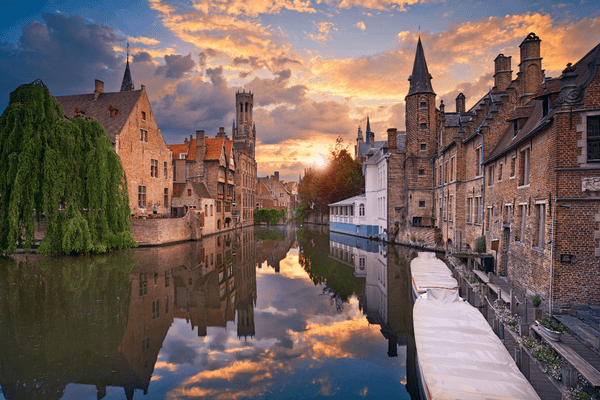 Nope, one town in Belgium wasn't enough. We're taking you to another medieval town: Bruges!
With beautiful squares surrounded by gingerbread houses and cobbled alleys running alongside pretty canals, Bruges is a city adored by many people. That's why it's heavily crowded from March til October. A good reason to visit this town in the winter months!
And what makes this city so unique is the fact that there are pipelines underneath the city, where Bruges beer flows through non-stop.
The glorious medieval town of Bruges should – no doubt – be on your bucket list!
Things to do in Bruges:
Be amazed by the Basilica of the Holy Blood
Discover dark secrets in the Torture Museum
Climb the Belfry tower
Get on a canal cruise
Explore the old town by foot
Visit the Bruges Markt
Torun, Poland
In the middle of Poland, You'll find the charming city of Torun. With its medieval architecture, baroque-style churches, and its deep history, this town is one that simply has to be on your bucket list.
This well-preserved medieval town is filled with the most incredible sights, from the most picturesque squares to wonderful churches. Torun has it all!
Things to do in Torun:
Visit the massive Old Town Hall and climb its tower
Wander around the old town
Admire Torun Cathedral
Be blown away by the Live Gingerbread Museum
Discover the Teutonic Castle Ruins
Be amazed by the House Under the Stars
Bamberg, Germany
Okay, it's starting to look like half of this post is made up of German towns. But that's just because Germany has so many of them, like the medieval town of Bamberg!
The town's wonderfully preserved historic downtown area, along with its abundance of medieval architecture, is now even a UNESCO World Heritage Site!
You could get lost for a day or two in the absolute beauty of Bamberg. With its interesting museums, tremendous views, and unique medieval architecture, Bamberg will steal your heart.
Things to do in Bamberg:
Visit the Bamberg Cathedral
Explore the old town
Discover the Old Court
Take photos of Altes Rathaus
Enjoy the Views from Michelsberg Monastery
Be amazed by Altenburg Castle
Sighișoara, Romania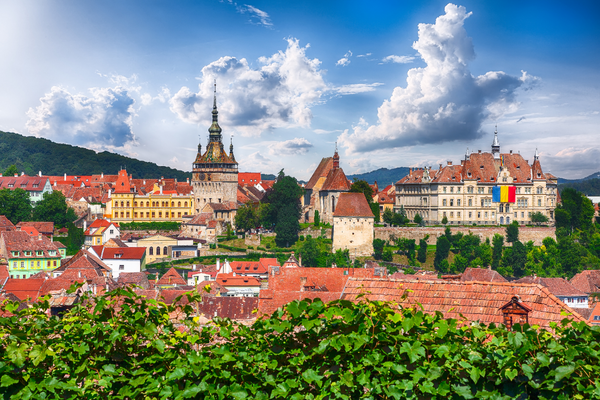 Sibiu isn't the only hidden medieval town in Romania. Sighișoara is a city on the Târnava Mare River in Mureș County, in the historic area of Transylvania.
Surrounded by rolling green hills and filled with joy. And with streets of colorfully painted houses watched by nine towers, the UNESCO World Heritage city of Sighisoara is more than worth a visit!
Things to do in Sighisoara:
Explore the old Citadel
Take some photos of the Clocktower
Climb the Covered Staircase to the upper town
Visit the Monastery Church
Wander through both the old and the new town
Be blown away by the Holy Trinity Church's beauty
Pitigliano, Italy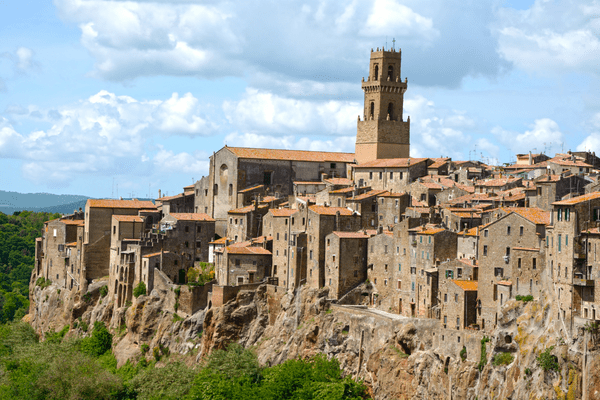 Also called ''the town carved into the stone'', is Pitigliano. This town looks like it has come from the mind of a fairytale writer. Situated on a high tuff rock, this town towers majestically over the green valleys of Maremma.
The remarkable sights of this medieval town are ones you'll only find here. Nowhere else in the world will you find something as unique as Pitigliano.
Pitigliano might be one of the best towns in Tuscany, but quite underrated. Or at least not yet discovered by most tourists. So now's your chance to visit before the crowds get there!
Things to do in Pitigliano:
Admire the old town walls
Fall in love with the historic town
Enjoy the view from Fontana Delle Sette Cannelle
Explore ancient walkways and Etruscan tombs
Visit Museo di Palazzo Orsini
Take a stroll through the Old Town Alleys
Rocamadour, France
Near the eastern border of the Dordogne, you will find the most charming town: Rocamadour. It's a town perched high on a rocky plateau overlooking the Alzou Valley.
This town dates back to prehistoric towns, but due to the first church being built here in the 12th century, it's a medieval town.
And wow, what a town it is! It's like walking right into a Game of Thrones scene!
Things to do in Rocamadour:
Wander through the old town
Climb the Grand Staircase
Admire the Sanctuaire
Take some photos of Basilique St-Sauveur
Walk around the Ramparts
Visit the Notre-Dame Chapel
Cochem, Germany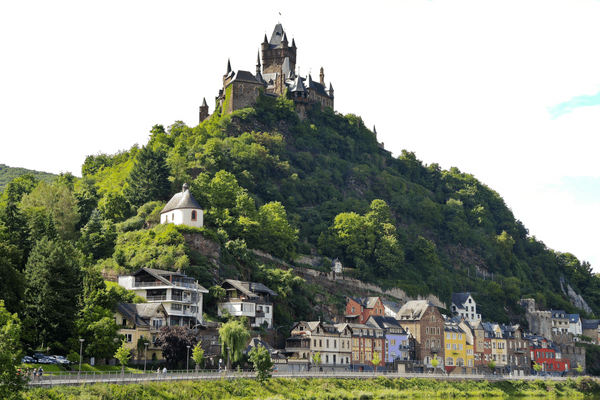 Yep, there's Germany again.
Hidden in the Mosel Valley, lined by the Mosel River, you'll find the loveliest town of Cochem. Cochem is a dreamy old town with the most magical castle on the hill. Surrounded by rolling green hills and vineyards, Cochem will take your breath away!
There are enough activities in Cochem, to fill up an entire weekend! And seeing that Cochem lies between the Eifel and Hunsrück ranges, you may get a refreshing taste of nature as well!
Things to do in Cochem:
Feel like a king in Reichsburg Cochem
Stroll through the magical old town
Take a Mosel River cruise
Sip some local Riesling at market square
Take a ride on the Cochemer Sesselbahn
Walk along the flower-lined houses of the Mosel Promenade
Tallinn, Estonia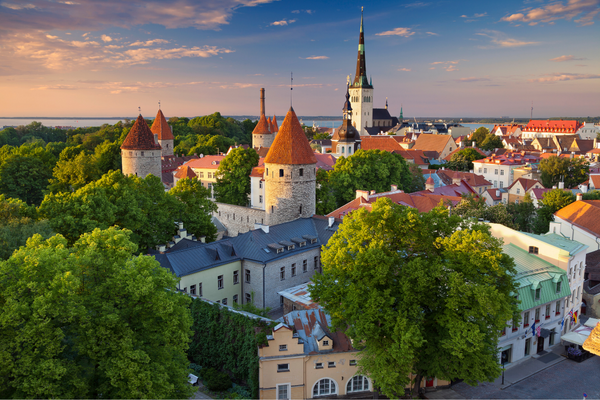 Now we're traveling to a whole other side of Europe, one that'll steal your heart.
Tallinn is a town with a certain charm that's entirely different from the ones you've already seen. With surprises around every corner, Tallinn bursts with charm like no other European city.
This medieval town is filled with historic architecture, sky-scraping church bell towers, and winding cobblestone streets. This medieval town will cause you to drop your mouth in awe!
Things to do in Tallinn:
Check out the view from Kohtuotsa Viewing Platform
Visit Alexander Nevsky Cathedral
Wander through the historic town
Stroll through Kadriorg Park
Admire St. Olaf's Church
Visit Toompea Castle
Motovun, Croatia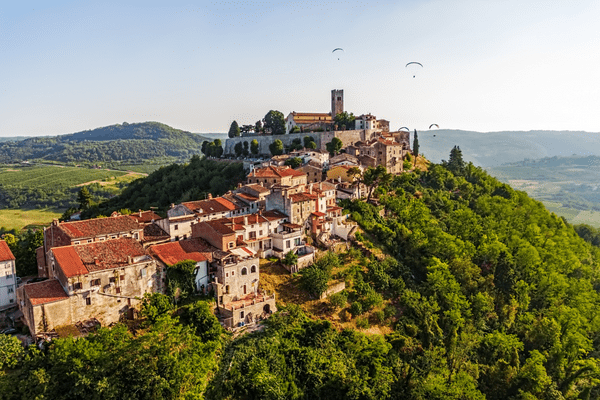 Behold the prettiest hilltop in all of Croatia! Motovun is a charming fairytale-like town you simply have to see!
This captivating walled town is a most interesting hidden gem in Istria. Motovun is filled with medieval structures, interesting history, wonderful culture, and more!
And as if that's not enough, this province of Croatia is known for its wine, truffles, and other exceptional food. Motovun is the perfect medieval town for everyone!
Things to do in Motovun:
Visit The Church of St. Stephen
Admire the Motovun Belltower
Take a look at the city walls
Walk through the interesting old town
Go on a truffle hunting tour or wine tour
Cross the Motovun Parenzana tunnel
Besalu, Spain
For the last medieval town on this list, we're traveling back to Spain. Besalú is one of the most beautifully preserved medieval villages in the Catalonia region of Spain.
Besalu is a real maze build up of narrow, cobbled alleys and amazing buildings. With a stunning old bridge leading to the city and an old town that'll leave you in awe, this town will get a special place in your heart.
However, Besalu is a popular day trip destination from Girona and Barcelona, so there can be crowds.
Things to do in Besalu:
Reach the old town by walking across the wondrous medieval Besalu Bridge
Admire The Sant Pere Monastery
Visit The church of Sant Vicente de Besalu
Take a stroll along The Casa Llaudes
Hike toward Sagrat Cor Chapel
Visit the quirky Museum of Miniatures and Microminiatures
Final thoughts on medieval towns in Europe
Are you ready for your historical trip to Europe? You now know about the best towns to visit, so what are you waiting for? Book your trip now!
Which town would you like to visit most? Let me know in the comments below!
Related posts
18 Underrated Medieval towns in Europe to Visit This Year!