The best wild camping tent for you.
Wild camping is one of the most freeing and refreshing things you can do. You'll connect to nature and find yourself. But you will need a tent. And I'm here to tell you which one is the best wild camping tent for you.
Disclosure: This post may contain affiliate links, which means that if you purchase through one of the product links, we'll receive a small commission at no cost to you. We only promote products and services we 100% believe in. Thank you so much for supporting us! Read more about it in our disclosure policy.
What is wild camping?
Wild camping is a way of camping that's free. You won't have any facilities like toilets or showers, you'll need to find creative alternatives.
In my opinion, wild camping is a wonderful (and almost therapeutic) way to really connect to nature. To just leave your life behind for a few days or weeks and go back to basics. Wild camping is a challenging way to develop yourself and become more self-reliant.
However, wild camping isn't allowed in many places. In Europe, you can go wild camping in Scandinavia, but in other European countries, it's a bit of a grey area. Some countries have strict rules when it comes to wild camping and others simply don't.
So you need to do your research on where wild camping is allowed before going on your trip.
And then, there are some rules for wild camping itself, because you are to leave the place behind the way you found it. You can't leave a mess.
Read about everything you need to know in this Norway wild camping guide. It's not just about Norway and has a lot of great tips you can use.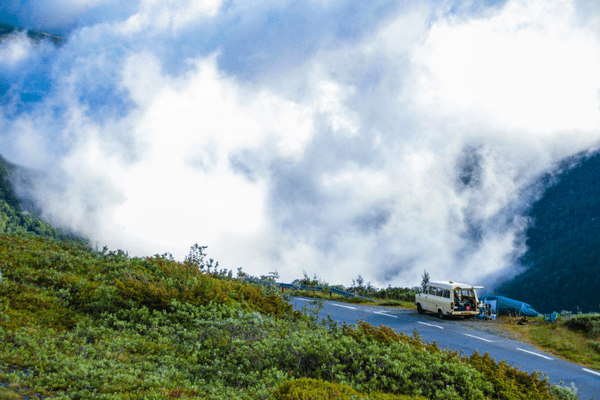 Why choose wild camping?
Why not just go to paid campings with facilities? And why should you go wild camping?
Easy.
It gives you freedom. Freedom to go wherever you like and do whatever you want. Freedom in your mind and soul.
And it's free, which is a huge benefit as well. (Duh)
And of course, everything I told you above, about connecting to nature and developing yourself.
There's no way to explain why you should go wild camping. Some people just love to take the adventurous path and others are disgusted by the idea of sleeping in nature. And there's no way you can change that.
I can't tell you to go wild camping, because it's simply not for everyone. You need to want to go wild camping. But I'm guessing you already want it, seeing you're looking for the best wild camping tent to take with you.
So with no further ado, here's the best wild camping tent for you!
I have found from my own experience, that the Jack Wolfskin Lighthouse II Rt is the best wild camping tent. It's easy, fast, amazing quality, and more!
Disclaimer: This is not a sponsored post. I do not work with Jack Wolfskin and they have not asked me to write this post. I am an affiliate of their company but that doesn't change my opinion. Everything I'm telling you is my honest opinion.
The Lighthouse II Rt tent
Specifications:
Kind of tent: trekking tent with tunnel design
Persons: 2 (but also available in 3)
Material: 100% Polyamide
Entrances: 2
PVC free
Lightweight: Only 3200 grams
Weather resistant
This tunnel tent was one I bought without doing much research beforehand. I knew about the company and how I love it and just bought the first tent I saw on sale.
And I never knew how glad I would be for buying this specific tent.
We took this tent to Norway and even in the harshest weather, it didn't budge. Even when our friends' tent almost flew away, ours didn't move an inch.
The ease of this tent
Pitching this tent is also super easy. It comes with a handy manual that tells you exactly how to set it up. Yes, it needs a little bit of practice, but once you know exactly how it works, you'll be able to set it up in less than 5 minutes! We even did it in 3 minutes once.
And then taking it down is just as easy and fast. It'll save you so much time!
The tent has some vents on the floor and roof, to keep the air fresh, so you won't be breathing the same air over and over again.
And I must say, this tent is rather luxurious. I know, it's a lightweight trekking tent, you probably don't expect too much of it, and that's why this tent goes beyond your expectations.
It's super spacious, there's room for 2 wide sleeping mats and in the front, there's a lot of space for your stuff and equipment. You can even cook in your tent (there's a vent) when it's raining outside. I mean, that's ideal, right? Right?!!
And another huge benefit (especially for me), is that the wire for the guylines is reflective. I ALWAYS trip over the guylines of tents, but with this tent, it happened a lot less. And if you're clumsy like me, this is a huge benefit and it'll save you some bruises and wounds.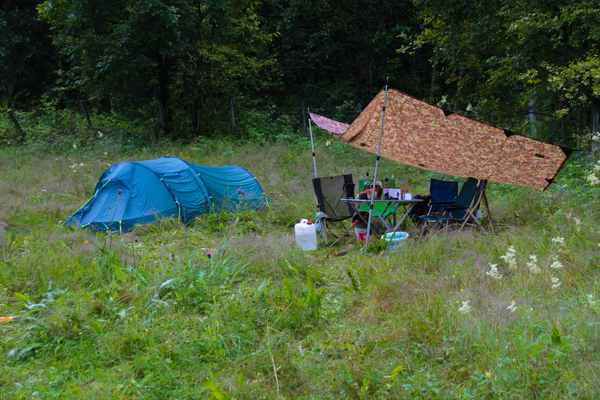 Benefits of this tent
So, to clarify why you should buy this tent, here's a list of the benefits:
Lightweight and small
Weather resistant
Fresh air inside
Option to cook inside
Super spacious
Easy to pitch and take it down
A floor saver you can attach to the tent
2 entrances
Reflective guy lines
High-quality and durable
Should last years with the proper care
The price of this tent
And now you might wonder: this tent sounds perfect! But how much does it cost?
The price of this Jack Wolfskin tent is €899,95 euros + €29,95 for the Floorsaver Lighthouse II Rt.
And you will need this floor saver, to, you know, save the floor of your tent. This way your tent will last much longer.
I know, it's a bit of a high price, but you have to remember, you're paying for quality. This tent may last you years, maybe even a lifetime! I think it's better to pay a bit more for quality than having to buy a new tent every 3 years.
And I bought it at a discount from a different store (a Dutch store called Bever), for only €349, 95 euros.
Budget option tent
Although the lighthouse tent is in my opinion the best wild camping tent, Jack Wolfskin offers more tents for more affordable prices. You'll have less luxury and they may be a bit less weather resistant, but you'll still have an incredible wild camping tent!
There are 2 budget options I would recommend.
The first is the Exolight II tent. This tent is also a lightweight trekking tent for 2 people. This tent is also available for 1 or 3 people.
The Exolight II costs €699,95 + €29,95 for the floorsaver Exolight II
And if this is still out of your budget, the Eclipse II tent is definitely for you! This tent looks a lot like the Exolight, but it's made of a different material. This is why this tent is a bit bulkier to carry around and it's twice the weight of the Exolight.
The Eclipse II tent costs €239.95 euros.
Both these tents are dome tents, and I do have experience with them. And in my opinion, these tents are easy, but not as easy as a tunnel tent. However, many people prefer a come tent for it's beneficial features, so getting a dome tent is the second-best option!
About Jack Wolfskin
Jack wolfskin is a German company that has grown to 500 stores in the last 40 years. These stores are only in Europe and Asia.
How Jack Wolfskin describes their company:
''Our mission is to motivate people to go outside and connect with nature, experience new things, and enjoy life outdoors with family and friends. We offer exceptional products that unite functionality, sustainability, and on-trend design so that you can feel at home outdoors!''
The reason I bought this tent in the first place is simply that I love this company, they're genuine and offer the best quality. When I saw this tent on sale, I immediately bought it.
Final thoughts on the best wild camping tent
I hope to have given you some insight into the best wild camping tent and why you should buy it.
I'm extremely curious about what wild camping is to you. Please let me know in the comments below!
Related posts