The best things to do and see in Ghent in only one day.
Ghent has quickly become a popular place for taking a day trip in the last few years. Most people take a Ghent day trip from Brussels or Antwerp. But is one day enough to see all of Ghent and which places do you need to focus on?
You will find all the answers below!
Disclosure: This post may contain affiliate links, which means that if you purchase through one of the product links, we'll receive a small commission at no cost to you. We only promote products and services we 100% believe in. Thank you so much for supporting us! Read more about it in our disclosure policy.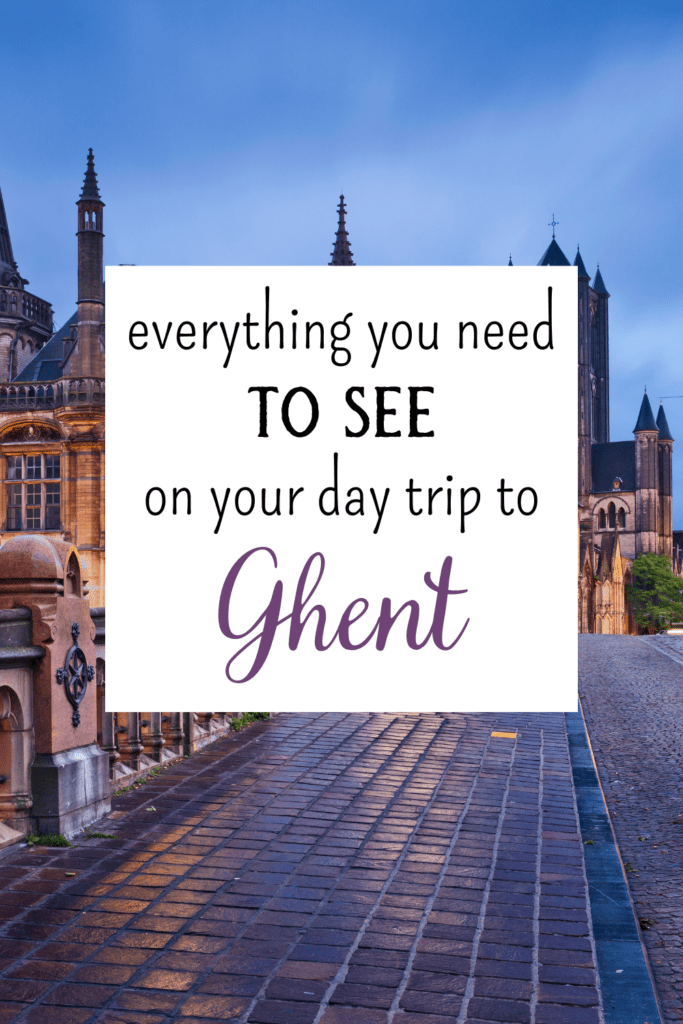 About Ghent
Ghent is the third largest city of Belgium and the capital city of east Flanders. Ghent has a long history, dating back to even the stone age. But from the 11th century, Ghent became a city; by the 13th century, it was one of the biggest European cities north of the Alps!
Much of Ghent's medieval architecture is still intact and remarkably well-preserved. Ghent is simply a must-see for every history and/or architecture lover.
And with some fine museums, Belgian delicacies, and many activities, Ghent is a fun city for everyone!
Is a day trip to Ghent worth it?
YES! A thousand times yes! As I've told you above, Ghent is a very well-preserved old city. You won't be able to find anything like it elsewhere.
Most people visiting Ghent are blown away by its beauty. People often refer to Ghent as ''Hogwarts-like'' or a ''fairytale town''.
So yes, I'd pretty much say that Ghent is worth visiting. I visited myself in the beginning of 2023 and I love every bit of it!
Best time to visit Ghent on a day trip
Ghent is a perfect city to visit all year round. In spring everything will be in bloom, in summer you'll simply have the best weather, in autumn this city will have amazing "gothic vibes" and in winter it won't be crowded.
I'm dying to visit Ghent sometime in the fall because I think it's the best time to visit this particular city.
The last time I visited was in January and I loved the fact that it wasn't crowded at all; not many people go here in winter.
CityCard Ghent
Of course, this post is all about a day trip to Ghent. However, if you choose to stay for 2 days and do some sightseeing, you could save some money by getting a CityCard Ghent. You can only get a CityCard for 48 hours (€38) or 72 hours (€44).
With this CityCard, you can do many activities with a huge discount or for free. This includes museums, churches, castles, and more!
You also have access to all trams and buses in Ghent, one guided canal tour, free bicycle rental for one day, and the Ghent hop-on/hop-off water tram for one day.
But only buy a CityCard if you're visiting for more than one day, otherwise, it won't be worth it.
Ghent day trip
Going on a day trip to Ghent is a popular option among people already visiting Brussels, Antwerp, or Bruges. But how will you get to Ghent?
Public transport to Ghent
It's incredibly easy to visit Ghent with public transport. By train, Ghent is only:
30 minutes from Brussels
1 hour from Antwerp
25 minutes from Bruges
You can already buy your train ticket in advance from Trainline. A ticket will cost you between €9 – €20 euros.
You can also visit Ghent from these cities by bus. Taking a Flixbus may cost you even less and it can take you as much time as taking a train.
A Flixbus ticket will cost you between €4 – €15 euros.
The price depends on the place you're traveling from and the timetables.
Trainline will show you the cheapest tickets and it'll show you Flixbus tickets and times.
By car
Ghent is also easily reachable by car. The driving times won't be longer than the train times unless you run into a traffic jam.
Ghent is filled with parking lots, so finding a place to park your car won't be hard. Parking lots and garages in the city will cost you some euros, but it's quite reasonably priced.
You can also park your car for free at a P+R and take the bus or walk to the city center.
We parked our van at P+R Muide and only had to walk half an hour to the city center.
Things to do in Ghent on your day trip
Now that you know how to get to the city, it's time to make your small itinerary. I can imagine one day in this city may not feel like it's enough, but believe me, it is. As long as you know which places to visit and how to get there.
Note: Prices and opening times are as of January 2023.
Take some photos at the St. Michael's Bridge (Sint-Michielsbrug)
The best-known place in Ghent is Saint Michael's Bridge. This bridge will grant you one of the most picturesque sights of the city. This bridge is simply a must-see and an amazing place to take photos of the city!
Cost: Free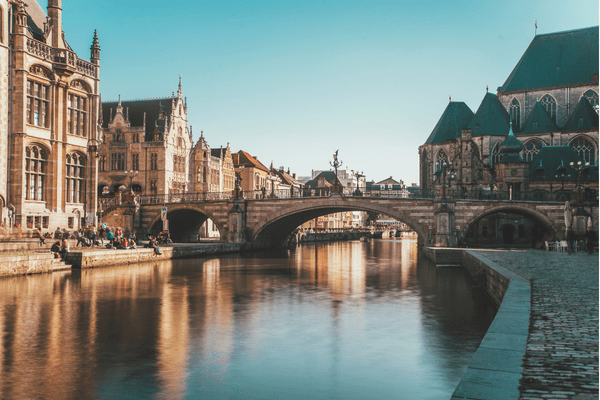 Admire the St. Michael's Church (Sint-Michielskerk)
Next to the bridge, you will notice a beautiful church: St. Michael's Church. This church is one with a bit of history. She was built in the 12th century and has been burned and restored twice.
The tower of this church was supposed to be 134 meters high, but due to financial problems, this tower was never finished. Now it has a flat roof and it's only 24 meters high.
This church is free to visit and from April to September it's open on most days from 2 pm to 5 pm. If you get the chance, do take a look inside, it's absolutely worth it!
Cost: Free
Be amazed by Graslei and Korenlei
You will – no doubt – stroll down Graslei and Korenlei on your day trip. From the Sint-Michielsbrug you can take the stairs down and just admire this place. Maybe sit down for a bit, catch your breath, eat a Belgian waffle, and enjoy the beautiful scenery!
Cost: Free
Visit the St. Nicholas' Church (Sint-Niklaaskerk)
Another church you should definitely visit is Saint Nicholas' Church. This 13th-century Scheldt-Gothic church has some beautiful stained glass windows and such a breathtaking interior!
If this church happens to be open when you're visiting, I'd say go for it and take a look inside!
Cost: Free
Climb the Belfry Tower
Every day from 10 am to 6 pm, you get the chance to admire Ghents' beauty from a higher point. Climbing the Belfry tower will grant you the most beautiful view of the entire city and beyond!
Okay, it's not really climbing, there's an elevator that will take you to the top.
But still, you should definitely do this! This tower is also a museum that will give you a bit of interesting history.
Cost: €10,- euros and there may be a discount you can benefit from.
Check out the prices and discounts here.
Take a look at Ghent Town Hall
So you're simply walking through town and suddenly you bump into this massive building. That's when you've found the town hall. This huge landmark is made up of 51 buildings with several prominent architectural styles.
You can only enter this building on a guided tour, and it's hard to find how to book this tour. But still, this building is interesting to admire from the outside.
Cost: Unknown
Admire the Saint Bavo's Cathedral
Yep, there is yet another church. And it's huge.
This 10th-century Romanesque cathedral is another must-see in Ghent. This cathedral is filled with interesting history, wonderful architecture, beautiful stained glass, and the Ghent Altarpiece; Adoration of the Mystic Lamb.
This church is free to visit, but if you want to see the altarpiece, it'll set you back €12,50.
Opening hours are 8:30 am to 5 pm daily.
Cost: Free, but €12,50 for the altarpiece.
Related: A Thorough Guide for Where to Stay in Ghent in 2023!
Discover life at medieval Ghent at castle Gravensteen
Castle Gravensteen is situated in the middle of the city and it's impressive. This castle was built in 1180 and is preserved incredibly well.
You can visit this castle daily from 10 am to 6 pm, and on Friday, Saturday and Sunday, it'll be open until 10 pm.
Once inside you can follow a wonderful audio tour, to really learn about this place. You will be taken through the Arms Museum and the Museum of Judicial Objects. And eventually, you will make it up to the rooftop and enjoy a 360° view of the city.
And in winter, you can enjoy a delicious Belgian beer in the pop-up Winterbar.
Cost: €12,- euros and there may be a discount you can benefit from.
Check out the prices and discounts here.
Explore St. Bavo's Abbey (Sint-Baafsabdij)
This is more of a hidden gem in Ghent. Saint Bavo's Abbey dates back to the 7th century and the 11th century was her most ''glorious'' time. But it was torn down during the revolt of Ghent in 1539.
However, the ruins are still standing and more alive than ever!
You can walk through the entire ruins. It's not always open in order to preserve the ruins well and you can't know for sure if it'll be opened when you're visiting. So just go there and check it out.
Cost: Donation
Go shopping in Patershol
Patershol is a little neighborhood that hasn't been touched since medieval times. In this neighborhood, there are several restaurants and boutique shops. Going shopping here is quite unique, it'll feel like you're walking through a storybook!
Cost: Free
Have a drink at Vrijdagmarkt
Traditionally, there's a market every single Friday on this square, and there always has been since the 12th century! Surrounded by beautiful buildings, Vrijdagmarkt is definitely worth taking a peek at.
And beware…
There's a hidden gem on this square.
It's a cafe called ''De Dulle Griet'' and in this café, you can literally trade your shoe for beer. Because to drink the house beer, you will need to trade your shoe. Your shoe will be lifted to the ceiling in a small basket and you'll only get it back after drinking the entire beer and returning the glass in one piece.
And even if you don't want to give them your shoe, this café has over 500 Belgian beers to choose from, so there must be something for you!
Cost: Free to visit the Vrijdagmarkt
Get on a boat!
Ghent is one of the best cities to explore from the water! Going on a canal cruise may be one of the best things you can do in Ghent.
The captain of the boat will tell you all about Ghent and show you the most beautiful sights.
And all you have to do is purchase your ticket and get on the next boat!
Cost: €7,50 approx.
Or go kayaking, for that matter
Not one for tours or canal cruises? I can understand that, it's not my favorite way of exploring as well. So go onto the water yourself!
At Kajaks Korenlei you can rent a 2-person kayak for only €36,- euros. And then you'll be able to explore the city from the water for 3 hours!
So if you're there on a warm sunny day, go for it!
Cost: €23 – €36 euros
Note: You can get a 10% discount if you're staying at Hostel Uppelink.
Graffiti Street
A notable little alley in Ghent is Graffiti Street. The name already gives it away; this street is filled with graffiti. It's hidden away and can be hard to spot if you don't know of its existence.
It's nothing more than a fun street to walk through and take in the art on the walls.
Cost: Free
Final thoughts on Ghent day trip
As you can see, there are many activities in Ghent to fill an entire day! And the best of it is that most of these activities are free.
With these things to do in Ghent, you will get the best experience of the city!
Which place are you excited about visiting? Let me know in the comments below!
Related posts
The Absolute Best Things to Do in Ghent on a Day Trip