The best things to do in Rothenburg ob der Tauber, Germany.
Rothenburg ob der Tauber is by far the most enchanting city in Bavaria, Germany. Rothenburg is a walled medieval town filled with the most scenic streets, impressive towers, and many historic sites. It is renowned for its well-preserved medieval architecture and charming old-world atmosphere, making it a popular destination for tourists.
Keep reading to find out what are the best things to do in Rothenburg!
Disclosure: This post may contain affiliate links, which means that if you purchase through one of the product links, we'll receive a small commission at no cost to you. We only promote products and services we 100% believe in. Thank you so much for supporting us! Read more about it in our disclosure policy.
About Rothenburg ob der Tauber
Rothenburg ob der Tauber is a town that dates back to the 13th century. It's is a medieval walled town, with a defensive system that consists of over 40 towers.
Rothenburg is a very popular town amongst tourists, and no wonder why! This town has everything you weren't looking for but you need! A visit to Rothenburg is like a visit back to medieval times. You will feel like you're taken back in history to learn how everything was like back then.
The town's beauty and cultural heritage make it a must-visit destination for those interested in history, architecture, and quaint medieval settings.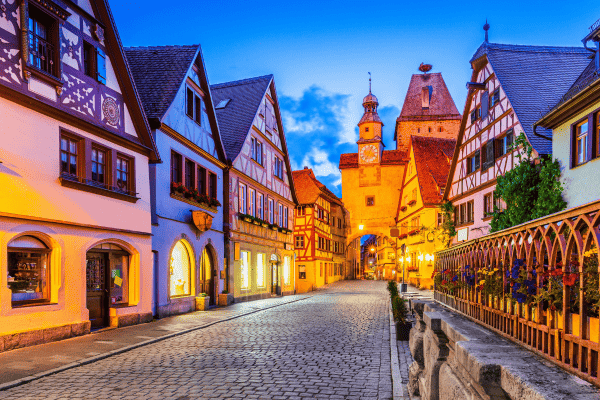 Romantic road Germany
Rothenburg ob der Tauber is actually so impressive, it has rightfully earned its place on the romantic road!
The romantic road (romantische strasse) in Germany is a road that starts in Würzburg and ends in Fussen.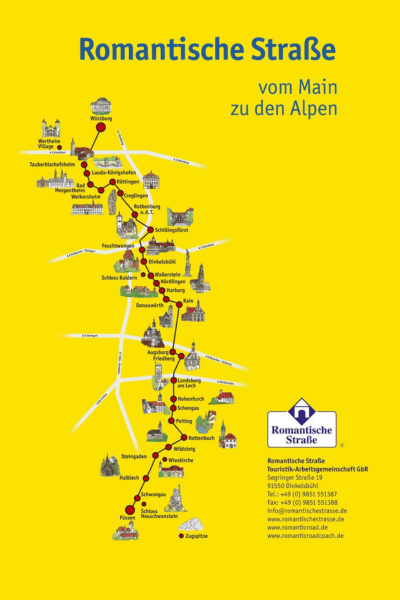 It'll take you through the most romantic, picturesque towns along the way, and it's the perfect way to see many highlights in Bavaria. But it also takes you to the lesser known destinations, so if you're looking for some calm and peace on your trip, the romantic road is for you!
We drove the romantic road in September 2023, and it was so quiet in most places, I loved it! However in some of the bigger, more popular cities, there were still many tourists, but it wasn't overcrowded.
Visiting Rothenburg from München, Nuremberg or Frankfurt
Rothenburg ob der Tauber is a very popular day trip destination, and it's quite easy to reach from big cities like München, Nuremberg or Frankfurt.
If you choose to take a day trip to Rothenburg from one of these big cities, be warned, you might not want to go back to the big city. You'll be taken back in time, living in a fairytale. Rothenburg will steal your heart away!
Click here to find all the best AND cheapest day trips to Rothenburg ob der Tauber!
If you choose to visit by car, it's a very easy (and scenic) way. Make sure to park your car at P5 – Bezoldweg. You will almost always find a place in this parking lot, and the price is only €5,50 per day!
How long to visit Rothenburg ob der Tauber ?
Rothenburg is not a small town, but not that big either. You can explore the entire town by foot and may be able to see every highlight in only 1 day (I managed to do so).
However, I recommend staying here for 2 full days, to really take in the magical vibes. Rothenburg is a perfect destination for a romantic getaway, with many romantic places to stay, this trip is a must for you and your loved one!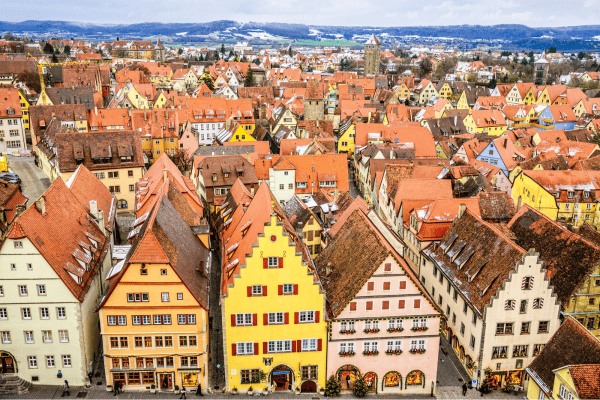 Best things to do in Rothenburg ob der Tauber
Rothenburg is very famous for its Plönlein, many people go here, make a little walk through the old town and leave again. But this is such a shame, because Rothenburg has so many more things to see!
So read all the way to the end of this post to find all the best things to do in Rothenburg ob der Tauber!
Wander through the magical old town
The magical old town of Rothenburg is the central point where you will start your journey into the past. Once you make it to the beautiful old streets and small alleys, you'll feel like taken back in time! There are many things you can do in the old town, like:
Shopping for toys in the many toy stores (TeddyLand is THE place to be)
Follow a guided walking tour
Wander through the alleys and explore places most people don't know of
Have a delicious cold beer in one of the best beer gardens (Paula's Biergarten, Zum Schwan)
All in all, the old town in Rothenburg ob der Tauber will make you feel like you're in a fairytale!
Snap a photo of Plönlein
When walking into the old town, I spotten Plönlein instantly (from across town). I couldn't wait to go there, because it's the most photographed spot in the entire city!
I mean, can you honestly tell me that you've never seen a picture of this place before? (comment down below, I'm positively interested if you've seen this picture before!)
Plönlein is a basically just a scenic intersection in the old town. However it has all the Disney vibes one could possibly want! Plönlein makes me think of Beauty and the Beast or Pinocchio.
You simply have to snap a photo of Plönlein, when in Rothenburg!
Have a drink at the Marktplatz (and watch the clock chime!)
A place that's not so hard to locate (and recognize) as well, is the Marktplatz (market square). The marketsquare is surrounded by the Rathaus (town hall), Ratstrinkstube clock tower, and many colorful shops. There are several terraces where you can sit down and enjoy a refreshing drink.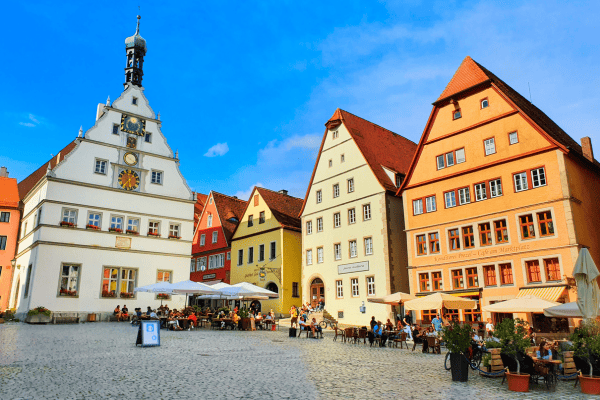 The Marktplatz can get quite crowded throughout the afternoon. I recommend (for the photographers among us), to come here early in the morning or around twilight. Most day tourists won't be there at these times, so you'll have a mostly empty square!
Climb the Rathausturm
The Rathaus at the marketsquare, also has it's very own tower, of 61 meters (200 feet) height. For a small fee of just €2,50 you can get one of the best views in Rothenburg! You only have to pay at the top, so if you can't make it to the top, you don't have to pay.
The opening hours of the tower can differ a lot, this is the most information about it I could find:
January, February, March, and November: Saturday and Sunday from noon – 3pm
From April to October the tower is open every day from 9:30am – 12:30pm and 1pm – 5pm.
During the Christmas market it's open every day from 11am – 6pm (and until 7pm on Fri, Sat, and Sun)
Unfortunately when I was in Rothenburg, the tower was closed for renovations☹. I would like to visit again though, and finally climb it!
You should definitely (at least try to) climb to the top of the Rathausturm!
Take the Night Watchman Tour
At night the city you have seen on the day will transform into this dark-side-of-the-story chapter. The streets will go dark and quiet and actual story figures will come to life!
By that I mean the Night Watchman!
On most nights, you can follow the Night Watchman Tour. In this tour the watchman will take you through the town and tell you about the dark stories that are hidden on the day.
You can follow the Night Watchman tour every day of the week, from April 1st to December 30th (only exception is December 24th). The English tour always start at 8 pm and the German tour starts at 9:30 pm.
To join a tour, all you have to do is go to the meeting point on the Marktplatz, in front of the Rathaus, at the right time. The tour fee is €9,- for adults, €4,50 for students, and free for children under 12.
The Night Watchman Tour is a very interesting, funny, and unique experience! If you're staying the night in Rothenburg, I absolutely recommend following this tour!
Walk the city walls
Rothenburg ob der Tauber is a city fortified by very strong walls. Rothenburg is only one of 3 cities in Germany that still has perfectly intact city walls!
And you can walk these walls for free!
Walking the city walls is a perfect way to explore hidden gems in the city, and find some of the best views!
The walls are always open to visit and completely free. You do need to watch your head (especially tall people), and keep in mind that the path can be uneven, so pay attention!
I'd say, when you're in Rothenburg, take this unique opportunity to walk the city walls, and explore its secrets!
Visit a museum
Another thing Rothenburg doesn't have shortage of is museums. You will find some very interesting and unusual museums in Rothenburg. Let me take you through them.
Rothenburg Museum
The Rothenburg Museum is located in a 13th century Dominican convent, with Gothic cloisters and the original convent kitchen inside. In this museum you will find many historic items, like weapons and armor, coins, historic clothes, art, and so much more!
This museum is worth checking out, with a fee of just €5,- per adult, it's worth visiting!
Mittelalterliches Kriminalmuseum (Medieval Crime and Justice Museum)
This museum is a very special one. It's not just another torture museum, that you'll find throughout all of Europe. But the Medieval Crime and Justice Museum is so much more!
Inside the museum you will find exhibits filled with the most fascinating torture instruments and you will learn a lot about Medieval and Renaissance trials, and methods of torture and punishment. There are so many devices and instruments in this museum, all with complete information.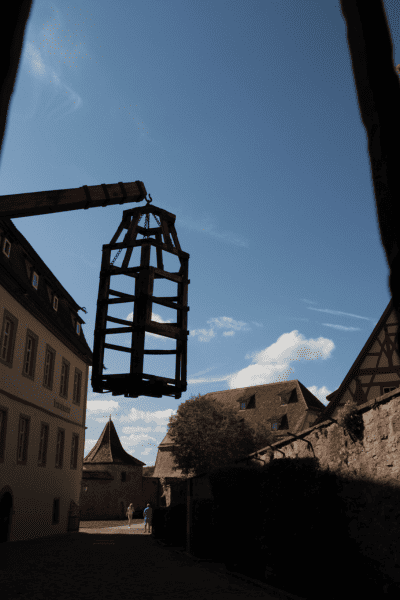 The museum is suitable to visit with kids, however, you may want to wait until your kids are a bit older. An adult ticket costs €9,-.
A visit to Rothenburg ob der Tauber wouldn't be complete without learning about its dark parts of history. If you only have time for visiting one museum in Rothenburg, this has to be the one!
Deutches Weihnachtsmuseum (Christmas Museum)
Are you a person who can listen to Christmas music in summer? Are you looking up Christmas recipes in autumn? Then this museum is for you!
(ps. If you are like this, I can't trust you).
The Christmas museum makes sure you can experience Christmas all year long! This museum will take you through the history of Christmas and it's many traditions. You will learn about how the traditions and decorations have evolved throughout the years, as well.
The German Christmas Museum will warm you up inside and give you (early) holiday jitters. It's very inexpensive to visit at €5,- per adult and a very fun experience for families!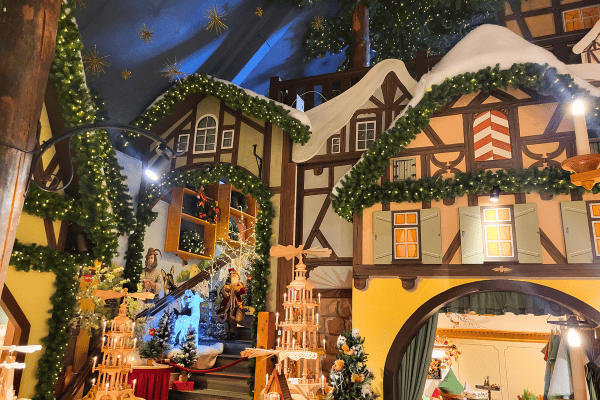 There is also a very big Christmas shop by the museum, which is completely free to visit. Even if you're not visiting the museum, you should stop by the shop!
Step inside the Jakobskirche (St. James Church)
The largest building in Rothenburg ob der Tauber is the Jakobskirche. The build of this fascinating church started in the 14th century and was finished in the 15th century, after taking 170 years to complete!
The Jakobskirche is home to the impressive 16th century wooden ''Heilug Blud Altar'' (Holy Blood Altar) by Tilman Riemenschneider. This carving is a masterpiece that will certainly blow your mind!
There's a fee of €2,50 per person. To see the altarpiece it's worth the fee, but the rest of the church is not that interesting, in my opinion.
Related: 18 Underrated Medieval towns in Europe to Visit This Year!
Take a break in the Burggarten (castle garden)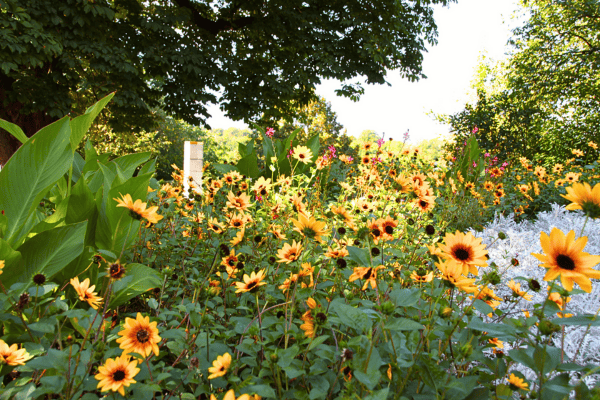 Whenever you get tired of the tourists and the city noises, there are several places to turn to, like the Burggarten!
All you have to do is locate the tall Burgtor and walk through the gates, to enter the garden. Once there, it will still feel like moving through a fairytale, only without the crowds.
In the Burggarten you'll find many sorts of flowers, a few mesmerizing viewpoints, a broccoli fountain (yes, there really is), and a small chapel.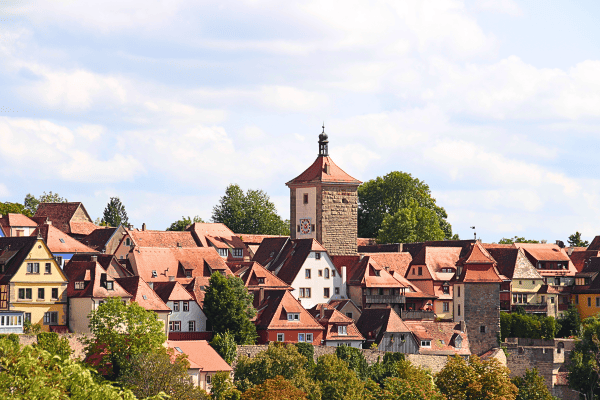 The Burggarten is free to visit and there are many benches to relax on, or your can go lie in the grass for ultimate relaxation (I highly recommend doing this). So make sure to check this out!
Visit the enchanting towers!
Rothenburg is well known for its many beautiful towers! You will already find most of them, just walking through the old town, and visiting the places on this list. I've listed the most important towers below!
Markusturm
This is a very nice tower close to the Markplatz. The Markusturm is 27 meters high and very fascinating!
Röderturm & tor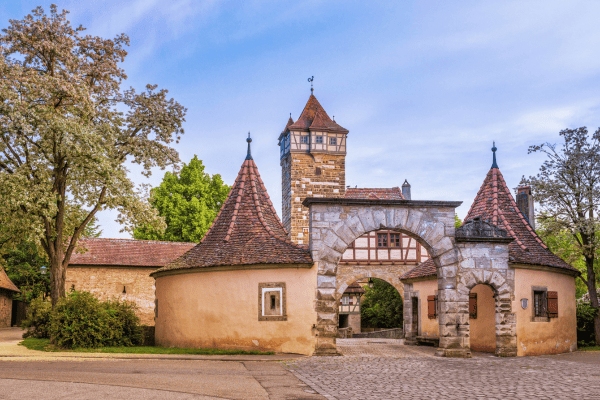 After walking underneath the Markusturm, keep walking straight to find the Röderturm and the Röderbastei (gate). If you're lucky, you can climb the tower for only €2,- and get some pretty cool views over Rothenburg.
Siebersturm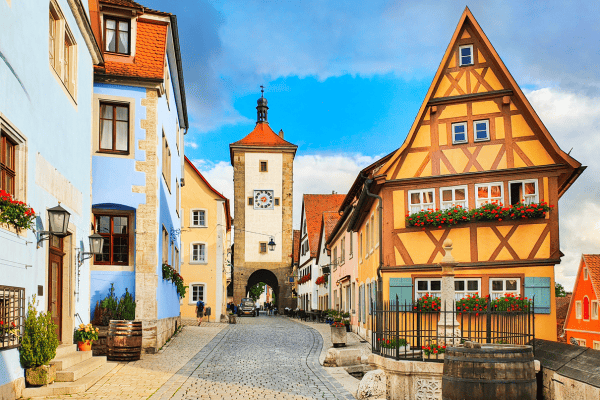 This is the tower left of the yellow house on Plönlein. The Siebersturm looks like it's straight out of a fairytale, and you can't possibly miss this spot!
Spitalturm & Bastion
To get to this tower, all you have to do is walk through the Siebersturm from Plönlein, and just walk to the end. Spitalturm and Bastion are much worth visiting, so don't skip this!
Stöberleinsturm
Another tower that looks as if straight from Sleeping Beauty, is the Stöberleinsturm. It's a bit on the outskirts of Rothenburg, near Spitalturm. I like this tower very much, it's the perfect place to snap a cool picture!
Kobolzellerturm
The Kobolzellerturm is the tower on the right side of the yellow house on Plönlein. Most people don't give this tower a second glance, but if I were you, I'd walk down there to take a closer look. It's simply a wonderful tower!
All these towers make me feel like I've been put in the middle of a fairytale, wearing a huge nightsky-colored ball gown, running through the ill-lit streets… Don't you just love that feeling?
Again, there are so many more towers in Rothenburg, so don't be surprised to find some you've never seen before! The towers above are just the most important ones 😉
Take a walk through the Enchanted Forest
Could it possibly get more magical? YES!!! It can!
I know it doesn't even sound like it's real, but I can assure you, the enchanted forest is very much real and alive!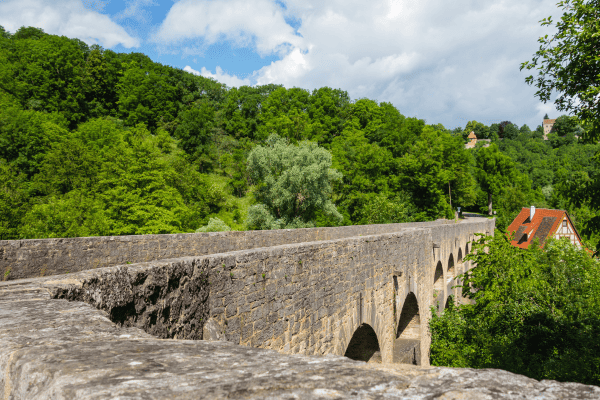 Beneath the Burggarten you will find a beautiful valley, filled with magical creatures, medieval structures, and stunning nature. You can leave burggarten on the right or left to get to the enchanted forest.
In this forest you'll notice several structures, like the old Taubertalbrücke, Toppler Castle (more about that in a sec), mermaids, and so much more! It doesn't matter from which point you enter the valley, just follow the trail.
The enchanted forest is an incredible hidden gem in Rothenburg, one that you should absolutely visit!
Visit the Toppler Castle
Like I said, in the enchanted forest you'll find Toppler Castle; one of Germany's smallest castles. But you shouldn't be discouraged by its modest size, Toppler Castle is one like no other!
Toppler Castle used to be the weekend house of Rothenburg's mayor, from 1388. The castle is like a small house perched on top of a medieval tower.
Toppler Castle is open from Friday to Sunday between 1-4 pm, except of the entire month of November. You can even get inside this castle for only €3 euros per person!
Save the Toppler Castle and make sure not to miss this picturesque spot!
Be amazed by the Doppelbrücke
At another part of the enchanted forest, there is a very captivating bridge, known as the Doppelbrücke (aka. Tauberbrücke or double bridge). This bridge was built around 1330 and looks much like a roman aqueduct (I never expected this in Germany!).
This bridge was once very important, because it was right in the middle of the trading route between Würzburg and Augsburg.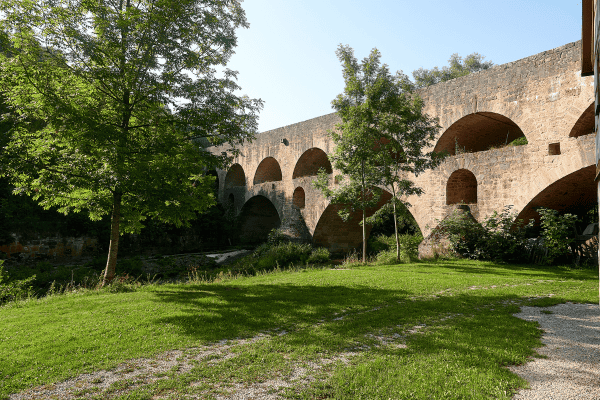 I must add, the bridge is not all original. First the upper level of the bridge collapsed in 1791, so that was reconstructed. But then in the 1945 the German army pulled it down, to be completely reconstructed in 1956.
However it has been reconstructed a few times, it still has the medieval looks and with the picturesque little house on the side, this place makes for a super romantic landscape.
Enjoy a Schneeballe (snowball)
Supposedly only eaten in Rothenburg ob der Tauber, Schneeballen are a true treat!
Disclaimer: I also found Schneeballen in the neighboring Dinkelsbuhl, so what they will tell you about it being only available in Rothenburg is wrong. Just thought this was a funny little fact!
A Schneeballe is essentially a fried ball of pie crust and coated in powdered sugar, chocolate, or many other flavors.
This treat is very unique to Rothenburg (and surrounding areas), that you simply must taste it on your visit!
The best places to get Schneeballen are:
Bäckerei Striffles
Zuckerbäckerei
Bäckerei-Café Friedrich Schöbel
Go shopping for a Cuckooclock
The ultimate souvenir from Germany is a cuckooclock! You know, the one where a bird comes out cuckooing on the hour. They are the best!
The clocks you can buy in Rothenburg are actually from the Black Forest; where the clocks originated from. These extraordinarily carved wooden clocks would be an amazing addition to your home; a clock that draws attention.
There are many places where you can buy a cuckoo clock like this, but at Käthe Wohlfahrt, you will find the most extensive assortment. These clocks aren't cheap, but they are worth buying!
Take a photo of the Gerlachschmiede
One place I found completely by accident was Gerlachschmiede. I was casually walking on the city walls and was suddenly amazed by this special little house.
Gerlachschmiede is one of the most beautiful half-timbered houses in Rothenburg! It was the house and workplace of a blacksmith, and it was still in use until 1967!
This house could easily be used as a backdrop in a Disney film, as it's just perfect. It's shape, colors, details, plants, just everything about this house is perfect.
And the Gerlachschmiede is quite off the touristic path, so no crowds! Make sure to check it out!
Visit the elegant Christmas market
Every year, Rothenburg ob der Tauber hosts one of the coziest Christmas markets in the country!
From December 1st to December 23rd, you can enjoy this Christmas market daily in its full glory!
The Christmas market is made up of thousand fairy lights, a charming market, the best Christmas delicacies, festive music provided by some local brass bands, and so much more!
Every year in December, Rothenburg is truly transformed into a magical winter wonderland!
So may you be in the area in December, make sure to stop by Rothenburg! You surely won't regret it!
Final thoughts on the best things to do in Rothenburg ob der Tauber
So now that you know everything you need about things to do in Rothenburg ob der Tauber, it's time to book your trip!
What do you think is the best activity in Rothenburg? Let me know in the comments below!
Related posts