The most complete 10-day itinerary for Tuscany.
When picturing Tuscany in your mind, you probably see green hills lined with Cypress trees. And let me tell you, Tuscany is really as magical as you picture it. But there's so much more to Tuscany than just these hills. You'll find the most important places to visit in this Tuscany itinerary for 10 days.
Disclosure: This post may contain affiliate links, which means that if you purchase through one of the product links, we'll receive a small commission at no cost to you. We only promote products and services we 100% believe in. Thank you so much for supporting us! Read more about it in our disclosure policy.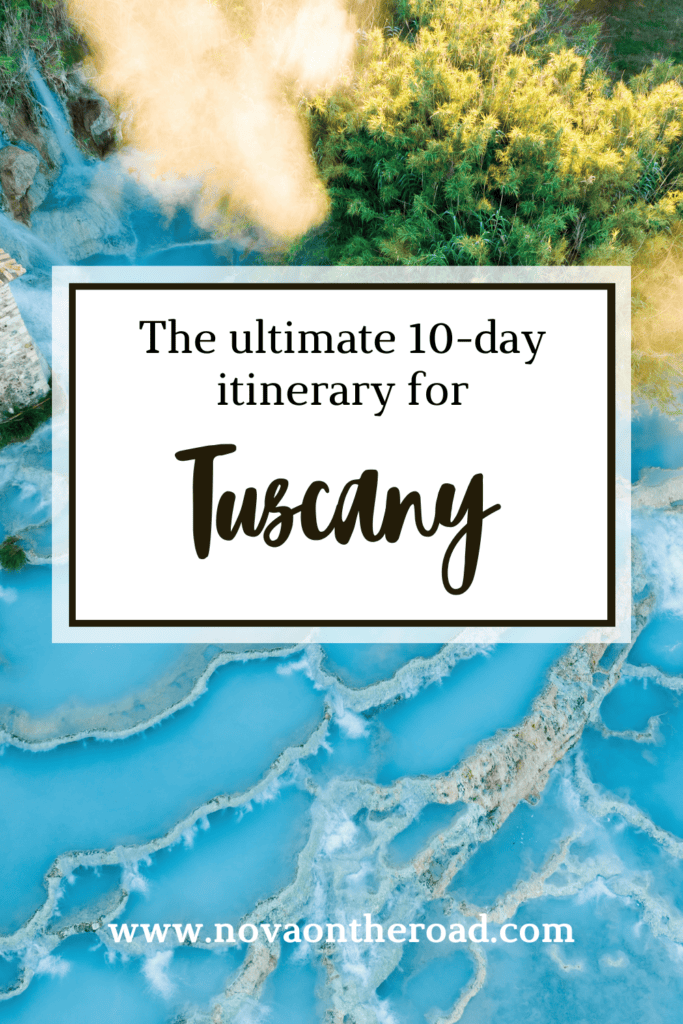 About Tuscany
Tuscany is a scenic province of Italy, located in central Italy. Florence is the capital city of Tuscany. The province of Tuscany is famous for its landscapes, medieval towns, olive groves, and vineyards. You'll fall in love with the delicious authentic cuisine and tastiest Chianti wines here.
All in all, Tuscany is the must-see region of Italy!
Perfect time to visit Tuscany
Tuscany is always beautiful. But it can also get very crowded, especially in the bigger cities, like Florence and Pisa.
The best time to visit would be between March and the beginning of May, this is also the wildflower season, so the hills won't only be green, there'll be poppy fields everywhere, too! This is my favorite season to visit. The weather is generally good in Spring, with temperatures between 16°C and 24°C, and around 8 rainy days per month.
Another good time to visit Tuscany is around the end of September and October. The hills will have a perfect golden-yellow color, and the late summer sun will feel amazing. With temperatures between 14°C and 24°C, Fall is one of the most pleasant times to visit Tuscany and avoid the crowds.
In the months of June, July, and August, Tuscany will be very crowded. Tuscany is world-famous for its beauty, no wonder people like coming here. The weather in Tuscany is perfect in summer, but the crowds will destroy your views and photos.
Winter may also be a magical time in Tuscany, you'll know for sure that there won't be any tourists. But you do get the cold weather, and probably some snow.
Best way to see Tuscany in 10 days
The absolute best way to see Tuscany in only 10 days is by car. It's only a small province, so the driving distances aren't big, and you get to see the most picturesque views from the car. You can also visit many more places by car than by train, which is usually the second option people go for.
This itinerary starts in Florence, where you can easily rent a car for these 10 days. You can also drive to Tuscany yourself, we did it from the Netherlands and it was quite doable.
You should only choose for taking trains if you just want to visit the bigger cities, like Florence, Pisa, Siena, and Lucca.
Tuscany itinerary for 10 days
Day 1: Arrival – Florence
On day 1, you should be taking it slow. Depending on the time you arrive, you may be able to see some things in Florence. Don't worry, tomorrow you'll be spending the entire day here, so no rush. You're on holiday after all.
Take today for checking into your accommodation, explore a bit of the city, go out for dinner, and drink some Tuscan wines.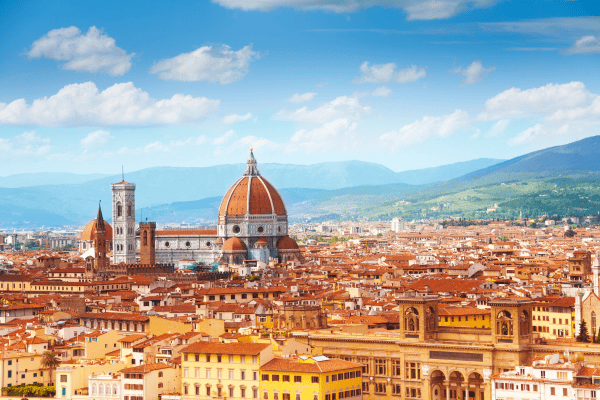 Day 2: Florence
Today is the day you'll really visit Florence. There is a lot to see here, so it's smart to get up on the early side and just get into the city.
Here are some things to do in Florence
Climb the tower of Cattedrale di Santa Maria del Fiore
Admire the most stunning Renaissance art at The Uffizi
See some of Michelangelo's most famous artworks in Galleria dell'Accademia
Fall in love with the view at Piazzale Michelangelo
Taste the most delicious ice cream at the oldest gelato shop in Florence: Vivoli Gelato
Take a stroll through the quiet Bardini garden
Find the famous wine windows in the city center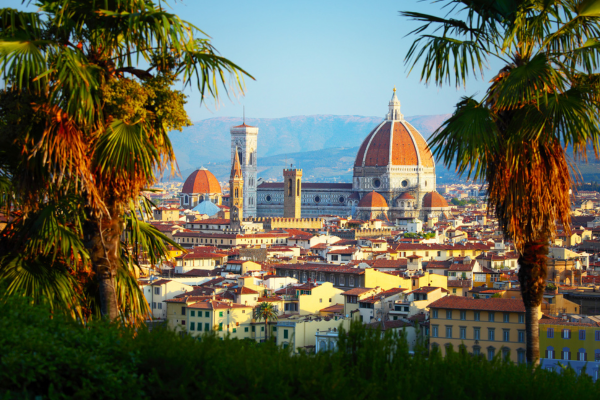 Beside these attractions, there are many more things to do in Florence. If you're more into nature than art, then the Fiesole Hills may be where you'll spend your day. And if you love shopping, Florence is also the perfect place for you.
Florence is simply a city you will fall in love with, there's something to do for everyone!
Pro tip: Read this 4-day itinerary for Florence, so you won't miss a thing!
Day 3: Volterra – Monteriggioni – Siena
When you get up in the morning on day 3 you'll get into the car right away. In only an hour and a half, you'll be entering the city of Volterra. This mountaintop town in the Tuscan hills is one of the best towns I've been to in Tuscany.
Fun fact: Volterra is the oldest city in Italy and dates back 3000 years.
Even though Volterra is a super interesting and beautiful town, it's less visited by tourists. People often tend to go to San Gimignano over Volterra.
I've been to both, and I must say, these 2 towns are equally beautiful. The only difference is that San Gimignano was super crowded (in May) and Volterra was not, that's why I liked Volterra way better.
Things to do in Volterra:
Admire the ancient Teatro Romano
Visit the Cathedral of Santa Maria Assunta
Take some photos of Piazza dei Priori
Explore the fairytale-like streets and alleys of the old town
Enjoy the view from Belvedere viewpoint
Half a day is enough to explore Volterra.
Now it's time to move on to the most enchanting town in Italy: Monteriggioni.
At first, I thought it wasn't worth visiting, so I took it out of our itinerary. But then our accommodation was right around the corner of this town and we thought why not visit it then? So we did. And I don't regret a second of it.
Monteriggioni is one of the best-preserved wall towns in Italy. It's so small that in less than an hour you'll have seen every corner of the town. But don't let the size of this town fool you, it's well worth the visit.
In Monteriggioni, you can:
Climb the city walls and enjoy a spectacular view
Eat the best Tagliata at Ristorante Il Feudo
Admire Piazza Roma
Visit the medieval museum "Monteriggioni in Arms"
As I've said, it's only a small city so there's not much to do here. But it's definitely worth a visit.
After this, you should drive to your next accommodation in Siena.
Day 4: Siena
On day 4 it's time to visit one of the most impressive medieval towns in Europe: Siena. Many consider its historic center, with its characteristic red brick buildings, to be one of the most charming in Italy. With many activities and the most stunning sites, this town makes for an incredible day trip.
Here are some of the things you can do in Siena:
Visit the massive Siena Cathedral
Take in the breathtaking panorama view from the unfinished façade of the new cathedral
Admire the stunning Piazza del Campo
Visit Palazzo Publico and climb Torre del Mangia
Explore the historic city center
Take some photos of the Basilica of San Dominico
Siena is one of the top destinations in all of Italy and one you have to see for yourself.
Related: The 21 Ultimate Road Trip Essentials for Couples
Day 5: Montalcino – Val d'Orcia
The fifth day of this itinerary is all about the dreamy landscapes of Tuscany. First, you'll drive down to Montalcino, which is only 1 hour from Siena. This hilltop town in the scenic Val d'Orcia is best known for its wines: Brunello di Montalcino.
Montalcino is one of the best places in Tuscany to do a wine tasting! You can find wine tastings of all sorts and prices on Tripadvisor, so check it out!
Things to do in Montalcino:
Admire Palazzo dei Priori on Piazzo del Popolo
Get into the fortress and walk its ramparts
Learn more about the regional wines at Museum del Brunello
Sit down at a wine bar in one of the many mysterious alleys
Visit the Cathedral of Santissimo Salvatore
Admire the magical Palazzo Pieri
In Montalcino, you can't take too many wine breaks. Okay maybe if you still want to drive, you should not drink too much, but there's an ultimate solution to this; just buy bottles! When we visited Tuscany we came home with over 15 bottles of wine! Of course, this is only possible when driving in your own car.
But because this is a typical wine town, and you probably will do a tasting, there's no more driving on this day. You should book accommodation inside the city center of Montalcino and just enjoy the wines and this incredible city.
Day 6: Pienza – Val d'Orcia – Bagno Vignoni Thermal Bath Old Town
In the morning it's time to drive to the biggest town in Val d'Orcia; Pienza. Only half an hour's drive will get you there. But don't forget to stop at some scenic sights on the way there; there will be plenty of them.
Now that you're in Pienza, it's time to explore this romantic city.
Here are some things to do in Pienza:
Visit the Pienza Cathedral
Adore some art at the Museo Diocesano
Take a stroll through Palazzo Piccolomini
Have a quiet moment at Chapel Vitaleta
Hike the Pienza Gladiator trail and find the Gladiator shooting spot
Pienza is a characteristic town you can't miss on your trip to Italy!
In the afternoon you should have seen most of Pienza and be able to move on to a wonderful hidden gem; Bagno Vignoni.
Tuscany is home to some of the most beautiful hot springs in the world! And one of them is located in this thermal bath old town.
Bagno Vignoni is a pretty unique spot, as it's the only town in the world with a hot spring as the main square. Although it's not allowed to take a swim in this main square, you can follow the springs down, where you can enjoy them for free!
You can easily find these hot springs on google maps, the 2 I would recommend are Parco dei Mulini and Antiche Terme Romane Libere.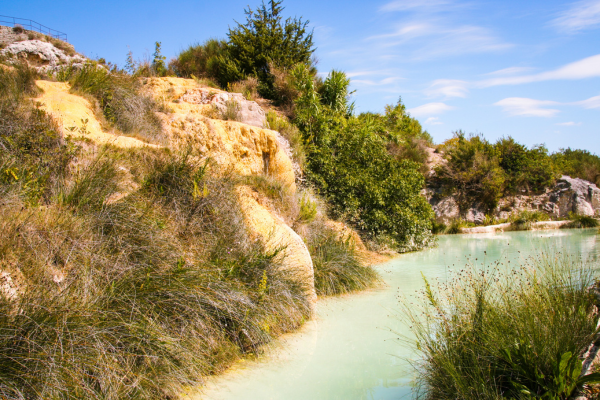 Make sure to bring your bathing suit to relax in the pools for a while.
Day 7: Sovana – Pitigliano
In the southern region of Tuscany, there are 3 unique towns: Pitigliano, Sorano, and Sovana. These towns are all perched on a pedestal of tuff stone, which makes them incredibly fascinating. In Parco Archeologico Città del Tufo you can learn a lot about these tuff towns and structures.
If you have the time to visit all 3 the towns, you should. But I chose to only add Sovana and Pitigliano to this itinerary. These towns were my personal favorites and they're only a few minutes apart. Let's visit the smaller town of Sovana first.
These 3 towns are actually incredibly well-hidden gems in Tuscany. Of these 3 towns, Sovana is the least visited and Pitigliano is the most popular. But you won't find many tourists here, which makes them more authentic.
Things to do in Sovana:
Admire Piazzo del Pretorio
Visit the Chiesa di Santa Maria Maggiore church
Explore the narrow stone alleys of the old town
Be blown away by the Cathedral of Sovana
Take some photos of the Fortress Rocca Aldobrandesca ruins
Learn about the tuff at Parco Archeologico Città del Tufo
Find the historical 2500-year-old Vie Cave
As you see, there are plenty of unique things to do here. It's enough to fill half a day, then you should move on to Pitigliano.
As I've said, Pitigliano is the most popular and the biggest of the 3 towns. It towers beautifully over the green valleys of Maremma.
Things to do in Pitigliano:
Admire the old town walls
Fall in love with the historic town
Enjoy the view from Fontana Delle Sette Cannelle
Explore ancient walkways and Etruscan tombs
Visit Museo di Palazzo Orsini
Take a stroll through the Old Town Alleys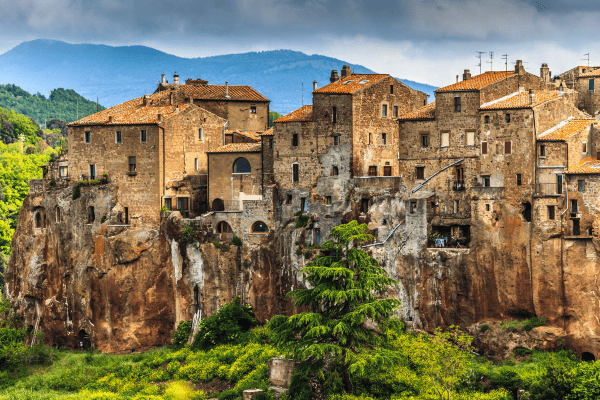 Pitigliano is one of the most underrated medieval towns in Europe, one you absolutely need to visit!
Day 8: Therme di Saturnia – Porto Santo Stefano
On the 8th day, it's time for some relaxation at the Saturnia hot springs. These world-famous hot springs are the most popular in all of Italy. And no wonder why, it's absolutely beautiful there. But note, you shouldn't come here for taking pictures, it gets crowded from morning to night. If you come here it should be to relax.
The best time to visit the pools is in the morning, due to a rotten egg smell that gets worse near the end of the day. It's caused by a mineral called sulfur, and in the morning the smell isn't actually that bad.
Information for visiting Therme di Saturnia:
Bring water shoes to save your feet from the harsh stones
Visiting the hot springs is free
Leave your valuables in the car, only take your bathing essentials to leave unsupervised on the shore
The water temperature at Saturnia is 37,5°C
Try finding your own small pool or sharing a big pool with other visitors, but don't get into others' personal space
There may be some red worms in the pool but they won't harm you, so don't harm them. Remember that you are in their home.
This information should be enough to let you relax in the pool without fuss. Just remember that everyone comes here to relax, so act accordingly.
After visiting Therme di Saturnia, it's time to get out on the road again. Your next stop is Porto Santo Stefano.
This town is located on a small ''island'' you can just drive to. Porto Santo Stefano is a whole other place than what you've already visited in Tuscany. This coastal town is home to the most stunning beaches in all of Tuscany.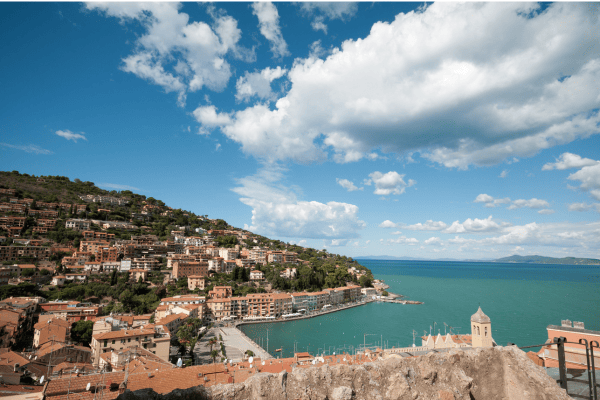 Here are some things to do in Porto Santo Stefano:
Admire the sealife at Argentario Aquarium
Visit some exhibitions in the Spanish fortress
Stroll through the beautiful old town
Best beaches on the island:
Cala del Gesso
Cala Piccola
Spiaggia Mar Morto
Spiaggia La Cantoniera
Take your time here to enjoy the island's nature and relax on the beaches.
Day 9: Free
Now that you're in southern Tuscany, you're probably going to have to drive back to Florence to fly back home. Or maybe you're driving back home, but either way, you're going to have to drive back up.
I know many more places you can visit in Tuscany, but I'll leave it up to you. Maybe you want to lay on the beach and do nothing, or maybe you want to hike.
I'll write down some of the options I know of:
Hike through Parco Regionale Della Maremma
Visit the town of Grosetto
Find a wine or food tasting in the region on Tripadvisor
Or maybe follow a cooking class
Visit Abbazia di San Galgano ruins and do a photo shoot here
Drive up to Pisa or Lucca
Or simply go back to Florence to take in more of the city
As you see there are so many options, I don't want to choose it for you, so just choose an option yourself. Or don't, and just relax on the beach. It's all up to you!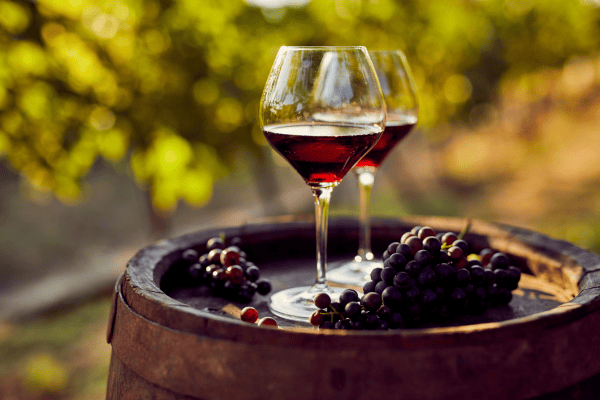 Day 10: Free – Departure
Because your flight departure could be anytime on day 10, it's also a free day. If you depart in the evening, you can do something else from the list above. If not, I hope you've had a great trip and you've seen all the hightlights of Tuscany with this itinerary!
Final thoughts on this Tuscany itinerary for 10 days
This itinerary includes many of the most beautiful places of Tuscany. From the romantic city of Florence to the dreamy Val d'Orcia, it's all in this 10-day itinerary.
Which place in Tuscany do you want to visit? Let me know in the comments below!
Related posts