The best and most romantic places to visit in Croatia for couples.
Croatia is one of the most beautiful countries I've seen so far. Filled with stunning nature, historical cities, and the most picturesque beaches, Croatia may be the best destination for couples! This country is full of romantic sights you and your loved one will definitely enjoy! Here are the best places to visit in Croatia for couples!
Disclosure: This post may contain affiliate links, which means that if you purchase through one of the product links, we'll receive a small commission at no cost to you. We only promote products and services we 100% believe in. Thank you so much for supporting us! Read more about it in our disclosure policy.
Best places to visit in Croatia for couples
About Croatia
The Republic of Croatia is a country located in the northwestern part of the Balkan peninsula. This country has 3 main regions: Slavonia, Istria, and Dalmatia. Slavonia is more inland and where the capital Zagreb is located. Istria and Dalmatia are both located on the Adriatic coast.
In the Adriatic Sea, there are over 1100 Croatian islands. Of which some are great to visit by boat.
The spoken language in Croatia is Croatian, but especially younger people speak English as well.
In Croatia, they pay with the Euro (€), since January 1st, 2023. The former currency was the Croatia Kuna, and in many places, you can still pay with this money.
Best time to visit Croatia
Croatia has become a more and more popular destination over the years. It used to be a real hidden gem, but now Croatia's more popular than ever before!
And that has caused prices to go up in the high season and crowds to crawl all over the cities and national parks.
And that's something we certainly don't want.
That's why you should visit Croatia in the shoulder seasons. I recommend visiting Croatia in April/May or in September/October. You'll still have good weather, but fewer crowds and lower prices.
The best places to visit in Croatia for couples
Croatia is filled with romantic places you simply need to visit with your significant other. So make sure to add these places to your Croatia itinerary!
Motovun
Behold the prettiest hilltop in all of Croatia! Motovun is a charming fairytale-like town you simply have to see!
This captivating walled town is a most interesting hidden gem in Istria. Motovun is filled with old structures, history, culture, romance, and more!
Visiting Motovun on your romantic getaway is a must. This town will steal your hearts and mend your souls.
Romantic activities in Motovun:
Take a romantic spa break at Hotel Kaštel
Walk the ancient walls of Motovun
Enjoy an Istrian wine-tasting
Explore the surrounding area on a Vespa
Just visit Motovun together, and take in the beauty awaiting you!
Find your romantic accommodation in Motovun
Dubrovnik
Perhaps the most romantic city in all of Croatia is Dubrovnik. This fortified town is also known as King's Landing; the capital city in the series Game of Thrones. This makes the city quite touristy and crowded in summer.
But if you've taken my advice on visiting in the shoulder season, you can't miss out on this city! Dubrovnik is a historical city filled with romantic sights and activities!
Related: These Are the 15 Outright Best Beaches in Istria to Visit This Year! (2023)
Romantic activities in Dubrovnik:
Walk the city walls
Go wine tasting together
Take a day trip to the romantic island of Korcula
Go sea kayaking
Take a stroll through Trsteno Arboretum
Visiting Dubrovnik on your couple's trip to Croatia is a must. Make sure to add this place to your itinerary!
Find your romantic accommodation in Dubrovnik
Rab island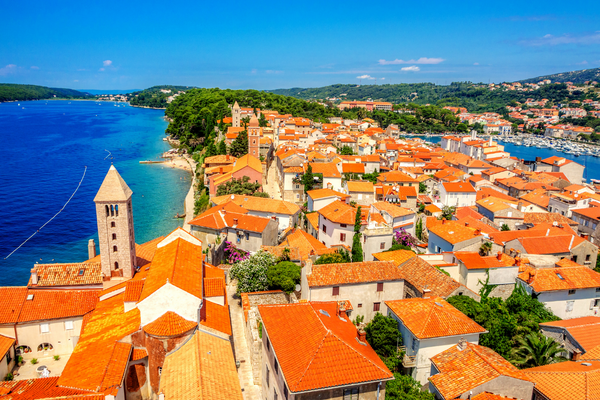 Rab island in Croatia is often described as the ''island of love''. If you're looking for paradise in Croatia, this is the place to be. Filled with velvety sand beaches (which are rare in Croatia), you'll be able to spend your afternoons together on the soft sand.
Rab Island is also filled with the most romantic accommodations, like Miral Apartments!
In the future, I will take my boyfriend (hopefully my husband by then) here for a few days to have the best romantic getaway possible!
Romantic activities in Rab:
Have some coffee in one of the many romantic little cafes in Rab's old town
Go for a romantic walk in Komrcar Park
Spend the afternoon sunbathing at Plaża Sahara (an out-of-this-world beach)
Hike Kamenjak National Park
Find your romantic accommodation in Rab
For more Croatia travel inspiration:
Rovinj
On Istria's magical western coastline, you'll find the most romantic town of Rovinj. This fishing village is soaked in romance!
Fall in love with the old town of Rovinj and feel like you've been taken back in time. Wander the most romantic hidden alleys and feel the romance!
Rovinj will steal your heart and blow your mind. This is the perfect destination to add to your romantic itinerary to Croatia!
Romantic things to do in Rovinj:
Take a dip in Rovinj's perfectly teal blue waters
Get lost together in Rovinj's old town
Enjoy the breathtaking view from the top of the church of Saint Euphemia
Take a sunset boat ride out at sea
Find your accommodation in Rovinj
Opatija
The romantic town of Opatija is an elegant resort town for couples of all ages. Opatija is a perfect romantic break for people who love a bit of luxury. This town is even chosen as one of the 16 most romantic destinations for Valentine's Day, by Forbes.
I mean, it's got to be good, right?
Sadly I never got to visit Opatija, I only drove through it, but it left quite the impression. If you do get the chance to visit Opatija together, take it!
Romantic activities in Opatija:
Take a stroll along Opatija's seaside promenade
Step into a dream at Lido Beach Opatija
Walk through Angiolina's park together
Enjoy some coffee in one of the many romantic cafes in the old town of Opatija
Find your accommodation in Opatija
Kotli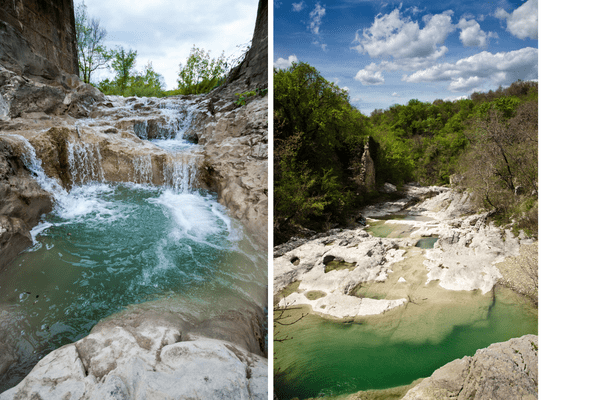 Located in Istria, you'll find an abandoned village with a magical mineral oasis; Kotli. This oasis is a true natural phenomenon. With unpolluted nature, shallow turquoise pools, and waterfalls, it attracts visitors worldwide!
Even though Kotli attracts many visitors, still this place is really hidden. Most people don't know of its existence, and it probably won't be crowded when you visit. It'll feel like you've stepped into a fairytale!
When I visited Kotli, it was super quiet, there were just 2 other couples around.
Take a dip in the wondrous mineral oasis together and let every thought go for a moment. It's just you and your loved one in the most romantic place on earth!
Make sure to add Kotli to your romantic itinerary through Croatia!
You should stay in this super romantic Traditional Stone House Kotli!
Vis island
The island of Vis is one of Croatia's most romantic and overlooked islands.
But Vis has so many things to offer, from vast vineyards to the most pristine turquoise beaches, from high seacliffs to the greenest nature.
Vis is such a magical romantic place, another one you have to add to your itinerary!
Romantic activities in Vis:
Rent some bikes and explore the island
Visit the picturesque beach of Stiniva
Go on a wine-tasting tour and sip Croatia's finest wines together
Get lost in Vis's old town
Enjoy the views from Fort George
Find your accommodation in Vis
Final thoughts on best places to visit in Croatia for couples
I hope you're now well-informed on the best romantic places in Croatia to explore with your loved one. So let's make your itinerary and book your trip!
Which place do you like best? Tell me in the comments below!
Related posts
The 7 Best Places to Visit in Croatia for Couples That Love Romance!