Everything you need to know about heating your campervan.
Choosing a heater for your campervan may feel like an impossible thing to do. Especially when you're not that technical. What specification do you need to look at, do you need a 12-volt heater, are you willing to heat using propane or diesel? All these questions can be hard to answer. But I will tell you everything about heating your campervan safely and which heater is best for you!
Disclosure: This post may contain affiliate links, which means that if you purchase through one of the product links, we'll receive a small commission at no cost to you. We only promote products and services we 100% believe in. Thank you so much for supporting us! Read more about it in our disclosure policy.
Converting your campervan
Converting your very own campervan can be as overwhelming as it is exciting. One moment you're all invested and motivated and the next you're throwing around screwdrivers out of frustration. We've all been there…
Installing a heater in your campervan is one of the first things you should do, around the same time you're installing windows, a fan, and electrical wires. This all should happen just before insulating your van.
Things to consider when heating your campervan
Do you need a heater?
You may need a heater if you plan on spending time in your van in winter. But if you only want to take your van to warm destinations, you may survive without one.
You can't know for sure if you need a heater or not, but if you're in doubt, or you don't have any plans yet, I'd say go for a heater.
All you need to learn now is which heater is best for you.
12-Volt campervan heater
It is likely that if you choose to get a heater, it'll be a 12-volt heater. This is because you may not be able to get to places with electricity hookups all the time and a 12v heater can be powered by your own van.
But just because you can power a heater with your own van, doesn't mean you have to. You'll ideally install a battery or 2 to store your power and be able to use your heater without keeping the motor of your van running.
Just to make sure you will be able to actually use your heater, you should go for a 12v heater. These heaters can also be used in combination with fuel.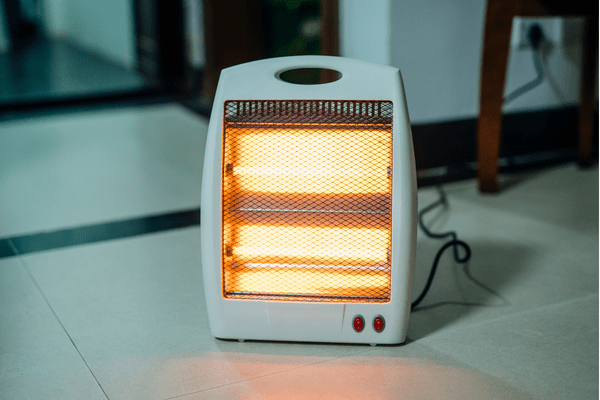 What's the size of your campervan?
Before buying any heater, you need to know the size of your van. You don't want to get a heater that's too small, but one that's too big isn't ideal either.
So you need to find one that's the perfect size for your van, so you can heat it efficiently.
What are your fuel options?
Different heaters come with different fuel options. There's:
Propane
Diesel
Wood
Electric
It's essential to choose the right one for you. But how do you do that? Here are some things you'll need to consider.
Fuel refill and cost
You need to know how easy it is to refill your heater's fuel tank. In some countries you can't get propane or dry wood easily, so you need to do your research on refill ease.
The cost of fuel is also something you may want to take into account, especially for those who are planning on living inside the van. If wood a much more expensive than diesel, you will see your wallet slowly walking away, in the long term.
So you need to know if there's fuel in the countries you're visiting and if the costs are doable or crazy expensive.
The cost of the campervan heater and installation
Almost everyone who's converting a campervan has a certain budget in mind. Some people would like to spend more on a heater and other as less as possible.
So you need to take the cost of purchasing a heater into consideration when choosing one.
Depending on the heater you choose, an installation cost may be there. Some heaters are easy to install yourself, but others need to be installed professionally.
Maintenance cost
For safety reasons, your campervan may need some maintenance. But this may come at a cost, are you willing to pay for it, or go for another heater? Do figure this out!
Safety
Yep, safety is also a matter when choosing your campervan heater. Installing a heater in your van will always have some small risks. To minimize these risks, you should:
Make sure the heater is installed correctly and you know how it works
Don't skip the maintenance routines: do your maintenance to keep it safe and running.
Keep the heater away from anything flammable.
Don't block any vents, in- or outputs, or anything else.
Make sure to install a carbon monoxide detector, a smoke detector, and a fire extinguisher.
It's unlikely something will go wrong, but you'd be much happier if you know that you're prepared for emergencies. Believe me.
So don't ignore these safety matters.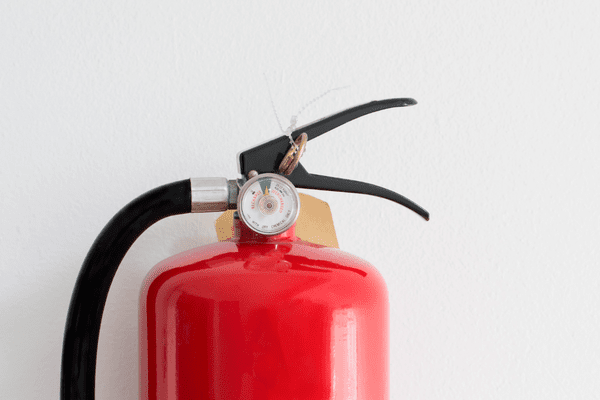 Backup
You may or may not come into a situation where your heater fails to heat. These chances are small, but again, better safe than sorry.
Make sure you have warm clothes, a blanket, and maybe even a hot jug, to keep you warm.
Insulation
You do have to insulate your van. It simply won't be efficient to keep your heater running, but not keeping that warmth inside. Make sure you insulate your van well, to use your heater most efficiently.
Different kinds of heaters and their pros and cons
Now that you know a bit more about which things to keep in mind, I will take you through the options.
Diesel heater campervan
The most popular heater choice for campervans is the diesel heater. And no wonder why, they're super reliable and efficient in fuel use (only between 24 to 28 milliliters of diesel fuel per hour, per 2kW of heat generated) and they can heat up a small space pretty quickly.
And if your vehicle runs on diesel, you won't need a different tank and you can be sure to always have some fuel for your heater!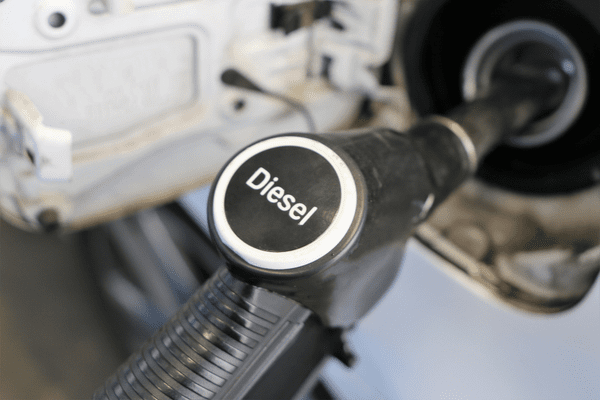 When you're using the diesel heater, there'll just be a slow and steady blow from the vents, with warm dry air. You won't be struggling with any moisture, so that's a huge plus. You'll just be cozy and comfortable in your van.
A diesel heater usually comes with a digital screen that can be installed in a handy location in your van. From this screen, you can easily regulate the temperature in your van.
You will need 12v electricity for the screen and the fan. You'll find everything about power use in the user manual.
Diesel heater pros:
Incredibly reliable
Operates well in lower temperatures (but below -10°C the diesel may get a bit droopy)
Low running cost and electrical consumption
They're safe
Prevents condensation and moisture
Can be installed under the vehicle to save space inside
Easy to use and regulate the temperature
Heats the van up quickly
Permanent solution
Diesel heater cons:
Diesel heaters can be noisy
An older heater or one that is not well maintained can emit fumes
They may need to be installed professionally unless you're really handy
They need to be serviced and maintained regularly
Maybe a bit expensive
Cost diesel heater: €500 – €2000. But there are some cheaper options, like the heater below from €130,-.
Our choice:
Propane heater campervan
The next rather popular option for heating your van is using a propane heater. By propane heater, I mean a portable one and not a propane furnace.
These heaters are a popular choice because they're small, lightweight, portable, it has a strong body, and it has even more advantages. Plus, if you already use propane for cooking, you can easily use propane from the same tank for your heater.
These heaters are reliable and sturdy: it won't break easily. They are safe to use, due to an automatic shut-off when the oxygen level gets low. So you can sleep safely with the heater on and know it'll automatically shut off.
Propane heater pros:
Small and lightweight
They're portable
Reliable
Easy to store
Safety shut-off feature
Easy to use and regulate the temperature
These heaters have an ample and rapid heat generation
Strong body so they won't break easily
A good shock absorption insulation
Inexpensive
Propane heater cons:
Will use a lot of propane at the highest level
Won't work over 7000ft
Cost propane heater: €100 – €200. But beware, cheaper is not always as good as a more expensive one. And seeing that the more expensive ones aren't that much more expensive, makes them a better option.
Our choice:
Wood stove campervan heaters
Have you seen these pictures where people sit in front of their cozy wood stove? I know, it looks awesome! But is it the best option for you?
Installing a wood stove in your van is rather easy. They're small but super mighty! They will heat up your van in no time!
But they do burn on wood, so you do need a place in your van to store your wood (and keep it dry). So it will take up more space than a diesel or propane heater. And it'll need a lot of wood sometimes, which is quite expensive.
So you need to consider your space, but also the seasons you plan on traveling in. If you want to chase summer as much as you can, you won't need a wood stove. It'll only take up a lot of space. But if you plan on spending entire winters in your van, and money if not a problem, this may be the best option for you!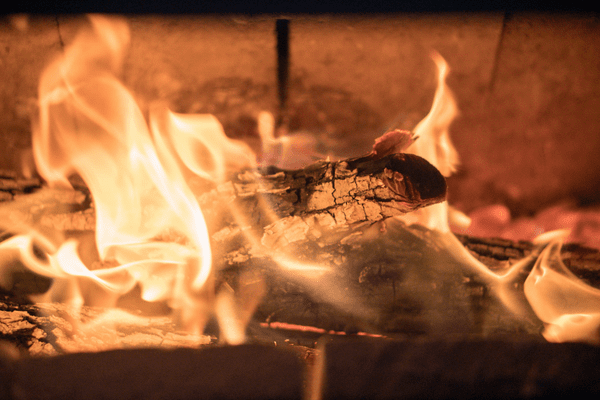 Now, is a wood stove safe?
A campervan or caravan isn't made to be heated with a wood stove. But, it is safe as long as you use the right precautions.
You need to follow the stove manufacturer's directions for installation and operation. There are a lot of things you need to pay attention to and be aware of, so make sure to follow every bit of the manufacturer's guide.
You should only use a new stove. No antique stoves or second-hand ones. For full safety, you should buy a new stove.
And as I've said before, you need a functional smoke, CO2 detector, and fire distinguisher in your van, especially if you plan on using a wood stove.
Wood stove pros:
Can heat up your van quickly, even in freezing temperatures
It provides dry heat
It looks cozy
They're reliable as long as you maintain it well and you have wood
Wood stove cons:
Needs constant maintenance
Can be expensive
It takes up quite some space
Gathering and chopping wood may take up more time
Cost wood stove: €100 – €2000. The price mainly depends on the quality of the woodstove. Do your research before buying one.
Electric campervan heaters
If you don't feel confident about the options above, an electric heater may just be the thing for you!
Electric heaters are known for being small, portable, soundless, and super safe! They will efficiently heat up your van in no time!
But they do draw quite a lot of electricity. So if you're planning on staying on campsites or you have enough solar panels, it's for you.
Most electric heaters will range between 500 and 1500 watts. An electric heater can be as inexpensive as $50, so it's a good budget option if you generate a good amount of electricity.
Plus, as I've said, they're small, lightweight, and portable, so they won't take up much space and you can easily store them away when you don't need them.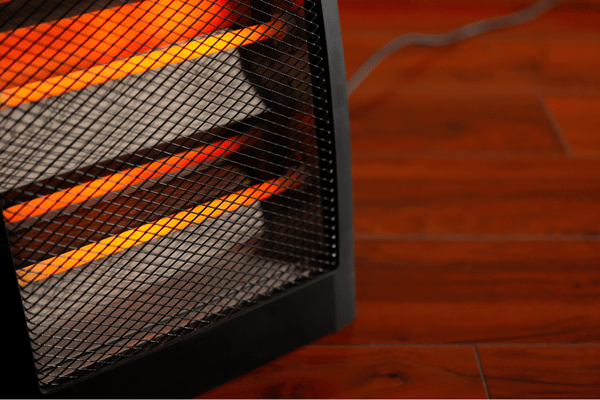 Electric heater pros:
They're cheap
Super reliable
They're small and lightweight
Easy to use and portable
Heats up your van efficiently and fast
Easy to store
Most electric heaters have a safety feature
Electric heater cons:
They need a lot of electricity
You will need to be aware of your surroundings, to avoid any burns
Cost electric heater: $30 – $100.
Our choice:
Final thoughts on heating campervan
So now that you're more informed about different campervan heaters, it'll be easier to make a choice for yourself.
Which heater is best for you? Let me know in the comments below!
Related posts
Heating Your Campervan: Which Heater is Best for You?