Traveling Norway on a budget: Norway road trip cost.
Road-tripping Norway may get expensive real fast, seeing that Norway is somewhat of an expensive country. But it's only as expensive as you make it out to be. With the right tips and resources, you will keep the cost of traveling to Norway pretty affordable. Here's my full guide on Norway road trip cost and how to keep it low.
Disclosure: This post may contain affiliate links, which means that if you purchase through one of the product links, we'll receive a small commission at no cost to you. We only promote products and services we 100% believe in. Thank you so much for supporting us! Read more about it in our disclosure policy.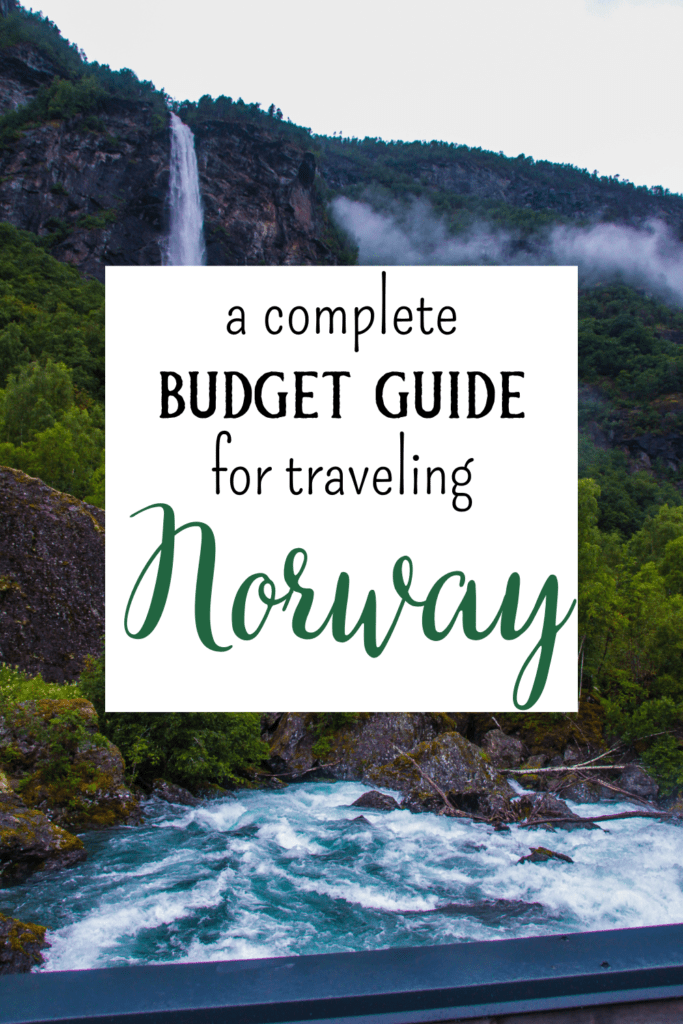 About Norway
The kingdom of Norway is a Nordic country in Europe. It's actually the northernmost country. The spoken language in Norway is Norwegian, and most people speak English very well… Seriously… It's almost creepy how good their English is…
The used currency in Norway is the Norwegian Krone, NOK.
$1 USD = 10,58 NOK (approx.)
1 Euro = 10,44 NOK (approx.)
Fun facts about Norway:
Norway has a population of just over 5 million and nearly half of the Norwegian lives in the far south, around Oslo.
Norway counts about 50000 tiny islands, carved by deep glacial fjords.
Norway has repeatedly been ranked as the best country to live in.
The longest tunnel in the world is located in Norway.
Norway introduced salmon sushi to the Japanese in the eighties.
Norway knighted a king penguin in 2008. His name's Nils Olav.
Travel through Norway
There are a few ways of traveling through Norway. You could travel Norway by train, cruise, car, or motorhome. Traveling through Norway by train or cruise, are some great options to choose from. However, they limit your options of things to see and do, as they only go so far.
Norway is one of the most popular countries for motorhome travel. As wild camping is allowed, you can easily park somewhere and just go to sleep. So when you're visiting Norway, be prepared for all the campers you'll come across.
And as the Norwegian roads sometimes go (literally) up the mountains, you can visit so many more places than when you're taking a train. So traveling by car or motorhome is my favorite way of traveling through Norway.
But which option is the cheapest? Stick around to find out!
Is Norway expensive?
Yes.
I'll only lie to you if I said Norway is inexpensive.
So yes, Norway is expensive. BUT there are ways to keep your trip quite inexpensive.
But first, let me tell you a bit about prices in Norway.
Cost per person per day on a Norway road trip
If you don't need much luxury and you want to go to Norway on a tight budget, you should be spending no more than €60 per person per day. This amount is quite doable, you can always spend less and have some leftover money.
What you can count on for €60 a day is:
Cooking your own meals.
Wild camping or staying (some nights) at paid campings.
Driving yourself (your own car) or taking trains and buses.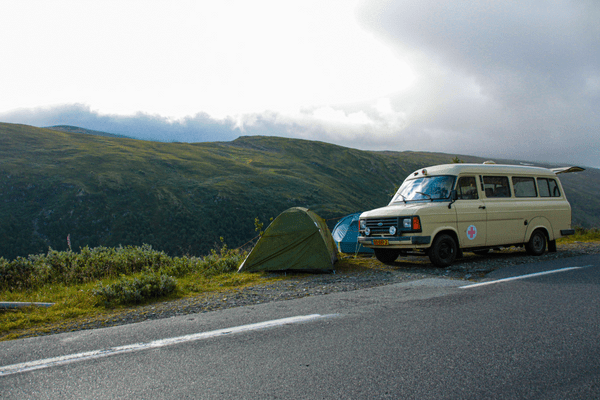 For more luxury on your trip, you should be counting on €100 – €150 per person per day. Of course, you can go a lot more expensive than this, but I'm guessing you're reading this post to make your trip budget-friendly.
What you can count on for €100 – €150 a day is:
Staying in an accommodation.
Eating out a few times, but also cooking some meals yourself.
Renting a car or staying on a cruise.
Cost of some regular supermarket products (in Euro)
A regular can of beer: €3,50 (is the cheapest)
A kilogram of apples: €3
500 gr (1 lb.) of boneless chicken breast: €7,20
A milk carton: €2
12 eggs: €5,20
A kilogram of tomatoes: €3,70
As you see, the cost of basic foods is a bit high in Norway. That is because when you live in Norway, the salary is higher as well. This makes Norway pretty inexpensive to live in, but expensive to travel to.
Tips for keeping the cost low on your Norway road trip
You'll need all the information and tips you can get, to keep the cost of your trip to Norway as low as possible. So here's everything I found out about the cost when I was in Norway AND what you should do. I divided the tips into 3 sections: Food, travel, and accommodation.
Food cost in Norway
You should be able to save big time on food if you're using the right tips, which are all listed below.
Only go to Kiwi or Rema1000
This first tip may be the most important one. Like many other countries, Norway has several supermarket chains, Like Bunnpris, Coop, Europris, Spar, and more. But some supermarkets are the cheapest, and these are the Kiwi and Rema1000 supermarkets.
You can find these supermarkets all over the country, and they will save you so much money.
When we were in Norway, we once had to go to a Bunnpris, and let me tell you, it was expensive. Really expensive.
Make sure to only go grocery shopping in a Kiwi or Rema1000 and buy products of the brand First price, as this is the cheapest brand you'll find.
Only buy your food at supermarkets
Don't buy your food at gas stations or convenience stores. Their prices can go up to twice what you would pay in a supermarket.
Try to skip these places as much as you can.
Check out the Asian food stores
Because you will find some really cheap food there. Meals with rice or lentils may be your cheapest option.
Don't eat out
The tip I will (almost) always give to you, wherever you go (in Europe), Don't eat out!
Eating out in Norway isn't particularly expensive, but it will add up to the cost quickly. And by eating out, I also mean McDonald's, because that's almost just as expensive as a regular restaurant.
BUT, if you choose to eat out, go to a fancy restaurant.
What, what?
YES!
Go for a fancier restaurant. McDonald's or basic restaurants will mostly fall in the same price range as fancy ones. So if you eat out, do it in a good restaurant, the cost difference will be too insignificant.
I recommend eating out just once or twice, but no more. It'll drain your money.
Eat as the Norwegians do
So what I'm saying is that you should cook your own food. But then you have to go grocery shopping, and what you know so far is that Kiwi or Rema1000 the cheapest supermarkets are, and you know a bit about the cost of everyday foods.
But something you have to keep in mind when you are in Norway is that local products will be cheaper than (almost) any other product.
Some local products in Norway are:
Brunost (brown cheese)
Freia milk chocolate
Waffles
Potatoes
Some kinds of fish and meats
Fruits like raspberries (in the season)
These foods will be a lot less expensive than imported foods. So try to eat local Norwegian food, it'll save you money.
Make sure to spend some time in a supermarket at the beginning of your trip and note which products are cheap. You'll find some things you love for a small price and you'll find things to steer clear of.
Don't drink alcohol
In Norway, they have something against alcohol. And I guess that's fair, Norwegians are some of the happiest people in the world. And they don't drink much alcohol. I see a connection, don't you?
In Norwegian supermarkets, you'll only find ridiculously expensive beer which contains no more than 4,7% alcohol. And that's literally all you'll find. No wine, spirits, or anything else. Just beer.
There are some strict regulations on buying alcohol, you're simply not allowed to buy beer after 8 pm on weekdays, after 6 pm on Saturdays, and all day on Sundays.
For other alcoholic drinks than beer, you can buy them at a Vinmonopolet. You'll find these liquor stores across the country, but I only managed to find one during my time in Norway… I guess they're trying to hide the booze…
Your cheapest option in Norway is to just not drink. It's ridiculously expensive and unhealthy. I know we did drink alcohol in Norway and it was one of the biggest costs.
Try to eat less meat
Nope, I'm not telling you to become a vegetarian. But most meats tend to be expensive in Norway. I'm just saying, eat less meat and when you eat it, try to pick the cheapest option. And try to eat some fish instead, there are more cheap options for fish than for meat.
Although vegetables can be a bit expensive as well, you'll need your veggies more than you need meat. So choose wisely.
Take food from home (if possible)
If you choose to drive to Norway from home, you get the freedom to stock up on certain foods, like pasta, rice, cans of beans and veggies, and more. They'll likely be less expensive at home than in Norway, so stock up on those if possible.
But don't stock up on alcohol, there are strict rules for getting them over the border. Read about these rules here.
Related posts:
Travel costs in Norway
There are many options for traveling to and through Norway. There are cruises, ferries, campers, cars, buses, trains, and even more! Travel will cost you a bigger amount of money.
But which option is best for you?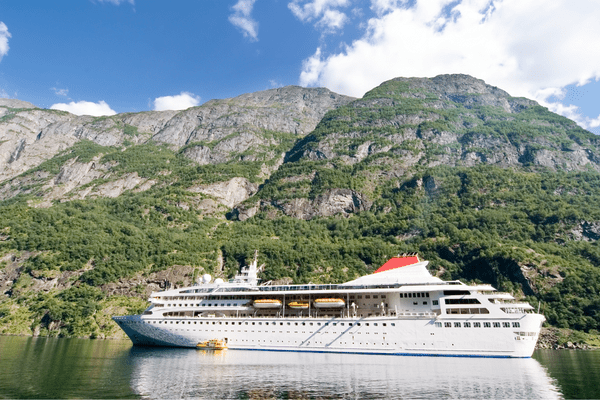 Well, that depends on a lot of things. You need to decide things like:
Accommodation type. Will you stay in hotels or Airbnb, or are you planning to go wild camping? And will you be wild camping in tents or do you need the luxury of a camper?
Which places are you planning to see? Will you only visit the fjords, or do you want to go up to the mountains?
Are you willing to drive long patches through (sometimes) scary roads? Driving through Norway isn't hard or scary, but for some people, it may seem too scary. Are you willing to drive?
Are you planning your own trip, or do you want to go on a planned tour?
Do you have your own car to drive to Norway, or are you looking to rent transportation?
These things and many more, you need to take into consideration before going to Norway. All these things will influence the cost of traveling to and through Norway.
I'd say driving a car is the cheapest option IF it's your own car. Renting will be a lot more expensive. Taking trains is also a cheap option, but trains only go so far and won't give you the same freedom as a car.
Think about your priorities wisely and don't just go for the cheapest option, as it may not suit you.
I can't say much more about the cost or certain numbers, as it's too variable. All I can say is that you can count on a couple of hundred euros, but I simply can't be more specific.
Accommodation costs in Norway
Accommodation is another thing you can save a lot on IF you go (wild) camping. Let me tell you more about it.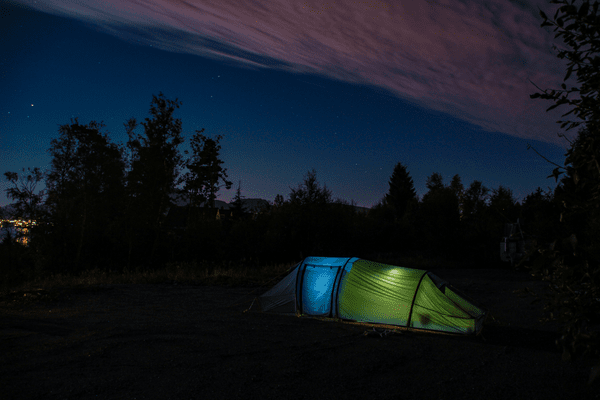 Wild camping in Norway
In Norway, wild camping is allowed by the allemannsretten (loosely translated as 'the right to roam'). This longstanding law exists because Norwegians think that everyone should be able to go out in nature without any restrictions.
This is super great, it makes that you can just go outside and pitch your tent or park your campervan and sleep! No more driving to campings, no more (expensive) accommodations. Just the freedom to sleep wherever you want!
Wild camping in Norway may save you hundreds of euros, as it's free and other accommodations can be rather expensive.
When choosing to go wild camping there are certain things you must know. Check out my full guide on wild camping in Norway.
Stay in a hytte
Norwegian hyttes are like cabins or cottages. Staying in hyttes can be cozy and it'll make you really connect to the country. You won't be able to find hyttes in big cities, but mostly in nature or small towns. Besides the coziness, the main reason for staying in a hytte is the cost.
Staying in a hytte will cost you less than €100 per night, and sometimes even less than €50. It's a unique and traditional way of staying in Norway, one you should definitely take into consideration!
Staying in a hotel, Airbnb, or hostel.
These are the most expensive options, but maybe your only options in the bigger cities.
It depends on how many people you are traveling with, on what the best option is. If you're with 4 or more people, an Airbnb will probably be cheaper than a hotel, but if you don't need much luxury, hostels may be a cheap option as well.
Hotels are the most expensive, as you don't have a kitchen in your room to cook your dinner. Which makes you eat out and makes your trip even more expensive.
Final thoughts on Norway road trip cost
I'm sorry that I can't give you a certain number on how expensive your trip will be. There are too many variables and everyone's different. I hope you've gotten a good idea on how to make your trip less expensive.
Are you a budget traveler, or do you need some luxury? Let me know in the comments below!
Related posts
Is Traveling Norway on a Budget Possible? Norway Road Trip Cost