How to fill your day trip to Bruges with the best activities.
One of the most magnificent medieval towns in Europe is Bruges! This historic town is a true gem located in Belgium. Filled with iconic red brick houses, impressive squares, and picturesque canals, Bruges is a place you have to see! Stick around to find the best things to do on a day trip to Bruges!
Disclosure: This post may contain affiliate links, which means that if you purchase through one of the product links, we'll receive a small commission at no cost to you. We only promote products and services we 100% believe in. Thank you so much for supporting us! Read more about it in our disclosure policy.
About Bruges, Belgium
One of the bigger cities of Belgium is Bruges. This city lies near the coast and is the largest city in the province of West Flanders. Brugge is often referred to as the Venice of the North, because of the canals you'll find throughout the entire city.
Bruges has a rich history, which you'll be able to see all around town, in museums and medieval architecture.
The currency in Bruges is the Euro and they speak Dutch in this city. However, many people can also speak English and French.
Is Bruges worth visiting?
YES! Bruges is absolutely worth visiting, but it's not a secret anymore. Bruges used to be a true hidden gem, but now this city welcomes millions of visitors yearly! And no wonder why, this city is gorgeous!
Bruges is worth visiting for its beauty alone, but it offers so much more!
Think about Belgian delicacies… In Bruges, you'll find some of the tastiest Belgian beers, the finest chocolates, and the best waffles!
Bruges is a wonderful city for everyone and definitely worth a visit!
Best time to visit Bruges for a day trip
Having said that Bruges is pretty popular and can get crowded, I'd avoid this city in July and August. That's when it'll be most crowded. I recommend visiting Bruges on a weekday in April, May, or June. This is the most romantic time in the city.
However, Autumn makes this city feel like a movie. With moody skies and colored trees, Bruges becomes more of a gothic-like medieval city. October is the perfect time to enjoy the city, you may have some rainy days, but it's totally worth it!
How to get to Bruges for a day trip?
Getting to Bruges for a day is super easy! Belgium has a great train network, making it incredibly easy to travel between the cities.
From Brussels, it's only one hour to Bruges by train. It's also possible to drive in an hour and a half or take a bus.
From Ghent, the train trip is only less than half an hour. By car, it's around 50 minutes to Bruges.
From Antwerp, it takes a bit longer. It's 1,5 hours by both train and car.
It's also possible to visit Bruges from the Netherlands or France but keep in mind that it'll take you a bit longer to get there, so I recommend getting accommodation in Bruges for one night. Check Trainline to find out the best prices and timetables!
Things to know before visiting Bruges on a day trip
Bruges is known as Brugge in Flemish, and it will say so on the road signs. Brugge is neither a small nor a big city. You will have to walk quite an amount of kilometers, but nothing the average person can't handle.
One day in Brugge is enough to explore all the major highlights. However, there is a lot to do in Brugge, so it may be intense to do everything that's on this list of things to do. Everyone's different, so you'll find many different activities in this list, some things you'll find super interesting and intriguing, and others may not seem that interesting to you.
Related:
Best things to do on your day trip to Bruges
Take a picture of Quay the Rosary (Rozenhoedkaai)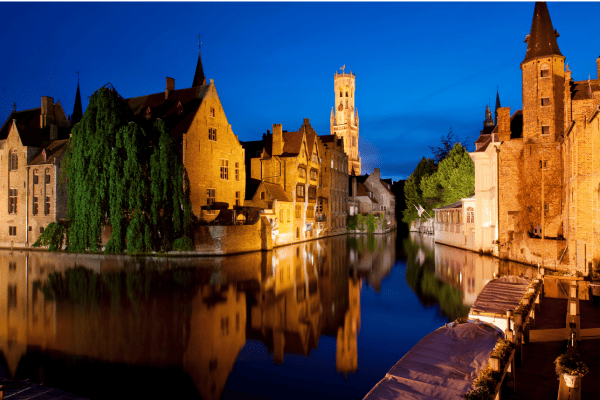 You will find the most picture-perfect sight at Quay the Rosary. This most photographed spot in Bruges is seriously one of the most beautiful spots in the entire city!
Quay the Rosary is a very popular place in the city. I mean, historic houses by the picturesque canal, I get why everybody comes here to take a photo.
So if you want to avoid crowds, it's best to come here early in the morning, when the streets are empty and there are no canal cruises to disturb the still water yet!
Visit the Market Square (Grote Markt)
Another place you can't miss in Bruges is Market Square. Bruges knows many squares and such, but this one is the most picturesque square you will find! Surrounded by colorful houses and overlooked by the magnificent Belfry Tower, you will not be disappointed!
There are many terraces on Market Square, I recommend getting a beer somewhere, while you take in the stunning sights!
Climb the Belfry Tower
Climbing to the top of the 83-meter-high Belfry tower is a must when you're in Bruges. This will grant you the most spectacular views of the city and surrounding areas.
The Belfry is actually a UNESCO World Heritage Site, due to its wonderful medieval architecture!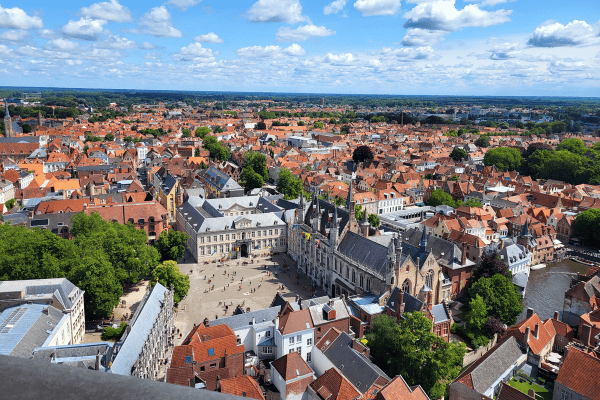 After climbing 366 steps to the top you will find the greatest views! I found that climbing the tower wasn't that challenging, but you should know that the only way up is by stairs.
Climbing the Belfry Tower will cost you €15 euros for an adult ticket.
Admire the scenery at Minnewater
If you're in Bruges for a romantic getaway, Minnewater should be on your itinerary! This ''Lake of Love'' is a beautiful place a little outside of the city center.
What you will find at Minnewater is a stunning lake with the most beautiful little castle! You can have a drink at the castle and take a walk through Minnewaterpark.
Take in the sights of the Beguinage (Begijnhof)
In the same corner as Minnewater, you will likely already notice the Beguinage. This place is filled with history and it's one of the 13 UNESCO-recognized Flemish beguinages.
The Beguinage is a 13th-century sanctuary for poor women who dedicated their lives to God without removing themselves from the world. Since the 17th century, the picturesque white houses are inhabited by the Sisters of the Order of St. Benedict.
As long as you're quiet, you can take a look around the Beguinage and the Church.
Visit the Sint-Salvadors Cathedral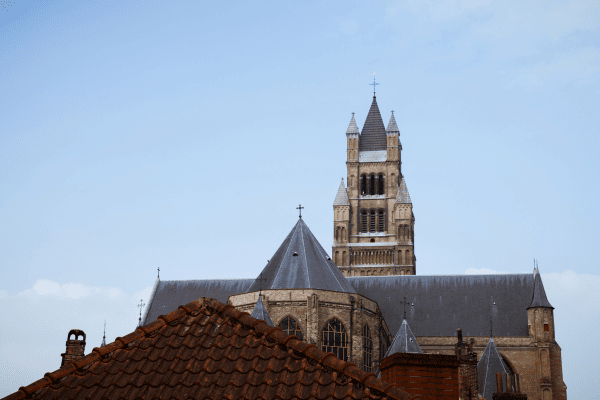 When walking down the Steenstraat, you can't miss the massive Sint-Salvadors Cathedral. This Cathedral is free to enter and you will be able to admire some of the most impressive architecture and art!
This well-loved Cathedral is one you shouldn't miss on your trip to Bruges!
Admire art in the Church of Our Lady
If you're really into art, after visiting the Sint-Salvadors Cathedral, there's another art-filled church waiting for you around the corner…
The Church of Our Lady is filled with impressive artworks and Michelangelo art! The church is free to visit, but to see the museum section, you need to pay €8 euros.
Visit the Burg Square
Another large square in Bruges is the Burg. On this square, you will find several eye-catching sights, like Town Hall, Basilica of Holy Blood, Brugse Vrije, and much more!
Make sure to take a good look around, snap some photos and just enjoy the Burg square!
Visit the Basilica of the Holy Blood
The first building catching your eye in Burg Square is probably the Basilica of the Holy Blood. This dark building is very interesting and almost quirky. You will not be able to stop looking at this Basilica!
You can enter the Basilica for free and be blown away by it's size and beauty! From the outside it's not that big, but once you're inside you'll feel like you've stepped into a huge cathedral!
Snap a photo of Town Hall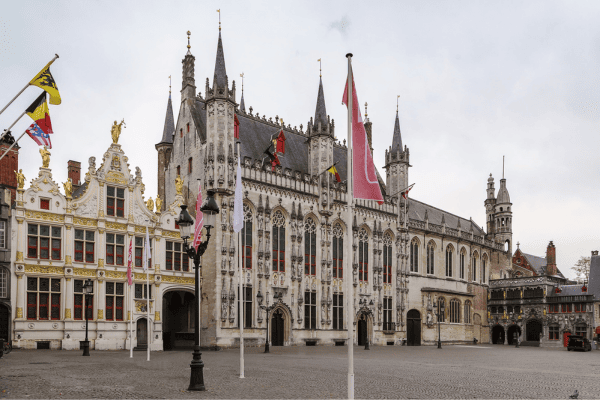 Another massive building on Burg Square is the 14th-century Town Hall. The huge gothic façade will likely draw you inside, where you can visit the museum for €8 euros per adult. When visiting on the weekend, you will also get access to the Brugse Vrije, which is an 18th-century court building.
The best time to take a photo of the town hall is early in the morning or late afternoon, during the day the huge façade will fall into the shadow.
Walk down the Blinde Ezel Straat
One of the places you will likely miss when not paying attention (I did…), is the Blinde Ezel Straat. This street is known for its passage underneath the Town Hall which will lead to a very picturesque view from the Blinde-Ezelbrug. So check it out!
Take a canal cruise
Going on a canal cruise is THE perfect activity for everyone! You will get to see the city from another perspective and learn a lot from the guide. They will take you to places you can't come on foot and explain history.
You can go on a canal cruise all year round, but especially in summer they are very popular and you will find many more to hop on, than in winter.
Go for a horse carriage ride
When walking through the old city center of Bruges, you will find out about horse carriages pretty fast. We were there for like 10 minutes in a calmer part of the city and we already saw a carriage passing by.
For €60 euros you can get a horse carriage ride. It may be a bit expensive if it's just the 2 of you, but you can always ask another couple to join you, so you can split the cost. It's also a very nice family activity.
Belgian beer
Belgium is very famous for its beers. In many cities and villages you will find local breweries, and that's also the case in Bruges. Typical local beers in Bruges are Brugse Zot and Straffe Hendrik. You will find many more local beers here.
Below, you'll find the best spots to enjoy local beers.
De Halve Maan Brewery
The most popular brewery in Bruges is de Halve Maan. For €16 euros per adult, you can get a full tour of the brewery, enjoy beer samples, and get a complimentary beer. This is a very iconic activity in Bruges, so you should absolutely check it out!
There's also a souvenir shop where you can buy all the beers you liked.
Brewery Bourgogne des Flandres
Another brewery (one that I loved) is Brewery Bourgogne des Flandres. You can go for a tour and order a beer tasting, with the most delicious beers. At the time we were there, the tasting included many fruit beers, but I've heard of other beers included in a tasting (maybe it's seasonal).
Le Trappiste
We had the most fun night at Le Trappiste! This is a bar, located in a wonderful 800-year-old basement. With more than a hundred Belgian beers, you will be able to explore many tastes and have a great time!
I especially loved this bar for its cozy vibes. You should check it out when you're in Bruges!
The Beerwall (2be)
A spectacular place we stumbled upon was the Beerwall. Opposite of Quay the Rosary, you will find this gem! At 2be, you fill find an alley with a wall filled with beers and glasses. It's like a huge Belgian beer encyclopedia!
At the end of the alley, there's a bar where you can get some beers and snacks, to enjoy on the outdoor terrace by the water. Make sure to go here during the day, as it closes early in the evening.
Belgian Chocolates
And as many of you know, Belgium isn't just about beer. There are many more delicacies in this small country, like chocolates! There are a lot of places where you can buy chocolates. And by a lot I mean that there's another chocolate shop at every corner of every street.
I was all stressed out about where to buy the best chocolates. There were more than 30 shops to choose from. But I've found the good ones, let me give you some recommendations…
The Old Chocolate House
One of the best Chocolate shops in Bruges is the Old Chocolate House. This family-run business offers many different pralines, biscuits, marzipan, and many more delicacies. Upstairs there's a super cute tearoom, where you can get the most delicious hot chocolate and Belgian waffles.
The Old Chocolate House is an experience in itself, one you should definitely check out!
Choco-story: Chocolate museum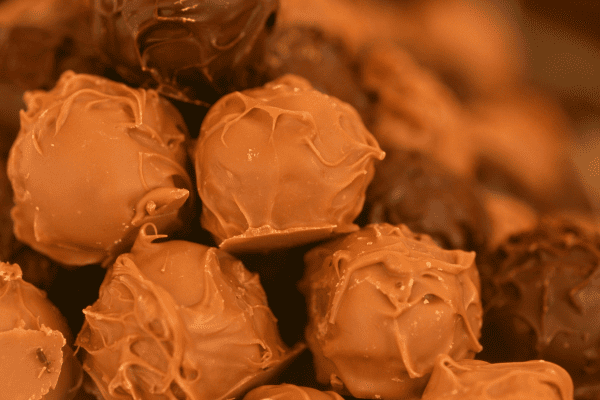 If you're visiting Bruges with kids, this is a very fun chocolate activity! Choco-story is a museum about chocolates, where you will learn about the history of chocolate, cocoa beans, types of chocolate, and a lot more! And there's a section where you can taste chocolates!
Visiting this museum will take you about 1h30. Adult tickets are €13 euros and a children's ticket is €8 euros.
Pralinette
My personal favorite chocolates (by taste), are the ones from Pralinette. I've been windowshopping at every chocolate shop (believe me, every single one), and only a few seemed to invite me in. Almost every shop looks the same, but Pralinette seemed more unique.
I'm actually eating their chocolates whilst writing this post.
But I absolutely love the chocolates from Pralinette, you should absolutely check it out!
Enjoy Bruges Winter Glow
A more seasonal activity in Bruges is something you probably haven't heard of before. Bruges Winter Glow is a Christmas festival.
From the 3rd week of November to the 1st week of January, Bruges will be transformed into a winter town! With activities like a huge Christmas market, ice skating, a light trail, festive shopping, and light decorations everywhere, this town is a must-see for Christmas lovers!
Final thoughts on day trip to Bruges
I hope you will have a great trip to Bruges, especially now that you know all the places to visit! Have you ever been to Belgium? Let me know in the comments below!
Related posts
The 16 Most Surprising Things To Do on Your Day Trip to Bruges!