Best cities for spending New Year's Eve in Europe.
New Year's Eve is just around the corner, and if you're tired of the same old countdown in your hometown, it might be time to switch things up. Europe is filled with cities where you can find the best New Year's Eve celebrations!
Do you prefer warm or cold weather? Big parties or just a lot of coziness? Whatever your preference, you will definitely find your New Year's Eve destination in this post!
Disclosure: This post may contain affiliate links, which means that if you purchase through one of the product links, we'll receive a small commission at no cost to you. We only promote products and services we 100% believe in. Thank you so much for supporting us! Read more about it in our disclosure policy.
Europe New Year's Eve cities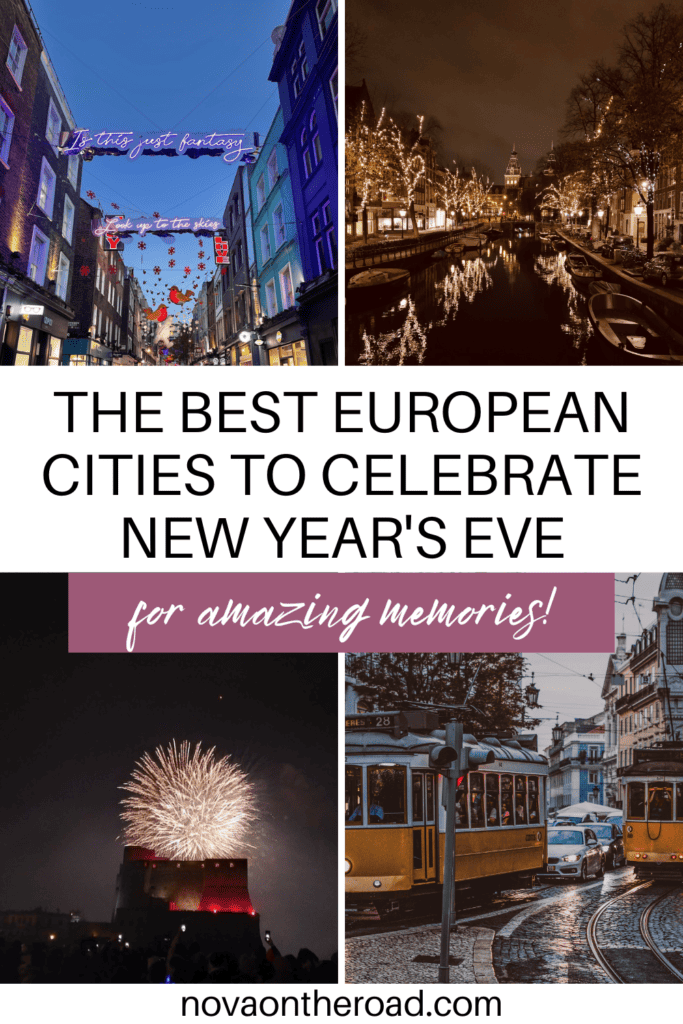 Europe New Year's Eve cities
Antwerp – Belgium
Recommended by Lisa of Nova on the Road
One of the most lively cities on New Year's Eve is for sure Antwerp! On December 31st something special happens…
The entire old town just turns into the most cozy place to be on the planet! With several Christmas markets, ice skating rinks, a Ferris wheel, and just good vibes everywhere, Antwerp is a truly unique place to ring in the new year!
At night, the entire city comes to life! Restaurants and bars will be opened to have a refreshing Belgian beer and eating out can be done with or without reservation (depending on the restaurant you would like to eat at).
And after dinner, there are several bars and clubs that'll make time fly! Before you know it, it's 11:30 pm, which means: time to find a good place to watch one of the biggest fireworks shows in Europe!
The best place to see the fireworks, is Simons Park, on the other side of the Schelde. To get here, all you have to do is cross the water, using the Sint-Annatunnel. Then at precisely 12 o'clock, you will enjoy a spectacular fireworks show!
All in all, Antwerp is a place you want to see on New Year's Eve!
Lisbon – Portugal
Recommended by Sydney of Sydney to Anywhere
New Year's Eve in Lisbon is an experience like no other, this Portuguese city is one of the best places in Europe to spend the New Year's holiday!
Why spend New Year's Eve in Lisbon? Firstly, the entire city becomes a living spectacle of light, music and festivities with free concerts around every corner.
However, Lisbon's festivities are not just limited to a spectacular fireworks display by the waterfront at midnight. (A show you definitely want to catch – I recommend watching from the Sao Pedro de Alcantara viewpoint!) This city also embraces the spirit of 'reveillon', a term the Portuguese borrowed from the French when naming the special dinner held on New Year's Eve. Meaning 'revival,' Lisbon is the ultimate place to have a brand new beginning!
Make sure to book dinner reservations well in advance since most restaurants will be booked up! Along with dinner, you'll also get the chance to partake in the unique Portuguese tradition of eating 12 raisins at midnight for good luck.
Visiting Portugal in winter, especially in December, and January is a beautiful experience. The weather is mild compared to the rest of Europe, and the crowds are thinner. Don't forget to layer up and always pack a waterproof jacket as evening temperatures can drop, and rain is more frequent during this time of year.
Edinburgh – Scotland
Recommended by Aaren of What Do You Sea
When the year wraps up in Edinburgh, anticipation of Scotland's most important holiday celebration fills the cobblestone streets. 'Hogmanay' is what the Scots call New Year's Eve, which welcomes the arrival of the new year typically from December 29th to January 1st. Although they know how to throw a serious party despite a formal holiday, the Scottish carry this tradition from the time of the Vikings, where they had wild parties in late December for the winter solstice.
What started as a traditional holiday has evolved into one of the greatest outdoor celebrations of NYE in the world. The celebration has even been highlighted as one of the 'Top 100 Things To Do Before You Die' and most recently on Discovery Channel's 'Top 25 World Travel Experiences'.
While the focus of Hogmanay is the New Year, it's also a massive celebration of culture across the country. The Torchlight Procession opens the festival as tens of thousands of torchbearers take to the streets to create a "river of fire" through Old Town. The rest of the festival days are brimming with gastronomic traditions, street performers, pipe bands, fireworks, concerts, and parties among an entire program of local events, dinners, and dances.
The celebration peaks when the clock strikes midnight, and everyone is singing 'Auld Lang Syne', a centuries-old hymn about remembering the good ol' days. The song is typically accompanied by a glass of Scotch whisky to toast the bells.
Ticket sales kickstart with the release of the schedule, typically in August, so it's best to book everything else as far in advance as you can. A lot of the celebrations are centered in Old Town near the Princes Street Gardens so accommodations around that area will be the first to go. My best advice for a memorable Hogmanay is to dress in layers to keep warm, arrive to events early, wear shoes you're comfortable standing/walking in, and to do plenty of research before you make sure you can grab the tickets you want and strategize your NYE endeavors.
Prague – Czech Republic
Recommended by Annelies of Travelers & Dreamers
Prague is a unique place in Europe to spend New Year's Eve because of its fairytale setting. With its bridges over the Vltava River, Prague Castle overlooking the city, and its beautifully preserved medieval architecture, this city provides the perfect backdrop for New Year's Eve celebrations in Europe.
Prague has something for everyone on New Year's Eve, whether you are looking to dance all night at a techno event or are instead keen on having a romantic night out with your loved one. One of the most popular activities on New Year's Eve for tourists is to take an evening boat cruise with a buffet on the Vltava River. Of course, watching the fireworks from Charles Bridge is also something that you shouldn't miss out on!
Another popular activity on New Year's Eve for young tourists in Prague is to participate in a New Year's Eve pub crawl. During this pub crawl, you will be visiting various party locations over Prague with a private bus to end the night at the famous SaSaZu club.
If you travel to Prague to celebrate the holidays be aware that you will need to book things well in advance! Restaurants in Prague are fully-booked already weeks before the celebrations and it can be really hard to find a suitable vegan restaurant in Prague if you are a plant-based foodie. Also, a lot of rooms in popular hotels tend to sell out months before New Year's Eve. In addition, a lot of hotels only accept a minimum stay of three nights during this period of the year. A great place to stay in Prague is the Mosaic House Design Hotel.
Florence – Italy
Recommended by Louisa of Eating Around Italy
Florence is Italy's best city to spend the New Year because of its intimate size yet big city vibe. You can really feel all the excitement in every corner of the city because it's so small. And because of its size, it feels so dense and rich with New Year's activities to choose from, making it easy to move from one event, piazza or party in no time.
Florence celebrates the New Year in the same fashion year after year, in the grandest and most beautiful Florentine squares or piazze. Starting at about 7:00 pm, historic squares start to fill up with Italians and tourists alike as live music concerts, classic music programs, children's shows, parades and even circuses commence. You can pre-book tickets to indoor classical music concerts and other shows throughout the city center.
As the clock strikes midnight, fireworks set off and the crowds explode with bottles of champagne as people wish each other good wishes for the New Year. The best squares to be in during the midnight toast are Piazza della Repubblica, Piazza Santa Croce, Piazza Santo Spirito, Piazza di Santa Maria Novella, Piazza della Signoria and Piazza del Duomo. Other great viewpoints to start the New Year from are Piazzale Michelangelo, San Miniato del Monte or Fiesole.
I like to move between the various streets and explore the main squares in the historic center until about 11:00 pm, at which point I will make my way up to one of the viewpoints.
Once the New Year has begun, the party has only started in Florence. Make your way back down into town, sticking to the Oltarno for more authentic evenings and crowds such as in Piazza Santo Spirito.

Keep in mind that the 1st of January is one of the bigger holidays in Italy. Many stores in the historic center will be closed, including cafes, pizzerias, and many museums. The weather is unpredictable in Florence. Plan to dress in layers, making it easy to dress up or down, if need be. Be careful about what kind of shoes you are wearing – Florence has a lot of cobblestones!
Reykjavik – Iceland
Recommended by Rebecca of Veggies Abroad
If you love fireworks and community festivities, you need to book a plane ticket to Reykjavik for New Year's Eve!
Reykjavik has a deep love affair with fireworks to close the year (if you enjoy sleeping, choose another NYE city). The spectacular, city-wide pyrotechnic extravaganza has been rated as one of the most impressive in the world!
On New Year's Eve, residents and visitors take to the streets around 8 PM to start lighting off anything they can get their hands on, but then at 10:30 PM, everything strangely stops! At 10:30 PM, all of Iceland turns on their TV to watch the TV show Áramótaskaupið. The comedy is an Icelandic satire of all of the year's events. Once the show is over, then the real fireworks start!
In the days leading up to New Year's Eve, the city starts the celebration early by lighting bonfires (approximately 12 throughout Reykjavik and 100 throughout the country). Around the bonfires, you can get in the spirit with a warm drink, inevitably leading to some singing and dancing. Restaurants throughout the city also offer special dining menus; a fancier spot to check out is Lóa. They have fun Icelandic-inspired cocktails, and it's a great vegan-friendly spot in Reykjavik.
It's important to know that Reykjavik is a popular New Year's Eve destination, so don't delay booking your accommodations. If you can try and find a hotel downtown, The Canopy by Hilton Reykjavik City Centre is a great choice. In addition to that, be prepared for the cold! Even if you come from a wintry destination, the cold and wind (surprisingly, it doesn't get massive snow) in Iceland can be brutal. It's essential that you pack layers, a heavy winter jacket, boots, and maybe even single-use hand and feet warmers.
Brussels – Belgium
Recommended by Charlotte of The Geo Room
New Year's Eve in Brussels promises some unforgettable memories and lots of fun! The city loves to celebrate every occasion and New Year is no exception. The city of Brussels is incredibly beautiful and New Year celebrations really highlight the city's best features.
Brussels is a fabulous city to explore, even if you can only allow for a one-day visit and New Year's Eve is the perfect day to visit the city!
Brussels is renowned for its amazing architecture which only gets more beautiful during the festive season. The Grand Place – Brussels' most popular spot is illuminated with the most beautiful lights for 15 minutes every hour in the evenings. It is one of the most beautiful and unique sights you'll see when traveling around Brussels during the New Year festivities.
The FCKNYE festival is a popular option for party-lovers at New Year's. With a top music line-up, you can raise the roof on the evening of the 30th and 31st of December and dance into the morning. From electric rock to rap, the DJs and artists booked will take you on a musical journey until the New Year bells chime.
For those who want to bring in the New Year by watching a wonderful display on the 31st of December, I highly recommend traveling just outside the city. Head to the Atomium for the evening and watch the marvelous fireworks show on the Esplanade. This is a top-class event on New Year's Eve and the crowds give such a great atmosphere!
Malaga – Spain
Recommended by Joanna of Andalucia in my Pocket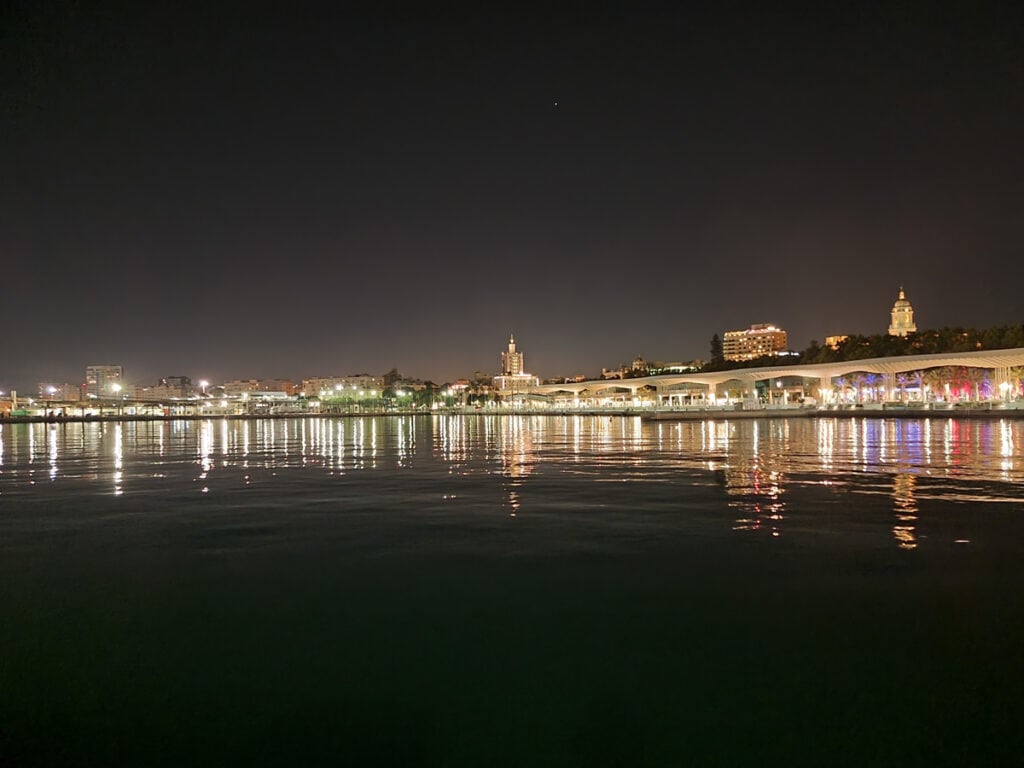 Malaga is a great place to spend New Year's Eve and one of the best cities to visit on Costa del Sol in winter. The city usually has a vibrant atmosphere all day and most of the night, but on New Year's Eve, the locals come out even more on the streets of the city to celebrate the passing into the new year.
Malaga offers a blend of tradition and festivity, creating a unique New Year's Eve experience. The city is known for its warm welcome, weather, and celebrations.
The heart of the New Year's Eve celebrations is Calle Larios, in the centre of the city. The magnificent light tunnel that covers this street every year contributes to the joyfulness of the crowds gathered to welcome the New Year.
The highlight is the famous "Campanadas," where everyone counts down to midnight together with the clock in Piazza de la Constitucion. There is usually also a multimedia show taking place, as well as music until 1:30 in the morning. Just before midnight, the city hall is sharing bags with grapes with the people gathered here. The tradition says that you have to eat twelve grapes at the stroke of midnight, one for each chime of the clock, as this is the Spanish tradition for good luck in the coming year.
Another Spanish New Year's Eve tradition is to wear red underwear, for a good love life in the next year, so don't forget to comply before you go out celebrating on the streets of Malaga.
Oslo – Norway
Recommended by Kristin of Scotland Less Explored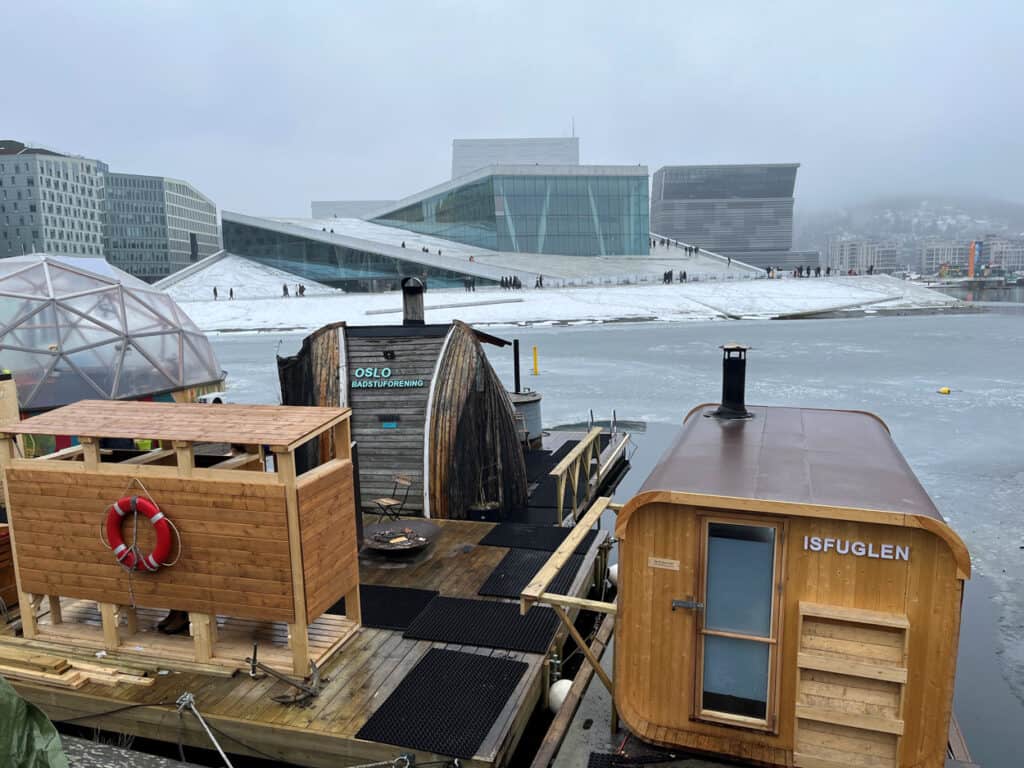 Over the Christmas and New Year period Oslo is full of lights and Christmas decorations. Snow is not guaranteed at this time of year but it is still a great time for ice skating and sampling the Norwegian version of mulled wine called Gloegg. If you're looking for something stronger try the local spirit called Aquavit.
Most Norwegians celebrate New Year's Eve at home with friends. Turkey with all the trimmings is the traditional meal to serve – pretty much the same meal as many other countries have on Christmas Day. The parties might start at home but come midnight people from around Oslo make their way into the city centre to watch the fireworks.
Every year there is a firework display in front of Oslo City Hall. It starts at midnight but arrive early to find a spot with a good view. And remember it can be cold on a clear December night. When I last went for New Year it was -10 degrees Celsius!
During your visit make sure you take in some of the tourist sights as well. Start the day with a sauna and dip in the Oslo fjord. There are several sauna huts along the coast but the most popular ones have views of the Opera House and Munch Museum.
Vikings are also an important part of Norwegian history. The Viking Ship Museum is closed until 2026 so pay a visit to the Viking Planet instead. Using virtual reality technology you can step back in time to see what life was like. You will be surprised to see how small the boats are which they used to sail to Scotland and Ireland in.
Amsterdam – The Netherlands
Recommended by Steff of Just Travelous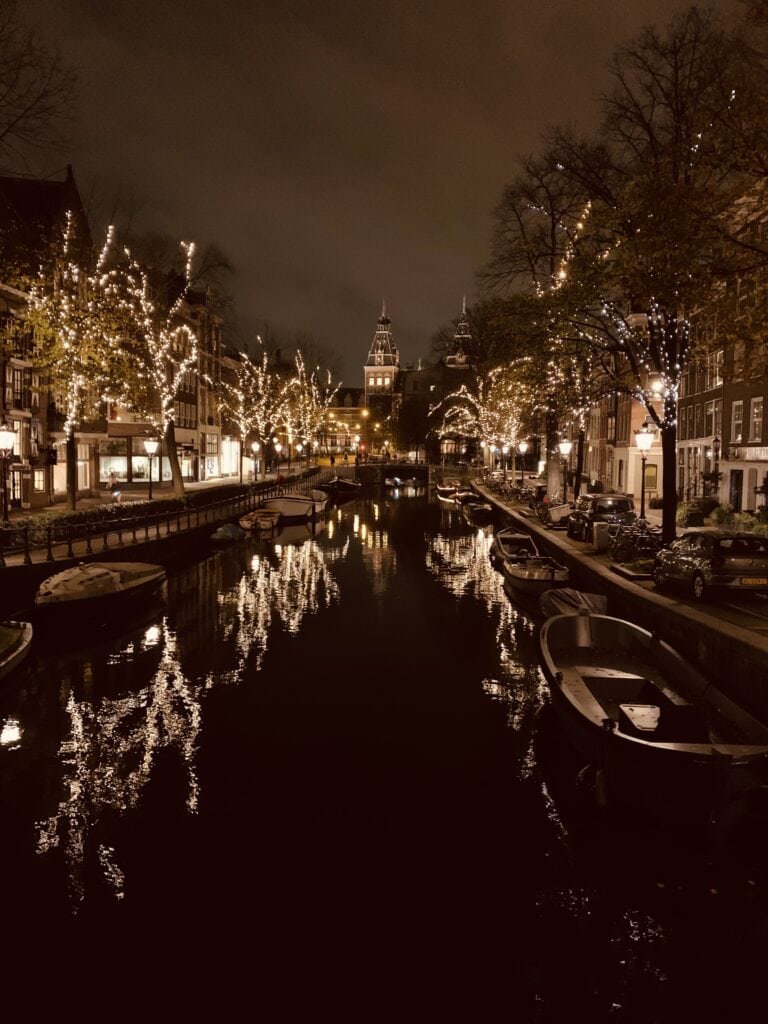 Amsterdam is a great city to ring in the new year in Europe. With hundreds of parties across the city and an incredible local passion for fireworks, it is always a great night!
Fireworks are only on sale in the Netherlands for a few days of the year, so the locals go crazy with personal fireworks displays across the city. It is always shocking how many fireworks go off all night long on New Year's Eve.
Make sure you take the time to walk around the city or have dinner at a restaurant with a view of the city to see all the excitement (Zoku is a great choice). There are also city-sponsored fireworks in Museumplein every year. The Amsterdam Light Festival continues through late January, so it is lovely to explore the canals to see all the beautiful light displays.
One of the local traditions is to eat Oliebollen (deep-fried deliciousness) so look for one of the many stands throughout the city to try this delicious local treat. The biggest parties tend to sell out in advance so look at booking tickets before you make your travel plans. The Awakening NYE Party will bring techno jams all night and is always a great time.
Malta
Recommended by Alice of Adventures of Alice
Malta is a beautiful Mediterranean island with an extremely rich history, beautiful buildings and sceneries, and mild temperatures, making it one of the most perfect places to visit during winter and New Year.
With the average temperatures in Malta in December ranging from 20°C to 11°C and January ranging from 18°C to 9°C, it means you can explore the island comfortably without getting too warm. You'll also be able to get away with only wearing a T-shirt – although you may want to pack a jumper/jacket for the evenings, as it can get colder.
Malta is known for its picturesque landscapes and beautiful buildings and this alone would be enough for you to pay a visit. There are so many places to explore there and celebrating the New Year in a place like this just adds that bit of extra wow factor.

On the 31st, restaurants often have New Years events or parties, and street celebrations. As well as this, every year they throw a spectacular New Year's Eve fireworks display over Valletta. From my experience the display might not be as big as some of the larger well-known cities I've visited such as London, however, it's still such an amazing atmosphere and a great way to start the New Year.
I recommend visiting Malta at New Year's to everyone!
Seville – Spain
Recommended by Linn Haglund of Amused by Andalucia
Seville is an epic city to celebrate New Year's Eve. Andalucia's capital city boasts an incredible energy at this time of the year, and while most people would think winter in Seville is not the best time of the year, I would argue that it is the best time to visit. It is slightly colder than other Andalusian destinations, but nothing a coat and a scarf can't fix.
At the same time, the days are perfect for having beers out in the sun under colorful orange trees. It is a popular New Year's Eve destination, so make sure you book hotels and restaurants in advance!
Most restaurants have a set New Year's menu. Before midnight, make sure you head to Plaza Nueva to ring in the New Year with 12 grapes and Cava. This Spanish tradition entails eating a grape a second for the 12 last seconds until midnight and it is supposed to bring good luck for the coming year. Make sure you buy a ready pack of 12 grapes without seeds for a smoother grape-race.
After midnight, follow the locals to the best bars for late-night celebrations in true Sevillan style. Make sure you dress up for the night, the locals of Seville have style!
Zurich – Switzerland
Recommended by Josh of A Backpacker's World
Zürich is one of the best cities in Europe to ring in the New Year. The city is famous for being exquisite and extravagant, making it the ideal location to see on New Year's Eve!
In Zürich, there are lots of sights to see, including Fraumünster and Grossmünster, the two famous churches of the city. Zürich offers an abundance of New Year's celebrations too.
Despite not being the nation's capital, Zürich is home to Silvesterzauber, the biggest New Year's Eve celebration in Switzerland.
It resembles a Christmas market in some ways, but it's of course for New Year. The festivities include food stands, tents, bars, pop-up restaurants, and many other things.
There are also celebrations around the lake all throughout the day in Zürich and of course, the fireworks are the highlight of the celebration of the New Year.
The fireworks in Zürich are unique in that they begin at twenty past midnight rather than at midnight itself. This is because the city's church bells ring to signal the end of the previous year and the start of the new one 15 minutes before and after midnight. Being there is quite magical, hearing the bells followed by fireworks is an unusual but amazing combination.
I absolutely loved Zürich and it's one of my favorite places I've been to ring in the new year. My top tip is to be there early and save a spot around the river because it can get busy and you want a good view of the fireworks.
Also, make sure to book your accommodation well in advance. Switzerland is expensive to visit at any time of the year, but leaving accommodation to the last minute at a busy time of year like New Year's will result in super high prices.
Heraklion – Crete
Recommended by Raksha of Solo Passport
What better place to spend your New Year's than partying on the spectacular and colourful Greek island of Crete! With many people attending the midnight service at the Agios Minas Cathedral, Heraklion in Crete is a wonderful place to start the New Year.
Greeks have a special way of unique traditions and customs for welcoming the New Year. One of the ways is by smashing a pomegranate for gook luck. In Heraklion, you will experience such traditions and will be able to enjoy the local events and performances.
The city is popular for its vibrant nightlife, and many pubs and bars host New Year's Eve parties where you can dance and enjoy the local music throughout the night. It is a fantastic place to spend the New Year's with a blend of culture, history, and party.
At midnight, there are fireworks to celebrate the start of a fresh year. Even though not too large scale, the city does set off fireworks to bring in the festivities. Ensure to book your hotel or stay near the beaches so you can enjoy the fireworks with great views. The best place to see the fireworks is at the Venetian Fortress of Koubes.
When you are in Heraklion, do not forget to take the Heraklion Hop On Hop Off bus to see the places around the island and the way each one is decorated for the holidays.
Berlin – Germany
Recommended by Ali of Berlin Travel Tips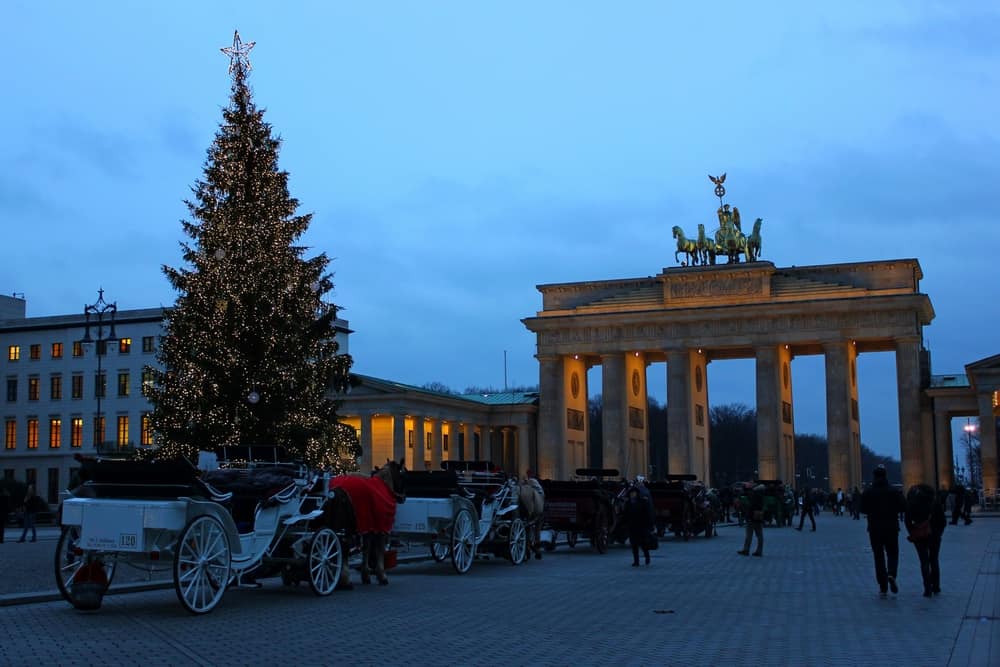 If you like to party big on New Year's Eve, Berlin is the place to be. The city hosts one of the biggest New Year's Eve parties in the world at Brandenburg Gate, complete with musical performances and lots of fireworks at midnight. This party can easily be compared with Times Square in New York City. A ticket for the celebration is only €10,- and it's estimated that at least 1 million people go to it each year.

Not interested in such a big crowd? Berlin has plenty of other options. Bars and clubs all over the city host New Year's parties, and for a city that knows how to party all year round, they definitely go all out on New Year's Eve!
For a calmer experience that still includes fireworks, several Berlin Christmas markets open after Christmas have fireworks displays. Try the one at Breitscheidplatz or Gendarmenmarkt (held at Bebelplatz through 2024).

You can easily see fireworks all over the city though. At this time of year, it's legal to buy them, and you don't have to be a professional to set them off. People set off fireworks in streets, parking lots, and any other place they want. It certainly adds to the party vibe in Berlin, but it can feel a bit crazy if you're not used to it.
Don't get too close to random people with fireworks though. I was hit in the leg one year, and it was some of the worst pain I've ever felt. But fireworks can cause much worse injuries than what I experienced, so use caution.
But overall, Berlin is a fun place to ring in the New Year if you love big parties!
Venice – Italy
Recommended by Pamela of The Directionally Challenged Traveler
One of the best places to ring in the new year in Europe is Venice. Celebrating New Year's Eve in Venice is an exquisite experience that seamlessly blends its rich historical charm with a dash of romance and grandeur.
While Venice in late December may be a chilly embrace, with temperatures hovering between 3°C to 8°C (37°F to 46°F), it's the perfect opportunity to bundle up in warm attire to ensure your comfort as you immerse yourself in the festivities.
Begin your evening by indulging in a delectable meal at a carefully chosen restaurant, and don't forget to secure your reservation in advance, as popular dining spots fill up quickly. La Caravella is renowned for its impeccable reputation for serving fresh seafood and delicious wine.
Make your way to the iconic St. Mark's Square (Piazza San Marco), undoubtedly the prime spot to witness Venice's breathtaking New Year's Eve fireworks display. The square comes alive with the harmonious sounds of live music throughout the night, building up to the grand celebration as the clock strikes midnight.
Underneath the enchanting night sky, St. Mark's Basilica becomes the backdrop for a mesmerizing fireworks spectacle that reflects brilliantly off the serene waters of the Venetian lagoon. This breathtaking sight encapsulates the magic of the moment, accompanied by joyous chants of "Buon Anno" (Happy New Year in Italian) echoing through the city, while the festivities continue with wine flowing freely.
My New Year's celebration in Venice is one that I will never forget. Live music, friendly locals, and breathtaking views make for incredible memories that I love to reminisce about every year.
In Venice, celebrating New Year's Eve isn't just a tradition; it's an extraordinary way to usher in the New Year, creating unforgettable memories!
Collioure – France
Recommended by Kim of Explore Your Bucket List
The quaint fishing village of Collioure springs alive on New Year's Eve. It is typically quiet in the off-season months, but at the end of December, many people plan a break specifically leading up to the special celebration.
In the early evening, everyone starts to set up tables and blankets on the stone walkways and the beachfront that surrounds the bay of the Mediterranean. Here people enjoy food either purchased or brought from home and meet with friends and neighbours to settle in for the evening's festivities. There are tents set up and vendors who sell fresh oysters and sparkling wine as a fantastic treat.
For those who prefer to eat inside, many of the restaurants are open where guests enjoy special fixed menus for the evening and when finished, they spill out into the streets to join the party.
The mayor kicks off the evening with a toast and everyone enjoys a drink compliments of the town. With an introduction of the live band, the music begins, and people love to dance in the main square under the plane trees.
The evening is quite lively with everyone visiting with each other and wishing everyone well for the coming year. Then at midnight, the town hosts a spectacular fireworks display. The beach is then packed with people as they watch the show while it lights up the castle sitting majestically along the water. It is a magical experience and it is a wonderful way to usher in the New Year.
London – United Kingdom
Recommended by Goya Galeotta
London, the capital city of England, is truly one of the best places to celebrate New Year's Eve in Europe.
All through December, London comes alive with festive spirit, offering a plethora of activities and events that make it unique and enchanting.
But why choose London for New Year's Eve? Because it's a city that knows how to celebrate in style! The celebrations on December 31st have something for everyone – from lively parties to family-friendly fun in Trafalgar Square or at Hyde Park Winter Wonderland, to the world-famous New Year's Eve fireworks lighting up the sky over the iconic London Eye. Think spectacular light shows against the backdrop of historic landmarks, with the classic chimes of Big Ben adding a timeless touch!
But here is a local tip: Don't buy the tickets and be crammed in the same spot as tens of thousands of other people. Instead, grab your bubbly, friends and a picnic, dress warm, and head to Primrose Hill (open late for festivities) for the best views of the show, with none of the hassle and for free!
Dubrovnik – Croatia
Recommended by Amber of Get Lost in Wanderlust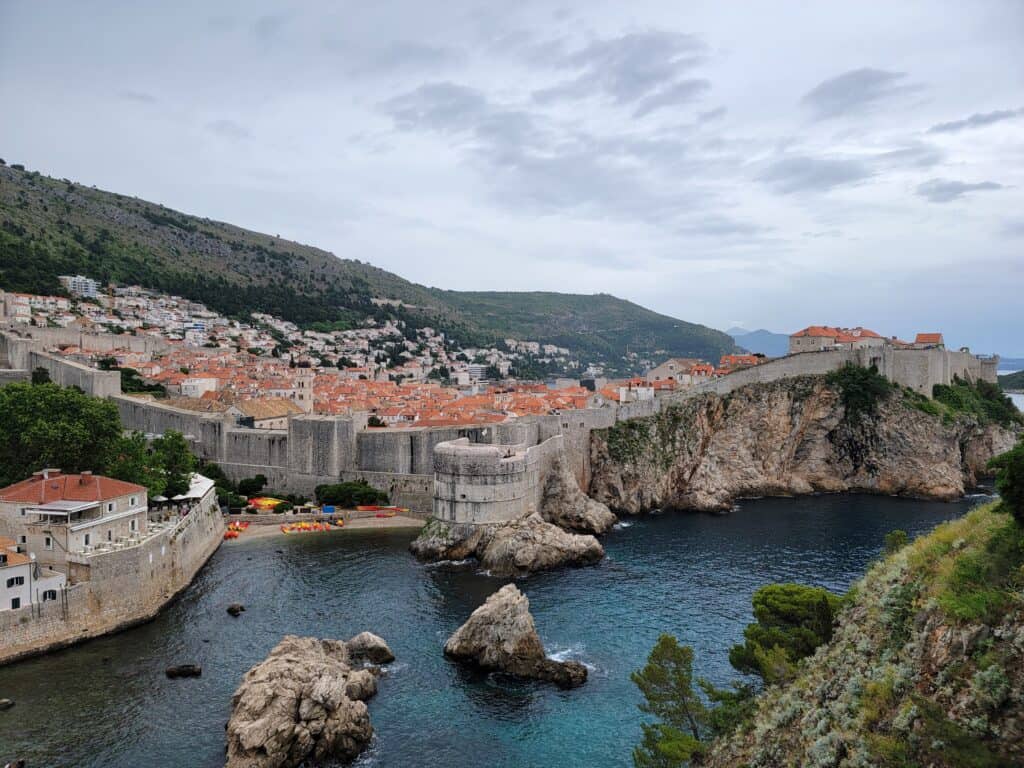 Dubrovnik is located in the southern part of Croatia along the Adriatic coast. The city is nicknamed the Pearl of the Adriatic due to its impressive beauty. Dubrovnik is worth visiting for New Year's Eve, as there are plenty of festive celebrations in the city to ring in the New Year.
The best spot to spend New Year's Eve is in Dubrovnik's old town, surrounded by medieval walls. The old town is a pedestrian-only area, so you don't have to worry about cars or traffic. Spending New Year's Eve in the medieval old town of Dubrovnik is not only fun, but it's also unique as it's one of the only remaining completely fortified towns in Europe.
Within Dubrovnik's old town, there are plenty of places to celebrate, from classy restaurants to lively Irish bars, to charming wine bars. The main street of the old town is the Stradun, and you will find plenty of places on and around this part of the old town. At midnight, fireworks are also viewable from the old town.
We loved listening to live music and enjoying the upbeat atmosphere of The Gaffe Irish Bar in the old town, but there are plenty of great choices. As the old town can get crowded, it is best to go out earlier in the evening if you want to try to get a table.
There is also plenty to do during the day of New Year's Eve, from wandering the shops of the old town to visiting some of the small museums. One of the must-do activities is to walk along the top of the medieval walls, which takes around 2 hours and provides incredible views.
Naples – Italy
Recommended by Annalisa of Travel Connect Experience
Of a southern Italian city by the sea, Naples, would you have ever thought that the best time to visit is in winter? More precisely, Naples becomes very cozy during the period from December 24 to January 31.
Naples is the Italian capital of handcrafted nativity scenes and the Italian city with the most spectacular New Year's Eve celebrations.
The warmth of the locals, who love socializing, art, celebrations, and good food will do the rest to make you feel at the center of the world.
The best New Year's Eve in Italy begins with a traditional dinner of spaghetti with clams, fried cod, cotechino with lentils and grapes.

I recommend reserving a table well in advance, otherwise it won't be easy to get a table at restaurants in the historic center, such as Osteria da Carmela.

By about 10 pm reach Piazza del Plebiscito, where there is a free concert with famous Italian musicians. Around 11:30 the concert ends and everyone walks to the nearby waterfront (remember to take a bottle of sparkling wine from the vendors on the street, you will need it to toast the New Year).
You will find the waterfront packed with locals, there will also be floats with DJs.
At midnight the fireworks show begins. Citizens shoot them off from their terraces. From the waterfront you will see the Vomero promontory light up with lights reflecting on the water. Toast and kiss your sweetheart, but save some energy.
The most spectacular fireworks, those organized by the municipality, are held behind Castel dell'Ovo, a fortress that stands along the promenade. They start at 12:45 a.m., last about half an hour and reflect on the sea.
After the show is over, you can decide whether to continue dancing in the street or return satisfied to your hotel.
I've spent New Year's Eve in Naples two years in a row, and I can't wait until my daughter is old enough to take her there, too.
Final thoughts on Europe New Year's Eve cities
Now you must've found your New Year's Eve destination, it's time to book it! Use these travel resources for a most affordable trip!
Happy travels!
Related posts
20 Greatest Cities in Europe to Celebrate New Year's Eve (According to Pro Travelers)
Europe New Year's Eve cities
Europe New Year's Eve cities